Veneto – Valeria Necchio – Review, recipe and giveaway
August 30, 2017 by Jenny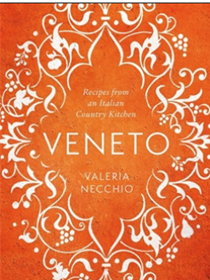 Veneto: Recipes from an Italian Country Kitchen by Valeria Necchio is the debut cookbook from the voice behind the beautiful blog, Life Love Food.
Valeria grew up in the "Venetian countryside, in a village with nothing going on for it, not even a beautiful landscape. The only good thing about it was the food." Food, however, didn't become an integral part of her life until the age of 22 when she decided to switch her course of study and enrolled at the University of Gastronomic Sciences. It was here that she met her husband, Jesse (from the middle of nowhere Illinois – just like myself). The pair now live in London and travel the world taking striking photographs, eating lovely food and enjoying life.
In this beautiful first offering, Valeria shares the food and flavors at the heart of the Veneto region in North Eastern Italy. This book includes charming recipes that capture the spirit of that beautiful and often unexplored region, and the author's memories of the people and places that make this title so special.
Picturesque landscapes of the Italian countryside, rows of vibrant homes with laundry adorning the lines strung from window to window on the canal, and a peek inside an Italian pastry case are just a few of the stunning lifestyle photographs that fill this book. Of course, we also have the good fortune of Valeria's food – such as Sweet & Sour Braised Baby Onions, Polenta Raisin Biscuits, Chicken in Red Sauce and countless others for us to create at home for a taste of the Italian country kitchen. I made the fresh egg tagliatelle pasta and have plans for many more dishes – my photo can be found on the recipe link.
Valeria will be in Australia next month at the Abergavenny Food Festival – see our calendar for more information.
Special thanks to Faber & Faber for sharing a recipe today with us and for sponsoring three copies of this book for our members in the US and UK. Be sure to scroll down and enter our giveaway below.
TORTA MORBIDA ALLA RICOTTA
Ricotta Pudding Cake
Add this recipe to your Bookshelf (click the blue +Bookshelf button).
SERVES 8
Ricotta* might not be the first thing that comes to mind when discussing the food of Veneto. And yet, it has been part of the culinary heritage of the region for decades, featuring in all sorts of dishes, from gnocchi to cakes.
Venetians call ricotta puina. Flipping through old recipe books written in dialect, I stumbled upon a few recipes or torta de puina – a cake made with little more than flour, ricotta and eggs. The idea intrigued me and triggered many trials (and many errors). I settled on a cake in which ricotta and eggs are the main ingredients, and give way to a temptingly tender number that sits somewhere between a crustless cheesecake and a flan. Orange blossom water is my elected aromatic element – in small amounts, it imparts the most pleasant floweriness.
I love this cake for many reasons: for its simplicity, mostly, but also for its ability to welcome a few variations. Grappa-soaked raisins, candied citrus peel or roughly chopped dark chocolate all make nice additions. As for toppings, a dollop of orange-blossom whipped cream or a berry coulis are both fabulous ideas (as are flowers!).
Unsalted butter, for the tin
100g | 1 cup ground almonds, plus more for the tin
300g | 10½oz fresh ricotta, drained
5 eggs
120g | heaped 1 cup icing sugar, sifted
30ml | 2 tablespoons orange blossom water

Preheat the oven to 150°C | 300°F | gas mark 2 and liberally butter a 23cm | 9-inch springform cake tin or equivalent bundt, pudding or brioche mould. Dust the inside of the tin with ground almonds.
Press the drained ricotta through a fine-mesh sieve into a bowl to 'rice' it. In a separate bowl, whisk the eggs with the icing sugar until airy, light and pale yellow. Add the ground almonds, ricotta and orange blossom water and fold through gently to incorporate.
Pour the batter into the tin. Set it on the middle shelf of the oven and bake for about 1½ hours, or until swollen and golden on top and cooked through (insert a skewer in the middle to check; the exact time will depend on the depth of the mould/tin you are using).
Remove from the oven and allow to cool in the tin. Once at room temperature, carefully unmould onto a plate. Slice and serve.
The publisher, Faber & Faber, is offering three copies of this book to EYB Members in the US and UK. One of the entry options is to answer the following question in the comments section of this blog post.
Which recipe in the index would you like to try first?

Please note that you must be logged into the Rafflecopter contest before posting or your entry won't be counted. Please be sure to check your spam filters to make sure you receive our email notifications. Prizes can take up to 6 weeks to arrive from the publishers. If you are not already a Member, you can join at no cost. The contest ends at midnight on October 3rd, 2017.