East West by Shane Delia
July 29, 2017 by Jenny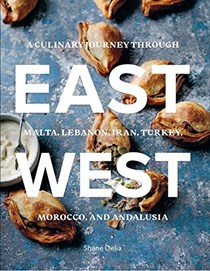 Adequate words do not exist to describe the vibrancy of Shane Delia's East/West: A Culinary Journey Through Malta, Lebanon, Iran, Turkey, Morocco, and Andalucia. To say it is beautiful is an understatement of epic proportions.
TV chef and restaurant owner, Shane Delia, traveled the Middle East on a quest to unravel his historic ties and bring the unexpected, delicious cuisine of those places home to us. His journey resulted in this stunning book packed with photographs of the people, food, and shops as well as recipe after tantalizing recipe. The author states that the Delia family motto is Fortis et Hospitalis, which means "strength through hospitality" – and is tattooed on his arm. I particularly love that he starts off the book with that tidbit of knowledge.
It is no secret that I am enamored with the Middle East and the complex striking beauty of the people and cuisine there. This book, like others before it and others that will surely come after, whisks me away to these exotic locales with each recipe that bring new flavors and excitement to my table.
East West is divided into as follows: Malta, Lebanon, Iran, Turkey, Morocco, and Andalusia and each section shares recipes, stories and photographs reflecting the people and their food story. The recipes range from a Pork and Pea Pastizzi with Mustard Mayonnaise to a Chicken Cornbread Dumpling Soup. Sweet recipes are included with examples being Chocolate and Pistachio M'Hencha and Argan Oil Chocolate Mud Brownies with Orange Cinnamon Ice Cream. The recipes in this title are not what you might think of typical Middle Eastern cookbooks – they are unique and exciting – and I appreciate that.
Shane Delia's books are treasures – I have all three Maha and Spice Journey are wonderful as well. My only hope is that he is currently working on another.
Special thanks to Interlink and the author for sharing this fragrant dish with our readers. Our contest page has a giveaway for two copies of this book be sure to get your entry in.
ROSEWATER SUTLAC WITH PISTACHIO CRUMBLE
Preparation time: 30 minutes Cooking time: 45 minutes Serves: 4
Rice and milk puddings (called sutlac) are a big part of the Middle Eastern and Turkish menu. I have been eating these for as long as I can remember-some good, some not so good, but none of them have been as delicious as the one I had in the Pontic Mountains around Trabzon. Such a simple dish of sugar, milk, and rice, but when it is cooked with love using only the best ingredients possible it's a recipe for success.
Pistachio crumble
11 tablespoons (51⁄2 oz/150 g) butter, at room temperature
6 tablespoons (21⁄2 oz/ 75 g) sugar
heaped 1 tablespoon pistachio paste (see note)
2 cups (9 oz/250 g) all-purpose flour
1 cup (41⁄2 oz/125 g) pistachios, plus extra to serve
Rosewater sutlac
4 cups (1 liter) whole milk (see note)
1/3 cup (21⁄4 oz/60 g) baldo rice (or arborio rice)
1/3 cup (21⁄2 oz/70 g) sugar
1⁄2 cup (120 ml) rosewater
small handful mint leaves, to serve
Preheat the oven to 340°F (170°C). Line a baking tray with parchment paper. Using an electric stand mixer with the paddle attachment, cream the butter, sugar, and pistachio paste for 5 minutes at a moderate speed until pale. Add the flour and pistachios to the bowl, reduce the speed to low, and mix until it just comes together.
Transfer the pistachio mixture onto the prepared baking tray and spread out into an even layer. Place the tray in the oven and bake for 17 minutes or until golden. Remove the shortbread from the oven and set aside until cool enough to handle. Break up into a crumble.
To make the rosewater sutlac, place the milk in a saucepan over medium-high heat. Simmer until the milk has reduced by a third.
In a separate saucepan, cook the rice, adding the milk, a ladleful at a time, stirring continuously, untilal dente. Add the sugar and rosewater, stir well, and then pour into serving bowls.
Place a mound of pistachio crumble on top of the sutlac. Top with pistachios and mint leaves, and serve either hot or cold.
Notes Pistachio paste is available from specialist Middle Eastern grocery stores. It can also be purchased online.
Use a really fresh cow's or goat's milk for superior flavor.
Add this recipe to your Bookshelf (click the blue +Bookshelf button).