Scandinavian Gatherings – Melissa Bahen
March 30, 2017 by Jenny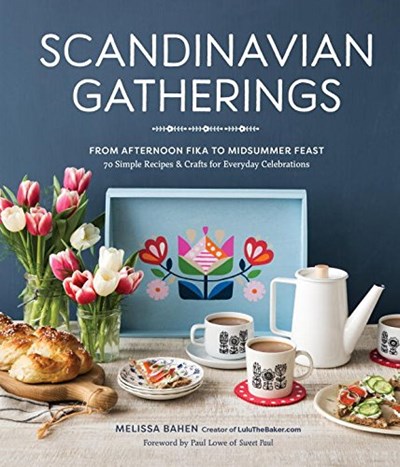 Scandinavian Gatherings: From Afternoon Fika to Midsummer Feast: 70 Simple Recipes & Crafts for Everyday Celebrations by Melissa Bahen is a charming book that delivers delicious offerings to your table as well as decorating ideas and crafts to make those times with family and friends more beautiful.
People are embracing the hygge lifestyle – to slow down, enjoy experiences and relish their meals or coffee/tea times. There are Fika coffee houses everywhere even in Colorado! We all hunger for more zen moments and Scandinavian Gatherings is the perfect place to find inspiration.

Braided Cardamom Bread, Spiced Apple Coffee Cake and Open-Faced Sandwiches with Herbed Cream Cheese & Baby Cucumbers will upgrade your afternoon cup of coffee or tea. With those recipes, Melissa offers instructions on making Hand-Printed Fika Mugs and a Floral Folk-Art Serving Tray so that your afternoon downtime can be not only delicious, but pretty as well. The crafts in this title all would be perfect for gift gifting. A loaf of braided bread and a serving tray would be appreciated as a hostess gift or a welcome to the neighborhood offering.


I tried the Swedish Toscakake right after I received the book – and it was perfect. I make this type of cake often and in this version the topping set up very nicely and was quite tasty. The Cucumber Salad is wonderful as well and I want to make the gorgeous Mom's Maple Pecan Rings for Easter breakfast. Not only are they beautiful, but they seem similar to a favorite pecan roll my husband loves from a bakery back in New Jersey (he worked in Hoboken but we lived in New York.)

Special thanks to Sasquatch Books for sharing the recipe for the Pecan Rings with our members. Be sure to check out our contest page for a giveaway of this book.



MOM'S MAPLE PECAN RINGS
2 cups whole milk

1⁄2 cup sugar, plus a pinch for proofing the yeast
1 cup butter

3 tablespoons active dry yeast

2⁄3 cup warm water

11⁄2 teaspoons table salt
2 eggs

8 1⁄2 cups flour, divided
For the filling:
2 cups chopped pecans
11⁄2 cups sugar

3 teaspoons ground cinnamon

3 teaspoons maple extract or maple flavoring

1⁄4 cup butter, melted
For the icing:
2 cups confectioners' sugar
3 tablespoons whole milk
1 capful natural lemon extract (about 1⁄2 teaspoon)

Special equipment:
2 (12-inch) circular pans, such as pizza pans
3-inch round biscuit cutter

1. In a small saucepan, combine the milk and sugar; whisk until the sugar is dissolved. Add the butter and heat over medium low, stirring gently, until the butter is melted. Remove from the heat and set aside.

2. In a glass measuring cup or small bowl, combine the yeast, warm water, and a pinch of sugar. Allow the mixture to sit for 5 minutes to make sure yeast is active and alive. You should see bubbles on the surface, and the mixture should grow in volume

3. In a large bowl with a wooden spoon or in the bowl of a stand mixer fixed with the paddle attachment, add the milk mixture and the yeast mixture. Add the salt, eggs, and 7 cups of the flour. Mix until combined. The dough will still be very sticky, and that's okay.

4. Transfer the dough to a very large, lightly oiled bowl, cover with oiled plastic wrap, and let it rise in a warm spot until doubled in size, about 1 hour.

5. While the dough is rising, make the filling. In a small bowl, combine the pecans, sugar, cinnamon, and maple. Stir with a fork until well mixed; set aside.

6. Punch down the risen dough, add the remaining 11⁄2 cups flour, and knead by hand for 1 to 2 minutes on a well-floured surface.

7. Divide the dough into six equal portions (each pan of pecan rings will have three layers of dough). Roll out one portion
of dough into a 12-inch circle and place it on a lightly oiled 12-inch pizza pan. Brush the entire surface with melted butter, then top with one-sixth of the filling mixture (about a couple of spoonfuls). Roll out another portion of dough into a 12-inch circle, place it on top of the first, brush with butter, and top with more filling. Repeat with one more portion of dough, topping it with the melted butter and filling mixture. Make sure to get the butter and filling mixture all the way to the edges. Repeat step 7 with the remaining three portions of dough and another 12-inch pizza pan.

8. Use a 3-inch biscuit cutter to cut a circle in the center of each pecan ring. Use a clean pair of kitchen shears or scissors to cut the rest of the dough into sixteen wedges, cutting all the way from the outside edge, through all three layers of filling and dough, until you reach the center portion. Stop just short of that center circle. (I cut mine in half first, then cut each half in half again, then each quarter in half again, and so on until I have sixteen equal pieces.)

9. Gently pick up the outside edge of each wedge and give it one and one half complete twists. You should end up with the bottom on the top at the outside edge. After twisting, firmly press the edge back onto the pan. Repeat with the other fifteen wedges, then repeat with the other pan.

10. Lightly cover the pecan rings and allow them to rise for 30 minutes more.

11. Preheat the oven to 375 degrees F. Bake the pecan rings for 18 to 20 minutes, or until golden.

12. While the pecan rings bake, make the icing. In a small bowl, whisk together the confectioners' sugar, milk, and lemon extract. When the pecan rings come out of the oven, drizzle the icing over the warm pastries. Allow them to cool slightly before serving. They are best eaten the day they are made, but leftovers taste especially good when reheated for a few seconds in the microwave.


©2016 By Melissa Bahen. All rights reserved. Excerpted from Scandinavian Gatherings; From Afternoon Fika to Midsummer Feast: 70 Simple Recipes and Crafts for Everyday Celebrations by permission of Sasquatch Books. Photographs Charity Burggraaf.