Smashed Mashed Boiled and Baked and Fried, Too! – Raghavan Iyer
November 20, 2016 by Jenny
Potatoes are so versatile and can take on many flavors and textures. About a year ago, when Raghavan Iyer began posting photographs of the most incredible looking dishes all featuring the humble potato, I turned married-white potato-loving female on him and began stalking him. I asked him at least a dozen times "when is this book being released?" Thankfully, he is as kind as he is talented and didn't block me. The wait is over!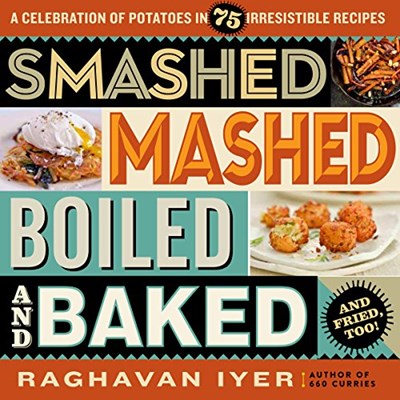 Smashed Mashed Boiled and Baked and Fried, Too! has hit the bookshelves this week. Raghavan Iyer's 660 Curries is an all-time favorite when people discuss Indian cooking in The Cookbook Junkies group. Every other title he has written is a valued book in my collection – his recipes work and they are teeming with flavor.
His new release is organized as follows: Munchies, Morsels, Tidbits & Finger Foods; Savory Soups & Stunning Salads; Entrees, Mains & Full Plates; Small Plates & Side Dishes; and Sweets, Desserts and Grand Finales. There is a section "Special Diets" that indexes the recipes that are Gluten-Free; Vegan; Lacto-Vegetarian and Lacto-Ovo Vegetarian and Conversion Tables set out so that we can easily translate measurements, weights and oven temperatures.
Every recipe in this book appeals to me as many of them include global flavors. A few standouts are the Sweet Potatoes with Chicken and Lemongrass; beautiful Bird's Nests with Shrimp and Potatoes; and Pommes De Terre Anna with Cardamom & Nutmeg. The first recipe I made was the Kung Pao Potatoes – and there is one glaring mistake in the recipe – Raghavan states that it serves six. He is wrong. Sorry, even the great ones can make an error. It serves one and maybe two if the person is threatening me. Thanks to the author and his publisher, Workman, you can make this recipe (see below).
Smashed Mashed Boiled and Baked and Fried, Too! delivers 75 delicious ways to enjoy potatoes and I'm going to be busy trying every single one of them. The author has a number of events scheduled to promote his smashing (pun intended) new book. Please be sure to enter our contest to win a copy of this title and do let me know if you make these potatoes and enjoy them as much as my family did.
Kung Pao Potatoes – Serves 6
Around the early 1600s, the Dutch introduced the potato to China, where it was referred to as "earth bean," "ground nut," or "tuber with many children." It wasn't until the mid-1980s that the Chinese government made concerted efforts to increase crop production; now China is the world's biggest producer of potatoes. All this still comes as a surprise to Guanghe Luo, a 61-year-old immigrant to Minnesota, via California, from the southwestern city of Chengdu in Sichuan province. Growing up there, he and his family never ate much of the tuber at home as it was very much considered poor man's food. Even as a trained master chef and successful restaurateur in China, potatoes never played a role in his culinary offerings. But now he finds unique ways to serve them, including this rendition that he whipped up for me in his busy restaurant kitchen. Each bite of the dish was a perfect balance of crunch, heat, salty soy, and nutty peanuts.

Ingredients

• 1½ pounds russet potatoes
• Canola oil, for deep-frying
• ½ cup cornstarch
• ½ cup blanched raw peanuts
• 12 to 16 whole dried red chiles (such as chile de árbol or chile japones) (see Tater Tips below)
• 8 slices fresh ginger (each about the size and thickness of a quarter; no need to peel first), cut into thin shreds
• ¼ cup soy sauce
• 2 tablespoons rice vinegar
• 2 teaspoons unrefined granulated sugar, such as Sugar in the Raw
• 2 teaspoons toasted sesame oil
• ½ cup finely chopped fresh chives

1. Fill a medium-size bowl with cold water. Peel the potatoes. Slice them into ½-inch-thick planks. Stack a few planks at a time and cut them into ½-inch-wide strips, just as you would for french fries. (A mandoline or food processor with the appropriate slicing attachment works great.) Submerge the potatoes in the bowl of water to rinse off surface starch and to prevent them from discoloring.

2. Pour oil to a depth of 2 to 3 inches into a wok, Dutch oven, or large saucepan. Heat the oil over medium heat until a candy or deep-frying thermometer inserted into the oil (without touching the pan bottom) registers 350°F (see Tater Tips).

3. When the oil is almost hot enough, line a cookie sheet with several layers of paper towels. Drain the potatoes in a colander and give the colander a good shake to rid the potatoes of excess water. (A little water clinging to the strips is just fine.) Wipe out most of the water from the bowl and return the potatoes to it. Add the cornstarch and toss to completely cloak the potato strips with the starch.

4. Once the oil is ready, gently drop about one fourth of the potato strips into the hot oil. Fry, turning them occasionally with a slotted spoon, until they are caramel brown and crisp all over, about 5 minutes. Remove them with the spoon and spread them on the paper towels to drain. Repeat until all the potatoes have been fried and drained. You may need to adjust the heat to maintain the oil's temperature at 350°F.

5. Heat a wok or large skillet over medium-high heat. Remove 2 tablespoons of the hot oil used for deep-frying and add it to the wok. The oil will instantly appear to shimmer. Add the peanuts, chiles, and ginger and stir-fry them until the peanuts turn sunny brown, the chiles blacken, and the ginger is a light caramel color and smells fragrant, 1 to 2 minutes.

6. Pour in the soy sauce, vinegar, and sugar, all of which will bubble immediately. Add the fried potatoes and toss well to coat. The sauce will cling to the potatoes, thanks to the cornstarch. After a minute, when the potatoes are warm again, stir in the sesame oil and chives. Serve immediately.

Tater Tips
▲ The number of chiles may sound alarming, but keep in mind they are left whole. The heat will be wispy but the smokiness from having been blackened in oil will provide an essential dimension to the potatoes.

▲ If you plan to stir-fry the final dish right after the potatoes are fried, the potatoes will retain a crispy texture. If you plan on doing it later, refrigerate them in a sealed zip-top bag. A 2-minute dunk in the oil used for deep-frying heated to 350°F will re-crisp the potatoes before you stir-fry them.

Excerpted from Smashed, Mashed, Boiled, and Baked-and Fried, Too! by Raghavan Iyer. Photograph by Matthew Benson.