August 2016 cookbook roundup
August 25, 2016 by Jane
Every month Jane and Fiona wade through hundreds of cookbooks, selecting and reviewing all the best new releases of U.S., Canada, U.K., Ireland, Australia, and New Zealand cookbooks. The only thing left for you to do is to add them to your Bookshelf.
August is a hodge podge of books. One trend that stands out are collections of books, each devoted to a specific subject. Breakfast foods get an indepth treatment in several tomes, and vegetarian cookbooks remain popular.

USA
Victuals: An Appalachian Journey, with Recipes by Ronni Lundy: Victuals is an exploration of the foodways, people, and places of Appalachia. The book explores the diverse and complex food scene of the Mountain South through recipes, stories, traditions, and innovations.
The Dim Sum Field Guide by Carolyn Phillips: Based on a popular Lucky Peach story, The Dim Sum Field Guide is a pocket-size resource featuring 80 hand-drawn illustrations. With entries for all the dim sum classics–including siu mai, xiaolongbao, char siu, roast duck, and even sweets like milk tarts and black sesame rolls–this handy reference is perfect for bringing on-the-go to your next dim sum outing. Phillips' blog, Madame Huang's Kitchen, is indexed on EYB.
All Under Heaven by Carolyn Phillips: It's not often that an individual author has two books in the roundup! In All Under Heaven – the first cookbook in English to examine all 35 cuisines of China – Phillips draws on centuries' worth of culinary texts, as well as her own years working, eating, and cooking in Taiwan. Carolyn is on tour doing double duty promoting both books.
Naturally, Delicious by Danny Seo: In his popular new magazine, Naturally, Danny Seo, editor-in-chief Seo presents a modern and stylish take on green living, and in his first cookbook, he extends that fresh approach into the kitchen. Naturally, Delicious aims to show home cooks that preparing healthy, delicious food on a daily basis doesn't have to feel like an expensive, time-consuming chore.
Dandelion and Quince: Exploring the Wide World of Unusual Vegetables, Fruits, and Herbs by Michelle McKenzie: This illustrated cookbook celebrates the abundance at farmers' market and local grocery store yet to be discovered by the everyday cook. It includes plant profiles for over 35 uncommon vegetables, herbs, and fruits available in today's markets.
Rise and Shine: Better Breakfasts for Busy Mornings by Katie Sullivan Morford: Written by a nutritionist with three children, Rise and Shine is the answer for every parent who has struggled to get breakfast on the table and to get their child to actually eat it. The book focuses on nutritious breakfasts that are easy to make, with at least half requiring no more than five minutes of hands-on prep time.
Inspiralize Everything: An Apples-to-Zucchini Encyclopedia of Spiralizing by Alli Maffucci: The creator of the popular blog and the author of the bestselling Inspiralized, Ali is indisputably the authority on the topic. The book is organized alphabetically by type of produce, allowing you to cook with whatever you already have on hand, what comes in your CSA box, or what you find at the farmer's market.
Run Fast, Eat Slow by Shalane Flanagan and Elyse Kopecki: If you feel the need for a post-Olympics sports fix, Run Fast, Eat Slow, written by world-class marathoner and 4-time Olympian Shalane Flanagan and chef Elyse Kopecky, might be the ticket. The cookbook, aimed at runners, shows that fat is essential for flavor and performance and that counting calories, obsessing over protein, and restrictive dieting does more harm than good. View the Calendar of Events to see book tour details.
Cast-Iron Cooking: Recipes & Tips for Getting the Most Out of Your Cast-Iron Cookware by Rachael Narins: Get the most from your cast-iron cookware with recipes especially designed for cast iron, from a full English breakfast to chilaquiles, pan pizza, cheesy beer fondue, Korean fried chicken, and more. You'll also get tips on how to buy and care for cast iron pans.
Bread Illustrated by America's Test Kitchen: Aimed at demystifying bread baking, the books' recipes are dissected in the ATK manner, with detailed instructions and step-by-step photos. Organized by level of difficulty to make bread baking less daunting, the book progresses from the simplest recipes for the novice baker to artisan-style loaves, breads that use starters, and more complex project recipes.
Fall Baking: Southern Harvest Favorites by Brooke Bell: From golden and bubbly pies, cobblers, and crisps to decadent cakes that are drizzled, frosted, and glazed with fall flavor, these seasonal Southern favorites showcase the splendor of fall.
Gluten-Free for Good: Simple, Wholesome Recipes Made from Scratch by Samantha Seneviratne: If you're living gluten-free, this cookbook may help you enjoy dishes you thought you'd never be able to eat again. These quick-cooking meals are for any time of day, all made from scratch without hard-to-digest processed additives like xanthan or guar gum.
Bubbe and Me in the Kitchen: A Kosher Cookbook of Beloved Recipes and Modern Twists by Miri Rotkovitz: Miri Rotkovitz spent her childhood in the kitchen of her grandmother, Ruth Morrison Simon, whose commitment to international Jewish fare left a lasting impression. Bubbe and me in the Kitchen is a touching, humorous, versatile kosher cookbook, which celebrates the storied recipes that characterize and reinvent Jewish food culture.
The Hattie's Restaurant Cookbook: Classic Southern and Louisiana Recipes by Jasper Alexander: Hattie's Restaurant has been bringing classic Southern cooking to Saratoga Springs, New York, since 1938, when Louisiana native Hattie Gray started Hattie's Chicken Shack. Now, its traditional fare can grace your kitchen with the Hattie's Restaurant Cookbook, by Hattie's owner and chef Jasper Alexander, who is on tour promoting the book.
One Pan, Two Plates: Vegetarian Suppers by Carla Snyder: Cooking for two can often be daunting, but Snyder makes the challenge a bit easier. This follow-up to the successful One Pan, Two Plates provides 70 perfectly sized vegetarian entrées, all requiring only one pan and one hour or less to prepare.
Cook's Illustrated Magazine has released two "best of" cookbooks – Cook's Illustrated All-Time Best Appetizers and Cook's Illustrated All-Time Best Soups. These first two titles will be joined by others in subsequent years. Each book is filled with recipes handpicked from a quarter-century of Cook's Illustrated magazine as well as expert testing information, tips from the test kitchen, and full-color photography.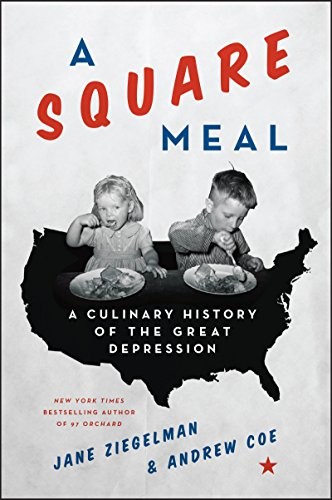 A Square Meal: A Culinary History of the Great Depression by Jane Ziegelman and Andy Coe: From the author of the acclaimed 97 Orchard and her husband, a culinary historian, A Square Meal is an exploration of the greatest food crisis the United States has ever faced-the Great Depression-and how it transformed America's culinary culture.
Tastes Like Chicken: A History of America's Favorite
Bird by Emelyn Rude: It's hard to imagine, but that long ago, individuals each consumed less than ten pounds of chicken per year. Today, those numbers are strikingly different: we consumer nearly twenty-five times as much chicken as our great-grandparents did. Emelyn Rude explores this fascinating phenomenon in Tastes Like Chicken. With meticulous research, Rude details the ascendancy of chicken from its humble origins to its centrality on grocery store shelves and in restaurants and kitchens.
CANADA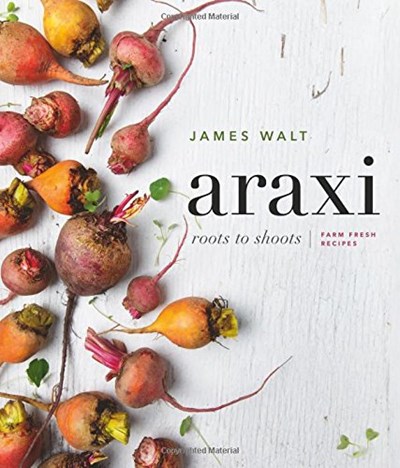 Araxi: Roots to Shoots by James Walt: Gordon Ramsay calls it the best restaurant in Canada. The chefs at Araxi Restaurant and Oyster Bar call it a celebration of where they live. In this follow-up to their James Beard-nominated cookbook, award-winning chef James Walt and his team share 80 classic recipes from Araxi's dining room and signature Longtable events, all adapted for delicious home cooking.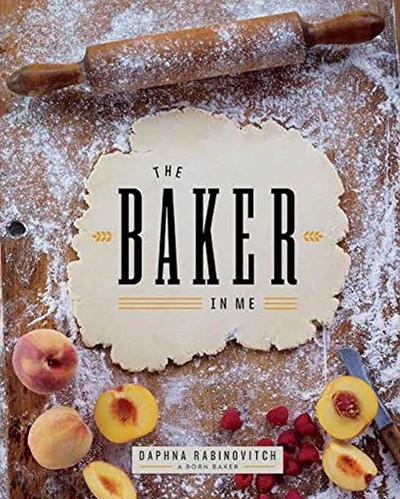 The Baker in Me by Daphna Rabinovitch: Rabinovitch has been an enthusiastic baker from her childhood right through to a distinguished career as a pastry chef. In The Baker in Me she brings years of experience and a keen eye for details to a comprehensive guide that lets home bakers take charge of their kitchen.
UK
The Palomar Cookbook: Award-winning restaurant The Palomar features dishes influenced by the rich cultures of Southern Spain, North Africa and the Levant. The restaurant's debut cookbook includes recipes for the restaurant's signature dishes, alongside recipes drawn from family tradition.
Toast Hash Roast Mash: Real Food for Every Time of Day by Dan Doherty: Dan Doherty, the author of Duck & Waffle: Recipes and Stories is back with the recipes he cooks at home for family and friends – informal, easy and as indulgent as ever. The foods are inspired by the best a breakfast or brunch menu can offer – but to eat all day.
Nordic Light: Lighter, Everyday Eating from a Scandinavian Kitchen by Simon Bajada: With Nordic cooking in the spotlight, a "diet" book on the topic was inevitable. Focusing on seasonal fresh produce and vegetables, Simon adds a Nordic twist on food from all cuisines and prepares dishes with clever touches to make them interesting and diverse in our daily diet.
The Book of Hygge: The Danish Art of Living Well by Louisa Thomsen Brits: Hygge is a word that has been sifted to the surface in recent years but it's not a new concept. The Danes have enjoyed hygge for hundreds of years. There's no secret formula or single recipe but there are simple ways to invite more hygge into our lives. This book is an introduction to hygge, a careful look at the way of life that underpins it and a comprehensive guide to all the elements that can come together to evoke it.
Curry Lover's Cookbook by Mridula Baljekar: This book brings together an inspirational collection of recipes chosen by Indian masterchef Mridula Baljekar, featuring tandoori meals, leavened and unleavened breads, fish and shellfish curries, recipes using fresh vegetables, beans, peas and dairy produce, and dishes using coconut milk and chillies.
Quivering Desserts & Other Puddings by Marie Holm: Love foods that are sweet and that wobble? Then this book is for you. In Quivering Desserts & Other Puddings you will find recipes for both classic puddings along with contemporary versions such as salted caramel pudding with caramel popcorn and white chocolate pudding with jasmine tea.
There are two GBBO books this month: Great British Bake Off: Bake it Better: Sweet Bread & Buns by Jayne Cross and Great British Bake Off: Bake it Better: Pastry & Patisserie by Joanna Farrow. Both follow the same GBBO formula – recipes for both classics and modern bakes, progressing from simpler recipes to more challenging showstoppers.
Green Kitchen Smoothies: Healthy and Colorful Smoothies for Every Day by David Frenkiel and Luise Vindahl: Bestselling authors and popular bloggers David and Luise share their top smoothie recipes. The book is divided into simple smoothies, post-workout favorites, breakfast ideas, energizers, desserts, and more.
Kyle Books is offering up a collection of four books, each focusing on a single healthy ingredient. Up first is The Goodness of Avocado by Lucy Jessop. Avocados may be high in fat, but it's the good kind, plus they have antioxidant properties, help protect against damaging free radicals and help maintain healthy blood pressure. With chapters divided by texture, Avocado offers an abundance of recipes to enjoy this healthy fruit.
The Goodness of Greens by Claire Rogers is up next. While food fads may come and go, greens (including beans, peas, broccoli, cabbage, lettuce; rocket, watercress and spinach, and kale) are here to stay. Once relegated to the side of the plate, greens are now taking centre stage, and this book offers vibrant recipes that explore the different textures and flavours provided by these nutrient-dense ingredients.
The Goodness of Garlic by Natasha Edwards focuses on one of the world's most valued ingredients, synonymous with so many cuisines that most kitchens would be bare without it. Not only does garlic have an irresistible flavour, it also helps boost your immune system.
The Goodness of Coconut by Emily Jonzen rounds out the series. Hailed as one of the top superfoods of 2015, the humble coconut is certainly having its moment of glory. Jonzen arranges her book by texture and variety, with chapters divided into Milk & Water, Oil, Flour and Desiccated.
Herbarium by Caz Hildebrand: A contemporary evolution of the traditional herbarium, presented in a fresh way for a younger audience and a new generation of cooks, Herbarium will expand readers' knowledge, improve culinary skills and enhance their appreciation of the incredible world of tastes offered by herbs. Each entry features a specially commissioned illustration with texts that include the botanical name, place of origin, varieties and areas where the herb is most commonly grown.
The Official Dr. Who Cookbook by Joanna Farrow: A must-have for any Whovian, containing dozens of wibbly-wobbly, timey-wimey recipes, The Official Dr. Who Cookbook is the perfect accompaniment for viewing parties. Many of the recipes are for dishes shaped like characters from the show (Adipose Pavlova, for instance), but there is no mention of fish sticks and custard in the previews. The book is also out in the USA this month.
Iindexed magazine Olive presents three new "best of" cookbooks this month. Each recipe in the stylish books features a full-colour photograph so you know what you are aiming to create. The first book is 100 of the Very Best Vegetarian Meals, with delicious seasonal salads and soups, dairy-free meals, and recipes for entertaining.
Next up is 100 of the Very Best One Pot Recipes, which includes meat-free meals, chicken, beef, fish and puddings, all requiring minimal fuss to prepared. Finally we have 100 of the Very Best 5:2 Diet Recipes, a collection of recipes all under 500 calories (and some under 200). For the uninitiated, the 5:2 diet stipulates calorie restriction for two non-consecutive days a week and unconstrained eating the other five days.
IRELAND
The Plan by Aoife Hearne: Aoife is a familiar and trusted face for Irish TV audiences. In her first cookbook, she brings together all the recipes and practical advice you need to reach and maintain a healthy weight. Aoife's focus is on developing sound eating habits that benefit the whole family through delicious dishes that are accessible rather than intimidating. As well as tempting breakfasts, lunches and dinners, The Plan includes a section on strategies for healthy living, with tips for preparing a weekly meal plan, cooking ahead and other good habits to support long-term healthy eating.
AUSTRALIA and NEW ZEALAND
Alimentari: Salads + Other Classics from a Little Deli that Grew by Linda Jones and Paul Jones: From their popular Melbourne café/deli, Linda and Paul share some of their popular dishes and the story of how a little café became such a success. The recipes are a mix of modern European and Middle Eastern food, including delicious sounding dishes such as semolina porridge with rhubarb compote; suckling pig and fennel lasagne and fig and mascarpone tartin.
Feed the Man Meat: 70 Mantastic BBQ Recipes by Oscar Smith: Just in time for Father's Day (in Aus and NZ). If you think there's room for improvement – or just some fresh ideas, this book is your guide to getting the absolute best out of your grill-whether it's a modest charcoal bucket or a gas-burning beast with all of the bells and whistles. There are chapters on chicken, beef, lamb, pork, and seafood – even some non-meat recipes. And desserts that work on the grill.
My Year Without Meat by Richard Cornish: As a food writer Richard Cornish ate a lot of meat – so much that he decided to give up eating meat for a year while he examined what it means to eat meat today. It was a bittersweet journey, but it changed his body and his values and he hopes it changes the way we look at our supermarket trollies and prepare the evening meal. You can read his fascinating article about eating his first meat for 12 months in a recent article in The Australian.
The Natural Cook: Maximum Taste, Zero Waste by Matt Stone: One of Australia's brightest young chefs, Matt Stone is a passionate advocate of zero-waste cooking and ethical food -but not at the expense of producing great food. From a nourishing breakfast, to quick weeknight meals or a feast for friends he shows you how you can too. Including yoghurt-making, preserving, pickling and fermenting.
Eat Clean: Feel Great With 100 Recipes For Real Food You Will Love! by Luke Hines: This is Luke's first solo cookbook without his 'My Kitchen Rules' partner. He shows you how to prepare meals made from nutrient-dense wholefoods, avoiding dairy and sugar. From super-fast breakfasts to mid-week dinners – even healthy versions of curries, burritos and burgers.
Neigbourhood by Hetty McKinnon: Since relocating her popular salad delivery business, Arthur Street Kitchen, from Sydney to Brooklyn (open soonish, I believe) she self-published her first cookbook Community for her beloved fans back home – which became a best seller in Australia. Her new book includes more salad and sweet recipes inspired from journeys through the Americas, the Mediterranean, Asia, France. See dates for her Australian book tour on the World Calendar of Cookbook Events.
I Quit Sugar: Kids' Cookbook by Sarah Wilson: Having weaned us all off sugar (sort of!) now it's the kids turn. Good luck!
Milk. Made.: A Book About Cheese: How to Make it, Buy it and Eat it by Nick Haddow: For anyone interested in the production or just love eating cheese – this is a wonderful reference guide for cheese and how some of the world's best cheeses are made, with interviews with internationally recognized cheese connoisseurs. Includes recipes on how to use cheese as well.
Cooking 4 Change: 101 Famous Kiwis Share Their Favourite Recipes: Celebrated NZ artist Dick Frizzell asked a wide range of NZ celebrities to share their all-time favourite dishes in order to raise money for 4 local charities. The result is a diverse selection of recipes and intimate cooking stories, including some great photography mostly taken inside each celebrity's own kitchen.
Elbows Off the Table, Please by Jo Seagar: When you're wanting to cook or bake something delicious to show your appreciation or for a special occasion, Jo's new book will give you plenty of inspiration as she shares many of her favourite dishes. See dates for her New Zealand book tour on the Calendar of Events.
Chop Chop: Asian-inspired family favourites by Brett McGregor: Having spent a lot of time in Asia, Brett has developed great recipes with Asian flavours that can be made easily for mid-week meals as well as some more complex ones for special meals. Includes recipes for salads, curries, soups, stir-fries and noodle dishes, plus sweet treats.