Author Q&A with Domenica Marchetti
July 15, 2016 by Jane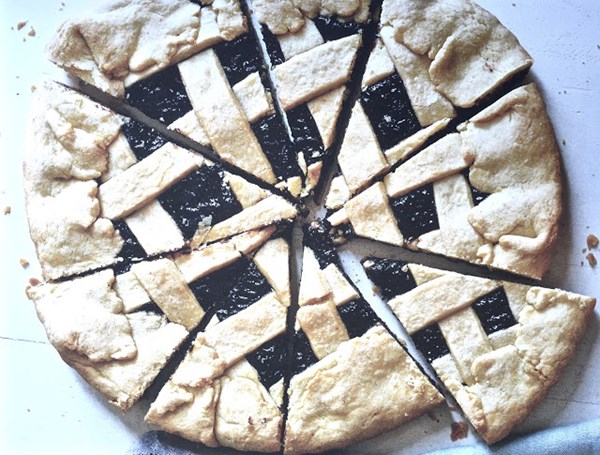 Domenica Marchetti is a food writer, recipe developer, and cooking teacher who specializes in Italian home cooking. She learned to cook from her Italian-born mother, who put her to work crafting capelletti, ravioli, and other Italian culinary delights as soon as she could see over the kitchen counter. A former newspaper reporter with a master's degree in journalism from Columbia University, Domenica covered subjects ranging from health and fitness to philanthropy before turning to her favorite subject, food. Her food articles have appeared in The Washington Post, Cooking Light, Fine Cooking, Health, and Virginia Living, and she has written several cookbooks. Her latest, Preserving Italy, has just been released. (Enter our contest for your chance to win a copy of the book, and view our World Calendar of Cookbook Events to see book tour dates and locations.) Domenica spoke with EYB about her book and what she noticed about the state of preserving in Italy:
You have covered a lot of Italian cooking subjects in your cookbooks – soups & stews, pasta, biscotti, vegetables and more. How did the idea for a book on Italian preserving come about?
My mother always canned giardiniera, pickled peppers, green tomatoes, and jams. And I've always made jams and a few pickles. I had a small chapter in The Glorious Vegetables of Italy on preserves and condiments. But it wasn't until I decided to try to recreate my grandmother's amarene sotto spirito (sour cherries in boozy syrup) that I began to look more deeply at the subject of preserving and its place in Italian cuisine.
Many people when they think of preserving, think of jams and chutneys. What other types of preserving methods are covered in your book?
The book covers a spectrum that includes vegetables preserved in oil; vegetables preserved in vinegar; jams, marmalades, and conserves; condiments (mostarda, pesto, quince paste, seasoned salts and vinegars etc.); tomatoes and sauce (a chapter that also includes homemade pasta and how to store it); simple salumi (cured meats); brined and salt-cured olives; fresh cheeses; syrups and liqueurs, and a few confections (thanks to the preserving properties of sugar).
You grew up with an Italian mother. How many of the techniques in the book were ones used by your family and were there any techniques that you had to learn when writing the book?
My mom was accomplished at the more basic canning techniques ~ pickled vegetables, jams, fruit in syrup, and such. She also made homemade pasta, and homemade sausages. I learned most of those techniques from her, but there was definitely a learning curve for the book. For example, I had never cured my own olives. And, since I don't have an olive grove in my backyard in suburban Virginia, I had to find a source for the fruit. Thank goodness for California and the Internet.
Italy has a wonderful tradition of charcuterie – salumi, prosciutto, bresaola, etc. Do you include any meat preserving techniques and recipes?
Yes, it's definitely a subject worthy of its own book. For this book, which covers a broad variety of techniques, I kept to simple salumi ~ pancetta and guanciale, plus sausages. This is a good place for people to start if they haven't done any meat curing before. Nothing too intimidating.
Italy is famous for its regional differences in cooking styles. Are there also regional differences in preserving?
Yes, although there is definitely some overlap. For example, you will see eggplant or zucchini preserve in oil in various regions, from Abruzzo to Campania, Puglia, and Calabria ~ generally in the south. On the other hand, something like mostarda–that is, fruits suspended in a very spicy syrup spiked with mustard essence–is generally only found in Lombardia, and parts of the Veneto and Emilia Romagna ~ a swath across a northern section of Italy. And the mostarda varies from province to province and region to region. In Abruzzo we have something called mosto cotto, a syrup made from very slowly cooked down grape must. It is drizzled over ricotta and also used as a sweetener in baked goods. In Emilia Romagna, it is known as saba.
Italy has wonderful raw materials – vegetables, fruit, meats, dairy products. Are cooks who need to use supermarkets for their raw ingredients at an immediate disadvantage?
This is an excellent question, and speaking broadly I would have to say yes. You really want to try to avoid preserving tired vegetables or fruits past their prime, or those that are bred for appearance over flavor. The good news is that many supermarkets now make an effort to carry local produce when it's in season. Also, the number of farmers' markets has increased exponentially over the last few decades ~ which is another reason I felt this was the right time for this book. We have access to great fruits and vegetables.
In your travels around Italy do you feel that traditional preserving methods are being lost or is there an artisanal food crafts revival in Italy as there is in the USA?
I keep reading stories about how more and more people in Italy are eating fast food, and that the culinary rituals and traditions are falling by the wayside. I am sure there is some truth to this. However, while I was traveling around the peninsula researching and reporting this book, I found plenty of evidence that the tradition of preserving is alive and well. There are incredibly talented food artisans in every region. I was lucky enough to interview some of them, and I've included profiles of these people and the work they do in the book, from a family that makes what is considered the best buffalo mozzarella in all of Campania, to a husband and wife in Piemonte who switched careers in midlife to buy a shop where they make and sell top-quality preserves.
One of the issues for people who do a lot of preserving is coming up with interesting ways to use the bounty. Do you include recipes that use the preserves?
Yes. The last thing I want is for people to spend time making beautiful preserves and then letting them sit on a shelf in the pantry. So in addition to all the recipes for various preserved foods, there are plenty of recipes in which you can use them. For example, there's a recipe for favorite jam crostata [pictured above] ~ a rustic tart which you can fill with any of the jams in the book (or your own favorite). There's also a recipe for almond cake that has is filled with a layer of jam. Many of the pickled and oil-preserved vegetables can be used as crostini toppings, on top of pizza, in stuffed peppers, and in insalata di riso, a cold rice salad. Recipes for all of those are included.
What are some of your own favorite recipes in the book?
Ack! Tough question. I love the garlic, cheese, and wine sausage, especially grilled and served with pickled vegetables. I also love the aforementioned insalata di riso, to which you can add any number of the pickled vegetables. One recipe that has been a big hit with friends and at cooking classes is the Sweet and Sour Roasted Peppers with Capers. The peppers are blackened, peeled, cleaned, and sliced, then brined in a sweet and sour vinegar brine, and finally packed in jars and topped off with oil. They are so flavorful and the oil gives them a lovely silky texture. One of my favorite desserts in a mint chocolate-chip cake that has fresh mint syrup stirred into the batter. I love the homemade liqueurs–limoncello, cream of strawberry, nocino. And of course, those boozy sour cherries!