June 2016 cookbook roundup
June 28, 2016 by Jane
Every month Jane and Fiona wade through hundreds of cookbooks, selecting and reviewing all the best new releases of U.S., Canada, U.K., Ireland, Australia, and New Zealand cookbooks. The only thing left for you to do is to add them to your Bookshelf.
June's trends have shifted from grilling to another summertime specialty – salads. But although we see several vegetable-centric cookbooks, they are outnumbered by baking tomes, which feature prominently this month. Preserving and reissues of classic books from the 1970s are minor trends in June's offerings.
USA
Preserving Italy by Domenica Marchetti: The notion of preserving shouldn't be limited to American jams and jellies, and in this book, Marchetti turns our gaze to the ever-alluring flavors and ingredients of Italy. Classic recipes such as marinated artichokes in olive oil and classic giardiniera sit alongside lesser known sweet and sour peppers and Marsala-spiked apricot jam. You can find details of Marchetti's book tour on the World Calendar of Cookbook events. Stay tuned for an upcoming promotion for Preserving Italy.
A la Mode: 120 Recipes in 60 Pairings by Bruce Weinstein and Mark Scarbrough: With A la Mode, IACP winners and cookbook dynamos Weinstein and Scarbrough show you how to create innovative delights such as creamy hazelnut gelato atop coffee-poached pears, or maple frozen custard with a mouthwatering cinnamon roll cake, alongside simpler classics like confetti ice cream with layered vanilla birthday cake. The pair are touring in support of A la Mode; find details on the Calendar of Events.
Naturally Sweet: Bake All Your Favorites with 30% to 50% Less Sugar by America's Test Kitchen: The inveterate team at ATK tackle another problem, this time the disasters that can occur when you try to reduce the sugar in baking recipes. ATK addresses these issues with recipes for cookies, cakes, pies and more that reduce the overall sugar content by at least 30% and rely solely on more natural alternatives to white sugar.
A Super Upsetting Cookbook About Sandwiches by Tyler Kord: Kord is chef-owner of the lauded No. 7 restaurant and No. 7 Sub shops in New York. He is also a fabulously neurotic man who directs his energy into careless ruminations on sandwich philosophy, love, self-loathing, Lil' Wayne, getting drunk in the shower, Tom Cruise, food ethics, and what it's like having the names of two different women tattooed on your body. Most of these ruminations also happen to be truly excellent recipes.
EatingWell Vegetables: The Essential Reference by EatingWell Magazine: This reference book guides both vegetable lovers and novices through the world of produce. Organized alphabetically by vegetable, the book includes information on seasonality and the health benefits of each vegetable, as well as recipes with complete nutrition analysis, plus advice on which cooking methods to use for which vegetable.

Meat on the Side: Delicious Vegetable-Focused Recipes for Every Day by Nikki Dinki: The Food Network star's latest book is not just for vegetarians or vegans, but is aimed at home cooks looking to make the shift to healthier, vegetable-focused meals; couples where one person is vegetarian and the other is not; vegetarians looking for new ways to eat vegetables; and for the family that wants unique recipes that are guaranteed to get their children to eat healthier.
Cured: Handcrafted Charcuteria & More by Charles Wekselbaum: Award-winning chef, owner of Charlito's Cocina, and creator of charcuterie Charles Wekselbaum has written an unconventional entry-level guide to the process. Drawing on his Cuban-Jewish background and inspired by flavors from Asia to Italy, "Charlito" includes recipes for pork and beef salami, dry-cured whole muscles like prosciutto and bresaola, and more unusual seafood and vegan options.
Market Math: 50 Ingredients x 4 Recipes = 200 Simple, Creative Dishes by Food & Wine Magazine: Based on Food & Wine's popular monthly column, Market Math starts with everyday ingredients and transforms them into fast, fresh, and delicious weeknight meals. The recipe collection features contributions from the magazine's favorite culinary stars, including Mario Batali, Giada De Laurentiis, and Bobby Flay.
Smuggler's Cove: Exotic Cocktails, Rum, and the Cult of Tiki by Martin & Rebecca Cate: The founders and owners of acclaimed tiki bar Smuggler's Cove take you on a colorful journey into the lore and legend of tiki: its birth as an escapist fantasy for Depression-era Americans; how exotic cocktails were invented, stolen, and re-invented; Hollywood starlets and scandals; and tiki's modern-day revival.
Back to the Kitchen by Freddie Prinze Jr.: Most people know Freddie Prinze Jr. from movies and as one half of beloved Hollywood power couple with Sarah Michelle Gellar. But to family, friends, and co-stars he's always been a terrific father and skilled home cook. The recipes in Back to the Kitchen reflect the influence of his childhood in New Mexico cooking with his mother and eating dishes with a ton of flavor and spice from his Puerto Rican heritage.
The Airfryer Cookbook by Williams-Sonoma Test Kitchen: Books about appliances have been trending down recently, so it's hard to tell if this is the beginning of an upswing or just a one-off. This cookbook focuses on the Philips Viva Digital Airfryer. In a refrain that has echoed through the years, this Airfryer promises to "revolutionize the way you cook!" The book explores uses beyond frying, offering recipes for baking, roasting, and grilling.
Les Diners de Gala by Salvador Dali: The opulent dinner parties thrown by Salvador Dalí and his wife and muse, Gala, were the stuff of legend. Luckily for us, Dalí published a cookbook in 1973, Les diners de Gala, which reveals some of the sensual, imaginative, and exotic elements that made up their notorious gatherings.
This reprint features all 136 recipes, specially illustrated by Dalí, and organized by meal courses, including aphrodisiacs.
The Food and Wine of France: Eating and Drinking from Champagne to Provence by Edward Behr: French culinary techniques are the foundation of the training of nearly every serious Western cook and some beyond. In The Food and Wine of France, Behr talks with chefs and goes to see top artisanal producers in order to understand what "the best" means for them, the nature of traditional methods, how to enjoy the foods, and optimal wine pairings.

Finding the Flavors We Lost: From Bread to Bourbon, How Artisans Reclaimed American Food by Patric Kuh: We hear the word "artisanal" all the time-attached to cheese, chocolate, coffee, even fast-food chain sandwiches-but what does it actually mean? In Finding the Flavors We Lost, James Beard Award-winner Kuh profiles major figures in the so-called "artisanal" food movement who brought exceptional taste back to food and inspired chefs and restaurateurs to redefine and rethink the way we eat.
The Book of Lost Recipes: The Best Signature Dishes From Historic Restaurants Rediscovered by Jaya Saxena: Part vintage nostalgia, part history tour, but all great food, the recipes – often inseparable from their legendary haunts – were meticulously researched and reconstructed for this unique cookbook. You'll find signature recipes formerly lost to time from the most fashionable American hotels and restaurants of bygone times.
Taste of the Nation: The New Deal Search for America's Food by Camille Begin: During the Depression, the Federal Writers' Project (FWP) dispatched
scribes to sample the fare at group eating events like church dinners, political barbecues, and clambakes. Its America Eats project sought nothing less than to sample, and report upon, the tremendous range of foods eaten across the United States. Author Camille Begin shapes a cultural and sensory history of New Deal-era eating from the FWP archives.
Driving Hungry: A Delicious Journey, from Buenos Aires to New York to Berlin by Layne Mosler: Adrift in Buenos Aires, Layne Mosler was hungry-for an excellent (and cheap) meal, for a great story, for a new direction. A chance recommendation from a taxi driver helped her find all these things, and sparked a quest that would take her to three cities, meeting people from all walks of life, and finding an array of unexpected flavors.
UK
Eivissa: The Ibiza Cookbook by Anne Sijmonsbergen: Ibiza's traditional farming and fishing culture has been supplemented with a wave of chefs and producers making artisan products and vibrant food. Now Eivissa, the first recipe book to showcase the incredible Ibicenco dishes Ibiza cuisine has to offer, reveals how to recreate the tastes of the white island in your own home.
Nina Capri: Recipes From Italy's Amalfi Coast by Nina Parker: Following up to her book about St. Tropez, Parker's new cookbook draws on her passion for Italian cuisine. Full colour throughout, much of this beautiful cookbook is shot on location on the stunning Amalfi Coast of Capri.
Nadiya's Kitchen by Nadiya Hussain: Having fallen in love with Nadiya and her outstanding bakes on last year's Great British Bake Off, readers can now discover all her favourite recipes. Nadiya is touring in support of her cookbook; find details on the World Calendar of Cookbook Events.
Samarkand: Recipes & Stories from Central Asia & The Caucasus by Caroline Eden and Eleanor Ford: Over hundreds of years, various ethnic groups have passed through this city, sharing and influencing each other's cuisine and leaving their culinary stamp. Samarkand is a love letter to Central Asia and the Caucasus, containing travel essays, beautiful photography and recipes that are little known in the West.

K-Food: Korean Home Cooking and Street Food by Da-Hae & Gareth West: There's a great buzz around Korean food right now. The Wests use K-Food to introduce us to the cuisine: Da-Hae uses her Korean background to explain the details of traditional recipes, and Gareth shows how Korean and Western flavors can be fused together to create really delicious combinations.

Tanya Bakes by Tanya Burr: Burr is an English fashion and beauty vlogger, blogger, make-up artist and author. She is best known for her fashion and beauty channel on YouTube, and now she can add a new title: cookbook author. In Tanya Bakes, she shares her passion for baking along with all her favourite recipes. In addition to cakes and bakes, you'll find simple puddings, loaves and pastries in the book.
Food for All Seasons by Oliver Rowe: Rowe trained at the highly-regarded restaurant Moro and went on to open Konstam, an award winning restaurant in King's Cross. There he focussed on local, seasonal food and starred in BBC2's The Urban Chef. In this book, Rowe draws on his wealth of experience to bring seasonal food to life. The chef is touring in support of the book; visit the Calendar of Events to view dates.
Deep South: New Southern Cooking by Brad McDonald: The soul food of America's Deep South is celebrated in this new cookbook from native Mississippi chef Brad McDonald. From cornbread to smothered catfish, pimento cheese to lemon icebox pie, from Cajun and Creole to the BBQ and smoking techniques of rural communities, this classic food has been given a contemporary edge.
Cook Happy, Cook Healthy by Fearne Cotton: Cotton is one of UK's best-loved television and radio presenters. She is also a keen healthy baker and young, busy, working mum who has found some great ways to eat well and eat clean. Her first cookbook is full of easy, fast and healthy recipes for everything from breakfast and speedy suppers to baked treats.
LEON Happy Salads by Jane Baxter & John Vincent: London restaurant Leon was founded on the twin principles that food can both taste good and do you good. Six months after opening, Leon was named the Best New Restaurant in Great Britain at the Observer Food Monthly Awards. In this book, Baxter and Vincent bring together recipes for fresh, vibrant, delicious salads.

Savage Salads by Davide del Gatto & Kristina Gustafsson: Savage Salads is about taste as well as health. It's about filling up, being satisfied, enjoying what you're eating and knowing it's good for you. Kristina Gustafsson (from Sweden) and Davide Del Gatto (from Italy) understand how to create punchy flavours and satisfying textures, all topped with grilled halloumi, chicken or fish.
Posh Eggs: Over 70 Recipes for Wonderful Eggy Things by Lucy O'Reilly: Posh Eggs makes the humble egg the star of the show, with recipes that make a meal out of this easy ingredient. With a guide to the basics of cooking eggs, plus a photo for every single recipe, this is the ultimate gifty cookbook or self-purchase for egg addicts, expert chefs, and novices alike.
The Bountiful Kitchen by Lizzie Kamenetzky: The Bountiful Kitchen shows how you can develop and transform leftover meals into a variety of separate and delicious dishes. Start with a master recipe based on one main ingredient and then turn the leftovers into interesting new dishes.
The Great British Bake Off: Children's Party Cakes & Bakes by Annie Rigg: Bake the birthday cake of your child's dreams and make the annual party a stress-free occasion with these brilliant new recipes for delicious cakes, biscuits, buns, and bakes. Recipes for sweet and savoury treats will complete your perfect birthday party.
Teatime: 50 Cakes and Bakes for Every Occasion by Cath Kidston: Afternoon tea is a British tradition that has become a staple the world over, bringing people together over sumptuous scones and sponges, elegant sandwiches, marvelous macarons, and delectable cupcakes. Teatime includes recipes for bakes, tips on perfect styling, as well as cooking know-how.
A Handful of Flour: Recipes From Shipton Mills by Tess Lister: Shipton Mill's flour is the one that professional and home bakers namecheck, from Richard Bertinet to Andrew Whitley to Darina Allen, Raymond Blanc, Jamie Oliver, Hugh Fearnley-Whittingstall and Yotam Ottolenghi. In this, their first, much-anticipated book, Tess Lister will show you how to choose the best flour for breads, pastry, pizza, cakes, tarts, biscuits and more.
The Italian Baker: 100 International Baking Recipes with a Modern Twist by Melissa Forti: In her tea room in an idyllic medieval town near Tuscany, Forti bakes beautiful cakes that combine Italian traditions with her own modern twists. This book is a collection of tarts, cakes, loaves, biscuits, and coffee-time treats born out of Melissa's signature style of baking.

In addition to the reprint of the Dali book, this month features two more reprints from publishing house Phaidon. Both of these books are included in the special EYB members discount. The first is France: The Cookbook by Ginette Mathiot. Many consider this book the bible of traditional and authentic French home cooking. The recipes, which have been fully updated by Clotilde Dusoulier, author of the popular Chocolate & Zucchini blog, prove that authentic French food doesn't have to be complicated, heavy or too rich.
Spain: The Cookbook by Simone & Inés Ortega: The second Phaidon reprint is of the book Spanish cooks have trusted and relied upon since it was first published over 40 years ago. True to its original title (1080 recetas de cocina) it contains a comprehensive collection of 1080 authentic Spanish recipes, covering everything from tortilla to bacalao. There are also menu plans, cooking tips, and a glossary and the book is fully illustrated by the famous Spanish graphic designer and illustrator Javier Mariscal.
Eat.Drink.Shine by Jennifer, Jessica & Jill Emich: The recipes in this book are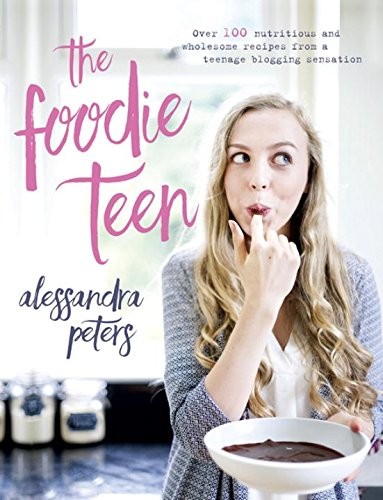 organised by the effect that food has on your body: recipes for energy and vitality, for a healthy libido, to improve digestion, to maintain desired weight and radiant skin, and to elevate the mood and spirit.

The Foodie Teen by Alessandra Peters: The Foodie Teen offers nutritious, delicious meals from the inspirational, award-winning teenage blogger Alessandra Peters. Alessandra is on a mission to inspire others to embrace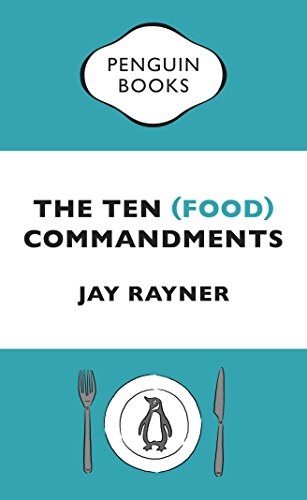 a healthy lifestyle. Her approach to cooking centres around eating unprocessed, real ingredients and her recipes are for everyone.
The Ten (Food) Commandments by Jay Rayner: The Ten Commandments may have had a lot going for them, but they don't offer those of us located in the 21st Century much in the way of guidance when it comes to our relationship with our food. And Lord knows we need it. Enter our new culinary Moses, the legendary restaurant critic Jay Rayner, with a new set of hand-tooled commandments for this food-obsessed age. He deals once and for all with questions like whether it is ever okay to covet thy neighbour's oxen (it is), eating with your hands (very important indeed) and if you should cut off the fat (no).
IRELAND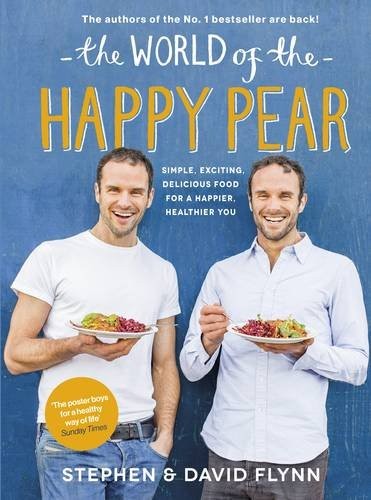 World of the Happy Pear by David & Stephen Flynn: The latest from the authors of the No. 1 bestselling cookery book in Ireland for two years running, The World of the Happy Pear is inspired by the Flynn's family, friends and the international team at their legendary café. By showing that vegetarian food is endlessly varied, packed full of flavour and amazingly easy to prepare they want to spread the love for fruit and veg!
AUSTRALIA and NEW ZEALAND
Wholefood from the Ground Up : Nourishing Wisdoms, Know-How and Recipes by Jude Blereau: If you want to improve your diet and eat more wholefoods, but not sure how, then Jude Blereau, one of Australia's most authoritative, long-established wholefood advocates, will help you achieve your goals with her new book. In addition to 120 wholefood recipes there is clear information about what constitutes 'good' food, where to source it and how to use it to its best effect. Also advice on how to build your wholefood pantry from scratch as well as practical tips for planning and preparing food ahead.
It's All About the Food Not the Fork! 107 Easy to Eat Meals in a Mouthful by Peter Morgan-Jones and Lisa Greedy and Prudence Ellis: At some stage we may all be faced with having to prepare food for friends and family who may not be able to eat 'normally'- older people and people with dementia, swallowing difficulties or other disability. This book will be invaluable for ideas for preparing finger food without compromising taste, textures and aromas.
100 Desserts to Die For: Quick, Easy, Delicious Recipes for the Ultimate Classics by Trish Deseine: For some, desserts are not the priority when entertaining (for some they are!) This book provides 100 simple, inventive recipes, with tips, shortcuts and good advice for uncomplicated desserts that will still impress your guests.
Chocolate: Luscious Recipes and Expert Know-How for Biscuits, Cakes, Sweet Treats and Desserts by Kirsten Tibballs: Australia's 'queen of chocolate' (what a great title!) wants to give you the confidence to be more adventurous with chocolate. She gives detailed explanations of steps and techniques, so you can create decadent treats – such as knockout chocolate mousse cake, sticky chocolate doughnut or the best brownie you've ever tasted.
Gather: Fresh, Tasty Recipes for Sharing by Tim Read: The latest MasterChef NZ winner delivers his first cookbook featuring the type of recipes that he became known for on the show. He loves relaxed eating and entertaining using fresh seasonal produce, that he's either grown in his garden, fished or hunted – you can go to the market!
Melie's Kitchen by Amelia Ferrier: Only 18, Amelia manages university studies, a busy baking schedule fulfilling weekly cake orders, sharing her creations on social media – and creating a cookbook! She shows us how to recreate her amazing creations sharing recipes for cupcakes, stunningly decorated cakes and indulgent pastries, cookies and slices, as well as her signature flavour-packed fillings, icings and toppings.
Edmonds the Best of Baking: Most New Zealander's have their favourite Edmonds recipe – this new collection of 130 baking recipes combines old favourites, Anzac Biscuits, Coffee Cake and Pavlova, with new recipes such as Macadamia Nut and White Chocolate Biscuits, Panforte, and Feta, Olive and Sundried Tomato Calzone.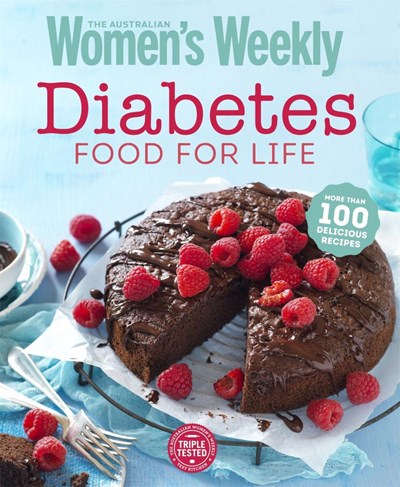 The book is divided into four sections: 'Biscuits & Slices', 'Cakes', 'Pies, Pizzas, Breads & Buns' and 'Christmas Treats' – with every recipe photographed.
The latest from Australian Women's Weekly:

Food for the Soul (The Australian Women's Weekly)
Diabetes: Food for Life