Author interview – Salma Hage
April 26, 2016 by Jane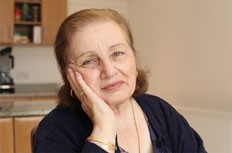 Salma Hage, a Lebanese housewife from Mazarat Tiffah (Apple Hamlet) in the mountains of the Kadisha Valley in north Lebanon, has over 50 years experience of family cooking. She learned to cook from her mother, mother-in-law and sisters-in-law, and, having helped bring up her nine brothers and two sisters, often cooked for the whole family. She has also spent many years working as a cook. Salma has just released The Middle Eastern Vegetarian Cookbook, a follow-up to her bestselling, EYB Pick-USA The Lebanese Kitchen. (Enter our contest for your chance to win a copy of The Middle Eastern Vegetarian Cookbook, published by Phaidon.) We asked Salma about her new book and her lengthy cooking background:

Your much-loved first book The Lebanese Kitchen was not vegetarian. Do you cook vegetarian meals for yourself and your family?
My son and grandson are passionate vegetarians and I cook largely for them. They inspire me tremendously. My family are my inspiration for the food I cook and always have been. My first book was very traditional and more of a definitive guide to the cuisine of Lebanon. My new book reflects much more of how I eat with my family today.
Which Middle Eastern countries contribute recipes to the new book?
I have taken inspiration from many countries within the Middle East, particularly with the types of ingredients selected, but there are no other countries specifically that have contributed independently.
What ingredients do you consider to be staples for someone wanting to cook Middle Eastern vegetarian food?
There are so many it is hard to choose. Za'atar can be added to almost any vegetable dish along with sumac and adds a real kick. They are both great in soups and stews. Pomegranates are a wonderful addition to any salad, they are not only pretty to look at but add a very unique sweet/sour taste. For desserts, I would always say adding a flavoured water such as rose water or orange blossom can give most cakes or cookies a hint of the Middle East.
Many of your recipes are traditional and have been handed down through the generations. Do you know which are the oldest recipes in your book?
Probably 'Nan's Kibbeh'. This spicy, sweet kibbeh is a version that dates back generations in my family and is still a firm favourite. We have it almost every weekend still to this day. In my new book I have combined sweet potato with quinoa (rather than traditional bulgur wheat ) so anyone with gluten intolerances can also enjoy it. Also, 'Grandma's eggplant dip' is a dish I have been cooking for 60 years. The eggplant is scorched over an open flame to bring out the flavour, and gives the dip such a unique smoky taste. It is impossible to recreate this without scorching it over the flame.
How did you learn to cook?
I remember first realising how much I loved cooking when I was 9-years old. I made my father a dish called m'juderah (cooked lentils and rice smothered in crispy fried onions). He said: "my darling, that is delicious, you are such a lovely cook". I am not sure how truthful he was being at the time, but I believed him and there began my love of cooking. As a young girl I would always watch my mother and grandmother closely as they cooked in our home in our tiny village Apple Hamlet in Northern Lebanon.
Fortunately, we have four seasons in Lebanon. You know where you are with the seasons there. In the summer there is not a drop of rain. It is very hot all of the time. In winter, we have snow and frost on the mountains, some people can't believe that. My grandmother used to get someone to chop wooden blocks from the forest, and fill half a room with them. She needed to be warm enough to work in the house, so she'd take one block and put it on the fire to get warm. The snow and ice from the mountains meant that there was some water available for most of the year. We used to grow a lot of beans then and during the summer we would use a needle and thread to stitch them together and hang them up to dry. Then, in the winter, if we wanted some beans, we would just take them down, put them in boiling water and they would come up nice and fresh again. I cook from these fond memories still today.
Have you ever cooked professionally or have you always been a home cook?
I spent most of my working life as a head chef for a large catering organisation, but the food I cook at home for my family is where I get most of my inspiration from.
There has been a huge surge in interest in Middle Eastern food in recent years. Are there recipes in the book that are not yet well-known?
There are a few traditional Middle Eastern dishes that are less well known such as harisa, (not to be mistaken with harissa, the Tunisian hot chili paste), which is a celebratory barley dish often cooked on days of religious significance, in a huge cauldron, at a village gathering. Also, mograbieh. In the Middle East it is often the case that a dish will take the name of its primary ingredient, and so it is with Mograbieh, also known as Israeli, pearl, or giant couscous. The version for this book is smothered in a fresh herbed dressing. I think recipes such as this are not as well known yet and very reflective of how we eat in the Middle East.
There were lovely dessert recipes in The Lebanese Kitchen. Have you included sweet things in the new book?
The sweet section in my new book is by far my favourite. I adapted a traditional Lebanese dessert – konafeh – but using a vegan custard, made with soy cream and orange blossom water. There are some really fresh and fruity desserts in this new book too such as strawberry-rose sorbet and pomegranate, yoghurt ice pops. There are many modern interpretations on traditional dishes and using classic ingredients to make quite modern desserts.