January 2016 cookbook roundup
January 28, 2016 by Jane
Every month Jane and Fiona wade through hundreds of cookbooks, selecting and reviewing all the best new releases of U.S., Canada, U.K., Ireland, Australia, and New Zealand cookbooks. The only thing left for you to do is to add them to your Bookshelf.
This is a quiet month following the holiday push by publishers. This month's notable tomes include several "best of" books by big name chefs plus several vegan books. There's also a load of diet books, clean eating, Paleo, and bone broth books too tedious to list, but there was one other thing that caught our attention: coloring books for cooks! Check out Sweet Treats Volume 20 and Vegan and Vegetarian Coloring Book (Volume 3).
USA

You Have It Made by Ellie Krieger: New York Times best-selling and multi-award-winning Krieger has written a cookbook devoted to make-ahead meals. Aimed at those who are always short on time when it comes to cooking, the cookbook features recipes, ranging from breakfast bakes to soups, salads, and casseroles, that can all be prepared ahead of time. Each recipe includes instructions for refrigerating and/or freezing as well as storing and reheating directions.
Gizzi's Healthy Appetite by Gizzi Erskine – This is the US release of book published in the UK last August. In it, Chef Gizzi Erskine explores her philosophy that healthy eating shouldn't be boring. You can read an excerpt from the book's introduction on the EYB blog, and don't forget to enter our contest for your chance to win a copy (USA & Canada only).
Lucky Rice by Danielle Chang: In Lucky Rice, Danielle Chang, founder of the festival of the same name-which brings night markets, grand feasts, and dumpling-making sessions to America's biggest cities-provides over 100 recipes for innovative Asian cuisine inspired by a range of cultures. The book celebrates both classic and inspired dishes, marrying ancient traditions with simple techniques and fresh flavors.

Vegan Under Pressure by Jill Nussinow: No, this isn't a book about peer pressure to eat a vegan diet. Rather, author Nussinow shows readers to use the pressure cooker safely and effectively, drastically shortening the cooking times of healthful vegan staples such as dried beans and ancient grains.

This month we see the three latest in the series of small books from top chefs presenting their 10 best recipes. From Ducasse's famous vegetable "cookpot" and Hermé's ispahan to Ripert's bluefin tuna and Boulud's sea bass, each volume in My 10 Best offers a master's career-defining 10 recipes. The books featured in this release include My Best: Pierre Hermé, My Best: Joël Robuchon, and My Best: Paul Bocuse.
Oysters by Cynthia Nims: For oyster lovers everywhere, this luscious cookbook features recipes, shucking instructions, and the local farming success story of the many delicious oysters from the Pacific Coast. In addition to many recipes, the book include deas for what to drink with oysters, and tips for buying, storing, and shucking. Stay tuned for a promotion for this book in the near future.
Cook. Nourish. Glow by Amelia Freer: Following the phenomenal success of her first cookbook, Amelia Freer returns with a new book promoting a gluten, refined sugar and dairy-free lifestyle featuring step-by-step visuals designed for the novice chef. She shows you how to use and prepare staple pantry ingredients and includes a 'naughty' chapter, because living healthily is about consistency, not perfection. This is the US edition of book published last month in the UK.
Craft Distilling: Making Liquor Legally at Homeby Victoria Redhead Miller: Following the trend of making beer or wine at home, some hobbyists have become interested in making distilled spirits. However, alcohol distillation is difficult and without a license is illegal in most countries, including the United States and Canada. That caveat provided, this book covers the spirit-making process from mashing and fermenting to building a small column still, becoming a complete guide to creating high-quality whiskey, rum and more at home. The book also includes an overview of the licensing process in the United States and Canada so you don't run afoul of the law.
UK

The New Vegan by Aine Carlin: Going vegan can be a daunting prospect. Many familiar foods and products are out of bounds, and it can be hard to know how to enjoy a healthy, tasty diet. But help is at hand from top vegan author Áine Carlin, recipient of the 2015 Gourmand Award for best UK Blogger, with an in-depth handbook for everything you need to know about going vegan. Learn how to make your own plant milk, nut cream and even vegan-friendly beauty products.
More Home Comforts by James Martin: The popular television host returns with a cookbook chock full of comfort foods from the show. The book is divided into categories like Instant Comforts for quick cooking, Sharing Comforts for when you have a tableful, Posh Comforts for when you're entertaining,and Sweet Comforts featuring classic cakes and bakes.
Foolproof Cooking by Mary Berry: A brand-new collection of recipes and tips to accompany Mary's new BBC TV series, Mary Berry's Foolproof Food, featuring all the recipes from the show, including weeknight dinners, dinner party suggestions, and of course, plenty of tempting traybakes and biscuits for those with a sweet tooth.

River Cottage Gluten Free by Naomi Devlin: Whether you need to cut gluten out of your own diet or you're cooking for friends and family with gluten intolerance, this cookbooks aims to give you the tools necessary to deliciously navigate mealtimes
without incorporating gluten. Nutritionist Naomi Devlin gives clear advice for gluten-free eating, including detailed guidance on alternative flours, methods of fermentation, and baking ideas.
Deliciously Ella Every Day by Ella Woodward: This much-anticipated follow up to the popular blogger's first book, Deliciously Ella, is packed with more of Ella's trademark simple yet tempting plant-based, dairy-free and gluten-free recipes. The 'Deliciously Ella' way of eating isn't about following a diet, it's about enjoying delicious, natural food to help you look and feel your best.
The Happy Life by Lola Berry: Nutritionist Lola Berry believes, as we do, that happiness starts with what we put on our plates. The book includes over 60 wholefood recipes as well as practical advice on how to maintain optimum health across all areas of your life – whether that's eating well and maintaining exercise regimens while travelling, navigating love and relationships, or actively incorporating more mindfulness into your day.
Spiralise! by Pete Evans: If you want to cut carbs – Pete shows you how to make maximum use of a spiraliser, creating ribbons, spaghetti and noodles out a of vegetables and fruit. There are recipes for breakfasts, soups, vegetables and meat-based dishes – all free from dairy, legumes, grains and refined sugar.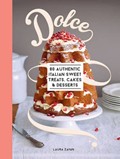 Dolce: 80 Authentic Italian Recipes for Sweet Treats, Cakes and Desserts by Laura Zavan: It's refreshing to see a dessert book amongst the many New Year health books. In Dolce, Laura shows you how easy it is to make the traditional Italian 'dolci' of her childhood, including tiramisu, panettone, and icy lemon granita.