Make someone's day with a food gift
October 16, 2015 by Jane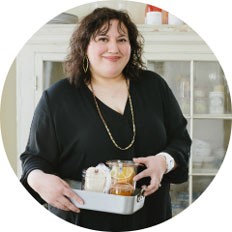 Maggie Battista is the founder and director of Eat Boutique, an award-winning online boutique and story-driven recipe site. Along with selling an ever-changing collection of food gifts, hosting pop-up boutiques and hand-packing small batch food gifts for private clients, Maggie also wrote her first-ever cookbook featuring more than 100 recipes to make, wrap and share. That cookbook, Food Gift Love, was just released by Houghton Mifflin Harcourt. (Enter our contest for your chance to win a copy of the book (US only) and check out the World Calendar of Cookbook Events to view book tour details.) We asked Maggie a few questions about her new book:
How did you come to write this book about food gifts?
I've built a small food gift business, Eat Boutique, and through that process, I've learned what people love to give and receive. I know that sweets and baked treats always delight, and that savory gifts are very important for those who avoid sweets. But that wasn't the primary impetus for the cookbook.
After some deep soul searching while I was writing the cookbook proposal, I remembered that the reason I give a food gift is to certainly be a great host but more than that I also love the feeling of making someone's day with that food gift. My mother did this quite frequently when I was a kid. She'd keep a list of folks in the community who needed food and then make a point of giving it to them on a very kind and hospitable visit that included coffee (or wine), a few laughs, and always hugs. I write about it in the book. She was marvelous in these moments, and I ultimately wanted to capture those memories and that sentimental feeling in my cookbook.
How do you find your suppliers for Eat Boutique?
The makers I work with have inspired me, educated me, and comforted me with delights from their kitchen. And it's through tasting all their amazing food that I've developed an unofficial PhD in tasting, one I use judiciously when discovering new partners for Eat Boutique. We typically get boxes and boxes of samples sent to us weekly for inclusion in our online shop or our various gift collections for private clientele. I search for vision and expertise in the space, a taste that practically begs me to eat the entire product before me, and beautiful packaging that lays out ingredients and value in a crystal-clear fashion.
Are the products local or do you also source from around the USA and overseas?
We source the best possible ingredients from anywhere and everywhere. No doubt, I'm partial to good food from the USA and especially New England but I tend to prioritize quality alongside regionality.
Do you ship your gift boxes around the world or just in the USA?
We ship across the USA and Canada – but have plans to expand beyond that in the future.
Are you just an online and mail order operation or do you also sell retail?
The Eat Boutique website is filled with easy, inspiring recipes, food gift wrap sources and ideas, and gift sets from our favorite food and drink makers. In parallel, we've discovered that new food discovery is best done face to face. We've hosted 8 to 10 markets, pop-ups, and workshops for 15,000+ guests, and plan to launch our favorite one in December 2015. We've renovated a vintage building on the Harvard University campus, near the business school, and plan to open our version of holiday-food-gifts in a jolly setting, from December 4-20, 2015 (Wednesday-Sunday, 2-8PM ET; and open at 10AM ET on Saturdays.)
I've experienced some of the wonderful products you source – the passion fruit curd was amazing. What are your most popular products?
Rare Bird Passion Fruit Curd continues to be a top seller and it's best experienced at a Holiday Market where you can sample a spoonful and buy up whatever you can fit in your bag. Seriously, we do sell out of it always. And chocolate and caramels are most always winners!
What areas of food gifting are covered in Food Gift Love?
Food Gift Love is a primer or guidebook for food gifts across a spectrum of categories. Certainly, you'll find cookies, pies, and breads in the Baked Gifts chapter, but you'll also get to try Candied Gifts (truffles, caramel sauce, marshmallows), Preserved Gifts (jams, marmalades, pickles), and Pantry Gifts (salts, spices, sugars, oils, vinegars,extracts,etc.). I am a big fan of the Fresh Gifts chapter, which I consider gifts made and enjoyed in a few moments, so give my soups, dips, salads, and mignonette sauce a try. And I could never forget my favorite, Spirited Gifts, filled with cocktails, infusions, coffee, cordials, and my family's long-loved recipe for Rompopo, a rum-based milk drink.
One of the most popular times for giving food gifts is Christmas – what are your own favorites?
I give everything in my book at Christmas, especially the marshmallows, spirited drinks, cookies, breads, and preserved gifts like my Sweet-and-Sour Cranberries. However, I give food gifts every day of the year, seriously, and believe that daily dose of easy love and comfort is a forgotten art. We need to gift food every day, treat it like the gift that it is, respect food, and find effortless ways to show the food gift love for those we love and admire.
Gift wrapping can make a homemade food item extra special – do you include wrapping ideas in the book?
There are more than 100 recipes in the cookbook and most of them have detailed giftwrap directions for how I wrap and share them. The sources for all the materials are in the back of the cookbook, so you have a place from which to start. As well, if you'd like to receive a Food Gift Love starter kit from me, go sign up to share the book at foodgiftlove.com – all shares will receive a kit, with a Le Parfait Jar and a few must-have wrapping items, in the mail, to help get them started.