July 2015 Cookbook Roundup
July 23, 2015 by Jane
Every month Jane and Fiona wade through hundreds of cookbooks, selecting and reviewing all the best new releases of U.S., Canada, U.K., Ireland, Australia, and New Zealand cookbooks. The only thing left for you to do is to add them to your Bookshelf.
USA
This month's offerings are a bit sparse, but several intriguing tomes compensate for the low volume. You'll find books from trusted sources as well as new voices, and although the number of books is small, healthy eating and doing good emerge as trends for July.
Good and Cheap: Eat Well on $4/Day by Leanne Brown: A cookbook filled with delicious, healthful recipes created for tight budgets features a strong charitable component: with every copy purchased, a second copy will be given to a person or family in need. High-profile chefs like Mark Bittman, Francis Lam, and Michael Pollan have taken note of the project.
Eat Mexico: Recipes and Stories from Mexico City's Streets, Markets and Fondas by Lesley Tellez: Eat Mexico is a self-described "culinary love letter" to one of the biggest cities in the world, where residents eat from sidewalk grills and stands, markets and casual restaurants. Americans may not recognize many of the book's food and may be pushed–deliciously–out of their comfort zones. Check out the book tour for Eat Mexico on our World Calendar of Cookbook Events.
The Barbecue Lover's Big Book of BBQ Sauces by Cheryl & Bill Jamison: These BBQ gurus know that the secret to great barbecue is in the sauce. Called the "king and queen of grilling and smoking" by Bon Appetit, the Jamisons are back with a book that distills decades of travel to the barbecue capitals of the world, plus countless hours perfecting their craft as they wrote award-winning books on outdoor cooking. The book includes sauces, marinades, mops, pastes, dry rubs and more, along with detailed instructions on using a recipe for smoking, grilling, or both.
Pierogi Love by Casey Barber: This tasty tribute to the pierogi takes a familiar wrapping and stuffs it with a host of unconventional, innovative, and decidedly non-traditional fillings. Featuring both sweet and savory recipes, the book features everything from the classic Polish cheddar and potato offerings to American-inspired Reuben pierogies and fried apple pie-rogies to worldly fillings like falafel and Nutella.
July features three books from retail powerhouse Williams-Sonoma: Frozen Desserts, Luscious Fruit Desserts, and Burger Night by Kate McMillan. Frozen Desserts includes ideas for scoops, shakes, slushes, sundaes, sandwiches, special-occasion treats and accompaniments to these frozen concoctions.
Luscious Fruit Desserts features simple, seasonal recipes. Spring brings strawberry-rhubarb coffee cake; summer beats the heat with blueberry-cream cheese custard pie; fall's arrival is greeted with roasted grape tarlets; and winter's chill is abated with chocolate-banana bread pudding.
Burger Night is what you'd expect from a fancy burger book. In addition to basic beef burgers, the offerings include black bean, chicken, eggplant, falafel, lamb, and shrimp. Also included are sides like bistro fries, sweet potato wedges, and broccoli slaw.
The Cookbook for Children with Special Needs by Deborah French: Another cookbook with lofty goals, the cookbooks is based on the premise that learning to cook not only equips children with a valuable life skill, but will help boost self-esteem in other areas of their lives. Teachers, activity organisers and anyone else working with children with special needs may find this book to be a great resource for cooking inspiration.
UK
Game (River Cottage Handbook No. 15) by Tim MaddamsL The latest in the River Cottage series focuses on game, which can be a healthy and more nutritious alterative to traditional red meats. Here, Tim Maddams gives an accessible guide to obtaining, assessing, preparing and cooking game, including pheasant, grouse, venison, partridge, hare, rabbit, boar and duck.
From Venice to Istanbul by Rick Stein: Accompanying the major BBC Two series, the cookbook includes recipes that Rick discovered during his travels in the region. Featuring dishes ranging from a mezze spread of baba ghanoush, pide bread, keftedes to a rich Dalmatian fresh fig tart, the book explores the cuisines of the Eastern Mediterranean.
Marguerite Patten's Century of British Cooking: Marguerite Patten wrote more than 170 cookery books and introduced several generations to the ins and outs of the kitchen. She passed away in June, just 5 months short of her 100th birthday. In her honour Grub Street is reissuing a new edition of a book published by Marguerite back in 1999. In this book each chapter covers one decade of the 20th century giving both history and recipes.
Everything Sweet by The Meringue Girls: Alex Hoffler and Stacey O'Gorman followed their dream by quitting their 9 to 5 jobs a couple of years ago to embark on their own venture. They now own a bakery in Broadway Market with a staff of eight and also cater large events. The Meringue Girls bring bold tastes and whimsical styling to their inaugural cookbook.
Seaweed in the Kitchen by Fiona Bird: EYB Member Fiona Bird is nothing if not enthusiastic. She lives in the Hebrides and has written her own guide to foraging. In addition she is super-keen on teaching children to cook. Her second book combines these three elements: the Hebrides because seaweed runs amok there; foraging, because she lives in the midst of a natural larder; teaching, because she has written a fine set of intelligent and well-tested recipes.
The Great British Bake Off Celebrations by Linda Collister, Mary Berry & Paul Hollywood: Released just in advance of season six of the BBC series, this cookbook features recipes by Mary Berry and Paul Hollywood and from last season's contestants. From show-stopping centerpieces to simpler cakes and slices, you'll find recipes to fit all occasions.
In the Mood for Healthy Food by Jo Pratt: This cookbook aims for those who want to eat healthy but don't want to sacrifice flavor or variety. Pratt's recipes highlights healthy foods like nuts, sprouting beans & seeds, quinoa, kale and chia seeds, and includes information on why they are good for you and where to find them.
Chicken: Over Two Hundred Recipes Devoted to One Glorious Bird by Catherine Phipps: This book dives deep into one of the most versatile meats available. Phipps claims to have "every recipe for chicken that you will ever need" and for every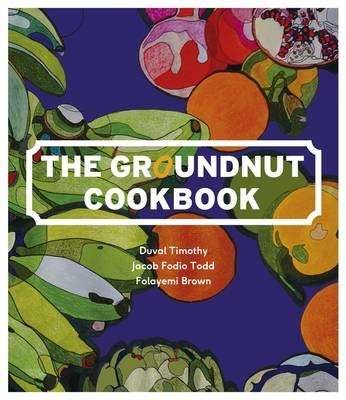 possible cooking method – fried, flambeed, roasted, barbecued, smoked, stewed, grilled, put in a sandwich or made into soup.
The Groundnut Cookbook by Duval Timothy, Jacob Fodio Todd and Folayemi Brown: This contemporary African cookbook is from the foodie trio behind the current London pop-up supperclub craze. Duval Timothy, Jacob Fodio Todd and Folayemi Brown aim to elevate awareness of African cuisine with their cookbook packed with full-colour photography and easy-to-follow, fresh and healthy recipes.
Australia & New Zealand
Vegetables, Grains and Other Good Stuff by Simon Bryant: Following his successful book on Vegies, Simon introduces grains and pulses into the mix. Includes tips for getting the most from your ingredients including interesting flavour combinations, such as Fennel and star anise broth, Seaweed and blue cheese fondue and even Chocolate and lentil brownies. Recipes draw on influences from Japan to India, the Middle East to Mexico.
Turkish Fire by Sevtap Yüce: In her 3rd book on the cuisine of her homeland Sevtap cooks her way through the dishes that make Turkish cuisine great. From simple street food, to wood-fired breads, fresh salads and elaborate dishes.
Easy Home Cooking: Italian Style by Liliana Battle: Following her Australian MasterChef appearance Liliana set up her own spice mix range and in her first book she shares her love of the Italian food she grew up with.
The latest from Australian Women's Weekly:
The Family Table
Eating Well with Diabetes