June 2015 cookbook roundup
June 24, 2015 by Jane
Every month Jane and Fiona wade through hundreds of cookbooks, selecting and reviewing all the best new releases of U.S., Canada, U.K., Ireland, Australia, and New Zealand cookbooks. The only thing left for you to do is to add them to your Bookshelf.

US
In a French Kitchen: Tales and Traditions of Everyday Home Cooking in France by Susan Herrmann Loomis: In recent years, Francophiles have enjoyed several cookbooks from English-speaking expats. Loomis is not a Jane-come-lately, however, as she wrote her now-classic expat memoir, On Rue Tatin, over a decade ago. With In a French Kitchen, she demystifies in lively prose the seemingly effortless je ne sais quoi behind a simple French meal. Find information on Loomis' US book tour in the World Calendar of Cookbook Events.

Vegetable Garden Cookbook: 60 Recipes to Enjoy Your Homegrown Produce by Tobias Rauschenberger: Wondering what to do with the excess zucchini or beans from your garden? Check out this book dedicated to the produce most commonly grown in home vegetable patches. Although the focus is on the fresh vegetables, there's a little something for everyone; some recipes are vegan, some are vegetarian, and some include meat.
New England Open-House Cookbook by Sarah Leah Chase: Chase, who co-authored the bestselling The Silver Palate Good Times Cookbook and also wrote a few solo cookbooks, was retired from cookbook writing – or so she thought. However, after moving to Nantucket she was inspired by the regional foods she has enjoyed. In this book, Chase draws from her memories of growing up in Connecticut and Maine; her experience living and cooking on Cape Cod; and her extensive travels meeting farmers, fishermen, and chefs.
Van Leeuwen Artisan Ice Cream by Laura O'Neill and Ben & Peter Van Leeuwen: From the creators of the popular Brooklyn ice cream emporium comes The Van Leeuwen Artisan Ice Cream Book. It includes ice cream recipes for every palate and season, from beloved favorites like vanilla to adventurous treats inspired by a host of international culinary influences, such as masala chai with black peppercorns. Stories are sprinkled throughout the book along with a dash of science.
Eat. Nourish. Glow. by Amelia Freer: The UK bestseller is now available in an updated American edition. Eat.Nourish.Glow. stems from the personal diet revelations of by Amelia Freer, once the personal assistant to the Prince of Wales. Improving her health inspired her to transform her life: She quit her job, went back to school, and became a nutritionist.
The Connecticut Farm Table Cookbook by Tracey Medeiros and Christy Colasurdo: Another New England farm book features recipes from the Nutmeg State's celebrated chefs and their culinary partners: dedicated farmers, fishers, ranchers, foragers, and cheese makers. You don't have to be a native to enjoy the book as it uses ingredients that are readily available no matter where you shop. Medeiros is touring to promote the book; find details in the World Cookbook Calendar of Events.

The Lemon Cookbook by Ellen Jackson: Jackson, who has written or co-authored several well regarded cookbooks, highlights a kitchen workhorse fruit in her most recent effort. Lemons have a way of making all the other ingredients in a dish shine, as this cookbook illustrates with 50 recipes for both sweet and savoury dishes.
The Beetlebung Farm Cookbook: A Year of Cooking on Martha's Vineyard by Chris Fischer: The third(!) book this month focusing on New England celebrates the seasonal farm- and ocean-to-table fare that has won accolades for chef Chris Fischer. After working in New York and London, Fischer returned to his family farm on Martha's Vineyard to grow produce, raise livestock, fish, and gather friends for unforgettable meals. Thebook contains items that readers will either find charming or pretentious: anecdotes about the chef's family and hand-printed letterpress menus.
This Book Cooks: – Farm-Fresh Traditional Recipes for Healthy Contemporary Cooking by Kerry Dunningtong. An EYB member (kerrydunnington), Kerry brings us recipes that do not focus on a particular region but rather recall her own childhood memories of food. The book emphasizes the importance of implementing family food traditions while recognizing that our choices have an impact on the environment.
Audrey at Home: Memories of My Mother's Kitchen by Luca Dotti: Enter Audrey Hepburn's private world in this unique biography compiled by her son that combines recollections, anecdotes, excerpts from her personal correspondence, drawings, and recipes for her favorite dishes written in her own hand, and more than 250 previously unpublished personal family photographs.
Unprocessed: My City-Dwelling Year of Reclaiming Real Food by Megan Kimble: Kimble shares her year-long journey of eating only whole, unprocessed foods–intertwined with a journalistic exploration of what "unprocessed" really means, why it matters, and how to afford it. As she attempted to balance her project with a normal social life–which included dating–Kimble discovered that the question of what made a food processed was inextricably tied to gender and economy, politics and money, work and play.

UK
The Seahorse: The Restaurant and its Recipes by Mitch Tonks and Matt Prowse: Cherished by critics, foodies and locals, The Seahorse restaurant was named 'Best Seafood Restaurant in the UK 2013' by the Good Food Guide and 'Best UK Restaurant 2012' by Observer Food Monthly. The cookbook features recipes from the establishment that reflect the restaurant's changing menu in tune with the harvest from the waves.

French Brasserie Cookbook by Daniel Galmiche: In French Brasserie Cookbook, top chef Daniel Galmiche brings us classic brasserie recipes with a modern Mediterranean twist. Traditional recipes are updated with modern flavors and techniques, like Grilled Fillet of Sea Bass with Caramelised Lemon & Basil Oil and Tarte Tatin with Rosemary & Toasted Almonds.
The Dumpling Sisters Cookbook: Over 100 Favourite Recipes from a Chinese Family Kitchen by Amy and Julie Zhang: These sisters have been entertaining and educating thousands of followers on YouTube with their recipes for deliciously easy homemade Chinese food. In their cookbook, they not only give us their best recipes but also provide insight into Chinese culture and eating etiquette (for perfecting those chopstick skills), including sharing menu planners and a guide to shopping at Chinese supermarkets.
How to Eat Outside: Fabulous Al Fresco Food for BBQs, Bonfires, Camping and More by Genevieve Taylor: This cookbook started with a hunch, that if you think about the the most memorable meals of your life, many of them would be outside, either at a picnic, BBQ, or other outdoor event. Following up on this idea, Taylor created a cookbook packed with recipes, inspiration and practical advice for pain-free delicious cooking, eating and having fun in the big outdoors.
Chriskitch: Big Flavours from a Small Kitchen by Chris Honor and Laura Washburn Hutton: Australian-born chef Chris Honor teams up with American food writer Laura Washburn Hutton to share his most memorable, highly original yet simple recipes. Honor says the book "is as much guidebook as cookery book because I don't necessarily think in terms of recipes, I think in terms of combinations."
Benares by Atul Kochhar: Chef Kochhar's unique, world-class cuisine is showcased in this beautiful book of recipes from his Michelin-starred kitchen, combining the best of British produce with modern Indian style. An aspirational tome, it aims to help you "conjure the masterly Michelin spirit in your home."
Chinese Unchopped by Jeremy Pang: Love Chinese food but have absolutely NO idea how to cook it? Fear not. In Chinese Unchopped, acclaimed teacher and School of Wok founder Jeremy Pang demystifies the secret traditions of Chinese cookery. Opening with the Chinese Kitchen Essentials, Jeremy outlines everything you need to know to set up a workable Chinese kitchen. Once you have the equipment, Chinese Unchopped moves through six chapters outlining the fundamental techniques in Chinese cooking.
Scottish Berries Bible by Sue Lawrence: The latest in Birlinn's bestselling Food Bible series features the succulent soft fruits for which Scotland is so renowned – raspberries, tayberries, redcurrants, blackberries – and shows how to get the best out of them. Sue is a real cook's cook, providing recipes that are easy to cook but reliably produce delicious results.
Homemade Memories: Childhood Treats with a Twist by Kate Doran: In her debut cookbook, blogger Kate Doran brings to life the recipes and stories that have made her blog thelittleloaf.com so popular. From Peanut Butter Jammie Dodgers and Peach Melba Baked Alaska to Peppermint Marshmallows, Triple Chocolate Caterpillar Cake and Pear and Pecan Treacle Tart, the recipes feature classic childhood treats reinvented with an irresistible homemade twist.
Food for Your Brood by Sam Gates: For cook Sam Gates, (an EYB Member) the best meals are those shared with the people we love, when the humblest ingredients, casually gathered, seem to magically turn into fine feasts. Written with refreshing honesty and humour, Food for your Brood throws out formality in favour of relaxed and vibrant meals to share with the special people in your life. This is the UK publication of a South African book.
Australia & New Zealand
The Huxtaburger Book: The Art and Science of the Perfect Burger by Daniel Wilson: Co-owner and chef behind the popular Huxtaburger outlets, Daniel shows you how to recreate the ultimate burger at home including – fried chicken burger with slaw; a tonkatsu (breaded, deep-fried pork) burger with fennel & apple slaw; a BBQ pulled pork bun with pickles. Also includes recipes for sides, condiments and milkshakes.
Prune by Gabrielle Hamilton: Gabrielle's first cookbook released in 2014, Prune, took the number 2 spot on the EYB Best of the Best – now available in Australia. This is a cookbook like no other before – a restaurant kitchen manual with scribbled notes, stains and scribbles and no index (EYB to the rescue).
Everyday Mediterranean Cooking by Mary Valle: As the author of 2 other cookbooks on the Mediterranean diet, Mary takes an in depth look at olive oil – how it's manufactured and the different types. The recipes for everyday eating each include heart healthy and beneficial oils, including – breakfast, breads, soups, main courses, salads, and sweet treats.
Slow Cooker Central by Paulene Christie: More than 250 recipes from the popular Slow Cooker Central website and Slow Cooker Recipes 4 Families Facebook page. The collection of recipes has been created by Paulene and this passionate network of slow cooker devotees. Not just casseroles – includes soups, desserts, cakes, sweets and preserves.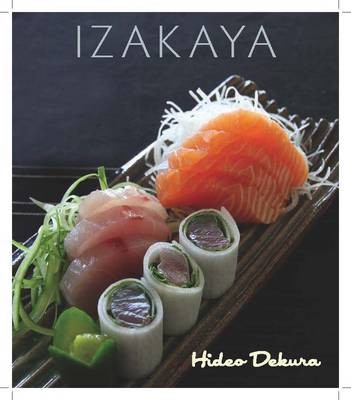 Izakaya by Hideo Dekura: An Izakaya is a traditional Japanese drinking establishment, in which food is served, like Spanish tapas. Hideo shows you how to make the most popular dishes served in an Izakaya, from grilled chicken skewers, to edamame, deep-fried tofu and sashimi.
And the latest by Australian Women's Weekly Weekly: Casseroles and Curries