Keeping Julia Child's legacy alive
March 29, 2015 by Darcie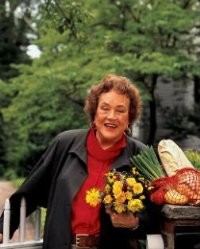 It's almost impossible to overstate the influence that Julia Child has had on cooking in the United States. Going against the tide of convenience food, she tirelessly promoted cooking at home and inspired countless people to get into the kitchen and make wonderful food.
Therefore it was exciting to read the news that the foundation Child established in the 1990s is establishing an annual award in her honor to help keep her legacy alive. The foundation it hopes the award will rival existing culinary accolades such as those bestowed by IACP and the James Beard Foundation. The first Julia Child Award will be given this August to "one person whose work in the culinary realm is, to put it succinctly, uniquely Julia-like."
Child established nonprofit Julia Child Foundation for Gastronomy and the Culinary Arts in the mid 1990s to "carry on the kind of culinary work she spent the last half of her life championing." It will be a tall order to find someone who fits the criteria for the award, as the person must be a a culinary leader, "educator, a skilled communicator, a mentor and an innovator, someone who's charting a gastronomic course to greatness and bringing the American public along." The winner must possess integrity and have contributed to American cooking in way to change how people in the US approach food and drink.
The winner will be honored at a gala at the Smithsonian's National Museum of American History in Washington, DC. In lieu of a cash award, the winner will receive a $50,000 grant to "pay it forward" to a food-related nonprofit group. The October event will kick off the first American Food History Weekend at the Smithsonian, where Child's kitchen has been on display since 2002.