The sweet life for everyone
March 27, 2015 by Jane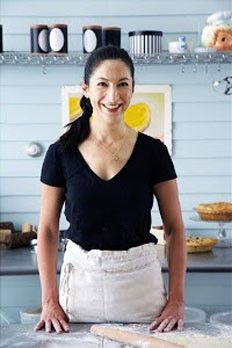 Gesine Bullock-Prado, founder of the Gesine's Confectionary product line, has been featured on Rachael Ray, the Food Network, In Style and People magazines, and many other national publications. She has written several baking cookbooks, and used to run her own bakery. She's now promoting her latest cookbook, Let Them Eat Cake, which is unique because it provides four versions for every cake: regular, gluten-free, healthy, and vegan. (Enter our contest for your chance to win a copy of the book.) Gesine is going on tour to support her book; check out the events calendar to view dates and locations. Here's what she had to say about what prompted her to tackle the baking challenges addressed in her book.

---
There are more than 8,000 baking books listed on Eat Your Books Why did you think the world needed another baking book and how is yours different?
The world ALWAYS needs a new baking book! Life is so much sweeter for them. Every chef has different experiences, tastes, traditions and insights, it's a joy to see their heart and soul in a book. In the case of Let Them Eat Cake, I wanted to share recipes that were among my favorites (and favorites at my pastry shop) but I also wanted to address something that thousands of bakers are faced with: the need to modify recipes for those who suffer from allergies or those who have dietary restrictions. I grew up vegan. My husband has lactose and wheat intolerances. I have a friend from college who can't eat eggs. I had a customer whose son couldn't have dairy, wheat OR eggs and wanted a stinkin' birthday cake that he could eat AND enjoy for once. My mission in life is to feed people sweet stuff, so I've taken on the adventure of giving home bakers a resource for baking under almost all dietary conditions in one book.
You offer healthy, gluten-free, and vegan alternatives in your book for each recipe. Were there any recipes you abandoned as the alternatives didn't work – the recipe just needed that wheat, butter and sugar to be good?
I think my problem was more that I had too many recipes. I decided to take out an entire chapter because I was running far too long. But that's a good problem to have.
Do you have any dietary restrictions yourself? If so, how do you develop recipes that include your forbidden ingredients?
I don't. Thankfully. But I do have those moments where I just stop and tell myself to "SHUT IT DOWN!" when I've gone on an extended food bender, which is really easy to do when your job is making dessert. On those occasions, I can't deprive myself completely, otherwise I'll lose my mind. So, I look to what it is that I'm craving and what it is that I'm avoiding and I start from there. A lot of the quick breads in the book, the healthier versions, I created because I wanted healthy fuel for long runs but wanted to avoid all the additives and overly sugared energy bars.
There is currently a huge backlash against refined sugar. What have you found to be the most successful alternatives in baking?
I love organic palm sugar. It's a natural sugar, it's got a low glycemic index and sports some lovely minerals. It also has the advantage of being delicious, something that's lacking in artificial sweeteners. I do love honey and maple as well but they both pack pretty hefty caloric punches and they aren't as versatile in baking formulas as palm sugar. Agave, once the golden child of the healthy sweetener world, is now reviled because it has a higher fructose content than any other natural sweetener. Fructose doesn't metabolize well, messes with your liver and triggers obesity. You know that corn syrup was doing a little jig when that news exploded. Now it's an ingredient I only use when I have to sub out honey in a vegan formula.
And what about butter? What have you found works best to replace animal fats?
It all depends on the formula. Coconut oil is a great fat replacement. Apple sauce, bananas and beans can act as replacements in baked goods that are meant to be heavier, like banana bread. There are alternatives in stick form, non-dairy fats that look and act almost like butter, that are lower in saturated fat and have neutral taste profiles. Spectrum and Earth Balance make great alternative baking fats.
You used to own a bakery – why did you close it down?
I needed the sleep.
Now you don't have the bakery to sell your test bakes for your books, what do you do with all your baked goodies (I imagine you have very happy neighbors)?
I do have happy neighbors! I also have very happy hens. And my dessert parties are, well, parties. I also find that the "left over" conundrum is a great way to test how well certain treats freeze. My test bakery's freezer is chock-a-block with experiments.
We are coming out of a long hard winter in the US northeast and spring is in sight. What ingredients are you most excited about incorporating into your spring desserts?
We're sugaring now, so I'm all about maple at the moment. And my asparagus plot is the first to burst forth after the thaw and I love making savory tarts with fresh asparagus.