August 2014 cookbook roundup
August 26, 2014 by Susie
Every month Susie Chang reviews new cookbook releases and notes trends in the United States. And she may also occasionally throw in a review of a "not-quite cookbook." And for our non-U.S. members, Jane and Fiona provide similar reviews for new Canada, U.K., Australia, and New Zealand releases.
US
It's not what I would have expected, but August brings an emphasis on baking and desserts and the odd book of comfort food (polar vortex, anyone?) The real excitement comes from a trio of publications from popular bloggers: forager Leda Meredith, baker Charmian Christie, and vegetarian blogger Nicole Spiridakis. Maybe August is the hot month for blog-to-book publications – if it happens next year too, I'll call it a trend!
International Night: A Father and Daughter Cook Their Way Around the World by Mark Kurlansky and Talia Kurlansky: The Kurlanskys spin a globe once a week – wherever Talia's finger lands, that's the cuisine they cook. Variation on the supper club cookbook.
Burgers by Paul Gayler: A short (50-recipe) offering from the British chef whose vegetable book remains a perennial favorite.
Sunday Casseroles: Complete Comfort in One Dish by Betty Rosbottom and Susie Cushner: The next in Rosbottom's "Sunday" series – easy, throw-together dishes for a weekend afternoon.
Dinner: The Playbook by Jenny Rosenstrach: The creator of the blog and book Dinner: A Love Story shares the story of cooking 30 meals per month with her whole family.
French Comfort Food by Hillary Davis: "Easy French" is turning into "grandmère" cooking these days. Expect simple but also slow.
Spice Odyssey: From asafoetida to wasabi, recipes to excite & inspire by Paul Merrett: A journey for the bold of palate from a Michelin-rated chef.
The Paleo Slow Cooker Bible: Healthy and Delicious Family Gluten-Free Recipes by Amelia Simons: Is August too soon to start with the slow cooker books? Apparently not! But psst – most slow cooker recipes are already Paleo-friendly.
Sweet Alchemy: Dessert Magic by Yigit Pura and Frankie Frankeny: San Francisco patissier Pura spins dazzling confections in startling flavor combinations for the ambitious home dessertmaker.
Flourless: Recipes for Naturally Gluten-Free Desserts by Nicole Spiridakis and John Lee: Vegetarian blogger Spiridakis (www.cucinanicolina.com) has a first cookbook eschewing gums and flour mixes for a more holistic approach to gluten-free baking and sweets.
The Messy Baker: More Than 75 Delicious Recipes from a Real Kitchen by Charmian Christie. Not just baking – "Messy Baker" blogger Christie specialize in exuberant, forgiving recipes of every kind. Read our author interview with Charmian and enter our contest for your chance to win one of three copies of this cookbook.
Preserving Everything by Leda Meredith. Forager (and about.com preservation guru) Meredith takes it home with a pantry reference for the masses.
Mexican Flavors by Hugh Carpenter: Teaming up again with photograph Teri Sandison, Carpenter supplies the classics along with special sections that take an innovative approach to some of Mexico's most famous dishes.
100 Days of Real Food by Lisa Leake: The book adaptation of Leake's blog, inspired by Michael Pollan's In Defense of Food, that chronicles how Leake and her family pledged to go 100 days without eating highly processed or refined foods.
And…just for reading:
The Culinary Imagination: From Myth to Modernity by Sandra M. Gilbert: A thinkpiece from a popular scholar, looking at foodways from a cultural-studies perspective.
Wild Sugar: The Pleasures of Making Maple Syrup by Susan Carol Hauser: August seems like an odd time to publish a maple sugar book, but what do I know? A read to inspire sweet daydreams for the cold season ahead.
The Chef Says by Nach Waxman and Matt Sartwell: Compelling quotations from 150 chefs–including James Beard, Julia Child, Gordon Ramsay, April Bloomfield–to inspire and delight anyone who's ever resolved a crisis by adding more butter.
UK and Ireland
Jamie's Comfort Foods by Jamie Oliver: I've always thought of most Jamie recipes as being comfort foods but apparently he needs an entire book devoted to the topic. I'm not complaining since he promises to deliver "ultimate versions of all-time favourites, and also introduces cherished dishes from countries around the world" – sounds OK to me. The US edition will be published on Sept 23.
Ms. Marmite Lover's Secret Tea Party by Kerstin Rodgers: The second book from the blogger, indexed on EYB, more than just recipes for afternoon tea. Themes (even a Marie-Antoinette inspired party) and table decorations for the table (and yourself) make these events rather more than your average tea party.
My Drunken Kitchen by Helen Graves: And another second book from an indexed EYB blogger, the creator of Food Stories. If Kerstin's book is the genteel afternoon tea, this book takes us into the dark night with tales and recipes combining booze (both in the food and in the author) and food.
Tom Kerridge's Best Ever Dishes by Tom Kerridge: As chef/proprietor of The Hand & Flowers, the only pub in the UK to have gained 2 Michelin stars, Tom Kerridge knows about making simple food in the best possible way. Here he presents us with his favourites.
All Things Sweet by Rachel Allen: The popular Irish author and TV host produces another book devoted to the sweet side – Bake and Cake have been previous titles. This one covers sweet treats, whether desserts or snacks.
Fish & Shellfish by Rick Stein: Rick Stein has produced cookbooks covering cuisines from around the world but the start of his career and his passion has always been for fish and shellfish. Here he has updated and reinvigorated his classic book on the subject.
Salmagundi by Sally Butcher: Salmagundi may be a word you haven't come across before – it's a 17th-century English word denoting a salad dish comprising, well, everything. This is Sally's fourth cookbook and it comprises salad bowls from around the world. The US edition is published in October.
Bake Me a Cake as Fast as You Can by Miranda Gore Brown: In my experience most cakes are pretty quick to make – it's what you so with the decoration that can take the time. Here Miranda assembles a collection for the time pressed baker. It's also good for beginners as no specialist equipment is required.
Patisserie Maison by Richard Bertinet: This next baking book is somewhat further up the complexity ladder. Though it claims that Richard Bertinet makes patisserie accessible to home bakers and effortlessly guides you through challenging techniques, the fact that the recipes cover lavender and orange éclairs, gâteau Saint Honoré, tarte tropizienne, Paris Brest and cassis kir royal mousse suggests this is special occasion baking.
80 Cakes From Around the World by Claire Clark: Yet another baking book! How many baking books can one island publish before it sinks beneath the waves? This one takes us on a world tour of cakes – 6 continents, 51 countries, 80 cakes.
The Kitchen Orchard by Natalia Conroy: Natalia believes that a well stocked store cupboard and fridge are a source of abundant meals – it just requires a little imagination.
Bombay Lunchbox by Carolyn & Chris Caldicott: I wonder whether this book was inspired by the wonderful film last year, The Lunchbox? Watching the movie did make me yearn for the stacks of Indian delicacies that are revealed each day. Here the collection of sweet and savoury vegetarian recipes for can be made for lunch, afternoon tea or any snack eaten between breakfast and dinner.
Keep It Vegan by Aine Carlin: Aine Carlin, creator of popular vegan lifestyle blog Pea Soup Eats, wants to keep vegan cooking simple. She keeps ingredients lists short and easy to find and makes her instructions as simple as she can.
Clifford & Son: Modern Irish Cooking by Peter & Michael Clifford and Joe McNamee: Joe McNamee looks at how Michael Clifford contributed to the development of modern Irish cooking and the restaurant business of today in Ireland. Joe also profiles his son Peter who is carrying on his father's legacy,
Canada
Family Meals by Chef Michael Smith: Michael Smith is one of Canada's most popular TV chefs. Here he shares the recipes he cooks for his family at home.
Whitewater Cooks With Passion by Shelley Adams: The fourth book in the Whitewater Cook series has a focus on fresh, healthy recipes.
Australia and New Zealand
Modern Classics by Simon Gault: Restaurateur and MasterChef judge Simon Gault has taken culinary favourites from around the world and added his own twist. Although there are many very familiar dishes such as risotto, roast leg of lamb and cheesecake, they have been reinterpreted enough that I'll be trying quite a few.
Smoked: How to Flavour, Cure & Prepare Meat, Seafood, Vegetables, Fruit & More by Jeremy Schmid: A skill I've never mastered, so hoping this book is going to change that. Jeremy's step-by-step guides to creating stove-top smoking units, using different wood fuels and the difference between hot and cold smoking are just some of the topics covered. I doubt that my efforts will be as delicious as the wonderful smoked meats that I've the pleasure of tasting but I'll be giving it a go.
Fast by Michael Van De Elzen: Michael is well known for his 3 TV series of The Food Truck, as well as owner of an award-winning restaurant. In his fourth book he showcases the food he cooks at home for family and friends. The 80 recipes are straightforward and healthy and fast, covering everything from food for babies and toddlers to barbecues, Italian, Asian and Indian dishes, roasts, brunches and and drinks.
Amisfield Food and Wine from a Central Otago Winery by Amisfield Wine Company: The fabulous scenery of mountains and lake surrounding Amisfield, combined with the sensational bistro food matched with gorgeous wines Central Otago make this an essential stop for anyone visiting this area. As well as recipes and wine matching tips, this book is about Central Otago. If you've been there this is a great reminder, if not you can look at the beautiful photos and dream!
Kitchen by Mike by Michael McEnearney: Despite a background in fine dining, Mike set up his restaurant with a mission to make good food available to all-comers. His restaurant, a simple, canteen-style kitchen with shared tables, serves food from the counter that has made this a popular spot in Sydney. He shares many of his signature dishes including the house-made bread and fresh cheeses.
Taste of Australia by Lyndey Milan: Released as a companion to the latest TV series Lyndey Milan's Taste of Australia. Over 90 recipes showcase the eclectic nature of Australian cuisine. From the cultural melting pots of the inner cities, to the lush wine regions to the indigenous bush.
Gourmet Hot Dogs by Stéphane Reynaud: Gourmet is the key word here – the recipes in this lovely book have ideas for many different sausage types, bread accompaniments, salad garnishes and condiments. There are light-hearted, quirky illustrations of cute canines, each with their eye on a tasty hot dog morsel.
Superfoods by Rena Pattern: Following on from her successful books on Quinoa, Rena looks at the everyday foods that have unusually high levels of antioxidants, vitamins and minerals that are good for us. All her recipes use simple ingredients that are readily available and include at least one superfood, including dark green or brightly coloured vegetables, oily fish and all legumes.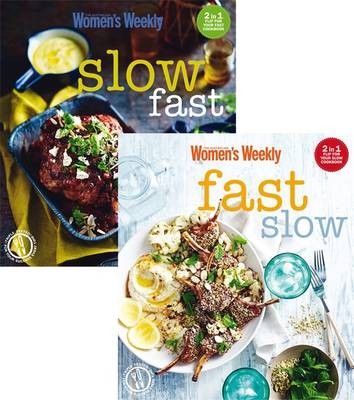 The latest from Australian Women's Weekly:
Fast/Slow: Mealtime Inspiration for Every Day of the Week
AWW Cakes and Slices vintage Edition
Easy Mexican: Burritos, Tacos, Fajitas, Salsas and Much More