Michele Scicolone wants you to eat your vegetables
March 23, 2014 by Jane
Michele Scicolone is no stranger to Italian food. She's written prolifically on the subject, publishing several cookbooks that range from appetizers (The Antipasto Table) to desserts (La Dolce Vita) and everything in between. Her latest effort is The Italian Vegetable Cookbook: 200 Favorite Recipes for Antipasti, Soups, Pasta, Main Dishes and Desserts. You can win a copy of the book by entering the contest. We asked Michele to share the inspiration for the book. Here's what she told us:
"Why write an Italian vegetable cookbook?" is a question I am asked often. My answer is simple. I love vegetables! I enjoy growing, cooking and eating them and I always have. It makes me feel a little sad when I hear someone say that they, or someone in their family, do not like broccoli, or green beans, or beets. I can only imagine the vegetable atrocities they must have witnessed! Mushy canned beets, grey and limp green beans and overcooked broccoli are dreadful to behold and would make any sensible person avoid them at all costs.
My appreciation for vegetables goes back to my childhood. In my Italian-American family we ate vegetables at most meals. In the summer there were eggplants, tomatoes, zucchini, green beans and peppers, much of which my mother grew in our Brooklyn, New York back yard. Cool weather brought artichokes, leafy greens, asparagus, broccoli, cauliflower, beets, and mushrooms from the market. We ate them in soups, salads, pastas, risotto, frittatas, pizzas and sandwiches, and of course as side dishes. Even though we did not eat meat or fish every day, we never felt deprived because the vegetables were so satisfying and so good.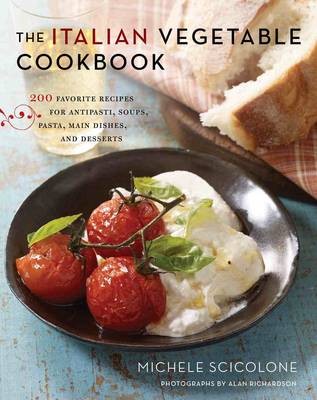 Since Italy was historically a poor country, Italian cooks created countless ways to make the most out of all kinds of vegetables, legumes, grains, and fruit. The recipes in my book, The Italian Vegetable Cookbook: 200 Favorite Recipes for Antipasti, Soups, Pasta, Main Dishes and Desserts come from my family and friends and the places I have visited both here and in Italy. I have had the opportunity to visit home cooks, chefs, and farmers who were kind enough to share with me their special recipes. Some contain small amounts of pancetta or prosciutto, or a few anchovies, for an added flavor boost, which is typical of Italian cooking. But if you prefer to leave them out, I offer alternatives and suggest ways to amp up the flavor without them.
Most recipes require just a handful of readily available ingredients and most are quick and easy to prepare. The book also contains dozens of beautiful photographs sure to inspire great meals. In the Italian tradition, I have even included a section on fruit and nut based desserts, perfect for family or special occasions.