Lighten up your baking
March 18, 2014 by Jane
Lorraine Pascale's fourth cookbook, A Lighter Way to Bake, hits U.S. stores today (it was published in the UK last October). Eat Your Books sat down with Lorraine to discuss both her new book and baking's resurgence in popularity.
To win one of three copies of this book, enter our contest.
EYB: Your new book A Lighter Way to Bake shows bakers how to produce treats while cutting fat and sugar. What were the key techniques you used to achieve baking success while reducing the calorie load?
I have used things like yogurt in place of some of the butter so you still get a good texture but with less of the naughty stuff, I also used medium size eggs, and I have used rapeseed (canola) oil in some of the cakes which is usually lower in saturated fat than other oils.
I am careful not to overcook the cakes as this can result in a dry cake. As the cakes in this cookbook have less fat, they have the potential to dry out much more easily, so watch the cooking times carefully and make sure you oven is on point. It can be worth investing in an oven thermometer as some oven temperatures are a bit out of sync.
Bake these cakes on the day you want to eat them as they have less fat in them. Fat acts as a preservative, so without this to help them last for a long time, cooking and eating fresh is best for these cakes.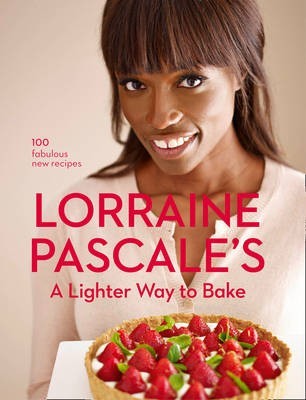 EYB: There is a lot of talk currently that sugar is the new tobacco. How will this affect baking since some form of sweetening is essential for most baking?
For me I just lowered the sugar and did not use substitutes. I think the best way forward for people is to experiment with things like substitutes, but do do your research on them before you use them and see what the press and other people are saying about them.
EYB: This is your fourth cookbook, all indexed on Eat Your Books. Which have you most enjoyed writing and do you have plans for more?
I have enjoyed the challenge of this book. It was for sure the hardest one I have had to write. It took me a long time to get the balance of ingredients right for a really good bake, but it was also fun to do as I love a challenge. I have loved this the most and I have just finished writing a fifth book!
EYB: Interest in baking has really soared in the UK following the huge success of the TV show The Great British Bake-Off. Did you watch the show yourself and what did you think of the standard of baking?
I have not watched the show at this stage, but I hear the standard of baking is amazing!
EYB: As well as writing bestselling cookbooks, you run a bakery in Covent Garden, you have a TV show, My Kitchen Rules, you have recently completed a degree in Culinary Arts Management and you have a 17-year-old daughter (I'm exhausted just writing all that). How do you do it all?
Hmmmm, I love to be busy as otherwise it gives me too much time to think. I do not sleep so much and so I fit lots in to the day. I love to work.
EYB: Did you bake as a child or did you come to cooking later in life?
I did not really bake as a child. I think I may have baked one cake and that is it and so I came in to it later on in life!
EYB: You have attended culinary school (Leiths), completed a degree in Culinary Arts Management (with First Class Honours/suma cum laude) and worked in top class restaurants. How do you make sure your books relate to home cooks who may not have your knowledge and experience?
It is important for me to write the book as if it were going to be read by someone who has never cooked before. And so I write the recipes step by step to make sure that they are really easy to understand, and write down as much detail as I can to describe the way things should look.
EYB: And finally, there are almost 7,000 baking books listed on Eat Your Books with around 700 of them published in 2013. Why does the world need another baking book and how is A Lighter Way to Bake different to the many books that have gone before?
There are indeed many baking books, but at the moment it is something I think people cannot get enough of! I think my book is different as first and foremost I am a mother, and I am also a cook, and then I trained to be a chef. Therefore I can give a different eye, both domestically and professionally, on how to bake. Also, owning my shop, I have done a whole lot of baking and have lots of experience!