New Orleans chef Donald Link shares his love of Southern cooking
February 25, 2014 by Jane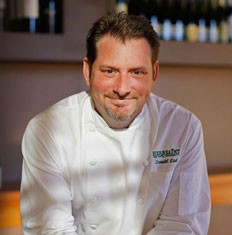 Chef Donald Link is a very busy man. Not only does he operate some of New Orleans' most highly-acclaimed restaurants (Herbsaint, Cochon, and Pêche Seafood Grill), the James Beard Award-winning chef is actively involved in the New Orleans community and has just completed his second cookbook. Chef Link graciously took time out of his hectic schedule to answer our questions about his latest cookbook, Down South: Bourbon, Pork, Gulf Shrimp & Second Helpings of Everything. (Find out how you can win a copy of this book.)
————————————————————————————-
EYB: The research for this book must have been a lot of fun. Did you make any discoveries of Southern foods you hadn't come across before?
The one area that was a somewhat of a discovery for me were scallops in Appalachacola, Cape san Blas to be more particular. I was unaware of the culture there of diving for scallops, which is completely different from the northern variety. They are not available commercially and there are limits on how many you can take from the water. We went out on a pontoon boat in the bay and swam around in snorkeling gear and pulled them from the shallow grassy waters. They were absolutely delicious, but needed intense cleaning.
EYB: When writing a Southern cookbook, how much consideration is there that ingredients may be harder to source outside the region? Do you include an online shopping resources list?
There's really nothing too hard to come by these days. You can get just about anything from your local store or Whole Foods and otherwise there are sources listed.
EYB: Can you pick one or two recipes in the book that would be a good introduction for anyone unfamiliar with Southern cooking?
Not all the recipes in this book are overtly Southern. I would say the carrot raisin salad and the banana pudding are the most reminiscent dishes of my childhood. I can't remember what prompted me to remember the carrot salad but it was something that was around a lot at family gatherings and school lunches as a kid. I can't recall ever seeing this dish in my entire adult life. Its definitely one of my favorites in the book. Using fresh farm carrots make a huge difference in the flavor of the whole. The curry was my addition. Banana pudding was a staple at family get togethers. A couple recipes in here that really get down and dirty Southern are the black eyed peas and hamhock and the neck bone stew. These two in particular are the real old school deal. To me they really epitomize the South I remember.
EYB: Are there any Southern dishes that you think are in danger of disappearing from the culinary landscape?
What I don't see anymore is people cooking like my grandad did. He was from Alabama, his cooking was in my opinion real Southern. Everything he cooked was intensely flavored with meat and smoke in the form of pigs feet, smoked ham hocks, and bacon. Cornbread was cooked in bacon fat. The dumplings were cooked with squirrel, the biscuits were made with lard and bacon fat. The other important part of this style of cooking that you don't see much anymore is that everything was grown or shot. The dishes he'd cook were always in season: piles of collards, bags full of shell beans, and the best creamed corn ever made on earth. Everything rich and powerful. Nowadays if you see collards on a menu they're usually from frozen boxes and taste like it. None of these dishes work if they are not in season. You can't make good creamed corn with out of season or frozen corn. You just can't. His food always came with the expectation of the season. I remember watching the watermelons growing on the vines crawling through the garden in the sweltering heat with the anticipation of that first sweet cooling taste of summer. If anything is in danger of being lost I think it's the style of cooking. I think it has gotten more timid and I think there are less seasonal local farm offerings in some of the rural areas.
EYB: You seem to be very involved with the community in New Orleans. What struggles are people still facing in the area and how are you helping?
Our main charitable focus in New Orleans are the youth development programs including head start programs and community centers. I feel there is a lot of preventive work done by these organizations and they really focus on getting kids on the right path before they go astray. We have board members at Kingsley House and Youth Empowerment Projects, we host several large dinners each year and are active in raising awareness and grant writing (my wife). We are involved in other charities in town as well but these are our main focus. I started to get on this path when I noticed how many people are struggling with childcare, kids from broken homes, kids not eating well, and the need to have places kids can get off the streets.
EYB: You own several restaurants in New Orleans. What are they and do you have plans for any more?
Herbsaint was my first, Cochon I opened with my sous from Herbsaint. We then opened the Butcher shop and Calcasieu, a private event space. Last year we opened Peche as a New Orleans Seafood Grill. They are all very unique which is great for me because it lets me expand the food we do and keep everything interesting. We have a couple ideas on the back burner right now, we are just releasing our line of all natural heritage meats through the Cochon Butcher label. We also have plans to open Butchers in Birmingham and Nashville to start.
EYB: This is your second cookbook. Your first, Real Cajun, won the James Beard Award for Best American Cookbook and is popular with EYB members. How do you find the time to create a cookbook and run an entire restaurant group?
For one it takes me about a year and half, Paula Disbrowe helps as well. The real answer however is that I have a great team at the restaurants that do an amazing job running the restaurants that allow me to get away and research and write the book. The best part for me is that I get to cook new food and get new ideas for the restaurants.
EYB: There are almost 2,000 Southern cookbooks and several hundred Cajun/Creole books. How is Down South different from what has gone before?
I think Down South has branched out from the traditional thinking of Southern food in that it's not all cornbread and fried chicken, which I love. There is a lot more influences in my cooking and the south as a whole as there was in my childhood. Growing up the classic Southern food is all there was. Now, Southern food has moved out of the homes and into restaurants, that's what we never saw before. The chefs today, like myself, are taking their classic training and worldly travels and incorporating Southern ingredients and style into other types of cuisine. There is a lot of surprising similarities between the country style cooking of Europe and Southern food. Southern food in a lot of ways is the old world-European style ranging from the fricasees of France and Italian and German charcuteries combined with local ingredients and the influx of other cultures so it makes sense that the more cultures that get involved the more southern food grows.