Cookbook giveaway – Indian Cooking Unfolded
July 24, 2013 by Lindsay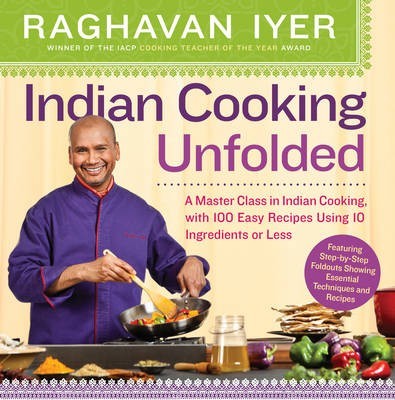 Here at EYB we're all for encouraging our members to indulge their passion for cookbooks. To that end, we've created a program to give our members a chance to win a copy of new, exciting cookbooks that have just been published. To see all the contests, just look in the right-hand category column on any blog page and click on "Cookbook Giveaways."
This time, we're excited to offer ten copies of Indian Cooking Unfolded: A Master Class in Indian Cooking, Featuring 100 Easy Recipes Using 10 Ingredients or Less, by Raghavan Iyer, author of the highly regarded 660 Curries: Plus Biryanis, Breads, Pilafs, Raitas, and More. Besides offering easy recipes and a moderate number of ingredients, Iyer has written the book using foods easily available at the supermarket. To learn even more about the book and Raghavan, check out his special essay on the role of milk in Indian cuisine.
To win one of the cookbooks, just post a comment to this blog answering the question: What is the most memorable Indian food you have ever tasted?
Additional rules are:
Please make certain you have signed in to the EYB website (you don't have to be a paid member). This ensures that we have your email address and can get in contact with you.

The giveaway will expire in 4 weeks on August 14.
This contest is now closed. Many congratulations to our 10 winners – lrbrandi, Emily Hope, vickster, MaxLisaSophie, Breadcrumbs, maisie_grn, MollyB, LouiseSWigg, Lizwizz, and radishseed.