September 2022 New Cookbook Review
September 25, 2022 by Jenny
Once again there have been changes on the release dates of many cookbooks – October is going to be overwhelming unless, of course, those titles move as well. I have updated my 2022 preview post and continue to update my 2023 preview listing.
If you would like to order any of these titles (or preorder/order any other books or items) using our affiliate links below or BUY BOOK button on the book details page, earns Eat Your Books revenue as an Amazon Associate from qualifying purchases when using our links:
USA * Canada * UK * Australia * Book Depository
Please remember your local bookstores during this time – for preorders as well.
If there is an
available for a cookbook, look for the orange icon in the blurb. Clicking on that link will take you directly to the Preview. Lastly, if events are planned for particular books/authors, I have included a link. Be sure to check our Calendar frequently for new entries there are loads of events around the world as more in person and virtual events are being planned.
To jump to a particular country's listing, please click on the links below.
United States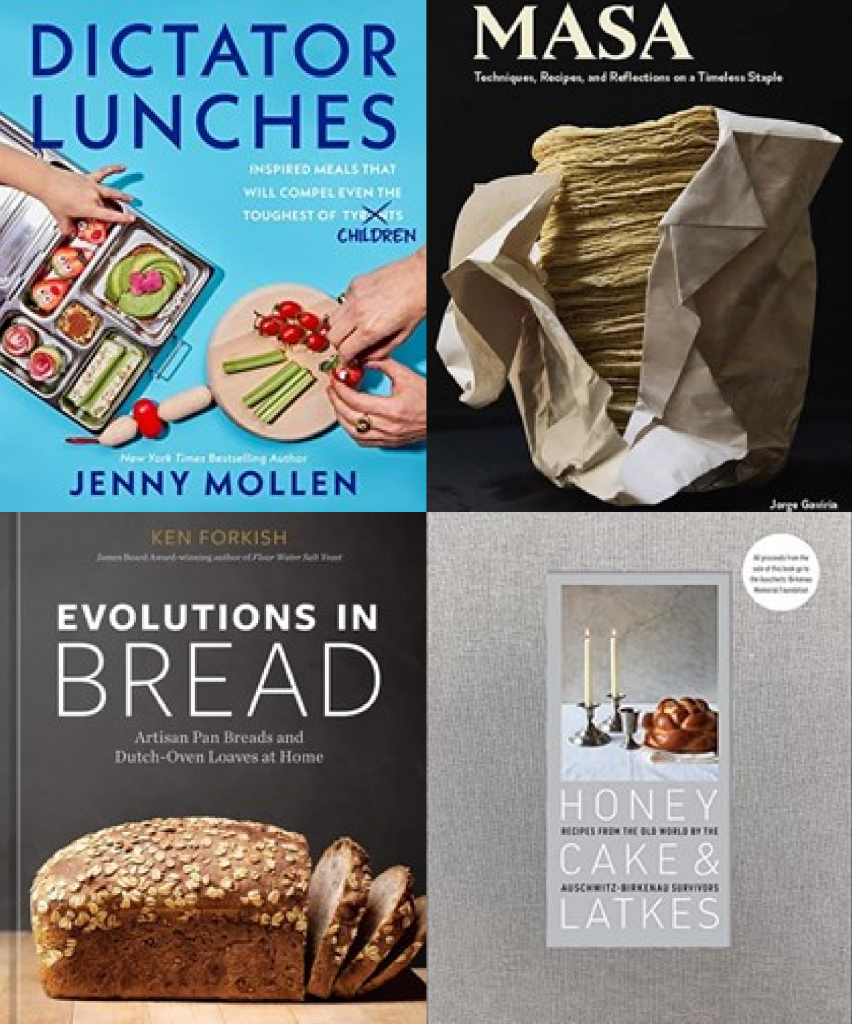 Honey Cake & Latkes: Recipes from the Old World by the Auschwitz-Birkenau Survivors by Auschwitz-Birkenau Memorial Foundation: As soon as I entered this title in our Library, I knew I had to have it and ordered it from Kitchen Arts & Letters. It is a stunning book filled with photographs, stories, recipes, and memories of survival along with the pain of incredible loss. From the first lines in the chapter entitled "The Table", I was hooked. "One can imagine a table without a home. Somewhere in a garden, beneath a tree or a pergola. But the opposite, a home without a table, will no longer be a complete home…A table is what joins us." All the recipes here are written by survivors, some of whom have passed on since this book was born. From a simple Chocolate sandwich to Chicken paprikash, there are recipes and reflections from people who have endured so much suffering but are smiling in photographs as they give us a piece of themselves in a recipe for Grandma's apple cake or Matzo ball soup. Even more notable, specific recipes share a reproduced copy of the handwritten original. This is a book to be treasured, read cover to cover, and cooked from – with those dishes being passed around the table with smiles and joy, but most importantly with remembrance. May their memories be a blessing.
Evolutions in Bread: Artisan Pan Breads and Dutch-Oven Loaves at Home by Ken Forkish: The New York Times bestselling author of Flour Water Salt Yeast teaches you how to elevate your sandwich bread, breakfast toast, and overall bread-baking game using everything he's learned in the last decade to perfect his loaves.

Masa: Techniques, Recipes, and Reflections on a Timeless Staple by Jorge Gaviria is your guide to making authentic, high-quality masa from scratch and cooking with it in your home kitchen. It's time to learn the way to a perfect taco, and it all starts with the masa. Jorge, the owner of Masienda, begins with a history of masa and masa basics before providing over fifty recipes. Ten well-known chefs also offer inventive recipes – such as tamal gnocchi, masa waffles, and shrimp and masa grits – to inspire new ways of relating to this timeless, dynamic food. This is the definitive book on all things masa.
Dictator Lunches: Inspired Meals That Will Compel Even the Toughest of (Tyrants) Children by Jenny Mollen is ideal for new parents and/or those parents who are struggling to get their children to eat food that doesn't begin with a "Mc". Mollen has written a funny, well-organized guide to training the food tyrant in any household and has included recipes from Baby boom applesauce to globally inspired dishes such as Grain-free schnitzel (aka Austrian nuggets).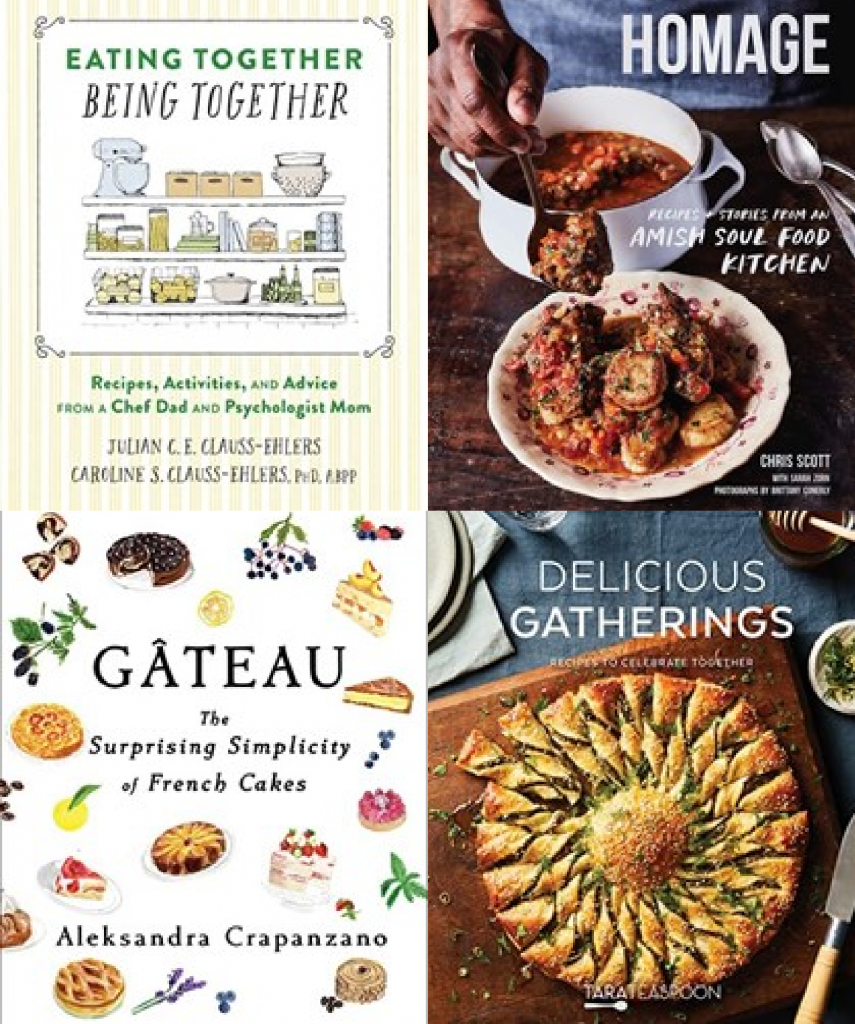 Eating Together, Being Together: Recipes, Activities, and Advice from a Chef Dad and Psychologist Mom by Julian Clauss-Ehlers and Dr. Caroline Clauss-Ehlers shares the couple's secret recipe for engaging and joyful meals that bring family closer together. Julian, a Michelin-starred chef, and Caroline, an award winning psychologist, have teamed up to deliver insight on topics such as resolving picky eating, relieving academic stress, and cultivating conversations. Along with 80 recipes, there are tips on streamlining your pantry, grocery shopping with a purpose and organizing kitchens to make meal times as stress free as possible. Recipes include Creamy corn chowder, Famed chicken pot pie, Meatballs: fun forming food and Strawberry almond shortcakes. This is another title perfect for the new parent (or even some of us older ones).
Delicious Gatherings: Recipes to Celebrate Together by Tara Teaspoon shares dishes to bring friends and family to the table in celebration. From a sit down dinner to brunches to larger gatherings, Tara's recipes include approachable showstopping dishes. For brunch try her Churro waffles with whipped ricotta and dulce de leche or Half-and-half granola pancakes with ginger maple cream syrup – which will impress guests but are perfect for a cozy Sunday breakfast with the family or special holiday breakfast. One can always find a reason to celebrate with incredible food. Find out more in our promotion and giveaway. Events
Homage: Recipes and Stories from an Amish Soul Food Kitchen by Chris Scott is a first-of-its-kind, richly narrative cookbook that celebrates an under-explored foodway in the African diaspora: Amish soul food. When the author was on Top Chef, I was impressed with his dishes and flavors and when I saw that he had a debut cookbook coming this fall, I was thrilled. Here Chris tells the remarkable story of his family over seven generations via comforting dishes and vivid narratives: From his enslaved ancestors to his successful restaurant career in Philadelphia and New York City. The book shares 100 dishes born of a unique blend of Southern, German, and Dutch cuisines, including Chicken fried steak with Sassafras country gravy, Charred radicchio salad with roasted grapes and shaved Amish cheddar, and the ultimate Whoopie pies. Filled with stunning imagery and comfort dishes that will stand the test of time, this is a keeper. Events
Gateau: The Surprising Simplicity of French Cakes by Aleksandra Crapanzano is a work of art with lovely illustrations and filled with recipes for many French cakes. A few recipes include Salted-caramel baulois; Chocolate marquise; Bittersweet chocolate espresso cake and Pierre Herme's Instagram Sensation Explained. The author provides pages of detailed information with regard to soaking syrups; fillings; marmalades; ganache; spice mixes and more. It is such a beautiful book. Events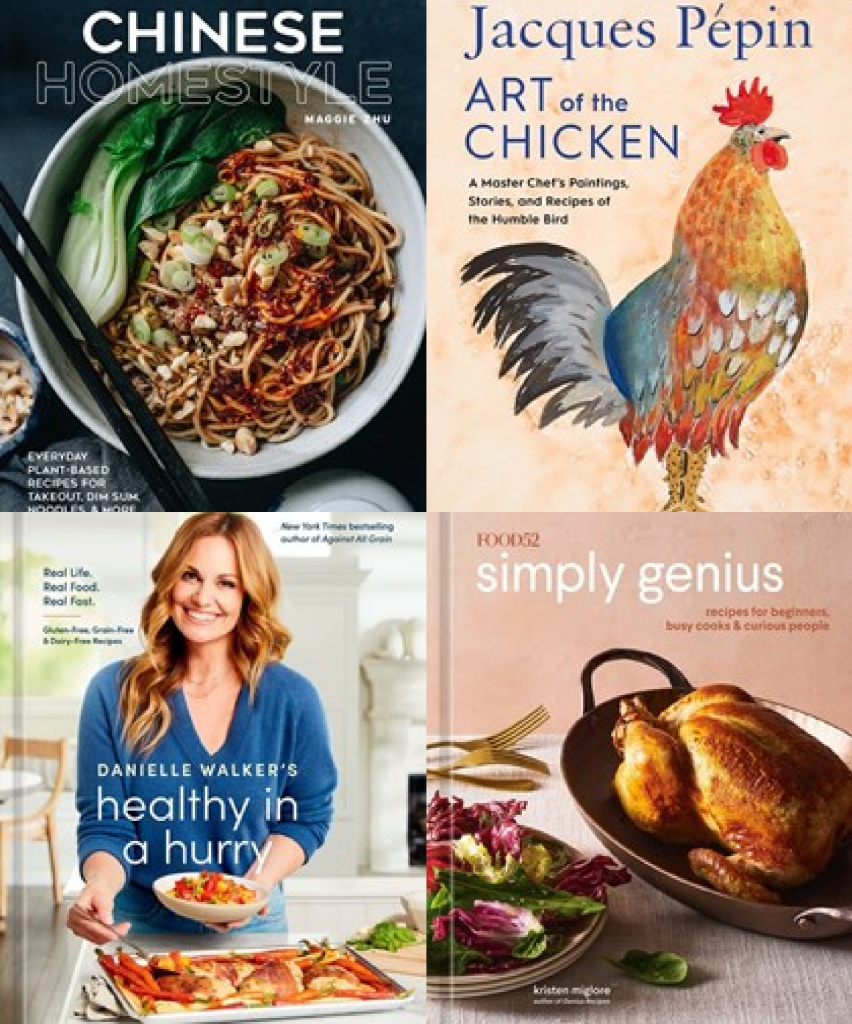 Jacques Pépin Art Of The Chicken: A Master Chef's Recipes and Stories of the Humble Bird by Jacques Pépin: In this beautifully illustrated book, the one and only chef reminisces on his life through the lens of the humble bird, from his childhood in rural France, where he chased chickens and watched as his maman turned them into her poulet à la crème, to his demanding apprenticeship and long, illustrious career – cooking Chicken Chasseur for Charles de Gaulle and his family, turning down a chance to work as JFK's White House Chef for a job at Howard Johnson's, and appearing on television alongside food-world luminaries like Julia Child. Throughout are Jacques' favorite chicken and egg recipes, conveyed as if he were sharing them over a dinner table. Most significantly, the book displays dozens of Jacques' stunning paintings of chickens. "If it clucks or scratches, it's likely that Jacques has painted it." Events
Chinese Homestyle Cooking: 90 Plant-Based Recipes for Homemade Sauces, Favorite Takeout and Dim Sum, and Everyday Meals by Maggie Zhu: There are some really gorgeous plant-based cookbooks being released. This title is no exception. Maggie begins with instructions for prepping vegetables (including knife cuts), a section on homemade sauces including black bean sauce and hoisin, before diving into a wide variety of dishes. All our favorite flavors (at least my favorite flavors) are here including Orange cauliflower, General Tso's tofu, Scallion pancakes with step-by-step photos, Eggless egg drop soup and Sesame noodles. I am looking forward to trying some of these inspiring recipes.
Danielle Walker's Healthy in a Hurry: Real Life, Real Food, Real Fast by Danielle Walker offers 150+ quick and easy recipes to get healthy gluten-free, grain-free, and dairy-free food on the table fast – from no-cook lunches to one-pot dinners and simple desserts – from the New York Times bestselling author of the Against All Grain series.

Food52 Simply Genius: Recipes for Beginners, Busy Cooks, and Curious People by Kristen Miglore gives you access to genius cooks like Samin Nosrat, Yotam Ottolenghi and Sami Tamimi, Heidi Swanson and Jacques Pépin as they share their brilliant cooking tips through a collection of essential recipes. Miglore packs the book with helpful visuals (like brilliant doneness charts for everything from chicken to eggs to cake), illustrated step-by-step diagrams to show you smarter ways to prep (handling hot chiles, neatly separating eggs, tricking herbs into staying fresh), and myth-busting truths that make cooking so much more welcoming (no, you don't have to soak your beans before you cook them; no, you don't have to soften butter to make chocolate chip cookies). Primers on common woes and how to fix them tell you how to rescue your dinner when things go wrong, and how to make sure everything's smoother next time. And once you get a recipe down, Miglore shares "3 More Ways" to use that new technique to make even more rewarding meals.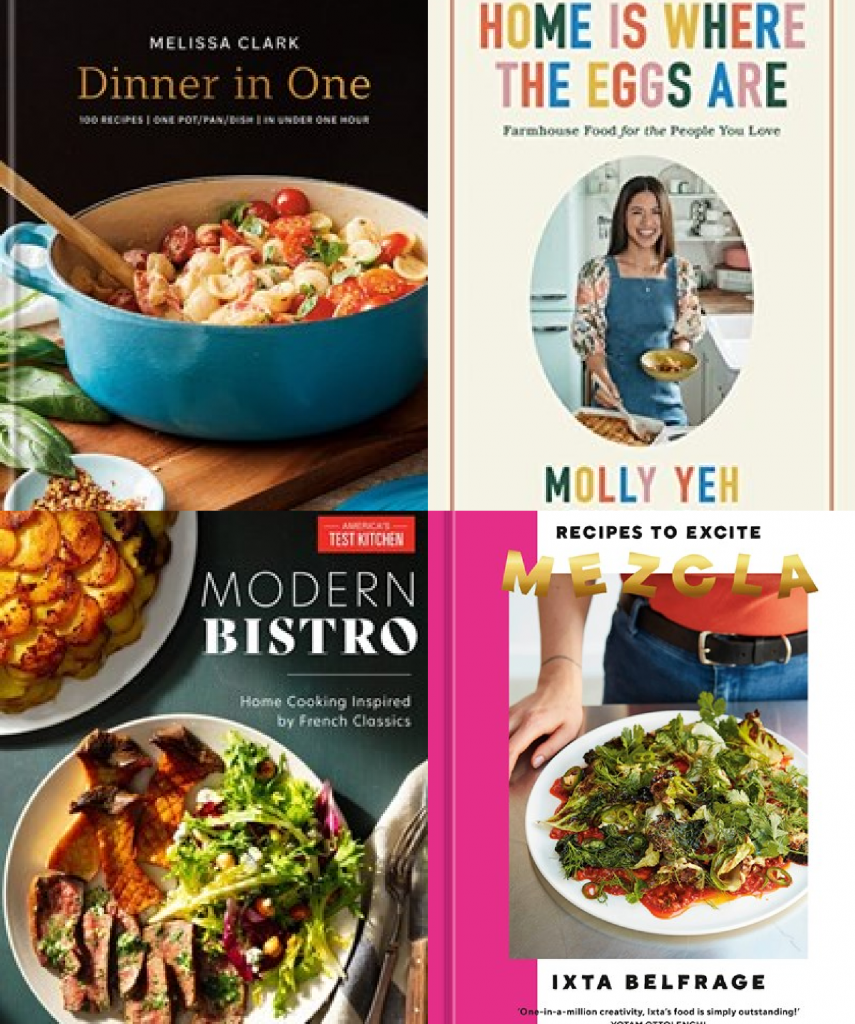 Mezcla: Recipes to Excite by Ixta Belfrage: For Ixta, combining tastes from around the world is her job and her heritage. Inspired by her Brazilian, Mexican, and English roots and living in Italy, London, and beyond, Ixta's recipes take inspiration from these corners of the globe to create unapologetically fusion dishes that pack a serious punch. This title was released last month in the UK.

Home Is Where the Eggs Are by Molly Yeh is the long awaited follow up to Molly on the Range. Molly has been busy, busy, busy – hosting Food Network competition shows; taping her own cooking show; opening a restaurant and recently having her second child. All of this hasn't hindered her from creating a stellar collection of recipes that reflect her heritage and the flavors of her midwest life. Events
Modern Bistro Cooking by America's Test Kitchen delivers foolproof techniques and a plethora of photos to help you master even the most finicky foods. Learn how to turn out tender French omelets folded around hearty fillings; cold–sear steak; roast duck to golden, succulent perfection using our two–step method; and make perfect individual chocolate pots de crème easily, on the stovetop instead of the traditional oven. Create your own French bistro at home without having to wait hours at the airport.
Dinner in One: 100 Recipes / One Pot/Pan/Dish / In Under One Hour by Melissa Clark was delayed an entire season as the original shipment of this book was lost at sea. Melissa brings her home cook's expertise and no-fuss approach to the world of one-pot/pan cooking. With nearly all of the recipes being made in under one hour, the streamlined steps ensure you are in and out of the kitchen without dirtying a multitude of pans or spending more time than you need to on dinner.

Events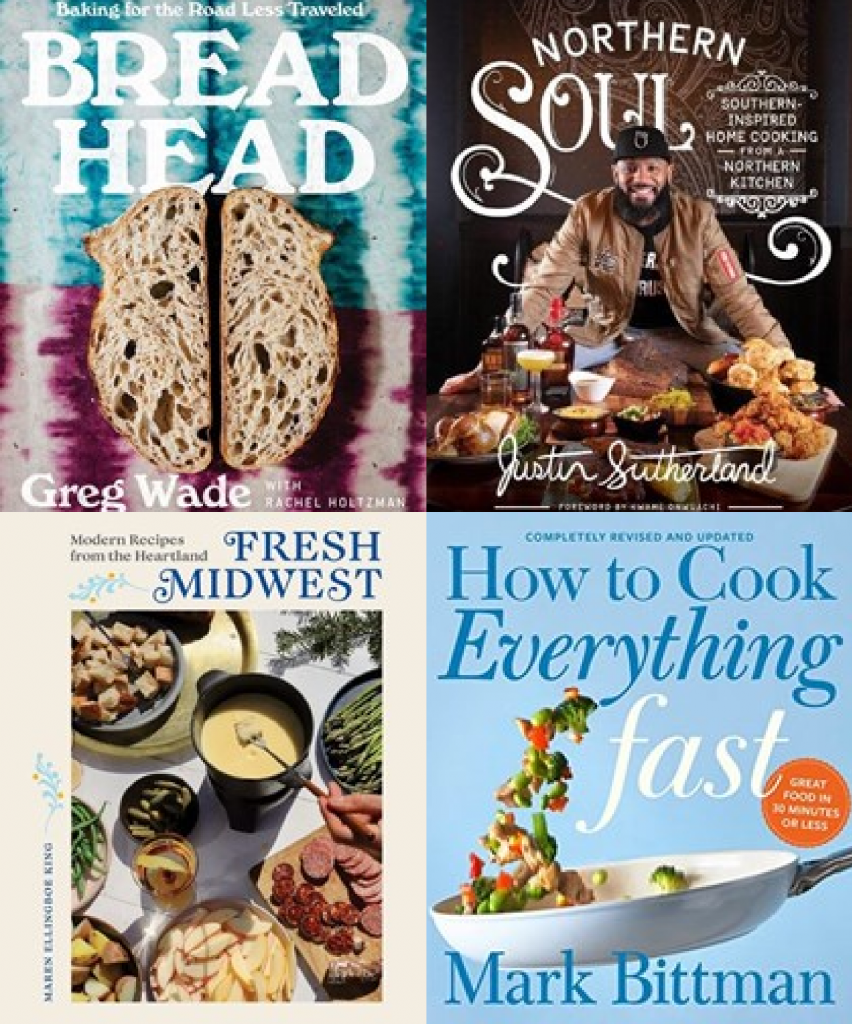 Bread Head: Baking for the Road Less Traveled by Greg Wade, an expert in the out-of-this-world tastes and textures of long-fermented, hand-shaped breads and the recipient of the James Beard Award for Outstanding Baker (2019), spreads his love for local, organic flours and long-fermented sourdough loaves far and wide as he kneads, stretches, and proofs his signature loaves each day at Publican Quality Bread in Chicago. Bread Head is his guide to making all your favorite professional-level breads, cakes, and pastries at home.
Fresh Midwest: Modern Recipes from the Heartland by Maren Ellingboe King perfectly combines the nostalgia of traditional midwestern dishes and influences of her Scandinavian heritage with an emphasis on local, unprocessed ingredients. The author celebrates the growing diversity of her home state with a modern take on traditional recipes by using fresh produce, more spice, and more heat, all while retaining the simplicity and approachability of her family's recipes.
Northern Soul: 70+ Authentic Southern Recipes from the Bold North by Justin Sutherland: Join nationally recognized restaurateur and chef Justin Sutherland on his tour of American Southern cuisine shaped by his Midwestern and Southern upbringing and African-American and Asian heritage. Justin owns multiple restaurants in the Twin Cities, he won an Iron Chef episode, competed on Season 16 of Top Chef, and is one of the chefs featured on Fast Foodies airing on TruTV/TBS. This book shares 80+ recipes covering his signature recipes for lunch, brunch, dinner, snacks, late-night meals, and cocktail recipes perfected at Handsome Hog, his acclaimed pig-centric Southern restaurant in St. Paul, Minnesota. There are also recipes for rubs, sauces, pickles and so much more. About a month ago, Justin suffered severe injuries when he fell off his boat and his head and left arm hit the motor's propeller. He has already had some surgery to begin repairing the damage. Let's support this chef by purchasing his book.

How To Cook Everything Fast Revised Edition by Mark Bittman: The secret to cooking fast is cooking smart – choosing and preparing ingredients that make the most of your time in the kitchen. In this new edition, Bittman shares hundreds of simple, flavorful dishes – each ready in 30 minutes or less. But "fast" doesn't mean compromising on quality or resorting to packaged shortcuts; instead, Bittman offers savvy hacks – broiling rather than baking, using less liquid for a faster boil, and taking advantage of downtime for last-minute prep. In the spirit of fast and simple cooking, recipes have been retested and streamlined for this completely revised edition – which now also features dozens of vegan and vegetarian options and stunning all-new photography.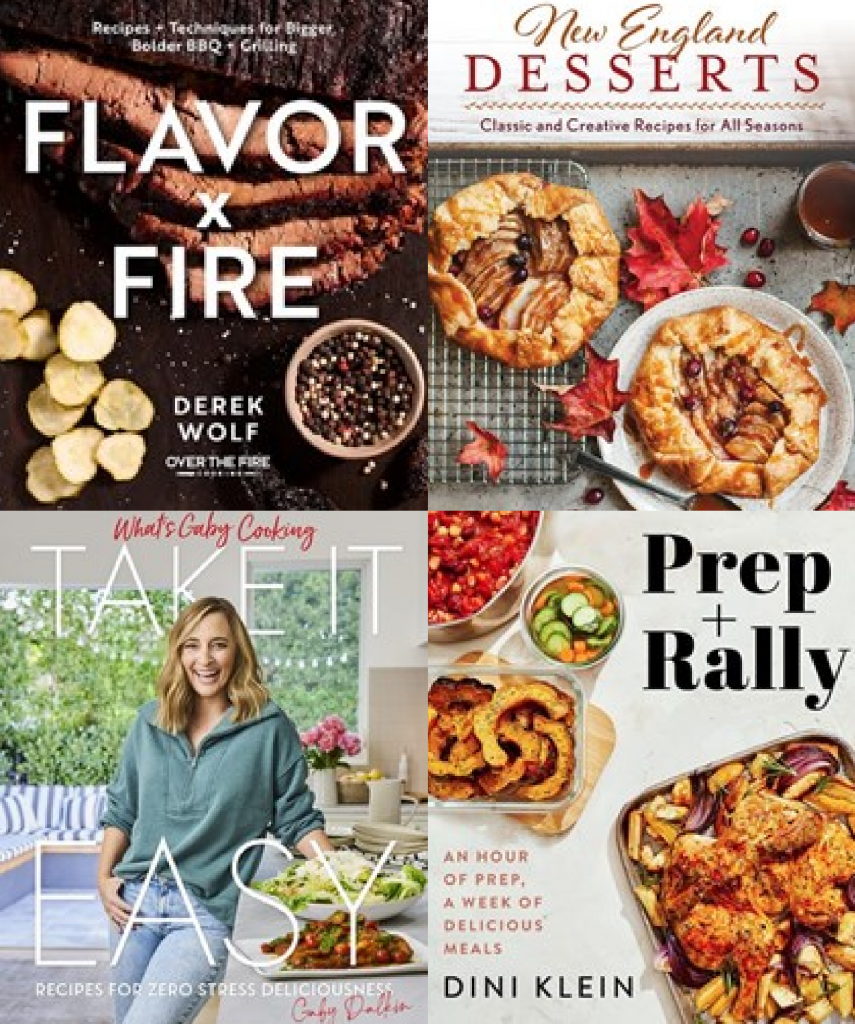 Prep and Rally: An Hour of Prep, A Week of Delicious Meals by Dini Klein a guide to delicious, family-friendly meals with less stress, less expense, and minimal time. There are prep ahead cookbooks and then there are prep ahead cookbooks that one will use – and this is one of them. There are recipes here that are appealing and not just instructions on using leftover chicken for a noodle casserole. I love the global flavors that are sprinkled throughout this well-developed collection of recipes.
Flavor x Fire: Recipes and Techniques for Bigger, Bolder BBQ and Grilling by Derek Wolf: In Wolf's first book, Food x Fire, he shared the how-to behind starting and cooking with various types of cooking fires, as well as skillets, skewers, and more. Now he's ready to take you on another culinary adventure – but this time it's all about flavor. From classics like Coal roasted hanger steaks with Thai chili sauce to envelope-pushing Everything bagel smoked turkey breast, the recipes offer lots of variety. All the major tastes – salty, sour, sweet, bitter, and umami – are explored in depth. Derek also leads an investigation of other components you should consider when it comes to flavor, such as aroma, heat, and texture.
New England Desserts: Classic and Creative Recipes for All Seasons by Tammy Donroe Inman: I am huge fan of Tammy's and loved her first title Wintersweet: Seasonal Desserts to Warm the Home. I was thrilled to see another book coming our way: New England Desserts does not disappoint. Pages of recipes that bring the flavors of New England into our kitchen with recipes such as Maple cheesecake, Maple brown butter parsnip cake, Strawberry and rhubarb tarts, and Every berry blueberry buckle. I cannot wait to have these delicious aromas drifting from my kitchen in Colorado to remind me of home.
What's Gaby Cooking: Take it Easy: Recipes for Zero Stress Deliciousness by Gaby Dalkin: In her new book, Gaby Dalkin returns with her signature approach: Enjoy your life by eating the food you love. But this time around, she also emphasizes a no-fuss attitude offering 100 new delicious and stress-free recipes, suited for any and all occasions.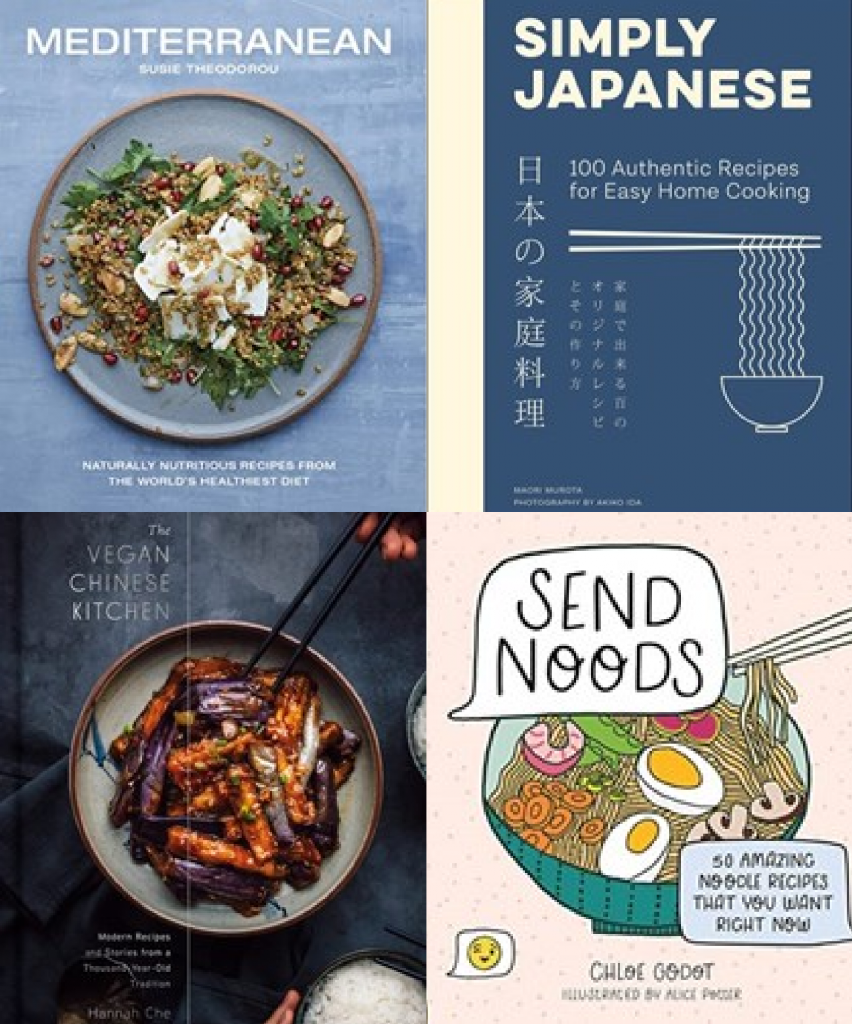 Simply Japanese by Maori Murota: Learn to cook authentic Japanese food from scratch at home, with step-by-step recipes for the traditional classics like ramen noodles, broth, sushi rice or homemade tofu as well as recipes for more contemporary fusion dishes. Maori Murota takes you to the heart of today's Japanese family home cooking, sharing the recipes she learned while she watched her own mother and grandmother cook. Here are 100 recipes – many of which are vegan friendly and plant-based. This book was first released in AU in July under the title Japanese Home Cooking.
The Mediterranean Dish: 120 Bold and Healthy Recipes You'll Make on Repeat by Suzy Karadsheh is the highly anticipated debut cookbook from the creator of The Mediterranean Dish website, with more than 120 recipes for bright and flavorful Mediterranean diet-inspired meals. What began as one of the first online Mediterranean food blogs has blossomed into the leading site for modern Mediterranean cooking and lifestyle with millions of readers. In her cookbook, Suzy brings cross-culturally inspired dishes from throughout the Mediterranean into American home kitchens, using easy-to-find ingredients and easy-to-follow, tested-to-perfection recipes to make your meals more vibrant, delicious, and yes–even a little healthier, too!

The Vegan Chinese Kitchen: Recipes and Modern Stories from a Thousand-Year-Old Tradition by Hannah Che: Through gorgeous photography, stories, and recipes, Che shows us the magic of this highly developed and creative cuisine in which nearly every dish in the Chinese repertoire can be replicated in a meatless way, such as Sichuan chili-oil wontons, or using spicy mushrooms in dan-dan noodles. You'll find recipes that are naturally plant-based and as irresistible as they are nourishing.

Send Noods: 50 Amazing Noodle Recipes That You Want Right Now by Chloe Godot is a cleverly tantalizing book of 50 noodle recipes that will never fail to whet your appetite. There are playful illustrations by Alice Potter and detailed instructions that make each recipe a slam dunk.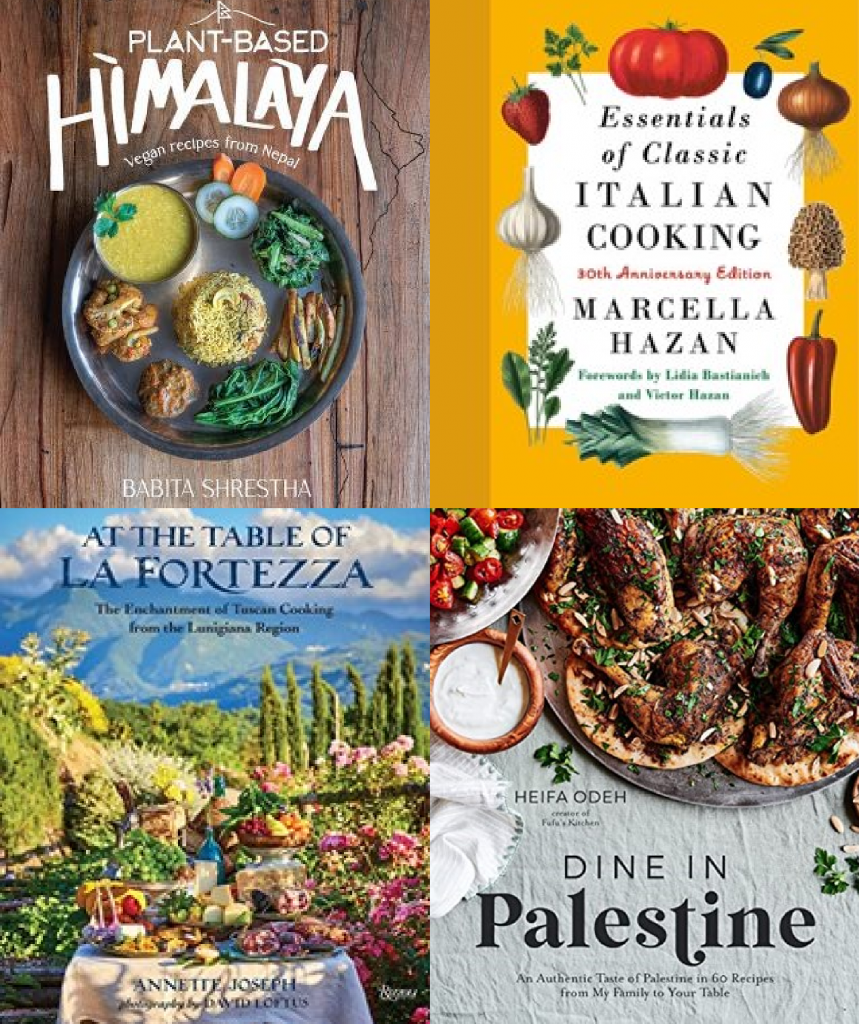 At the Table of La Fortezza: The Enchantment of Tuscan Cooking from the Lunigiana Region by Annette Joseph shares recipes from the charming Lunigiana region of Tuscany that were developed at her medieval fortress, La Fortezza. This is the first book on the cuisine of this important slow-food area. A stunning book filled with dishes that will take you away to Tuscany via your own kitchen.
Essentials of Classic Italian Cooking: 30th Anniversary Edition by Marcella Hazan is a culinary bible for anyone looking to master the art of Italian cooking, bringing together Marcella Hazan's most beloved books, The Classic Italian Cook Book and More Classic Italian Cooking in celebration of its 30th anniversary.
Plant-Based Himalaya: Vegan Recipes from Nepal by Babita Shrestha shares 38 vegan recipes from the author's home country that she has been cooking and eating since she was very young, including mouthwatering grains, dal, curries, greens, sauces, and desserts. In addition to food, Shrestha introduces her beloved Nepal along with her personal goals for a plant-based diet: decreasing mass production and consumption of unhealthy processed food in plastic packaging. Featuring 250 beautiful full-color photos, Plant-Based Himalaya is designed to inspire you to cook and eat exquisitely vegan home-style Nepali cuisine.
Dine in Palestine: An Authentic Taste of Palestine in 60 Recipes from My Family to Your Table by Heifa Odeh: Re-create traditional, flavorful Palestinian meals at home with this comprehensive collection of Middle Eastern recipes. From familiar favorites like Dawali (Stuffed grape leaves with beef), Shawarma and baklawa, to more complex meals like Musakhan, Palestine's national dish, Heifa Odeh has carefully adapted her family recipes with streamlined techniques, making it easier than ever to enjoy a taste of Palestine.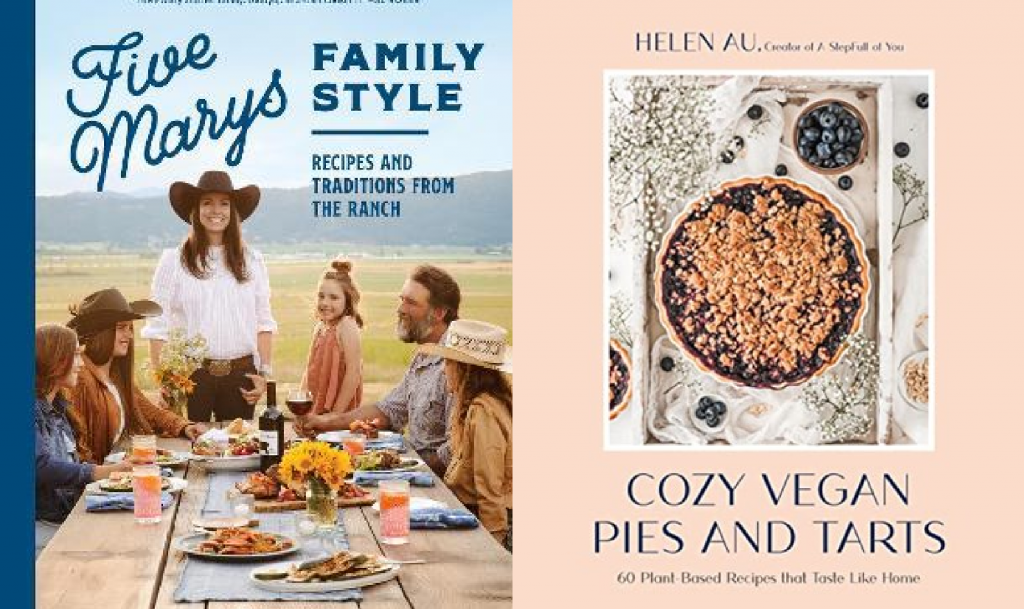 Five Marys Family Style: Recipes and Traditions from the Ranch by Mary Heffernan and Jess Thomson: Following up on her popular cookbook, Five Marys Ranch Raised, Mary Heffernan reveals family life on the ranch through the traditions, crafts, and meals they share together throughout the year.
Cozy Vegan Pies and Tarts: 60 Plant-Based Recipes that Taste Like Home by Helen Au: Many vegan bakers struggle to replicate the essential flaky crust texture without traditional ingredients like butter and eggs. Luckily, Helen's foolproof base crust recipe and her helpful tips and tricks will help readers master creating the perfect plant-based crust for their pies and tarts every time.
Other titles of interest include:
---
Canada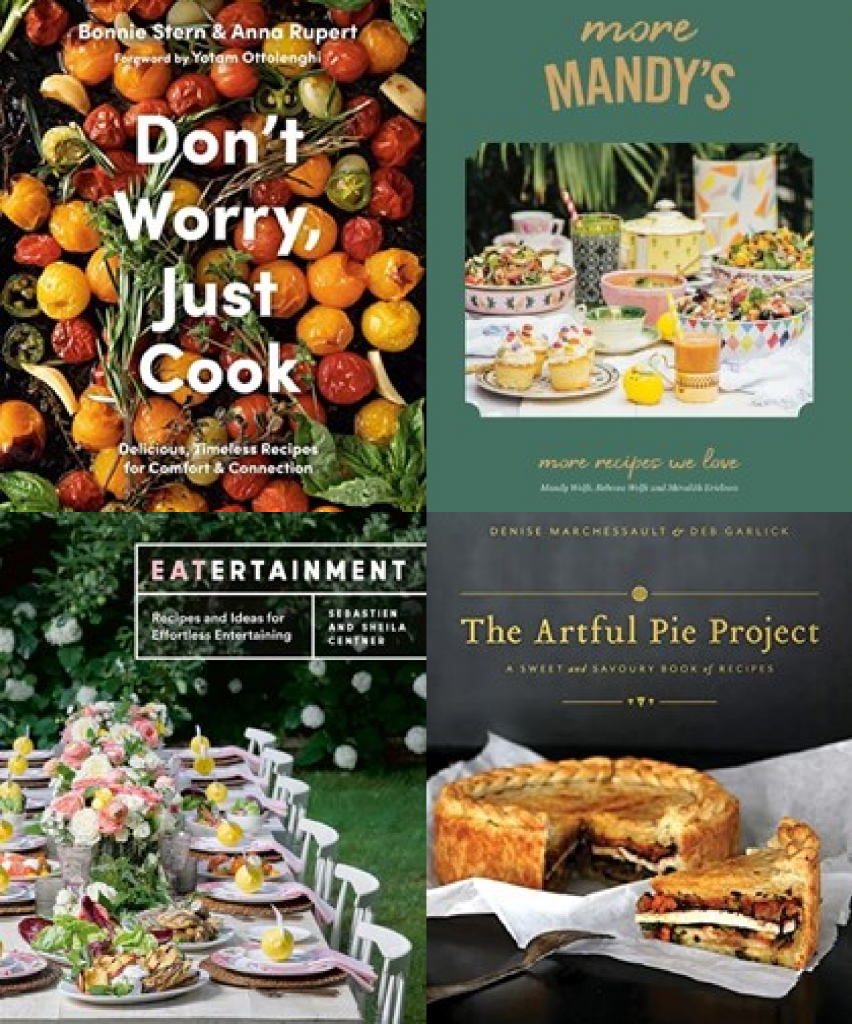 Eatertainment: Recipes and Ideas for Effortless Entertaining by Sebastien and Sheila Centner offers more than 140 recipes, including thoughtfully assembled, curated menus based on tried and true recipes that anyone can cook. Here, the chapters are organized around 12 different events you can plan, and divided by 3 difficulty levels: Simple Entertaining to start, A Little More Effort when you're ready for the next challenge, and Pulling Out All the Stops. No matter what kind of event you throw, you'll find everything you need to host a stress-free gathering all year round, in this beautifully photographed, all-in-one entertaining guidebook.
The Artful Pie Project: A Sweet and Savoury Book of Recipes by Denise Marchessault and Deb Garlick: This book's publication has bounced several times but now I believe that it has been released this month on the 15th. Featuring over 50 recipes covering the pie spectrum from galettes, to pastry dumplings and slab crumbles-plus French Canadian classics such as Tourtière and Tart au Sucre. Beyond pie, there are plenty of tips for dodging pie fails and creative ideas for using precious scraps of leftover dough. And because pies love company, there's a selection of accompaniments to partner with your favorite recipes. With mouth-watering photos and playful illustrations, The Artful Pie Project is sure to charm, and disarm, even the most apprehensive baker.
More Mandy's: More Recipes We Love by Mandy and Rebecca Wolfe and Meredith Erickson: This second sensational cookbook, following the runaway bestseller Mandy's Gourmet Salads, is packed with even more salads, more smoothies, more sweets – and now morning fuel and soups too! Indulge in and be inspired by these heartwarming recipes for cold-weather meals, plus plenty of year-round favorites. Even in wintertime, there's nothing a Mandy's salad can't fix.
Don't Worry, Just Cook: Delicious, Timeless Recipes for Comfort and Connection by Bonnie Stern and Anna Rupert: Here you'll find easy-to-follow recipes for all-day breakfasts, soups, starters, and side dishes, as well as breads and vegetarian, fish, and meat mains. And, for those wanting something sweet, the mother and daughter team have included plenty of desserts! Bonnie and Anna have also provided notes and variations to help you modify dishes for special diets, and have sprinkled in essays on topics that will resonate with all of us, from things not worth worrying about, to a love of leftovers and what to do with them. With 125 enjoyable and thoughtful recipes, and stunning photography, home cooks will turn to this instant classic time and time again to nourish themselves and the people they love.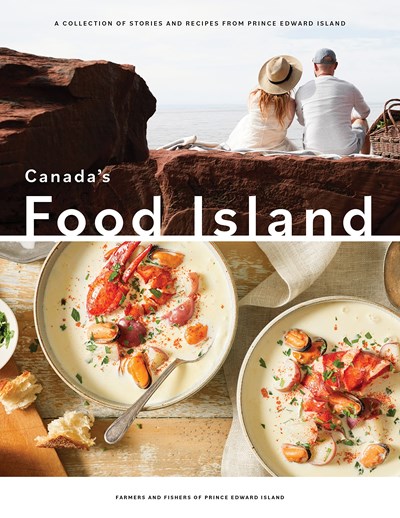 Canada's Food Island: A Collection of Stories and Recipes from Prince Edward Island by Farmers and Fishers of Prince Edward Island: A sampling of seasonal recipes from Prince Edward Island and stories about the people, places and local ingredients that inspire them. Canada's Food Island combines nearly 100 inspired seasonal recipes with homegrown stories and beautiful photographs to capture the essence of the island's unique food culture – blend of people, place and locally sourced fresh natural ingredients. You'll learn how mussels and oysters are sustainably raised and harvested, why Island beef is so flavorful and what makes wild blueberries so special. Whether you've spent time on Prince Edward Island or not, you'll want to visit these pages again and again to experience a taste of the Island in the comfort of your own kitchen.
---
United Kingdom & Ireland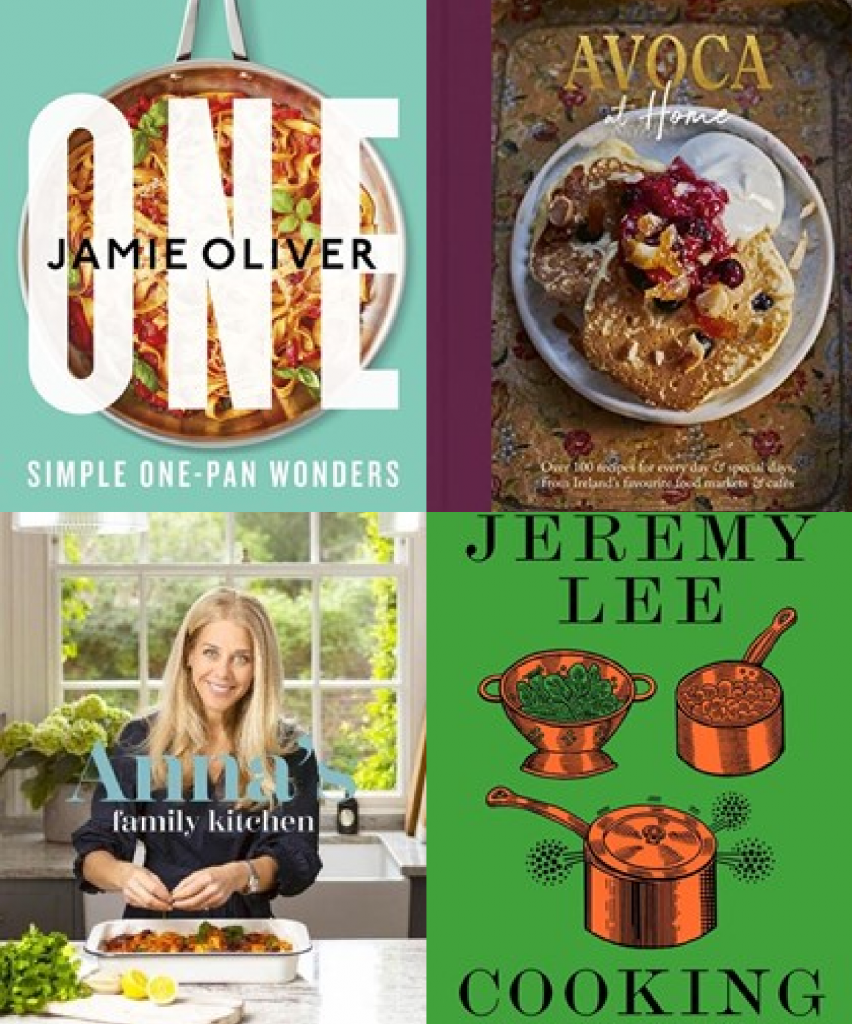 One: Simple One-Pan Wonders by Jamie Oliver guides us through over 120 recipes for tasty, fuss-free and satisfying dishes cooked in just one pan. What's better: each recipe has just eight ingredients or fewer, meaning minimal prep (and washing up) and offering maximum convenience.
Packed with budget-friendly dishes you can rustle up any time, One has everything from delicious work from home lunches to quick dinners the whole family will love; from meat-free options to meals that will get novice cooks started. US release slated for January 2023.
Cooking: Simply and Well, for One or Many by Jeremy Lee, award winning chef and television host, has written a gorgeous debut cookbook adorned with spectacular illustrations and photography. These are recipes that any of us can prepare at home. Examples of a few of the many dishes in this title include: Chocolate and cinnamon tart with Boodle's fool; Pea and almond pesto with Parmesan biscuits; Sarladaise potatoes and so many more approachable tempting recipes. I'm off to order a print copy myself.
Anna's Family Kitchen: Navigating Through Food, Faff and Family Life by Anna Stanford is a fun family-friendly cookbook, which shares nutritious but minimal faff recipes with families across the country. Including more than 70 recipes, this book explores the variety of dishes you can bring to the table for any occasion. From lights bites to fakeaways and working smarter not harder in the kitchen, you can achieve fun and easy mealtimes every day.
Avoca at Home by Avoca: For decades, Avoca cookbooks have been staples in kitchens in Ireland and beyond, filled with wonderful, reliable recipes for every occasion. Back with a mouth-watering new collection, Avoca at Home brings you over 100 of the very best Avoca recipes which includes classics from Avoca's destination cafés and food markets, as well as exciting new dishes that will become firm favourites.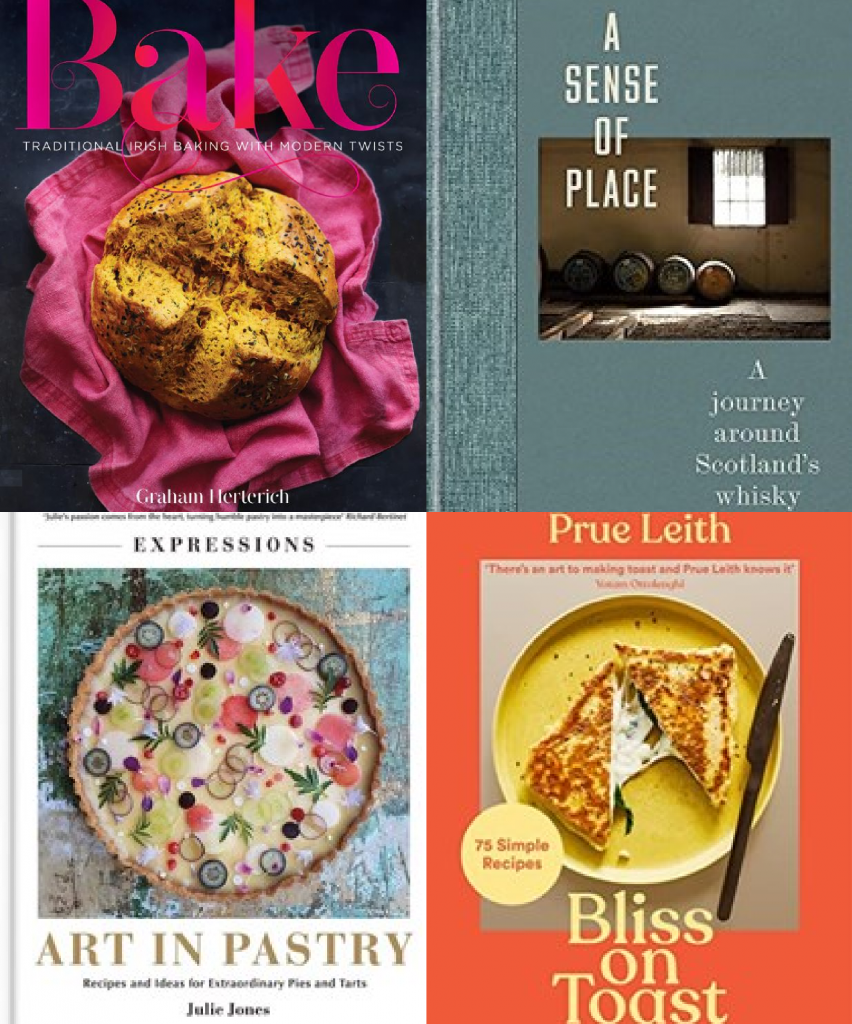 Bake: Traditional Irish Baking with Modern Twists by Graham Herterich, aka The Cupcake Bloke, has always been fascinated by taking classic Irish recipes and giving them a modern twist. By classic, he means proper bakes like soda bread, tarts, porter cake and brack all the way up to modern classics like jambons (square pastries filled with cheese and chunks of ham), cheesecakes and fifteens (a fridge bake made with 15 digestive biscuits that makes 15 slices – see this version). In his debut cookbook, every recipe for a traditional bake is followed by a fresh new spin using the ingredients available in Ireland now, from advieh to zhug. It may not be an exact update of the recipe – it could be a modern interpretation of the flavour combination or a reinterpretation of the concept, like a classic coffee and walnut cake reimagined as a coffee and walnut pavlova with coffee poached pears. This is a beautifully photographed book with vibrant pink page edging with approachable recipes. I'm making the Banana bread with maple & cinnamon glaze in the next few days – it is calling my name.
Bliss on Toast: 75 Simple Recipes by Prue Leith shares 75 recipes for things on toast will help you make quick, delicious and versatile meals year-round – for working-from-home lunches and cosy Sunday suppers, to light bites, indulgent treats or impressive canapés. This title will be released in the US in November.
A Sense of Place: A journey around Scotland's whisky by Dave Broom: In this beautifully crafted narrative, the award-winning writer examines Scotch whisky from the point of view of its terroir – the land, weather, history, craft and culture that feed and enhance the whisky itself. Travelling around his native Scotland and visiting distilleries from Islay and Harris to Orkney and Speyside, Dave explores the whiskies made there and the elements in their distilling, and locality, which make them what they are. Along the way he tells the story of whisky's history and considers what whisky is now, and where it is going.
Expressions: Art in Pastry by Julie Jones: Ever since Julie's Soulful Baker was released I have been a devotee. When The Pastry School came out, I thought she could not top herself until now. Expressions: Art in Pastry is just that works of art in pie dough and pastry. Recipes for savory and sweet pies are included but the beauty of this title are the step-by-step guides to creating pastry art. Most of the gorgeous pies and tarts seem as if I could tackle them – and if I can tackle them anyone can. Julie had me at the stunning cover but once you crack the cover it surpasses any art-inspired pastry book to date. Measurements are in weight and volume. (US release next month). Events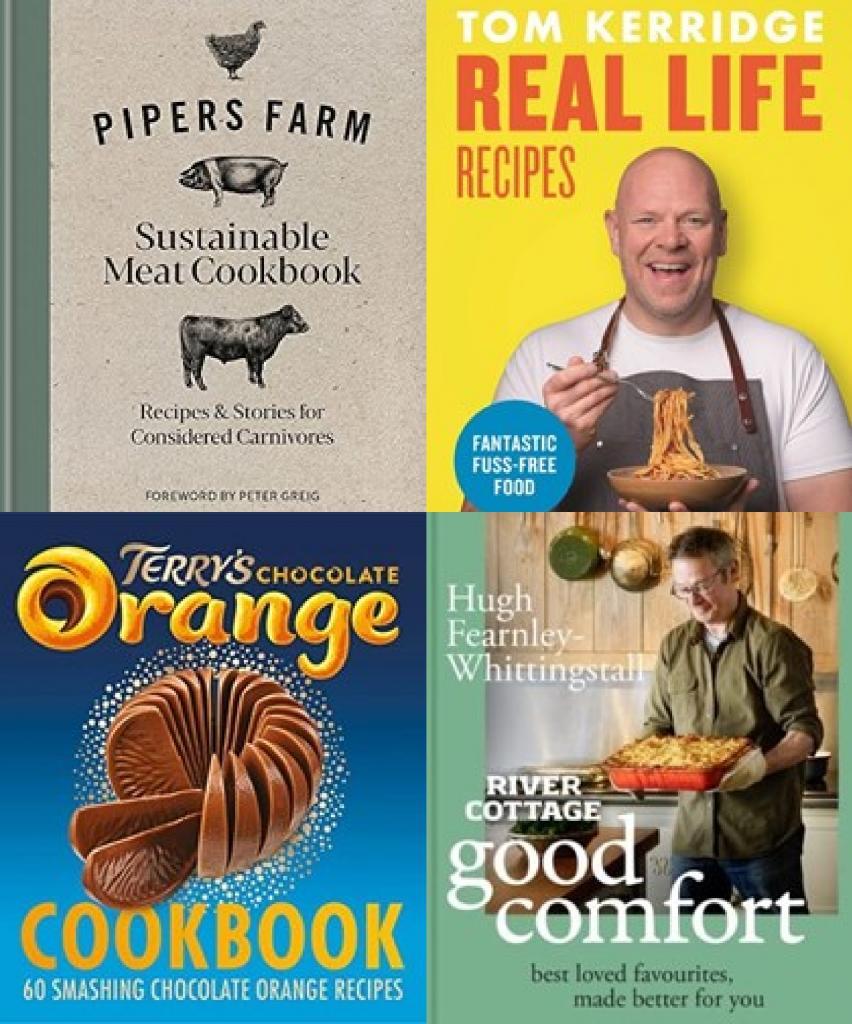 The Terry's Chocolate Orange Cookbook: 60 Smashing Chocolate Orange Recipes by Terry's is a cookbook to celebrate Terry's 90th anniversary with over 60 fantastic recipes to showcase the versatility of a Terry's Chocolate Orange!
Real Life Recipes by Tom Kerridge: Michelin-star chef Tom Kerridge is here to make your lunch, tea and weekends taste like you want them to, even if you don't have much time or headspace. From quick tasty meals that you can rustle up on a weeknight to massively lush Sunday lunch, it's all here. Events
River Cottage: Good Comfort: Best-Loved Favourites Made Better for You by Hugh Fearnley-Whittingstall takes our favourite foods and makes them healthier not by removing ingredients out of them, but by putting more in: the best whole ingredients, celebrated in all their colourful and seasonal diversity. Hugh has an event at Yeovil Literary Festival on October 20th.
Pipers Farm Sustainable Meat Cookbook: Recipes & Stories for Considered Carnivores by Peter and Henri Grieg: This book is an aria for proper meat. Meat as it was before it got messed with. Before animals became a unit of production, but were reared to produce excellent food, and were willingly given an equally excellent life. It explores the connection between nature and farming and the result is a mixture of hands-in-the-earth farm stories and meat-first carcass balanced seasonal recipes. Meat is revered and stretched as far as we can make it go by respecting the animal and using every part, cheek to lard, tendon to tail. The recipes are not just meat and two veg, but provide cooking that is devised for the way we live today. Think a modernized version of warming farmhouse food, to suit the weather and our homes. Fast, fresh, surprising dishes for midweek, and slow-cooking or theater pieces shared with friends for weekends and holidays.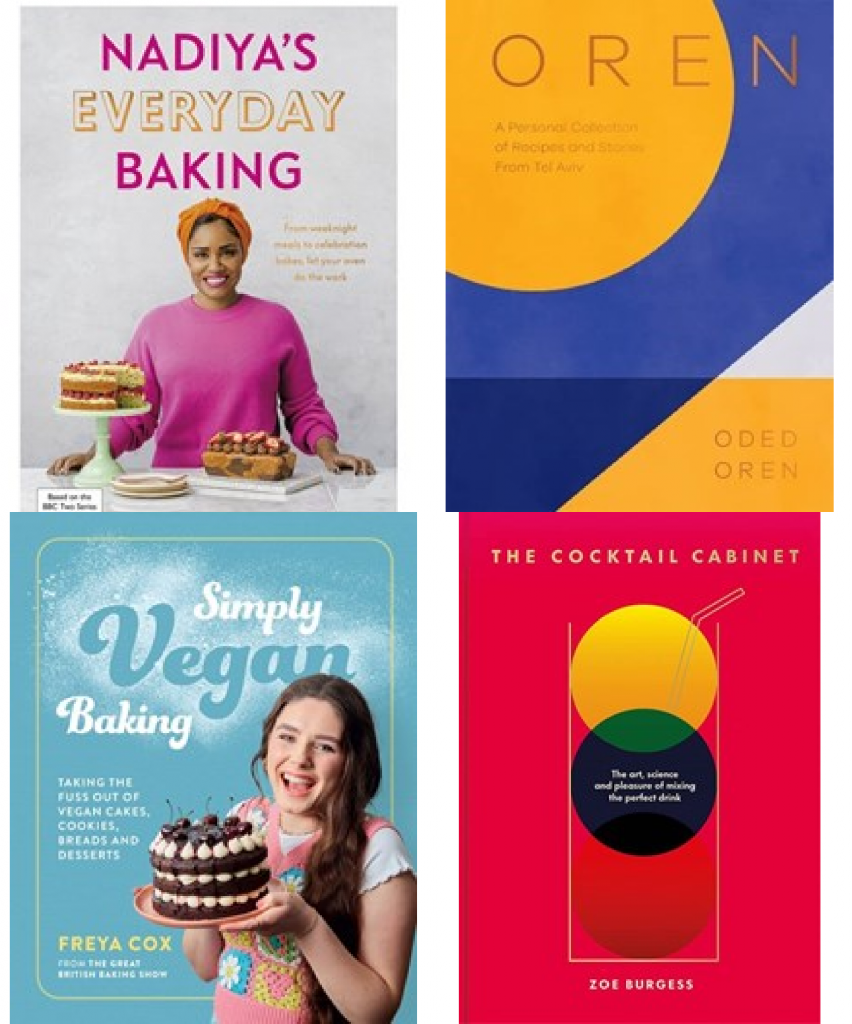 Simply Vegan Baking by Freya Cox is an inviting introduction to vegan baking, filled with dozens of showstopping recipes for scrumptious treats. The book is just as vibrant and dare I say, adorable, as Freya is filled with vegan recipes for all our favorites – Carrot cake; Black Forest gateau and Chocolate fudge cupcakes. Even if you are not a vegan – it is smart to have a reliable vegan baking title in your collection for guests that are – this is a great title to be that go-to. Freya and her pal – Lottie (Baking Imperfect) have a duo event at Blackwell's October 15th.
Oren: An Eastern Mediterranean Food Story from Tel Aviv by Oded Oren celebrates Tel Aviv with simple, seasonal recipes which celebrate every ingredient. The chapters are broken down by the ten most important ingredients, all of which you can find in your local supermarket. From toasted almond and oregano salad with feta, and fish soup with fennel and arak, to lamb koftas with Swiss chard, tomatoes and chickpeas, and hummus with braised ox cheeks, Oded's food speaks of his journey as a chef as well as the constant inspiration that springs from his native Tel Aviv.

The Cocktail Cabinet: The art, science and pleasure of mixing the perfect drink by Zoe Burgess demystifies cocktails, explaining and exploring the structures, flavour profiles and techniques used. In the first part of the book Zoe helps you understand why cocktails work, looking at the five basic tastes and other elements, including the flavour profiles of key spirits. She pulls apart classic recipes to explore their structure and explains why certain ingredients work together. Understanding these elements allows you to understand and build on your personal taste preferences, opening up a vast palette of options – including those of your own creation. The second part of the book puts that knowledge into practice, with more than 80 recipes for drinks organised by cocktail type – champagne-based, stirred, bitter, sour and long.
Nadiya's Everyday Baking by Nadiya Hussain delivers delicious, achievable bakes that will delight you, your friends and your family, every day. National treasure Nadiya Hussain returns with another helping of must-try and must-eat bakes: cakes you'll want to make for every occasion, sweet treats to indulge in with cups of tea, speedy oven-baked meals, simple and portable bites for picnics and lunchboxes, desserts for the whole family and irresistible breakfast pastries to kick off any weekend in style. This title will be released in the US next month.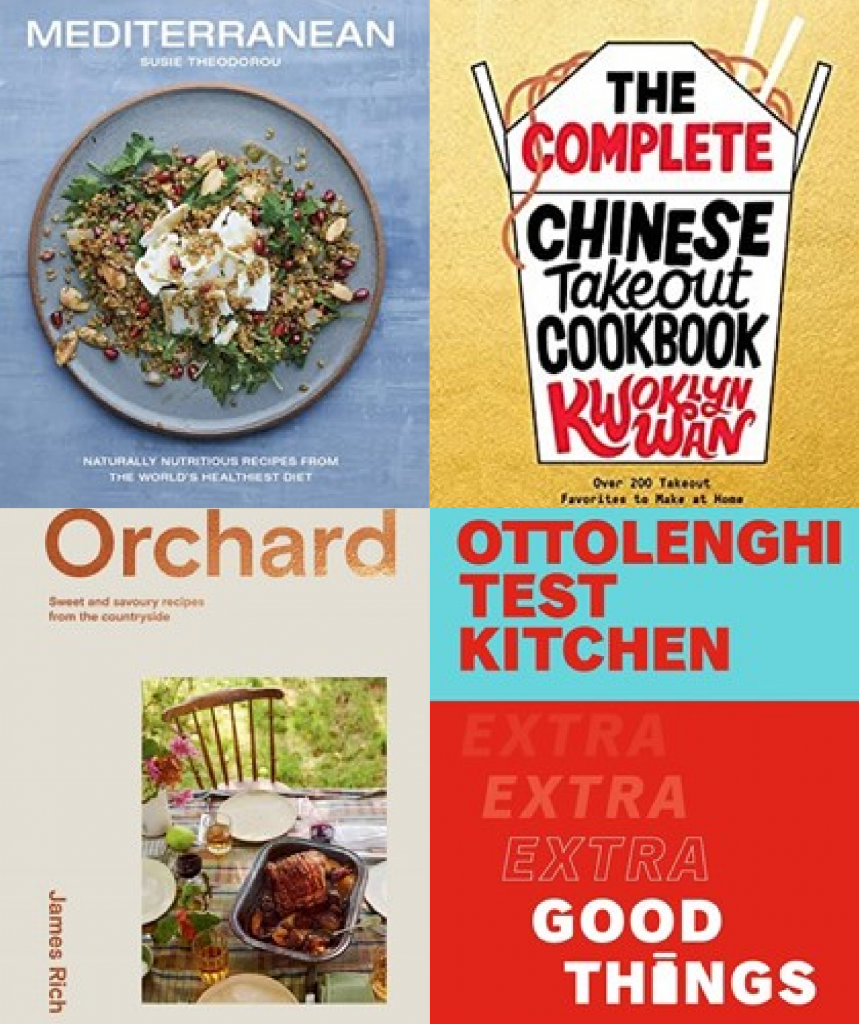 Orchard: Recipes from a Kitchen Garden by James Rich explores the huge variety of food that can be found in the English countryside; whether that is in the ancient orchards and hedgerows abundant with ingredients or the humble veg patch or kitchen garden verdant with home-grown staples. Celebrating fruit, including pears, plums, cherries, strawberries, gooseberries, elderflower, blackberries as well and quinces, medlars and apples, James offers more than 70 delightful recipes – both sweet and savoury – that are inspired by some of the most famous and delicious home-grown produce from England's ancient gardens.

Ottolenghi Test Kitchen: Extra Good Things by Yotam Ottolenghi and Noor Murad: Ottolenghi and his superteam are back, with flexible, flavour-packed dishes that all lend a little something to the next meal. It's harissa butter on a roasted mushroom, then tossed with steamed veg or stuffed into a baked potato. It's tamarind dressing on turmeric fried eggs, then drizzled over a steak the next day. This title is rounded off with a chapter on the 'one basics' of desserts for you to perfect and then adapt with your favourite flavour combinations, such as 'one basic mousse' transformed into coffee mousse with tahini fudge. This is playing it forward, Ottolenghi style, filling your cupboards with adaptable homemade ingredients to add some oomph to every mealtime. This title arrives in the North America next month. Events
Mediterranean: Naturally nutritious recipes from the world's healthiest diet by Susie Theodorou is a reissue of the 2018 edition. Susie explores how the Mediterranean diet is a lifestyle choice and a pattern of eating based on rural life where people used to eat what they grew and enjoy it communally. Her approach embraces seasonal and nutritious foods, without the strict regime of a diet book. She does not focus on weight loss or weight gain but instead promotes a healthier and happier way of life.
The Complete Chinese Takeout Cookbook: Over 200 Favorite Chinese Recipes to Make at Home by Kwoklyn Wan: I cannot tell you how much I love this title. It will be my go-to for easy Chinese "takeout" meals from here forward. I love the simplicity of Kwoklyn's recipes and the lovely photographs that accompany most of these dishes. This beautiful book makes Chinese cooking approachable for everyone.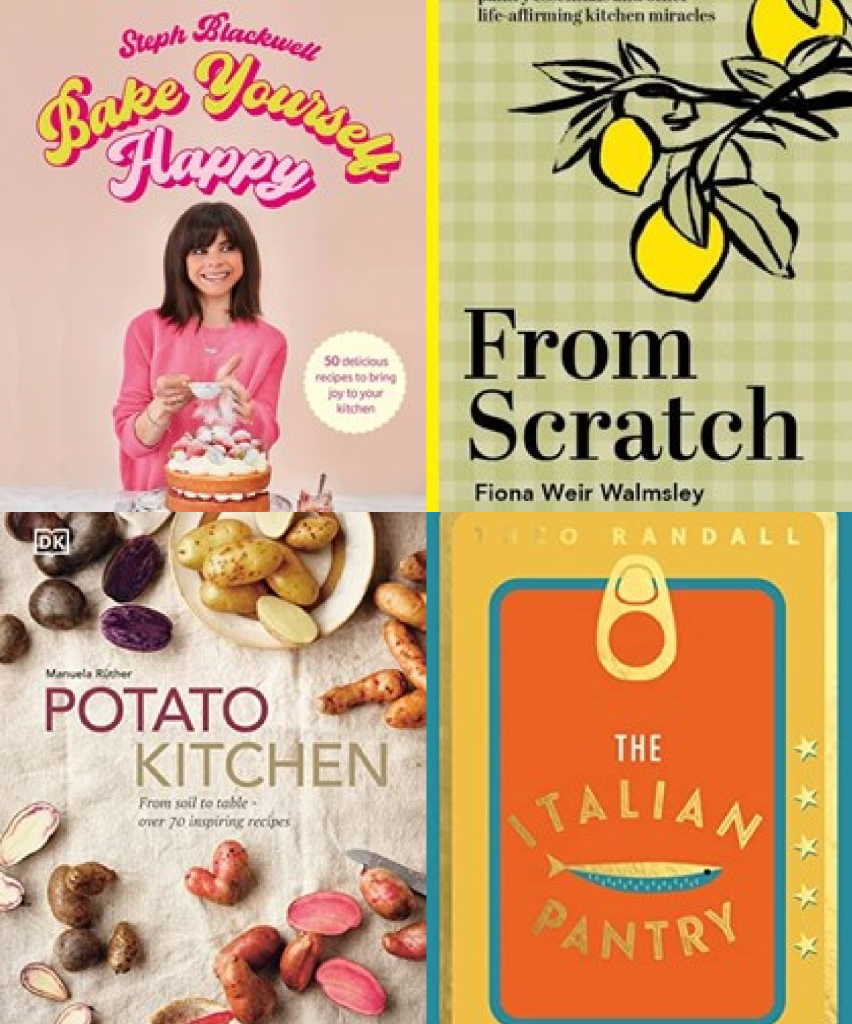 From Scratch by Fiona Weir Walmsley is a cheerful collection of recipes, and a simple guide to making your own food and staples, starting at the very beginning. If you are looking for a connection with what you eat, then this book is for you. More than 200 straightforward recipes – from basic pantry items and essential dairy products to decadent cakes, tasty dips, crackers, ferments and drinks – will give you the confidence to leave industrialised packaged goods behind. Author Fiona Weir Walmsley paints a beautiful picture of life (and work) at Buena Vista Farm in Gerringong, NSW, and of the joy of making, sharing and enjoying things 'from scratch', no matter how busy you are. This title will be published in the US in October.

The Italian Pantry: 10 Ingredients, 100 Recipes – Showcasing the Best of Italian Home Cooking by Theo Randall: I have spent some time with this lovely book and have a number of recipes in the queue to make including the Venetian-style fried chicken with lemon and sage; Linguine al limone; and the Lasagne with pesto and potato. In Randall's latest, he shares his 10 pantry staples and reveals his favourite ways to cook with them through 100 fabulous recipes covering Tomatoes, Porcini Mushrooms, Parmesan, Lemons, Leafy Greens, Ricotta, Polenta, Pine nuts, Honey and Breadcrumbs. From simple pasta dishes and more extravagant dinners for when you have people over, to delectable desserts and classic Italian cakes, you'll delight in this chef's take on the very best of Italian home cooking.

Bake Yourself Happy: Recipes for Delicious Bakes with a Dollop of Joy by Steph Blackwell has written a second book with 50 delicious bakes, each designed to bring joy in both the making and the tasting. Steph is a huge proponent of mental wellbeing and she nurtures her mental health through the kitchen. Her first title The Joy of Baking: The Everyday Zen of Watching Bread Rise contains 25 recipes and is an adorable little volume – I hope to index this one myself soon.
Potato Kitchen: From Soil to Table: More Than 70 Inspiring Recipes by Manuela Rüther: Peel back the potato's potential and rustle up cozy, classic dishes like potato soup and gnocchi, as well as dishes you may have never tried before, such as homemade potato bread, potato and zucchini cake, and potato pancakes. From new potatoes to baking potatoes, crispy skins to creamy mashed potatoes, the potato has so much to offer with these 70 sweet and savory recipes.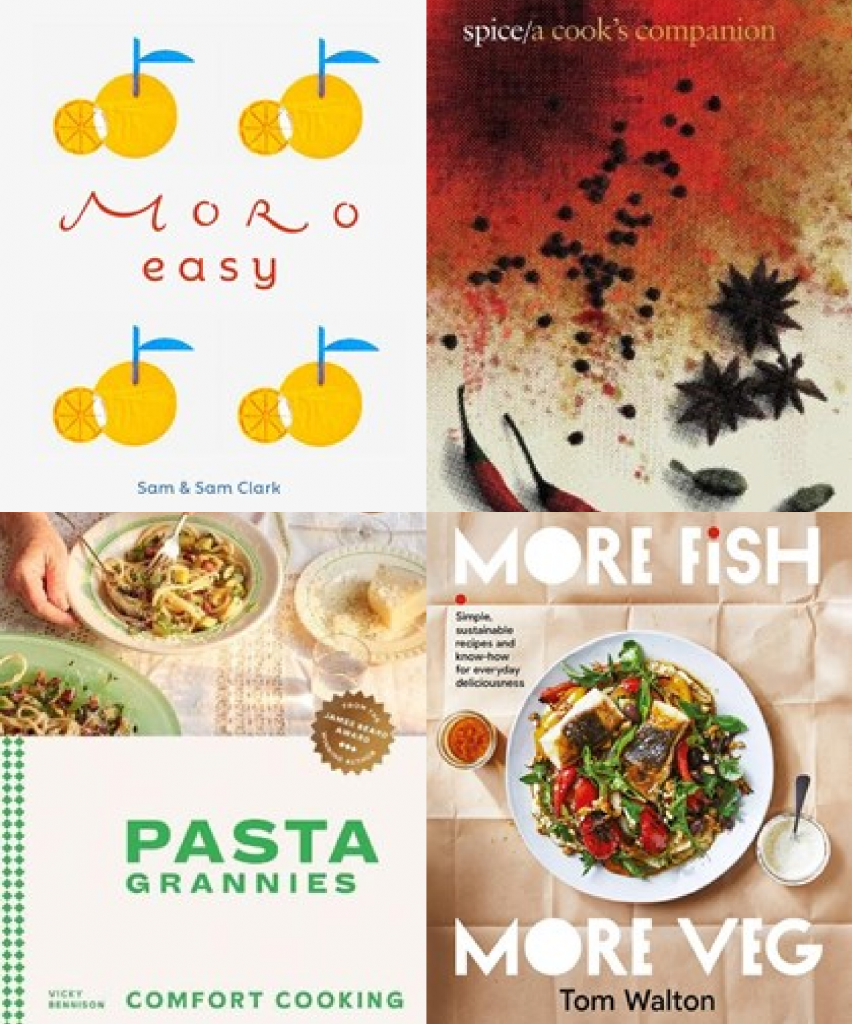 Spice: A Cook's Companion by Mark Diacono is a vibrant exploration of flavour, fragrance and heat with a celebration of over 50 spices that will fill your kitchen with a wealth of heady aromas and tastes. Packed with ideas for enjoying and using spices, Spice is much more than your average recipe book. Diacono shares the techniques at the heart of sourcing, blending and using spices well, enabling you to make delicious food that is as rewarding in the process as it is in the end result. Focusing on the familiars including cumin, turmeric, vanilla, pepper and cinnamon, Spice will also open the door to some lesser-known spices such as grains of paradise, asafoetida, tonka beans and passion berries.

Pasta Grannies: Comfort Cooking: Traditional Family Recipes From Italy's Best Home Cooks by Vicky Bennison, the author of the bestselling cookbook, Pasta Grannies, brings you more heartwarming recipes and stories from our favourite Italian grandmothers in this easy-to-follow family recipe book that will show you how to make authentic-tasting Italian food that the whole family will enjoy. With chapters that cover baked pasta, pasta in brodo, sweet dishes as well as rice, couscous. polenta and bread, alongside the amazing stories and life of these extraordinary home cooks, this title is not only a joyous celebration of eating, cooking and feasting together, but an uplifting compendium of the Italian way of life.

Events (US)
More Fish, More Veg: Simple, Sustainable Recipes and Know-how for Everyday Delicious Meals by Tom Walton is as simple and helpful as it sounds. A cookbook that demystifies the subject of cooking fish and seafood by teaching the basic cooking methods and techniques for different seafood that can then be mixed and matched with multiple vegetable recipes. Offering a sustainability and seasonal guide to Australian seafood with tons of advice on substitutions, the questions to ask at the fish counter, as well us utterly addictive shortcuts to banging flavour. This title was released in AU last month.
Moro Easy by Samantha and Samuel Clark: Moro is the highly acclaimed home of bold, flavour-centered cooking using few ingredients, perfectly combined. Trailblazing chefs Samantha and Samuel Clark bring the evocative flavours of Southern Spain and North Africa to everyday cooking. Discover outstanding simple recipes such as Roasted aubergines with pomegranates and pistachios, one-pot Monkfish stew with green beans, potatoes and alioli, and Chicken with preserved lemon labneh – on the table in minutes with the laidback, no-fuss attitude of the countries that inspire them. The authors have an event at Topping and Company in Edinburgh on October 6th.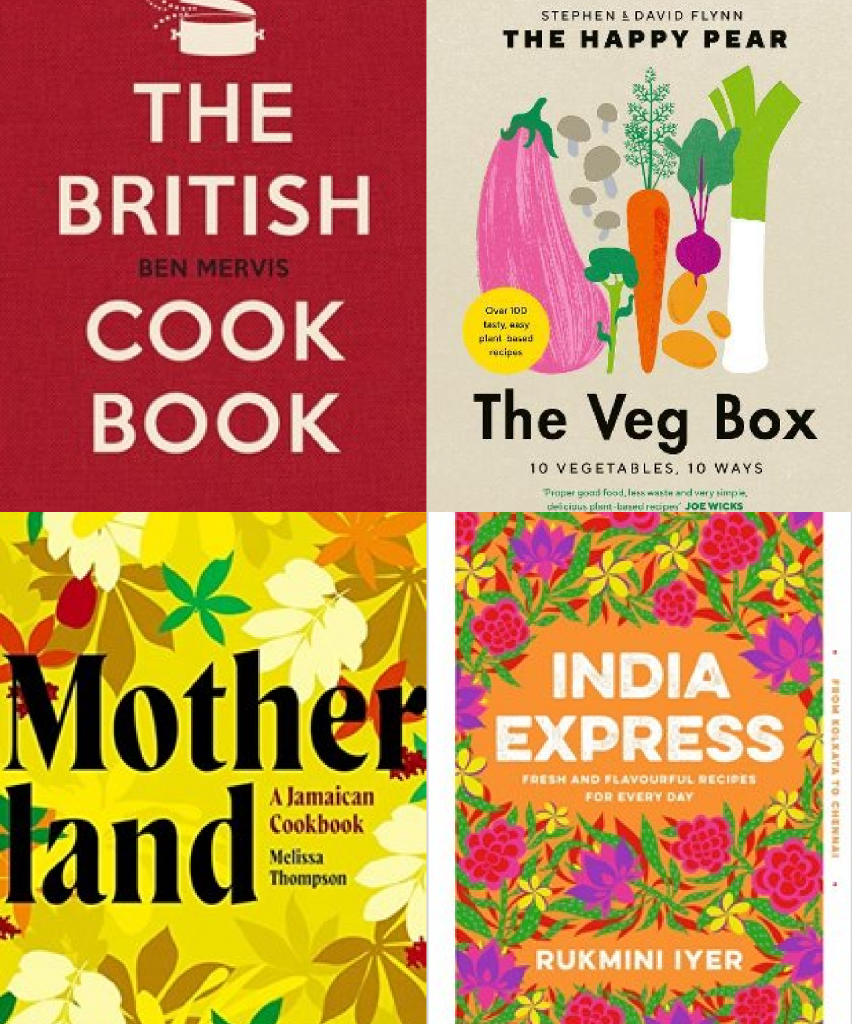 The British Cookbook by Ben Mervis takes readers on a mouth-watering culinary tour across England, Wales, Scotland, and Northern Ireland, revealing a cuisine as diverse as the landscape from which it originates. Part cookbook, part cultural history, this deeply researched collection of 550 authentic recipes encompasses home-cooked classics, lesser-known and regional recipes, and dishes deeply steeped in British history; and iconic dishes with roots outside of the United Kingdom. The recipes are fascinating to read and easy to follow, with lively descriptions of each dish's origins; clear, user-friendly instructions; and helpful notes on unique ingredients and techniques. Stunning photographs of food and local scenery complete this exciting ode to British cuisine.

The Happy Pear: Veg Box: 10 Vegetables 10 Ways by David & Stephen Flynn: the bestselling authors are back with a brand new cookbook bursting with 100 recipes that will inspire you to cook veg in new and delicious ways, and make it easier and tastier than ever before to get your 5 a day. With 10 chapters dedicated to different veg, including cauliflower, broccoli, beetroot, courgettes, and potatoes, this book showcases delicious recipes for how to cook each ingredient using no more than 10 ingredients. With tips on how to reduce your food waste, and how to shop and cook more sustainably, this book makes it easy to eat well for our bodies and for the planet.
India Express: Fresh and Flavourful Recipes for Every Day by Rukmini Iyer: From quick snacks and weeknight curries to simple desserts, Rukmini Iyer has created a collection of 75 South Indian and Bengali-inspired recipes with a modern twist. Keeping with her ethos of 'minimum effort, maximum flavour', these dishes are vibrant, achievable and moreish.
Motherland: The Journey of Jamaican Food by Melissa Thompson features in-depth research into the evolution of the island's food – charts the contribution of indigenous Jamaicans, the Taino, and follows the impact of colonisation, and how those periods under Spanish and British rule left an indelible mark on the nation's gastronomy, including the introduction of pigs, ackee, saltfish, coffee, sugarcane and Easter bun, while enslaved men and women from West and Central Africa brought inspiration from home and familiar cooking techniques to create legacy dishes that are still celebrated today. The contribution of Indian and Chinese indentured workers is also examined, and woven into the recipes so the reader is invested in dishes they cook.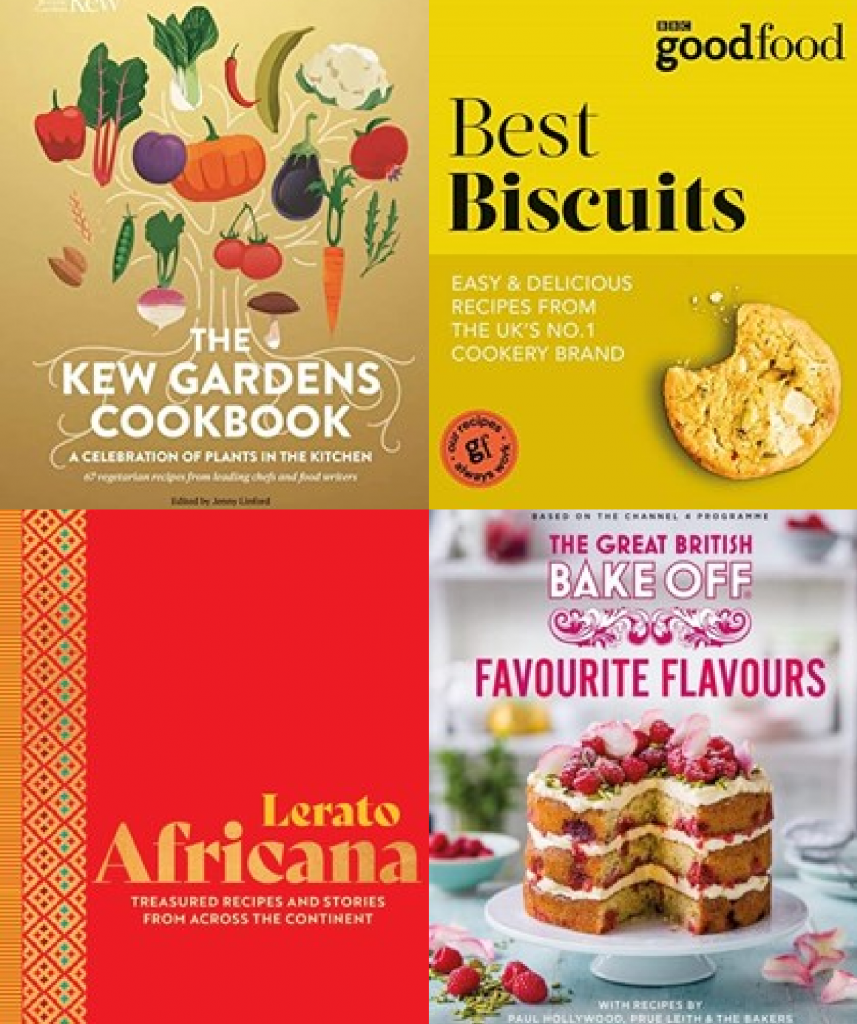 The Great British Bake Off: Favourite Flavours by the Bake Off Team: Tuck into your all-time favorite flavors and a good sprinkling of Bake Off magic with our easy-to-follow recipes. A feast for both the eyes and the taste buds, these flavorful bakes will leave you inspired to mix and match different combinations, or to indulge yourself with some classic tastes and textures. Whether you're looking for a tart blackcurrant millefeuille, a fresh passion fruit trifle, a sticky ginger treacle tart or a rich chocolate and speculoos cake – Paul, Prue, the Bake Off team and the 2022 bakers are here to show you how to get the perfect result. From earthy to spicy, and from tangy to creamy, this book showcases how to bring out the very best flavors in whatever you create.
The Kew Gardens Cookbook: A Celebration of Plants in the Kitchen by Jenny Linford: Food is a unifying cultural force, but food security (feeding the world) is one of the greatest challenges we now face. By 2050, with 2 billion more people on the planet, we'll need to find ways to feed everyone sustainably. There are 50,000 different plant species that are edible but 90% of our food energy intake currently comes from just 15 crop plants. Organised in six sections, covering leaves, roots and squashes, grains and pulses, fungi, herbs and spices, and fruit and nuts. The book features over 60 delicious and unusual vegetarian recipes from celebrity contributors.
Africana: Treasured Recipes and Stories from Across the Continent by Lerato Umah-Shaylor shares recipes passed down the generations, but adds the author's own modern twists, as well as exploring the multiplicity of the rich African continent. Rich in flavour, tradition and offering a sense of wanderlust, Africana will bring the continent right to your kitchen. This book will be published in the US in March of 2023. The author has an event at Topping and Company in Bath on October 6th.
Good Food: Best Biscuits by BBC Good Food: Find over 90 loved and trusted biscuit recipes from the UK's number one cookery brand all in one place. What makes up your ultimate biscuit? From classic caramelised Florentines and chocolate chip cookies to the more experimental saffron, pistachio, and white chocolate cookies and handmade rosemary crackers there's something for everyone in this small but mighty book.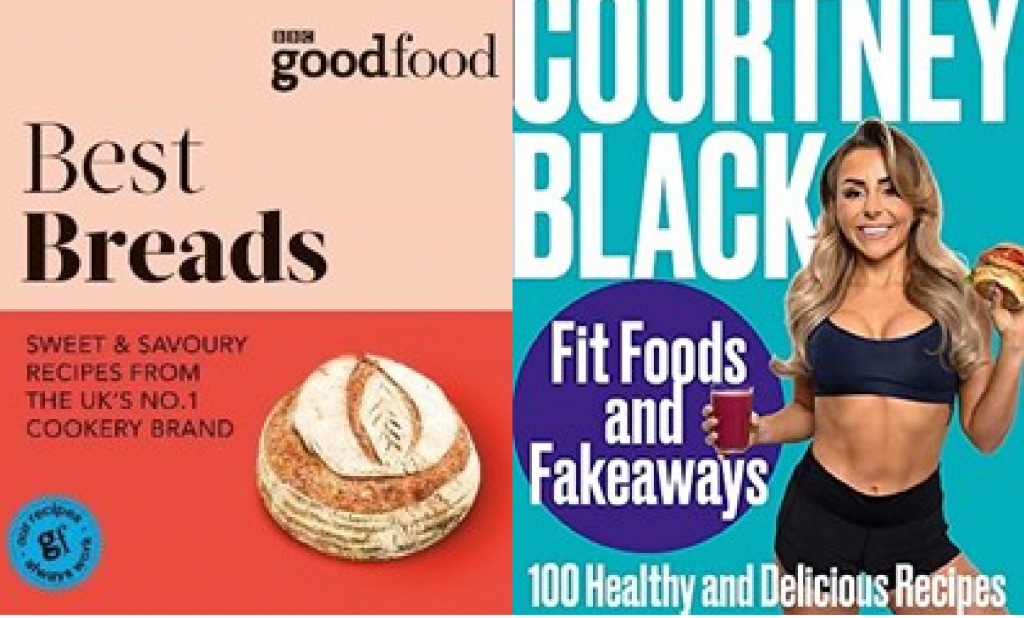 Good Food: Best Breads by BBC Good Food: You don't need to be a professional baker to make a lovely warm loaf of bread – simply some flour and yeast will see you on your way. Who can resist that freshly baked bread smell? Get your apron out and knead your way through this delicious collection of doughy favourites including classic loaves, naan, pizza and much more. This title will also show you how to make the most of your leftovers which irresistible recipes such as Rhubarb and ricotta bread and butter pudding, Fig, burrata and prosciutto tartine, and Mango chutney & cheese naan toasties.
Fit Foods and Fakeaways: 100 Healthy and Delicious Recipes by Courtney Black will show us how to develop a healthy attitude to eating well. By cooking our own meals, using the simple and delicious recipes shared here, we can not only get healthy but save money too. By sharing what she has learned on her own personal fitness journey, Courtney will help us build a greater understanding of food and how it can make us happy, fit and healthy without a diet in sight.
The Mexican Vegetarian Cookbook by Margarita Carrillo Arronte: These healthy, wholesome recipes are meat-free by design, spotlighting Mexico's outstanding foods, instead of relying on hard-to-source ingredients or substitutions. Each is presented with clear, straightforward instructions accessible to home cooks of all skill levels. Along with authentic breakfasts, lunches, dinners, and desserts, the book includes an entire chapter dedicated to pulses – high-protein superfoods such as chickpeas, beans and lentils – as well as special sections for breads, drinks, sauces, and basics that every fan of Mexican cuisine should master. Beautifully designed, with an eye-popping cover and vivid photography throughout, The Mexican Vegetarian Cookbook is an inspiring addition to any home cook's kitchen shelf.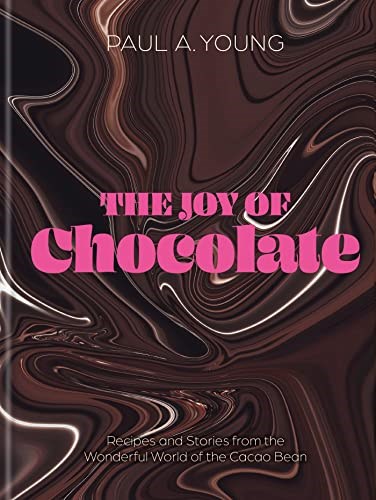 The Joy of Chocolate: Recipes and Stories from the Wonderful World of the Cacao Bean by Paul A. Young: This delightfully decadent book is a love letter to chocolate, from the very fundamentals of what is chocolate and how to taste and buy, to achieving a world-class shine and blending flavour like a pro. It explains clearly and with creativity, so that by the end of the book, anyone from beginner to confident cook will be able to make the very best chocolate recipes.
---
Australia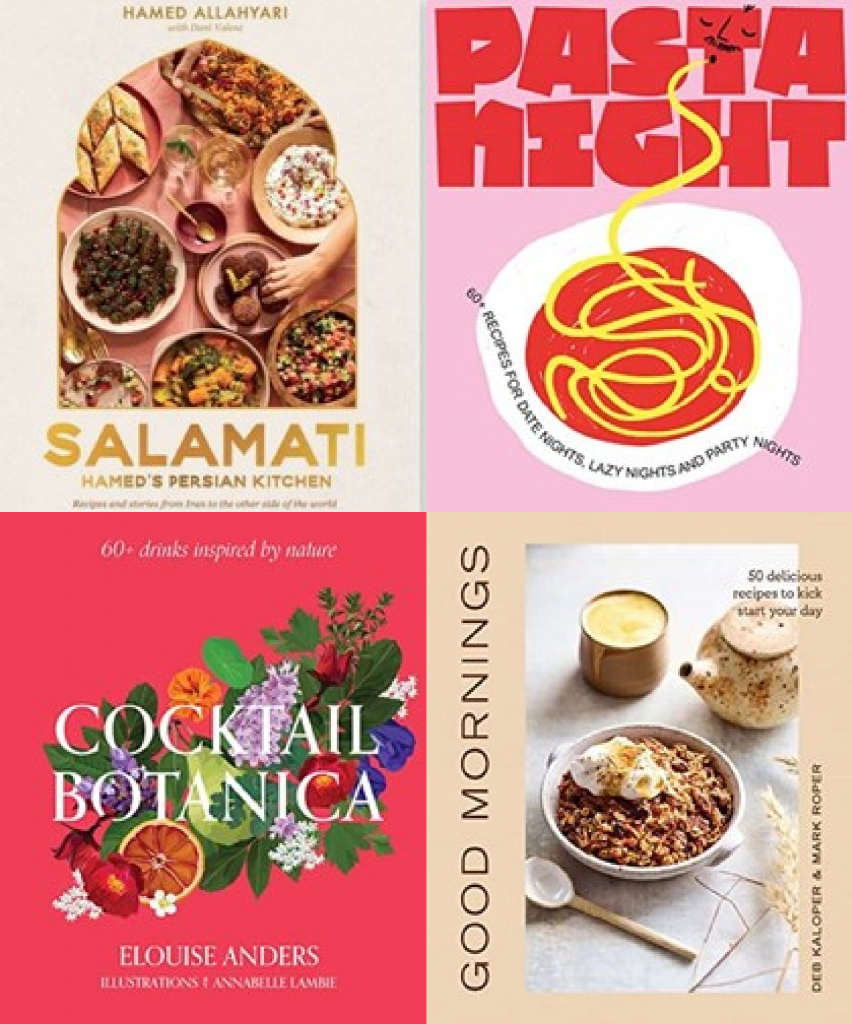 Salamati: Hamed's Persian Kitchen by Hamed Allahyari presents a gateway to Persia in Salamati (Persian for 'health' and 'cheers'). With every swipe of warm pita through herbed dadami dip, every bite of braised lamb with dried lime and saffron rice, every sip of house-made sour cherry tea, Hamed shines a light on his past and continues to build an optimistic Australian future. Hamed was a restaurateur in Iran. When he settled in Melbourne, his dream was to open a business. SalamaTea launched in 2018 and the culmination of his toil and passion is this book that brings it all together. The recipes in Salamati are anchored in tradition but accessible to all. They are simple, celebratory and appealing, flexible and full of flavour. Hamed melds Persian culinary culture with an understanding of Australian palates to create recipes that are truly his – and now ours to share.

Cocktail Botanica: 60+ Drinks Inspired by Nature by Elouise Anders is a celebration of all things floral, herbaceous, fruity, and boozy. Featuring cocktails, punches, and botanical-infused spirits, this book uses herbs, fruits, flowers, and all things botanical that you can buy, forage, or grow. Full of botanical twists on classics, like a peachy old-fashioned, rose martini, or thyme salty dog, this book will delight your guests and put your garden to good use when you're entertaining. With beautiful botanical illustrations by Annabelle Lambie and easy-to-follow recipes, this book is a must-have for anyone who wants drinks that bloom on the palate.

Pasta Night: 60+ Recipes for Date Nights, Lazy Nights, and Party Nights by Deborah Kaloper: Explore the delicious world of pasta with this fun cookbook. California native Deborah Kaloper provides more than sixty incredible recipes, from rustic Italian classics to New World fusions.
Each of the chapters is based on pasta shape, namely long pasta, short pasta, flat and ribbon-cut pasta, and so on. Satisfy the whole family with recipes for spaghetti and meatballs and traditional macaroni and cheese. Then experiment with the really long and fun-sounding Italian words: penne arrabbiata, mussels with fregola, gorgonzola gnocchi al forno, and many more.

Good Mornings: 50 Delicious Recipes to Kick Start Your Day by Deborah Kaloper features 50 gorgeous, simple recipes, that contain no refined sugar and are mostly vegetarian, alongside vegan, dairy-free, and gluten-free options. With chapters focusing on drinks, baking, eggs and things, fruit, and cereals, there's no reason every morning shouldn't be a good morning.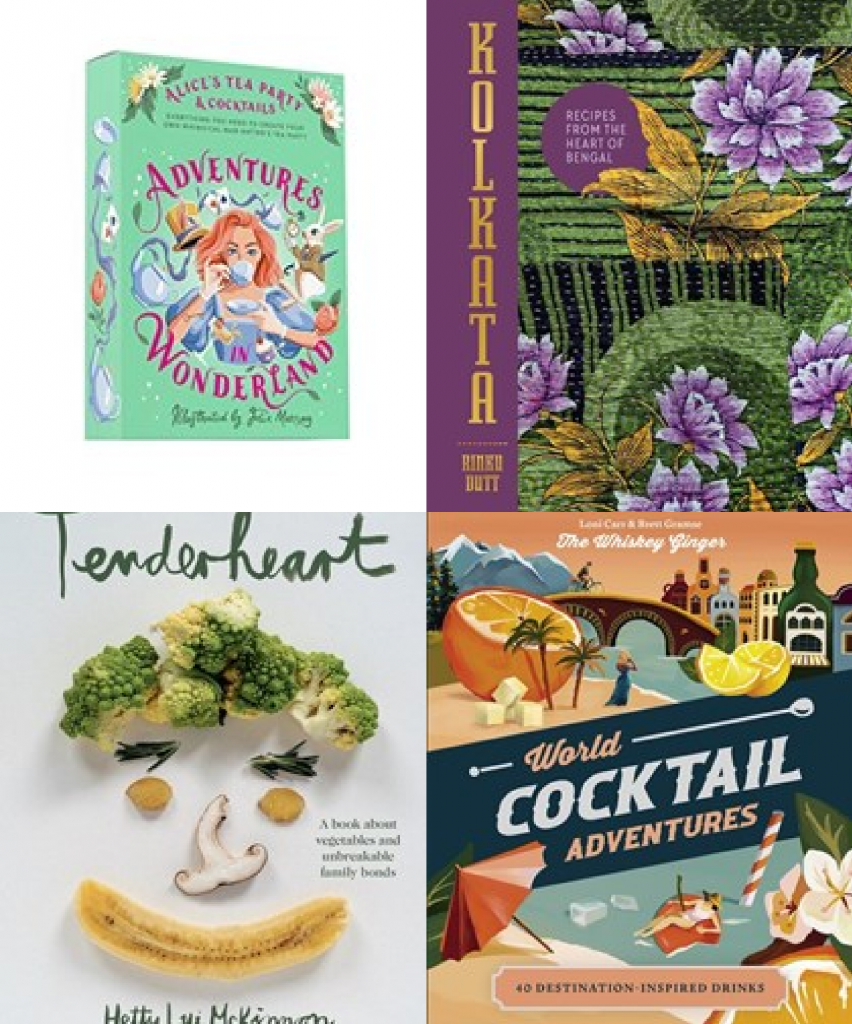 Adventures in Wonderland: Alice's Tea Party + Cocktails by Smith Street Books: Want to throw your own Alice in Wonderland–themed garden party? This beautiful deck of cards contains cocktails and sweet and savory finger food, as well as guides to invitations, venue ideas, what to wear, place settings, decorations, conversation starters, party games, and riddles to know and tell.
World Cocktail Adventures: 40 Destination-Inspired Drinks by Loni Carr and Brett Gramse: Take a trip around the globe sipping cocktails and taking in the stories shared in this beautiful book (a perfect hostess gift and/or stocking stuffer). I love how each location opens with background on the city/country (see the preview below) and then delivers a recipe for an "inspired" drink. The book is beautiful – complete with colorful illustrations and metallic silver page edges which makes it all the more festive for holiday gift giving.

Tenderheart: A Book About Vegetables and Unbreakable Family Bonds by Hetty McKinnon is a book about vegetables. It is also a story of unbreakable family bonds, love and loss, and the legacy of food as a way to stay connected to loved ones, including those who have passed. This masterwork, from Australia's most respected vegetable-loving food writer, takes readers on a vegetable-by-vegetable journey, packed with clever and inventive ways to combine ingredients, flavours and texture. With practicality, accessibility and economy in mind, Hetty devotes one chapter to each of her 22 favourite everyday vegetables, from Asian greens to zucchini. As is Hetty's signature, the flavours are globally inspired, with an emphasis on simple yet inventive weeknight cooking. 180 new, inspired and always delicious recipes will change how you see the humble vegetable and what it is capable of, forever.
Kolkata The Cookbook: Recipes from the Heart of Bengal by Rinku Dutt: Kolkata is considered the cultural capital of India, with a thriving, vibrant foodie reputation: an amalgam of old and new India. Its cuisine draws from far afield, with historic Mughal, Chinese, Tibetan, and British colonial elements—among others—to create a unique food landscape that begs to be explored. Rinku Dutt tells the story of a city with energy and diversity, ever-popular street food, a thriving restaurant and café scene, and the legacy of traditional family favorites handed down through generations. From the all-night eateries of Park Street to the street-food snacks on Dacre's Street, the bustling Burrabazaar and Chinatown, and, of course, the cooking that goes on in thousands of home kitchens, there is so much to discover. From sustaining breakfast spreads, easy and nutritious lunches, and favorite street-food bites, to rich and fragrant dinners and delectable sweets, there is something here to tempt any lover of Indian food.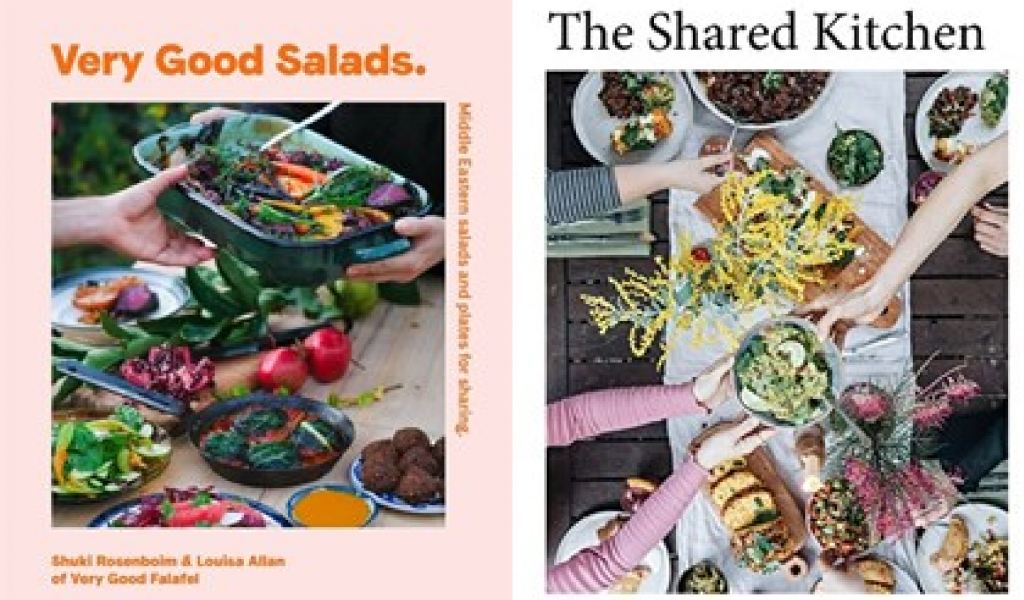 Very Good Salads: Middle-Eastern Salads and Plates for Sharing by Louisa Allan and Shuki Rosenboim: Very Good Falafel is a falafel bar in Melbourne, Australia, with a cult following. Every day, queues of locals wait patiently for a falafel plate or pita pocket filled with their choice of rotating salads, classic dips, and – of course – chickpea falafel, all served with a side of pickles and bread. It's simple, classic fare, but food that has earned owners Shuki and Louisa a place in Melbourne restaurant royalty. The chefs' debut cookbook shares the original, much-lauded falafel recipe for the first time, along with the café's most popular salads that change with the seasons. Making the very best of fresh produce, recipes include Israeli- and Mediterranean-focused salads that are as good on their own as they are stuffed into bread with a side of tahini. With an emphasis on vegetarian and vegan dishes, each salad makes use of the whole vegetable, with classic and less-expected pairings such as watermelon salad with za'atar, radish, and fried pita; peaches, basil, and hazelnut; and grilled leek with pomegranate, walnuts, spring onion, mint, dill, and lemon zest. There are also larger offerings such as silver-beet rice cake and stuffed tomatoes with saffron rice and dried mint. In addition, the book shares recipes for traditional dips and the ultimate pita recipe that produces flawless bread to stuff or serve alongside share plates.
The Shared Kitchen: Meals Made for Sharing with Your Community by Clare Scrine features more than eighty beautiful vegetable-based dishes to share with loved ones and friends, with an emphasis on zero waste and nourishing whole-food recipes. Filled with stunning imagery and recipes that will tempt anyone around your table such as Miso and banana cream pie; Fried cauliflower karaage with wasabi slaw; Carrot & pistachio muffins muffins with cheesecake topping; and Carrot mac 'n' cheese with crunch cheese crumbs – this is a book to treasure.
From Scratch by Fiona Weir Walmsley is a cheerful collection of recipes, and a simple guide to making your own food and staples, starting at the very beginning. (See full blurb in the UK section).
---
New Zealand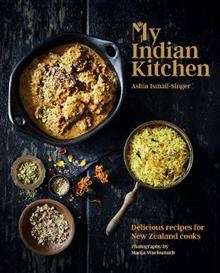 My Indian Kitchen: Delicious Recipes for New Zealand Cooks by Ashia Ismail-Singer is being reissued this month (previously released in 2018 and 2021). Ashia Ismail-Singer's recipes aren't just a list of ingredients and measurements, though. For her, they are memories of childhood, food experiences that have been passed down through generations, and which connect her back to her family overseas. With chutneys and bites for grazing, light lunches, mains, desserts, home baking and more, this book brings you a collection of recipes inspired by Indian food culture, but made with ingredients that are easy to access in this country.