Food news antipasto
September 18, 2022 by Darcie
The Manchester Food and Drink Festival is happening in Cathedral Gardens from September 22nd – October 2nd. Of particular note is the all day Octopus Cookbook Confidential event on September 24th featuring many cookbook authors. Please note we have updated other events on our Calendar including Rick Rodgers' classes at Kings in New Jersey and Edd Kimber's US events as they are set (check back for updates).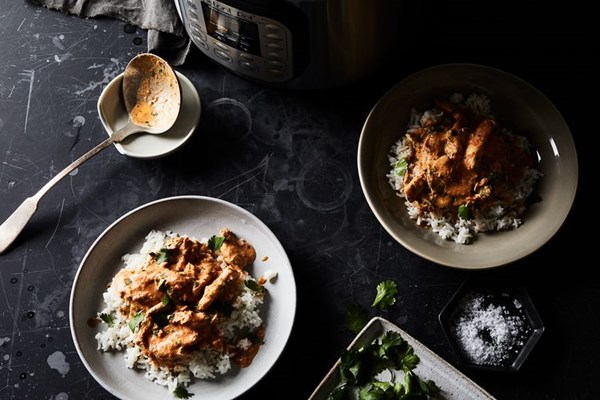 There are over 27,000 recipes in the EYB Library under the category of 'curry'. Of course, curry encompasses a wide range of recipes from different cultures. Food and Wine takes a deep dive into the subject of curry, noting its origins in colonialism and exploring its long and rich history via Sejal Sukhadwala's book The Philosophy of Curry.
With prepackaged products taking over more and more meat departments in supermarkets worldwide, it can feel like the art of butchery is in danger of disappearing. Not as long as there are people like Matt Tyquin, who returned to Melbourne this week as Australia's first apprentice to win the World Butchers' Challenge. "You felt like you were a professional player going out to a game," said Tyquin on the event.
The war in Ukraine pitted two of the largest wheat-growing countries against each other, and the world is feeling the effects. While wheat production hasn't stopped, the war has all but halted shipments of the grain. While most of the countries who are most adversely affected are in Africa, consumers everywhere are noticing reduced supplies and drastically increased prices. With autumn baking here for those of us in the Northern Hemisphere and the holidays not far behind that, the demand for flour will face its annual increase. If you are facing steep price hikes or shortages of your favorite brands, Saveur has tips about ways you can extend your flour supply.
We've written before about food waste and efforts to combat it. One of the most recent ways is a simple idea that is gaining traction: doing away with 'best by' dates. Some food companies are fighting the idea, however, probably because it would result in fewer sales. Consumers can, of course, use their best judgment on whether they should eat food that is beyond a 'best by' date.
I generally don't click on "clickbait" headlines, but sometimes I do just to see how they are going to follow up on their grandiose claims. This one comes from Epicurious, who teased readers with the claim of "how to make pancakes without any measuring cups." Did they mean using a scale? Nope, they offer the 'advice' of how to use a coffee mug or juice cup instead of a measuring cup.