Delicious Gatherings: Recipes to Celebrate Together Prize Package
September 12, 2022 by Jenny
Enter our US giveaway to win one of two prize packages each including a copy of Tara Teaspoon's new book Delicious Gatherings: Recipes to Celebrate Together and the items shown in the photo below: a CasaBellaVida bottle of vanilla, an Olio Pura bottle of olive oil, a Silpat baking mat, an Emile Henry creme brulee dish which would be beautiful to serve a dip in; a California shaped cutting board from Grapes from California and a vegetable peeler from Kuhn Rikon.
Please note the author's events which we have shared on our Calendar.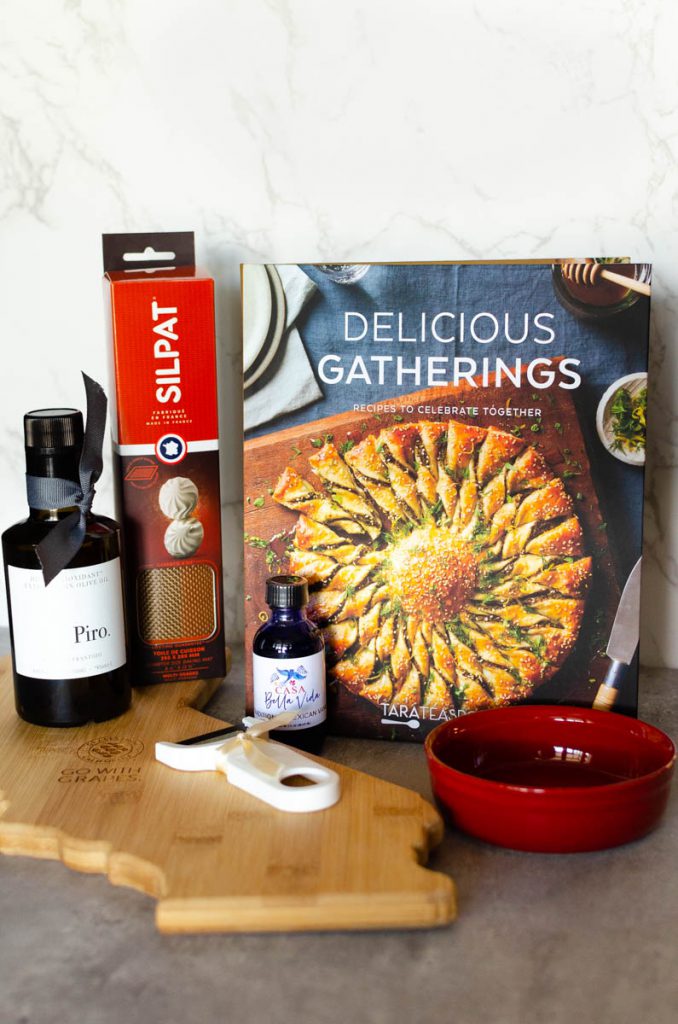 Tara Teaspoon is a former food editor and stylist for Martha Stewart and former director of Ladies' Home Journal. Her first cookbook was released in 2020: Live Life Deliciously With Tara Teaspoon: Recipes for Busy Weekdays and Leisurely Weekends and is one of those books that I want to make nearly everything from. Tara writes recipes that a busy cook looks for – interesting and exciting but not overwhelming. The book also features a section where she provides a basic recipe that can then be easily transformed into two or three new recipes to make meal planning a breeze during busy weeknight schedules.
Her second title Delicious Gatherings: Recipes to Celebrate Together shares dishes to bring friends and family to the table in celebration. From a sit down dinner to brunches to larger gatherings, Tara's recipes include approachable showstopping dishes. For brunch try her Churro waffles with whipped ricotta and dulce de leche or Half-and-half granola pancakes with ginger maple cream syrup – which will impress guests but are perfect for a cozy Sunday breakfast with the family or special holiday breakfast. One can always find a reason to celebrate with incredible food.
For sports gatherings, Tara's Chili cheese fries are pure comfort and easily made for a crowd and can be paired with her Sheet pan potatoes which are crispy deliciousness without the extras – to give your guests a choice. These can be served with a dip from the book or even a storebought onion dip. Holiday dinners are covered with Classic turkey in pieces and Silky soft dinner rolls. Roasting the turkey in pieces eliminates half the cooking time and also the worry about waiting the appropriate amount of time for the bird to rest before carving (my least favorite part – the carving that is).
There is also a chapter on desserts with tempting treats such as Apple pudding cake with butter sauce, Sunken chocolate cakes with hot fudge sauce, and PB and fudge stripe freeze – an easy frozen dessert that will have everyone coming back for more. (For a peek inside, she Tara's website which features the following recipes to try: Skirt steak with strawberry chimichurri and rice pilaf and Passion fruit meringue tart with coconut cookie crust.)
Tara's books are beautifully photographed and filled with tips and tricks to make entertaining a breeze. This title (as well as her first) would make a wonderful hostess gift this holiday season with perhaps a batch of her Browned-butter toffee blondies thrown in for good measure.
Update September 14th: Today, I made the Italian gnocchi, bacon, and cheese soup. I subbed out Italian sausage for the bacon. The recipe was very quick to put together and very tasty (but I'm sure it will be much better with bacon – because BACON!). Gnocchi is one thing I always keep in my pantry for quick dinners and as soon as I saw this recipe in Tara's book, I had to make it. We will be freezing a quart or two for when the weather becomes chillier. [Note: last evening our air conditioning surrendered and we are having a bit of a heat wave in Colorado – so what better time to make a pot of soup. :)]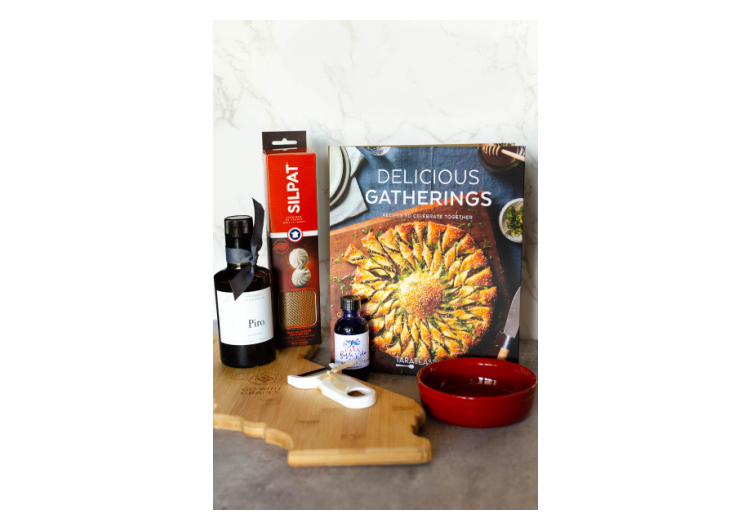 Special thanks to the author/publisher providing two prize packages celebrating Delicious Gatherings open to US members. Entry options include answering the following question in the comments section of this blog post.
Which recipe in the index would you like to try first?
Please note that you must be logged into the Rafflecopter contest before posting or your entry won't be counted. For more information on this process, please see our step-by-step help post. Once you log in and enter your member name you will be directed to the next entry option – the blog comment. After that, there are additional options that you can complete for more entries. Be sure to check your spam filters to receive our email notifications. Prizes can take up to 6 weeks to arrive from the publishers. If you are not already a Member, you can join at no cost. The contest ends at midnight on November 12th, 2022.
a Rafflecopter giveaway