Food news antipasto
September 11, 2022 by Darcie
Most of us have never known a UK without Queen Elizabeth as its figurehead. As we process her death, some of us might want to remember her by making some of her favorite foods. Former royal chef Darren McGrady recently revealed one of Queen Elizabeth's favorite desserts, known as Chocolate Perfection Pie, if you would like to make something sweet in her memory.
I love cannoli as much as the next gal (probably even more), but I won't go to an extreme length to get some as the person who recently stole the Cannoli Mobile. Jasper J. Mirabile, Jr., owner of a Kansas City Italian restaurant, was all set to start celebrating National Cannoli Month when thieves broke into his mobile cannoli unit, hot wired it, and sped off. This is the second time the Cannoli Mobile was stolen, but thankfully it was found relatively quickly.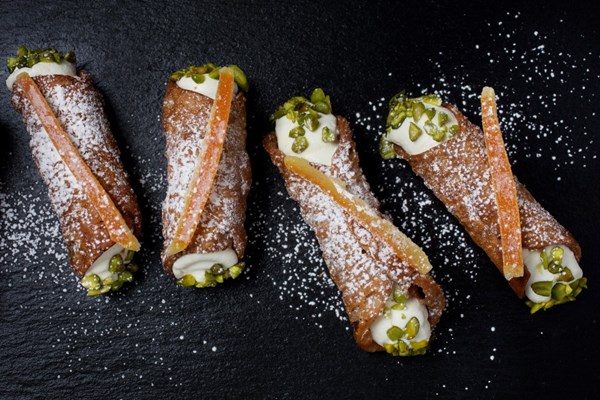 We wanted to remind you again about the permanent shuttering of Fine Cooking's website. We've updated our recent post about the site's demise if you want to learn more about how to save your favorite recipes before they vanish. We also wanted to ask you to please NOT report broken links on these recipes when the site goes away, as we will be taking care of that internally.
The egg has been described as nature's most perfect food: it comes packaged from the source, is a nutritional powerhouse, can be used in myriad ways, and it's an economical choice for beleaguered household budgets. Somewhere along the way, however, a strange phenomenon occurred – eggs have become posh. Read about how the egg has transformed from humble staple to luxury purchase.
The Splendid Table's most recent episode focusing on the world of women at the forefront of beer brewing. It features fascinating discussions with Theresa McCulla, curator of The Smithsonian's American Brewing History Initiative; Atinuke Akintola Diver, who talks about her documentary that follows Black women brewers in the American south; and Stephanie Grant of Good Beer Hunting, who shares her favorite beer and food pairings.
Jenny keeps us all up to date on the upcoming cookbook releases and provides us with her wonderful insight, but in the spirit of diverse points of view we also share what others have to say about the new crop of books. This time we head to Eater, where Rebecca Flint Marx gives us her opinions of the top 10 best cookbooks for autumn.