What's the best cookbook holder?
July 29, 2022 by Darcie
For those of us who use our cookbooks day in and day out, protecting them from ruin while still being able to easily reference them is an ongoing challenge. While a splatter or two can add character to a beloved book, a major spill can be disastrous, so many cooks turn to cookbook holders and protectors instead of just plopping the books directly on the counter while cooking (although sometimes we throw caution to the wind and do just that). Over the years I have experimented with various styles of holders, each of which has its benefits and drawbacks. Just like Goldilocks, I kept sampling the various bowls of cookbook holder porridge, but unlike Goldilocks, I never found one that was juuuuust right. I have one that's good enough, however, and it's one that I encountered quite by accident.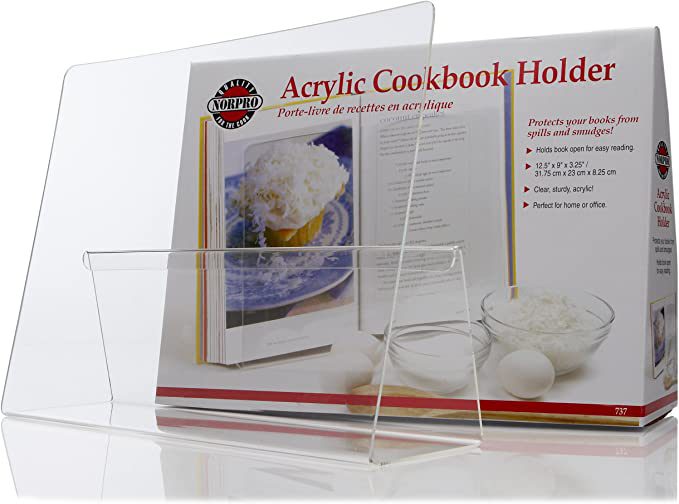 The first one that I tried and abandoned was an all-acrylic style similar to this Norpro model. Its fatal flaw was that it wouldn't accommodate heavy cookbooks and immediately flopped over when a cookbook of ample size was placed in it. Its biggest benefit was that splatters didn't matter: it kept the pages clean even when the hand mixer sprayed brownie batter across the room. If you have a library of petite volumes this style could work, but not if you have a lot of heavyweights in your collection.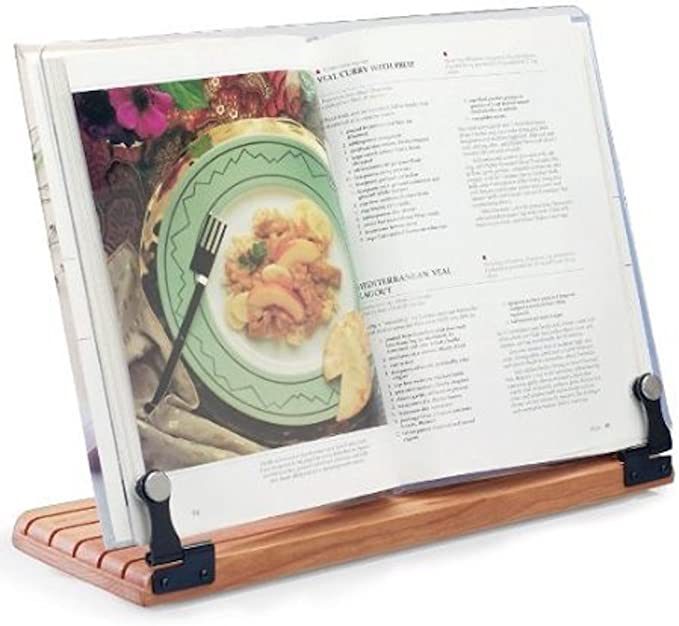 Next I graduated to a more sophisticated version that kept the plastic cover but incorporated a wooden base to make it sturdier. This was a slight improvement over the all-plastic model but it also suffered from another issue that plagues plastic, cracking around the hinges. I also found that cookbooks didn't stay open well with this setup, making the text that was near the center of the book difficult to read. This was especially true if the recipe was toward the beginning or end of the cookbook.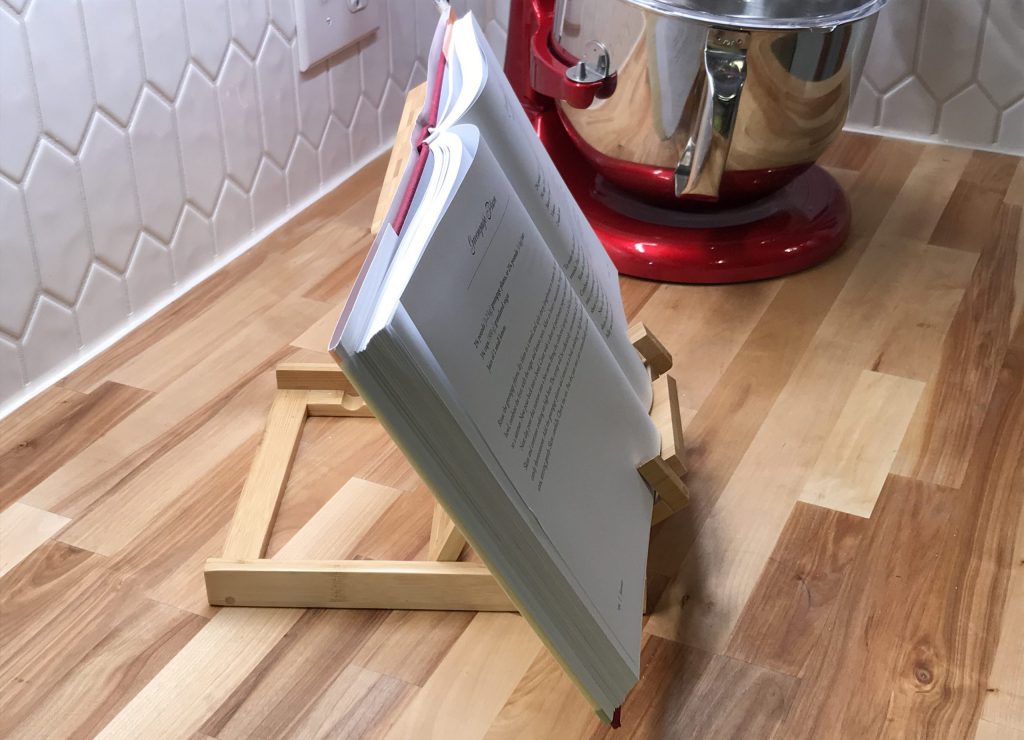 Later I went with a bamboo model (no longer available) that dispensed with the plastic cover altogether. Its biggest drawback was that it didn't fit thick books, but the adjustable angle and ability to fold it flat for storage means I keep it around for the books that fit in it. With no plastic cover it leaves the pages exposed, so I just slip a piece of plastic in front of the page and it works like a charm – and it's easier to turn the pages this way rather than deal with a bulky plastic or glass cover.
Speaking of glass, that reminds me of another interim step that I took to protect my cookbooks. A friend gave me a plastic cookbook cover with weighted edges that you laid over a open cookbook to keep things from splashing on it. It was an admirable idea, but the weights on the edge were not heavy enough to keep the books open. I had the bright idea to have a piece of tempered glass made that would both keep the books open and protect them from splashes and spills. My husband tried to talk me out of it, cautioning me that it might be a little too heavy, but I forged on, channeling my inner Lucille Bluth by asking "how much could one piece of glass weigh?" (The answer: more than I wanted to schlep off and on a cookbook to turn the page.) Plus, even though it's tempered glass and therefore very sturdy, I'm still afraid I will break it. Sigh.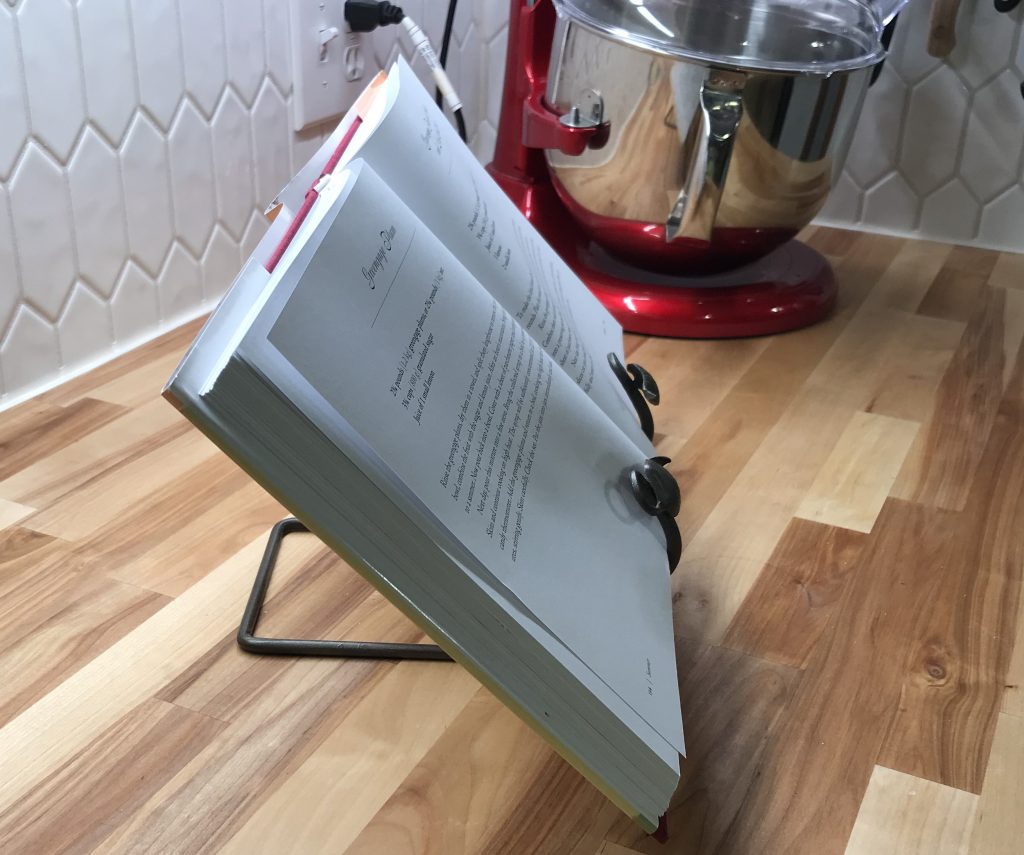 But I digress. The best cookbook holder I've found yet is one I received in a box of bric-a-brac that a friend gave me when they were downsizing. I think it's actually a plate holder, but I didn't let that stop me from commandeering it for a better use. It's a simple metal piece that happens to be the perfect size and angle for most of the books I use frequently, and it takes up relatively little counter space: a win-win. Just as with the bamboo holder, I can slip a piece of plastic in front of the page for protection. It holds the heaviest of books with ease.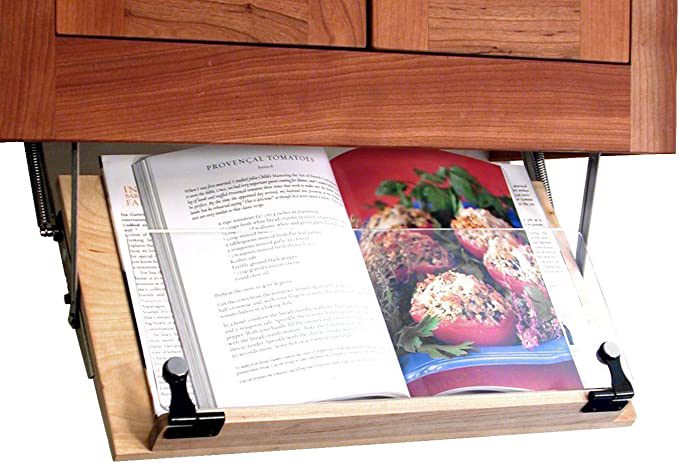 Even though I have a great holder, there are some options that still look tempting. I am intrigued by this simple yet stunning wooden holder that begs to have its photo taken to your favorite local craftsperson to have them put their spin on it. Plus I love the idea of this cookbook holder that pulls down from under the cabinet. If I didn't have undercabinet lighting everywhere I would definitely give that a second glance. What's your favorite cookbook holder? Is there an elegant solution that I am overlooking?
Using our Amazon links to purchase any of these items will provide a small commission for EYB.