July 2022 New Cookbook Review
July 25, 2022 by Jenny
July is a quiet month, normally, and even quieter during this time of COVID issues. Again, dozens of books have been pushed back, some even into 2023. I spoke to my friend, Amy Thielen this week – her new book Company: Recipes Menus Advice has been moved again to April, 2023. Paper shortages, shipping issues and the usual delays. It is frustrating for the publishers, authors and all of us who work in this arena. I'm going to try to look at it as the glass is half full – something to look forward to next year. I am keeping the 2022 preview post updated and soon we will be starting a preview post for 2023!
Recently, I shared my fall/autumn preview (Part I) for the baking titles and will be working on the remaining categories in the next week. Look for Part II soon.
If you would like to order any of these titles (or preorder/order any other books or items) using our affiliate links below or BUY BOOK button on the book details page, earns Eat Your Books revenue as an Amazon Associate from qualifying purchases when using our links:
USA * Canada * UK * Australia * Book Depository
Please remember your local bookstores during this time – for preorders as well – and your local restaurants. We need to do what we can to make sure these businesses stay afloat.
If there is an

available for a cookbook, look for the orange icon in the blurb. Clicking on that link will take you directly to the preview. Lastly, if events are planned for particular books/authors, I have included a link. Be sure to check our Calendar frequently for new entries.
To jump to a particular country's listing, please click on the links below.
UNITED STATES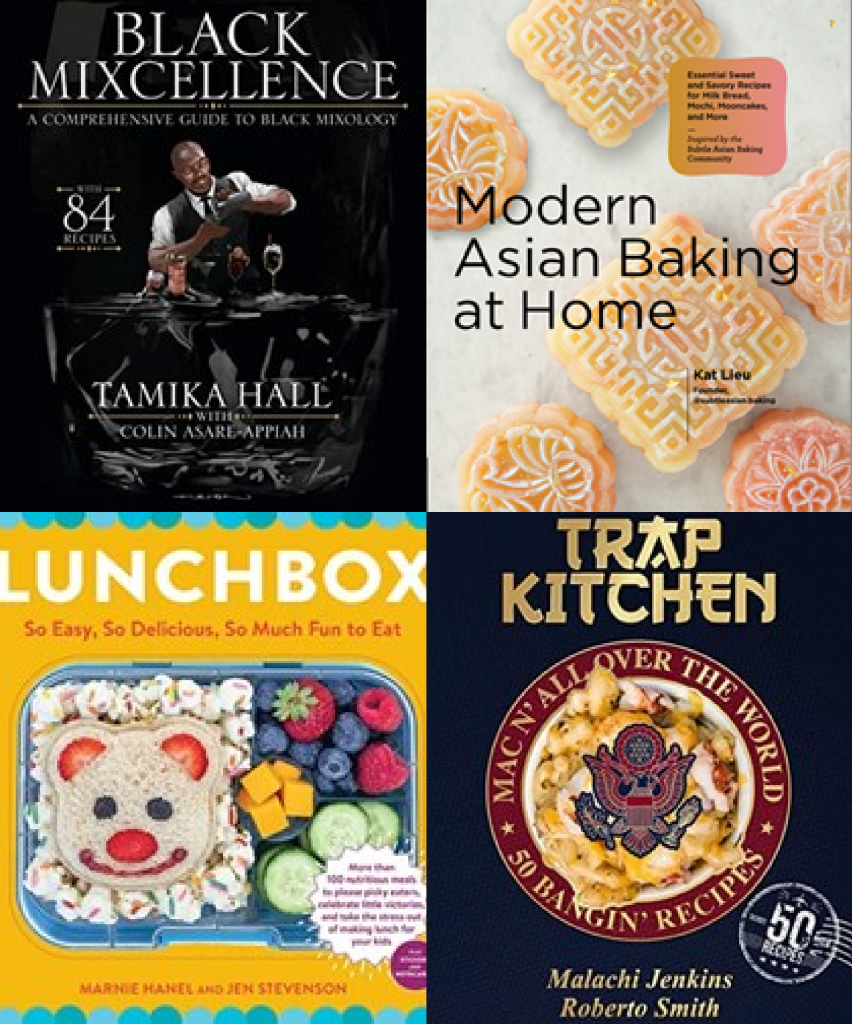 Black Mixcellence: A Comprehensive Guide to Black Mixology with 84 Recipes by Tamika Hall and Colin Asare-Appiah is an ode to Black and Brown mixologists and their contributions to the spirits and mixology industry. There are many moments in the history of mixology that have been initiated by the talents of African American men and women. These moments have opened doors and laid the foundation for other brands and companies to flourish. This book features stories from some of the industry's most notable trailblazers. Beautifully done and filled with stunning photography, this title is a must have.
Modern Asian Baking at Home: Essential Sweet and Savory Recipes for Milk Bread, Mooncakes, Mochi, and More; Inspired by the Subtle Asian Baking Community by Kat Lieu: I have been singing the praises of Kat's book for a while now. It is vibrant, inspiring and filled with delicious approachable sweet and savory bakes. Just a few recipes that stood out include Mochi pon de ring donuts, Dreamy matcha Basque cheesecake, Crème brûlée mille-crêpes cake and Korean garlicky cream cheese milk bread buns. Detailed instructions, tips, step-by-step photos and more are shared as well. Measurements arein weight and volume. Learn more about Kat in our Quick Bites. Events

Trap Kitchen: Mac N' All Over The World: Bangin' Mac N' Cheese Recipes from Around the World by Malachi Jenkins and Roberto Smith: Three years after the release of their first cookbook Trap Kitchen: Bangin' Recipes From Compton and a whirlwind of success, former rival gang members turned famous chefs Malachi "Spank" Jenkins and Roberto "News" Smith are back with a second serving. Their new title combines the soul of macaroni and cheese from the heart of Compton with global flavors. Sweet baby cheeses, this book is filled with a mac and cheese lover's dreams: German spaetzle bratwurst mac and cheese; Ikea mac – Swedish meatball mac and cheese and a world of other decadent recipes. We are working on a Quick Bites with the chefs with promotions to come soon. This November, look for Trap Kitchen: The Art of Street Cocktails!
Lunchbox: So Easy, So Delicious, So Much Fun to Eat by Marnie Hanel and Jen Stevenson: Take the drudgery out of the midday meal with this title – an adult's guide to creating 75 unique, healthful, and delicious lunch boxes for children ages 3 to 10. For many parents, packing or preparing a healthy and satisfying lunch for their child can be a daunting task. But with breakfast being the most routine meal and dinner often a struggle, lunchtime is an opportunity to get your little ones to explore new foods, fuel up on nutrients, and sample a range of ingredients. Each meal here is built around a theme meant to reinforce learning, celebrate holidays, and set children up to have a positive relationship with food.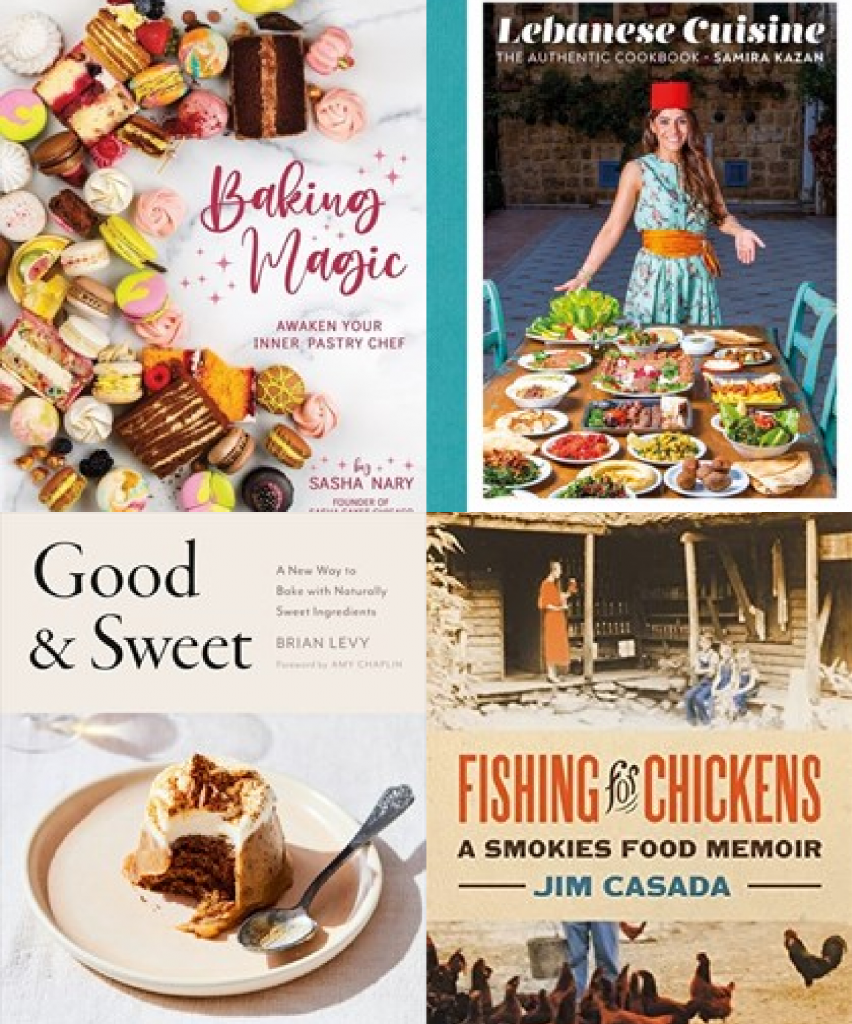 Baking Magic: Awakening Your Inner Pastry Chef by Sasha Nary: Awaken your inner pastry chef with this how-to guide to baking perfection. Master baker and confectionary artist Sasha Nary delivers a stunning book filled with passion, some simple tricks and tips, and a host of show-stopping recipes. I just received the PDF of this title and I am impressed. This mouthwatering collection of desserts contains a mix of traditional Ukrainian recipes as well as Sasha's original recipes that have been "tested, tried, and tested again," including health-conscious alternatives so you can enjoy the magic of baking guilt-free. The photography is stunning and some of the recipes include a Ferrero Rocher inspired cake; the Ultimate Kiev cake (meringue cake layers and Kiev buttercream); and a French Ispahan cake. These bakes are impressive and with Sasha's detailed instructions they are made approachable.
Good & Sweet: A New Way to Bake with Naturally Sweet Ingredients by Brian Levy: We will be sharing a promotion with a Quick Bites interview with Brian very shortly. Early in his pastry career, Brian worked with the great Gina DePalma. Since that time, he has spent years experimenting in the kitchen to find the best recipe for desserts utilizing fruit, grains and other whole foods without relying on sweeteners and artificial ingredients. The result is a beautiful book filled with exciting desserts that are made with natural ingredients. Measurements are provided in weight and volume and the recipes are approachable for every level of baker. Mocha tartlets, Matcha banana custard pie; and Persimmon and spice Bundt cake with white chocolate ganache are just a sample of what is in store for us. Events
Fishing for Chickens: A Smokies Food Memoir by Jim Casada is a well-seasoned blend of memoir and cookbook. It offers the perspective of a Bryson City, North Carolina native on a particular portion of southern Appalachia – the Smokies. Casada serves up a detailed description of the folkways of food as they existed in the Smokies over a span of three generations, beginning early in the twentieth century. Peppered with ample anecdotes, personal memories and experiences, the wisdom of wonderful cooks, and recipes reflective of the overall high-country culinary experience, Casada's book brings these culinary tales to life. Fishing for Chickens includes dishes that Casada has cooked and eaten, recipes handed down through family or close friends, food memories of an intensely personal nature, and an abiding love for a fast-fading way of life.
Lebanese Cuisine: The Authentic Cookbook by Samira Kazan: Author and recipe developer Samira Kazan has put her whole heart into making sure we have the very best, complete recipe collection of her home country. Having grown up in a family of Lebanese restaurateurs, Samira knows what is the best of the best and what you'll love. She traveled throughout Lebanon, meeting with the top chefs that the cuisine has to offer, and translates their recipes in her debut cookbook. Clear and detailed instructions are provided with plenty of photographs to inspire us along the way.

CANADA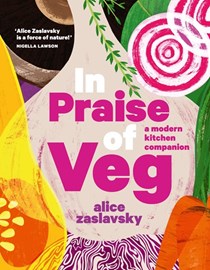 In Praise of Veg: The Ultimate Cookbook for Vegetable Lovers by by Alice Zaslavsky is being released in Canada this month (previously released in 2020 in Australia and the UK). This title is a comprehensive and fully illustrated kitchen companion profiling 50 favourite vegetable varieties and offering 150+ recipes reflective of both tradition and modernity. Uniquely organised by colour and filled with countless tips on flavour combinations, rule-of-thumb buying/storing/cooking methods, shortcuts, and veg wisdom from over 50 of the world's top chefs, In Praise of Veg will help beginners and avid cooks alike turn veggies into a knock-out meal. Alice's second major book The Joy of Better Cooking will be released in October of this year in the UK and AU.
UNITED KINGDOM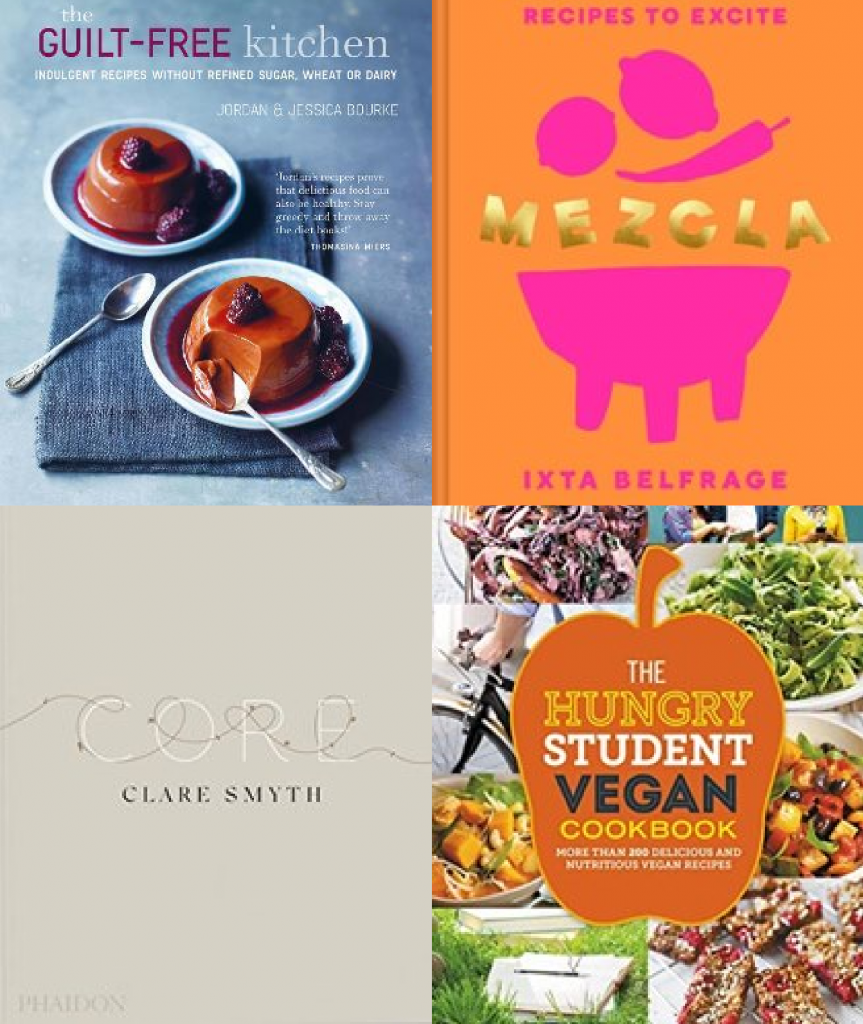 The Hungry Student Vegan Cookbook: More Than 200 Delicious and Nutritious Vegan Recipes by Spruce states that it is the ultimate guide to cooking delicious and nutritious vegan food while at college, with over 200 recipes. Staying healthy and well-fed while attending college has never been more important, and this title will help ensure that you get all the essential nutrients to get you through to graduation, all while following a vegan diet. Alongside the recipes are helpful hints and tips for getting the most out of a tiny student budget, creating gourmet feasts out of what you can find in your cupboard, and advice on what kind of equipment you might need to take to university.
Mezcla: Recipes to Excite by Ixta Belfrage: For Ixta, combining tastes from around the world is her job and her heritage. Inspired by her Brazilian, Mexican, and English roots and living in Italy, London, and beyond, Ixta's recipes take inspiration from these corners of the globe to create unapologetically fusion dishes that pack a serious punch. This title will be released in the US in September.

Core by Clare Smyth: An exclusive insight into the work and mind of the highly acclaimed chef Clare Smyth and her three-Michelin-starred restaurant, Core, in London's Notting Hill. The chef's food is of superlative elegance and redefines modern British cuisine. Through Core's tasting menu Smyth shares stories about ingenuity, nostalgia, humour and craft, and showcases Britain's outstanding produce. In doing so, Smyth provides an exceptional fine-dining experience. This much-anticipated debut book includes 60 key recipes served at Core as well as 70 recipes for basics including stocks, sauces and breads, and tells the fascinating story of Smyth's journey and philosophy that led to her opening and running one of the finest restaurants in the UK.

The Guilt-Free Kitchen: Indulgent Recipes without Wheat, Dairy or Refined Sugar by Jordan and Jessica Bourke is a reprint of The Guilt-Free Gourmet. This cookbook is not about denial; its approach to cooking and eating simply swaps ingredients such as refined sugar, wheat and dairy for natural and healthier alternatives that achieve the same indulgence without the negative health impacts and connotations associated with certain ingredients. These easy swaps make healthy eating both simple and delicious.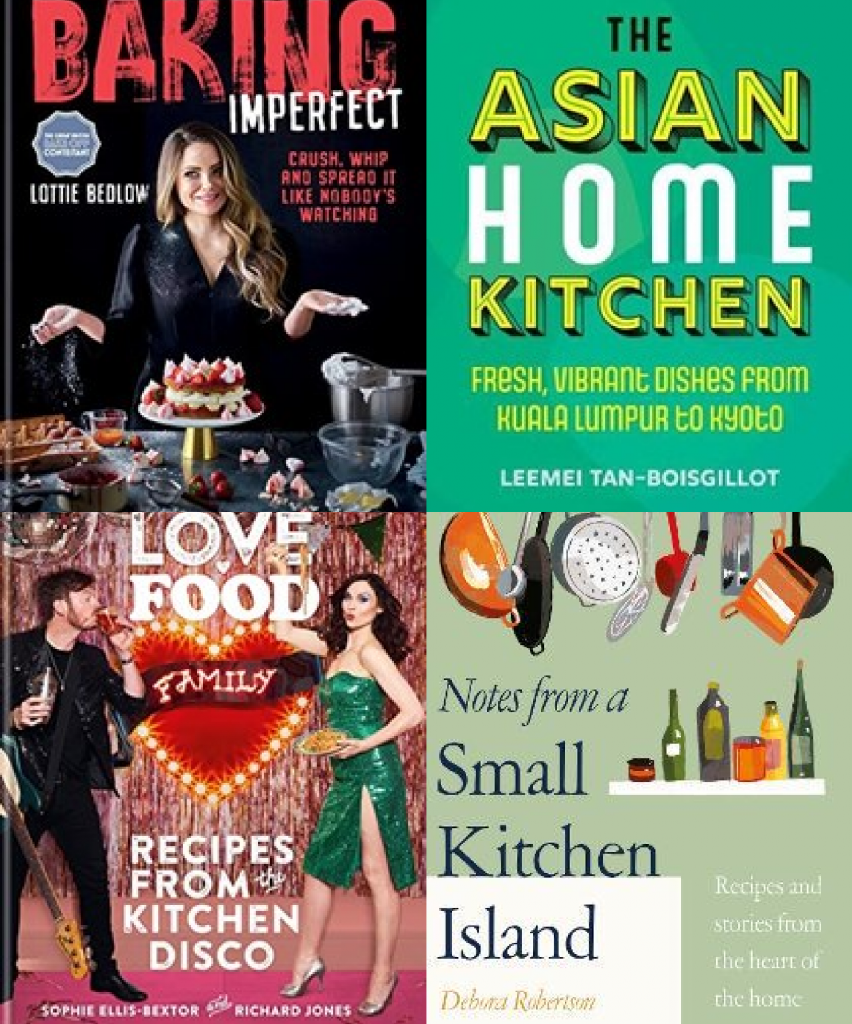 Baking Imperfect: Crush, Whip and Spread It Like Nobody's Watching by Lottie Bedlow: The world of baking can appear daunting, but with Baking Imperfect, you'll learn to get through the trials with joy and a newfound sense of determination when things go wrong (and they will!). Author and chef Lottie Bedlow – a fan favorite on the television show The Great British Bake Off – will guide you through dozens of tasty recipes with her trademark wit and easygoing nature, helping bakers of all abilities feel confident and comfortable in the kitchen. From easy cookies and puddings to more elaborate cakes and pastries, each recipe in this book will score points where it matters the most—on the taste buds. This title will be released in the US in November.
The Asian Home Kitchen: Fresh, Vibrant Dishes from Kuala Lumpur to Kyoto by Leemei Tan-Boisgillot: Whether you fancy Korean fried chicken, a warming bibimbap, spicy dan dan noodles, a hearty rendang, a zingy papaya salad, banh mi on-the-go, or satisfying masala dosa, The Asian Home Kitchen has a quick, easy and delicious recipe for every craving. From the simplicity and balanced elegance of Japanese sushi to the subtle boldness of Sri Lankan curries, the 110 dishes in this cookbook show the huge variety and versatility of flavour from all over Asia.
Notes from a Small Kitchen Island by Debora Robertson shares the author's secrets for creating delicious meals every day. Here, she offers up the life- and dinner-saving lessons she has learned in all of the kitchens she has cooked in, and shares the daring tales of disaster too.
Love Food Family: Recipes from the Kitchen Disco by Sophie Ellis-Bextor and Richard Jones: The authors and their five boys brought joy to millions throughout lockdown with their Kitchen Discos. Now, they're sharing their favourite family recipes with a cookbook that celebrates the kitchen as the heart of the home. Inspired by international cuisines and fond family memories, Love.Food.Family is packed with accessible, flexible, crowd-pleasing feasts for eating together and proves that everything tastes better with a little bit of disco.
Home Food: Recipes to Comfort and Connect by Olia Hercules is the author's fourth cookbook and most personal title yet. Each book that is published from this talented food writer (and wife of Joe Woodhouse) is a gem and each release shines brighter than the one before. Olia's books are warm hugs filled with comforting recipes and beautiful narrative. Organized by chapters as follows: How We Eat Now; Migrations; An Italian Interlude; Food that Shaped Me; The Magic of Festive Food; Cooking as Self-care; Sweetness; and ending with New Pantry Staples – it is a well orchestrated "this is Olia's life" through recipes. Events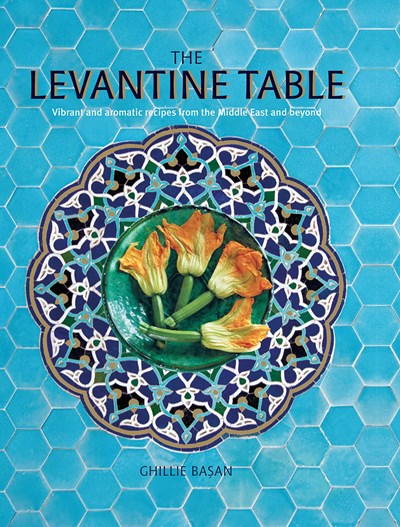 The Levantine Table: Vibrant and Aromatic Recipes from the Middle East and Beyond by Ghillie Basan is filled with small plates to relish (relish being the original meaning of the Persian word maza from which the term mezze derives) include popular dips, salads and small bites – hummus, baba ganoush, tabbouleh and falafel – as well as less familiar recipes to discover. Freshly grilled fish and seafood, served with yogurt dips flavoured with spicy harissa paste, or a simple coupling of mint and cucumber, are just the start of an ocean odyssey of tastes. For carnivores, chicken dishes are enhanced by all manner of spicy marinades, or one of the greats of Levantine feasting, a Slow-roasted lamb shoulder steeped in spices and served with a pomegranate, yogurt and pistachio sauce. You'll want to return to these deliciously fresh and exciting dishes time and again.

AUSTRALIA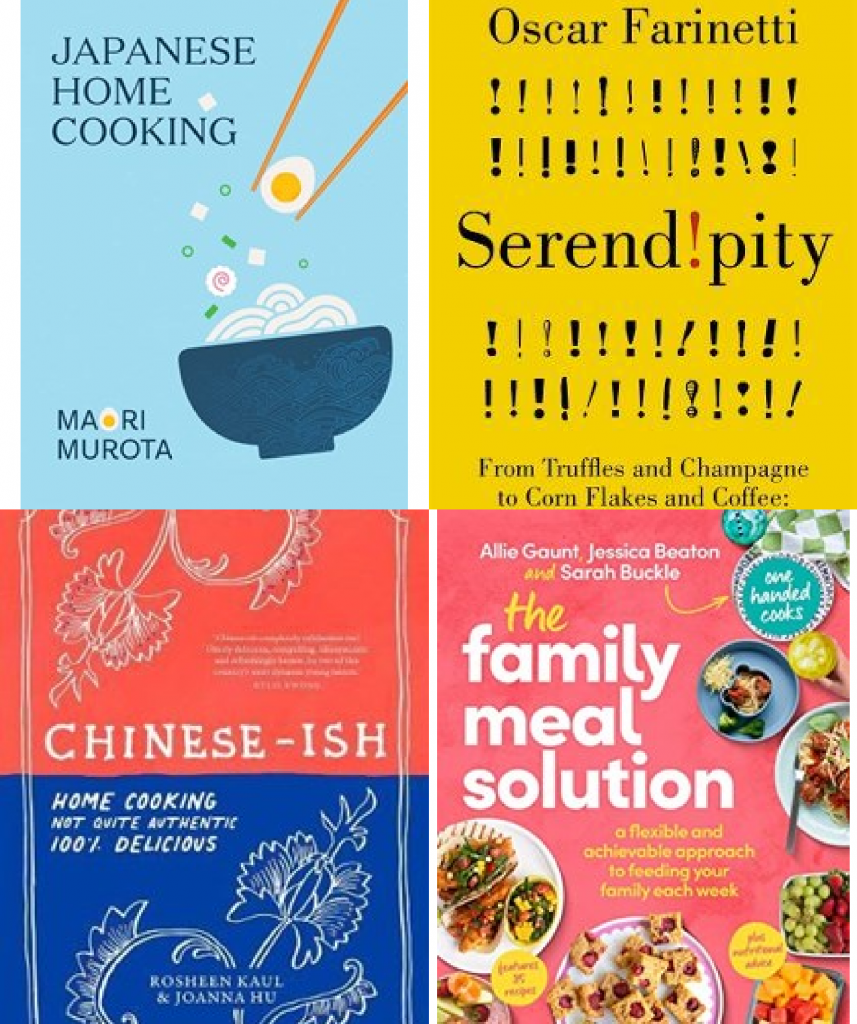 Chinese-ish: Home Cooking, Not Quite Authentic, 100% Delicious by Rosheen Kaul is an exciting new title filled with wonderful illustrations and great photography. Rosheen grew up with a father from Kashmir and a mother born in Singapore to Chinese-Filipino parents but who was adopted at a young age by a Eurasian mother and an Indonesian father – which resulted in her describing herself as Chinese-ish. I read this entire book while waiting for my son who was touring a local college and loved every page. From "how to cook rice without a rice cooker" to "how to cook nearly every type of noodle and some great ways to eat them" – this collection of recipes is a melting pot of cuisines that we can recreate in our home kitchens. This title will be released in the UK in August and the US in November.

Japanese Home Cooking by Maori Murota: Learn to cook authentic Japanese food from scratch at home, with step by step recipes for the traditional classics like ramen noodles, broth, sushi rice or homemade tofu as well as recipes for more contemporary fusion dishes. Maori Murota takes you to the heart of today's Japanese family home cooking, sharing the recipes she learned while she watched her own mother and grandmother cook. Here are 100 recipes – many of which are vegan friendly and plant-based. Look for the UK/US release in September.

The Family Meal Solution: A flexible and achievable approach to feeding your family each week, from One Handed Cooks by Allie Gaunt, Sarah Buckle and Jessica Beaton: In their new meal-planning guide, Allie, Jess and Sarah share the thoroughly tested system and recipes that keep them feeling in control in their own busy lives and kitchens. Try these incremental and sustainable habit changes and you'll notice a big difference. The secrets lie in making the most of the freezer and slow cooker, prepping multiple meals during your time in the kitchen, being clever with leftovers and embracing fast meals. There are 85 recipes, including six chapters dedicated to time-efficient dinners – with snacks, salads and desserts covered, too.
Serendipity: From Truffles and Champagne to Corn Flakes and Coffee: Stories of Accidental Success by Oscar Farinetti, founder of high-end global food chain Eataly, presents a collection of insightful and entertaining interviews with leading artisan food producers, chefs, inventors and CEOs around the world. Reflecting on the accidental discoveries that gave birth to some of the world's most well-known gastronomic delights – including Nutella, the humble sandwich, french fries, the ice-cream cone, rum and balsamic vinegar – these serendipitous tales ponder humankind's never-ending quest to discover something new, and remind us that our mistakes, our flaws, our failures, can often be the most necessary ingredient in finding success.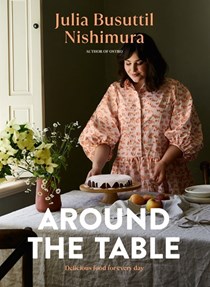 Around the Table: Delicious Food for Every Day by Julia Busuttil Nishimura delivers recipes for the perfect dish for the right occasion. With recipes ranging from quick, flavourful meals for busy weeknights to simple indulgences for summer feasts, you will find the right dish for the occasion. It includes recipes laden with personal meaning – Mediterranean classics from Italy and Malta, and Japanese dishes Julia has learned from her husband, Nori. Everything from jams, cakes, salads to buns, pastas and more can be found in this book. All of Julia's books are keepers. Julia has an event on July 28th at Readings.
NEW ZEALAND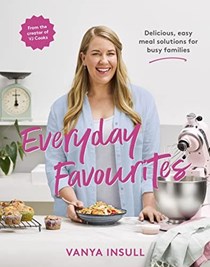 Everyday Favourites: Delicious, easy meal solutions for busy families by Vanya Insull: Whether you want a delicious dinner on the table without fuss or you're looking for inspiration for sweet treats and baking, Everyday Favourites has the recipe for you. With more than 70 classic recipes that you will cook again and again, this book is packed full of affordable family favourites. From light meals to everyday dinners, to winter warmers and home baking and sweet treats, every dish has been carefully considered to appeal to both young and old, and even the fussy eaters in the family.