Food news antipasto
July 24, 2022 by Darcie
Our first news comes to us via Food Tank, where writer Jonathan Ribich brings us the story of the award-winning documentary called The Kitchenistas. This film "follows the lives of women leading a movement in Southern California to reconnect their community to healthy, traditional foods." Women who participate in the bilingual culinary program called Cooking for Salud at Olivewood Gardens in National City, California, earn the title of 'Kitchenista' when they graduate from the nonprofit.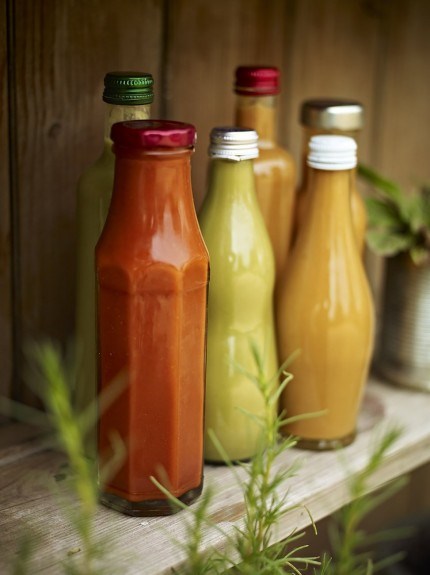 You may have read a news report where a former president allegedly became so enraged that he threw his half-finished meal against the wall, resulting in a ketchup-splattered wall. This is not the first time a U.S. president has been associated with the condiment, as Eater reports. They recall the controversy that erupted when the Reagan administration tried to classify ketchup as a vegetable for school lunches, and they dig up other interesting facts about this most American condiment.
We've written numerous times about efforts from chefs and others like Danielle Nierenberg, who started Food Tank (the source of our first news snippet), to combat the enormous amounts of waste inherent in our food systems. This waste is especially shameful when so many go hungry and it contributes to the harmful effects of climate change. The latest effort by Marks & Spencer aims to tackle one small part of the problem: best-by dates on fresh produce. The retailer is eliminating the dates on fresh fruits and vegetables and will encourage its customers to use their own judgment about whether they should eat the food.
Are you looking for a sweet job? And by sweet, we mean sugary: Candy Funhouse, an Ontario-based online candy company, is looking for a 'Chief Candy Officer' and is willing to pay a six-figure salary to the right candidate. The only caveats are that you must be older than five years old and live in North America. Obviously you need to have a sweet tooth as well. Your job will be to help the company select the candy it offers and decide "whether or not to award each treat with the official CCO (Chief Candy Officer) Stamp of Approval".
Those of us over a certain age might remember the television series Cheers about a Boston bar where 'everybody knows your name'. It brings to mind the neighborhood pub where regulars are greeted at the door by staff who know what they will be ordering and have their drinks ready for them upon arrival. Becoming a regular used to happen by frequenting an establishment with, well, regularity, but now there's a new way to get the same VIP treatment: by buying an NFT. Saveur reports on this new trend, where restaurant goers spend as much as $1000 USD on a non-fungible token that provides them with perks such as guaranteed tables.
Being a chef is usually considered a young person's game, but that is not always the case. Recently The Guardian profiled three chefs who are working well into what would normally be considered retirement age, and they show no signs of stopping any time soon. One of the chefs, Shaun Hill, briefly stepped out of the kitchen to pursue other interests including writing cookbooks, which he called "a wonderful opportunity to pass off opinion as fact", but he is back in his chef's jacket for the daily grind at age 75.