Fall/Autumn 2022 Cookbook Preview: Part I: The Baking Titles
July 13, 2022 by Jenny
Here in the Northern Hemisphere we are in the midst of summer but fall/autumn is fast approaching. This year we have an exorbitant amount of tempting releases – many of which have been moved from either last year or from earlier this year. (Let's hope they don't get further delayed because of COVID issues.)
In this preview – Part I – I will tell you a bit about the baking books that I've been fortunate to review either by galley, pdf or copy of the book and as these mediums continue to come in, I will try to update this post for you so you can plan your wish lists accordingly.
This year we are gifted with a wealth of amazing baking titles – one more exciting than the other. Note: some members want to know about measurements (weight vs. volume) in baking books so I have provided that information near the end of each blurb.
Soon, I will have Part II of the Fall/Autumn preview ready which will include celebrity, restaurant, and international cookbooks.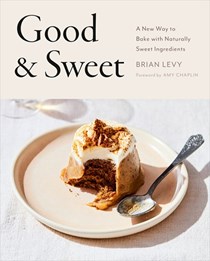 Good & Sweet: A New Way to Bake with Naturally Sweet Ingredients by Brian Levy: We will be sharing a promotion with a Quick Bites interview with Brian near the publication date for his debut book. Early in his pastry career, Brian worked with the great Gina DePalma. Since that time, he has spent years experimenting in the kitchen to find the best recipe for desserts utilizing fruit, grains and other whole foods without relying on sweeteners and artificial ingredients. The result is a beautiful book filled with exciting desserts that are made with natural ingredients. Measurements are provided in weight and volume and the recipes are approachable for every level of baker. Mocha tarlets, Matcha banana custard pie; and Persimmon and spice Bundt cake with white chocolate ganache are just a sample of what is in store for us. Events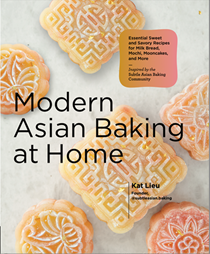 Modern Asian Baking at Home: Essential Sweet and Savory Recipes for Milk Bread, Mooncakes, Mochi, and More; Inspired by the Subtle Asian Baking Community by Kat Lieu: I have been singing the praises of Kat's book for a while now. It is vibrant, inspiring and filled with delicious approachable sweet and savory bakes. Just a few recipes that stood out include Mochi pon de ring donuts, Dreamy matcha Basque cheesecake, Crème brûlée mille-crêpes cake and Korean garlicky cream cheese milk bread buns. Detailed instructions, tips, step-by-step photos and more are shared as well. Learn more about Kat in our Quick Bites. Events Measurements in weight and volume.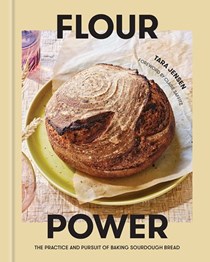 Flour Power: The Practice and Pursuit of Baking Sourdough Bread by Tara Jensen: Teacher and baker Tara Jensen introduces new and experienced bakers to approachable techniques and recipes for making sourdough, rye, and desem (hearty wheat) breads. With chapters that include learning about flours, fermenting, various methods of breadmaking and more – this book is just one this coming cookbook season that devoted bread makers will turn to. Measurements in weight and volume.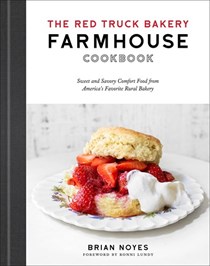 The Red Truck Bakery Farmhouse Cookbook: Sweet and Savory Comfort Food from America's Favorite Rural Bakery by Brian Noyes shares over 85 recipes for breakfast, lunch, dinner, and dessert from the award-winning Red Truck Bakery near Virginia's Shenandoah Valley, bringing the comfort and charm of the farmhouse where the bakery started into your kitchen. Brian's Red Truck Bakery Cookbook is a wonderful book and this title is just as promising. Comforting dishes such as Creamy potato soup; Tarragon chicken salad and Potato and pesto flatbread along with scores of baked breads, cookies and more are offered. Measurements just are given in volume.

Events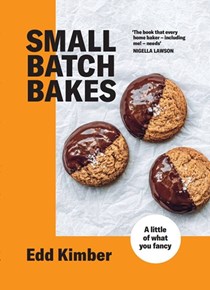 Small Batch Bakes by Edd Kimber: Another lovely baking title from GBBO's Edd Kimber follows in line with his recent books: One Tin Bakes and One Tin Bakes Easy. The newest offering delivers recipes for "small" batches of bakes for one to six people. Recipes for Blueberry cream tarts; Individual tarte tatins; and Emergency chocolate chip cookies are some of the examples of pared down desserts for when you just need a few treats. For me, it seems extra special when you bring a platter of individual desserts to the table. Easy to transport to a gathering instead of juggling a large unwieldy dessert – a bakery box with an assortment of tiny temptations will ensure that you are the toast of the party. Measurements in weight and volume.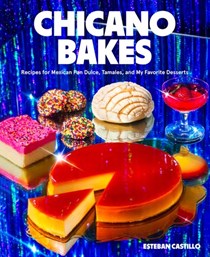 Chicano Bakes by Esteban Castillo: Lately, the baking books I get most excited for are those with an international component. I was giddy when I saw that the blogger and author of Chicano Eats was working on a baking book. Sometimes prayers are answered. Esteban covers Conchas; Sweet pecan loaf; Mexican wedding cookies; Pan de Muerto; and Horchata tiramisu along with countless other breads, muffins, cookies and cakes. Measurements in weight and volume.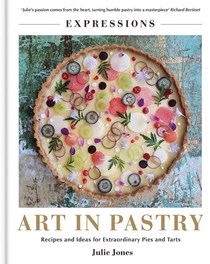 Expressions: Art in Pastry by Julie Jones: Ever since Julie's Soulful Baker was released I have been a devotee. When The Pastry School came out, I thought she could not top herself until now. Expressions: Art in Pastry is just that works of art in pie dough and pastry. Recipes for savory and sweet pies are included but the beauty of this title are the step-by-step guides to creating pastry art. Most of the gorgeous pies and tarts seem as if I could tackle them – and if I can tackle them anyone can. Julie had me at the stunning cover but once you crack the cover it surpasses any art-inspired pastry book to date. Measurements are in weight and volume.
Evolutions in Bread: Artisan Pan Breads and Dutch-Oven Loaves at Home by Ken Forkish: The New York Times bestselling author of Flour Water Salt Yeast teaches you how to elevate your sandwich bread, breakfast toast, and overall bread-baking game using everything he's learned in the last decade to perfect his loaves. I haven't seen this book yet but as we have a preview and it is Ken Forkish – I had to share this blurb. Will update once the pdf comes in.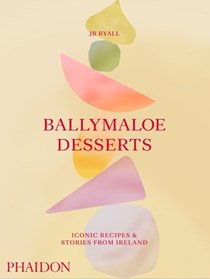 Ballymaloe Desserts: Iconic Recipes and Stories from Ireland by JR Ryall: Ballymaloe House, in County Cork, Ireland, is heralded as the birthplace of modern Irish cuisine. There, visitors are treated to acclaimed pastry chef JR Ryall's daily array of seasonally inspired treats, wheeled through the dining room on a vintage dessert trolley. Here, Ryall presents 130 recipes for his award-winning confections, tested and perfected for the home baker. From jams to pastry, puddings to cakes, this stunning book will draw you into the kitchen to create impressive, yet approachable desserts. Measurements are in weight and volume.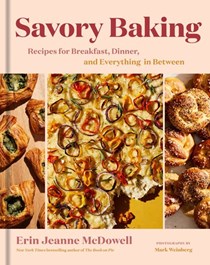 Savory Baking: Recipes for Breakfast, Dinner, and Everything in Between by Erin Jeanne McDowell: I am not exaggerating when I state that this season's books are must haves. Erin is back with a collection of savory bakes from French onion muffins to perfect crepes. Along with the base recipes are variations, Erin's helpful tips to boost flavor (roasting garlic, crispy onions etc) as well as tutorials in understanding yeast, rise times and more including step-by-step technique photos will have you creating dishes that will have your family and friends clamoring for more. Also included are the author's favorite soup and salad recipes – you need something to dip those French onion muffins in (or maybe that is gilding the muffin?) or a salad to balance out a mushroom topped toast – this book has it all. Measurements are given in weight and volume. So far Erin has one event scheduled at Union Greenmarket in October.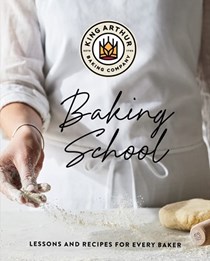 The King Arthur Baking School: Lessons and Techniques from the Baker's Classroom by King Arthur Baking Company: Baking is a craft, one that has been celebrated by King Arthur Baking Company for more than two centuries. Their Baking School is now a book bakers can rely on in their own kitchens. It reflects a curriculum that has been honed and refined over the years, with instructors who are experts not just at baking, but at teaching baking. The recipes, notes, instructive photographs, and thoughtfully organized chapters here reflect this depth of experience. Throughout the book tips are provided in red font to guide you: for example a recipe states to roll out the dough to 12 x 16. A red tip with a "balloon" icon states: "this isn't exact, just try to roll the dough as thin as you can". Measurements are given in weight and volume.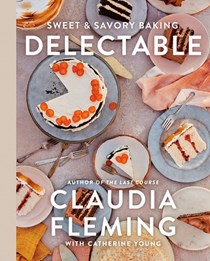 Delectable: Sweet & Savory Baking by Claudia Fleming is everything and more that one would expect from the author of the iconic The Last Course: The Desserts of Gramercy Tavern. Filled with a plethora of step-by-step technique photographs and Claudia's wealth of information, this book is an impressive love letter to the craft of baking. You will find a delightful array of breads such as Prosciutto bread and North Fork focaccia as well as layer cakes including Devil's food cake with Earl Grey cream) and Ginger stout layer cake with ermine frosting. But Claudia also includes cookies, muffins, doughnuts, pies, custards and European inspired desserts to round out this book that screams utter perfection on every page. Measurements are given in weight and volume.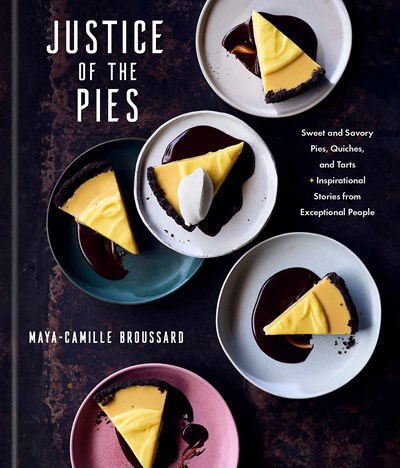 Justice of the Pies by Maya-Camille Broussard: The author launched her social mission-based bakery, Justice of the Pies, as a way to honor her father's memory and their shared passion for pie – and justice. She also gives back to her community through teaching, donating, and empowering others. This book celebrates the pies and other mouthwatering creations that have put her on the map, including her famous Salted caramel peach pie, Brandied banana butterscotch pie, and Churro whoopie pies. There are also additional recipes for pie sides, crusts, and toppers to bring your bakes over the top. Maya-Camille wants to be inclusive of all dietary choices and restrictions, meaning vegans and gluten-free bakers will find lots of inspiration and recipes too. Measurements are given in weight and volume.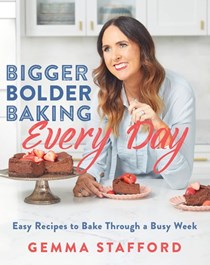 Bigger Bolder Baking: Every Day by Gemma Stafford: The pastry chef, cookbook author, and creator of the hit online show Bigger Bolder Baking presents her follow-up to her popular first book Bigger Bolder Baking. Her new title features 125 new recipes for any home baker to bake with confidence every day. Delicious desserts and impressive baked goods don't have to be reserved for special occasions. Measurements are given in weight and volume.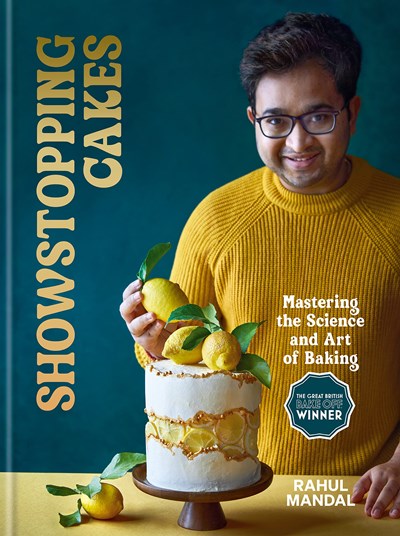 Showstopping Cakes by Rahul Mandal: The debut cookbook from the GBBO winner is coming our way. From advice on stacking a tier cake to piping flowers, creating the perfect flavour pairing and avoiding a curdled cake batter or buttercream, Rahul shares his scientific knowhow on achieving sublime bakes – as well as advice on how to fix things when they go wrong. Featuring everything from mirror glaze, meringue, genoise and caramel to drip, fault-line and geode cakes, these are jaw-droppingly beautiful bakes that will wow everyone who is lucky enough to be around your table. Rahul starts with chapters on fillings, frostings, decorations, caramels, marzipan and more before delivering one astounding cake after another. Measurements are given in weight and volume.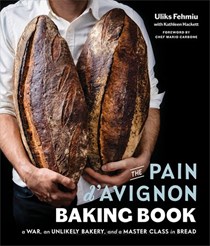 The Pain D'Avignon Baking Book: A War, An Unlikely Bakery, and a Master Class in Bread by Uliks Fehmiu and Kathleen Hackett: For thirty years Pain d'Avignon has been pursuing an excellence in the art of the bread making inspired by the old-world methods while partnering with New York's top chefs to bring a five-star bread to our everyday life. As a baker who had an unorthodox bread education, Uliks has learned over time that practice and patience is the most important part of the journey, and here, he shares this important lesson with home bakers everywhere, while giving them an accessible, step-by-step primer on mastering the fundamentals. With 60 recipes including their iconic Cape Cod-inspired Cranberry and Pecan bread, Classic Sourdough, Thyme Baguette with a Touch of Lemon, and Plum Galette with Pistachio Paste, The Pain d'Avignon Baking Book is a tried-and-true collection of must-make breads and pastries, with extraordinary and immersive storytelling. Measurements are given in weight and volume.
The Perfect Loaf by Maurizio Leo: So many bread books, so little time. It's like Sophie's Choice trying to decide which one we all need (I say we need them all). This title is a dynamic, authoritative sourdough baking bible for a new generation looking to build confidence in the craft, from the beloved blogger and resident bread baker at Food52. Maurizio's blog The Perfect Loaf is the go-to destination on the internet for beginner sourdough bakers. He now brings his impeccably detailed techniques, foolproof recipes, and generous teaching style to a groundbreaking debut cookbook that delves into the absolute fundamentals of sourdough. Measurements are given in weight and volume.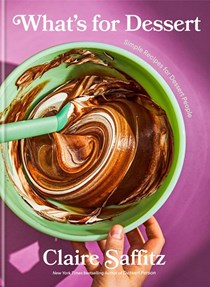 What's for Dessert?: Simple Recipes for Dessert People by Claire Saffitz: Another spectacular offering from the author of Dessert Person. Claire returns with 100 recipes for all dessert people whether you're into impressive-yet-easy molten lava cakes, comforting rice pudding, or decadent chestnut brownies. In this all-new collection, Claire shares recipes for icebox cakes, pies, cobblers, custards, cookies and more, all crafted to be as streamlined as possible. (No stand mixer? No problem! You won't need one.) To keep the recipes straightforward and simple, Claire makes sure each recipe is extra efficient and we will find all the warmth, encouragement, and deliciously foolproof recipes with loads of troubleshooting advice that we've come to count on from Claire. Countless vibrant photographs are generously offered in this must have keeper! Measurements are given in weight and volume.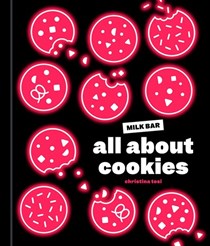 All About Cookies: A Milk Bar Baking Book by Christina Tosi provides a collection of over 100 new cookie recipes and inspiration to create your own masterpieces, from the founder of Milk Bar, host of Bake Squad, and inventor of the Compost Cookie. Similar to All About Cake, the baking guru shows you how to mix and match ideas, flavors, and textures to turn us into cookie wizards. Whether you're swapping out peanut butter for marshmallow fluff or adding Milk Bar's famous Birthday Crumbs to a recipe, this cookbook will reimagine the cookie game for new bakers and pros alike. Measurements are given in weight and volume.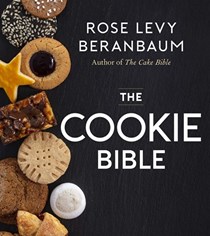 The Cookie Bible by Rose Levy Beranbaum: As you will recall, the shipment of Rose's bible devoted to cookies was delayed last year and in an effort to get the title out in prime cookie baking time moved to October of 2022. See my peek inside preview. Measurements are given in weight and volume.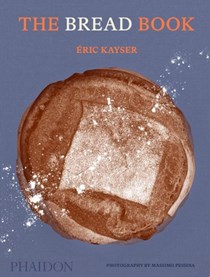 The Bread Book by Éric Kayser, founder of the legendary French bakery Maison Kayser and bestselling author of The Larousse Book of Bread makes baking bread from scratch both accessible and exciting. The collection of 60 recipes includes foolproof versions of boulangerie and international staples; healthy recipes featuring heritage grains – from high-protein lentil and chickpea flours to low-gluten and gluten-free varieties made with einkorn, buckwheat, spelt and rye, as well as a mouthwatering range of sweet loaves and brioches.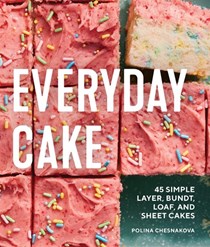 Everyday Cake: 45 Simple Layer, Bundt, Loaf, and Sheet Cakes by Polina Chesnakova: Using ingredients that are readily available, these cakes are unfussy yet sweetly indulgent. Recipes are arranged using pans most of us already have in our kitchens: round, square, loaf, rectangle, sheet, and bundt. Flavors include warm spices, herbs and flowers, and sweet essences, plus chocolate, fruit, nuts, and seeds. An appealingly wide range of cakes will tickle every fancy.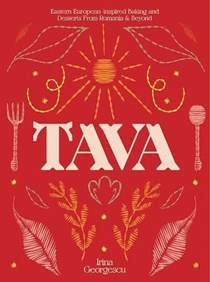 Tava: Eastern European Baking and Desserts From Romania & Beyond by Irina Georgescu: I received the pdf for this incredibly gorgeous book on July 27th. It is outstanding. Filled with vibrant imagery and recipes to inspire you like no other baking title before. A must have. Recipes include: Transylvanian griddle breads with cheese and honey; Folded curd cheese pies; Armenian Kurabia shortbread with mahlep and Cherry and basil sour cream cake. I honestly have goosebumps looking at the pages and content in this book.
New European Baking: 99 Recipes for Breads, Brioches and Pastries by Laurel Kratochvila is another pdf I received the week of July. I feel the same way about this stunning book as I do about Tava (above). Gorgeous photography, featured bios on the bakers of Europe and their bakes such as Tourte de Seigle Auvergnate Rye Torte; Florian Domberger's Zuckerkuchen German Sugar Cake; and Alberto Miragoli's Maritozzi con la Panna.

Simply Vegan Baking by Freya Cox (GBBO) is an inviting introduction to vegan baking, filled with dozens of showstopping recipes for scrumptious treats. The book is just as vibrant and dare I say, adorable, as Freya is filled with vegan recipes for all our favorites – Carrot cake; Black Forest gateau and Chocolate fudge cupcakes. Even if you are not a vegan – it is smart to have a reliable vegan baking title in your collection for guests that are – this is a great title to be that go-to. Freya and her pal – Lottie (Baking Imperfect) have a duo event at Blackwell's October 15th.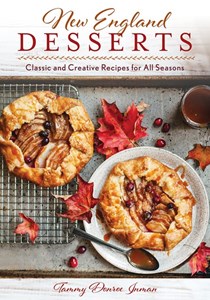 New England Desserts: Classic and Creative Recipes for All Seasons by Tammy Donroe Inman: I am huge fan of Tammy's and loved her first title Wintersweet: Seasonal Desserts to Warm the Home. I was thrilled to see another book coming our way: New England Desserts does not disappoint. Pages of recipes that bring the flavors of New England into our kitchen with recipes such as Maple cheesecake, Maple brown butter parsnip cake, Strawberry and rhubarb tarts, and Every berry blueberry buckle. I cannot wait to have these delicious aromas drifting from my kitchen in Colorado to remind me of home.
Gateau: The Surprising Simplicity of French Cakes by Aleksandra Crapanzano is a work of art with lovely illustrations and filled with recipes for many French cakes. A few recipes include Salted-caramel baulois; Chocolate marquise; Bittersweet chocolate espresso cake and Pierre Herme's Instagram Sensation Explained. The author provides pages of detailed information with regard to soaking syrups; fillings; marmalades; ganache; spice mixes and more. It is such a beautiful book. Events
Giuseppe's Italian Bakes: 60 Inspired Recipes Like Papa Used to Make by Giuseppe Dell'Anno, who won hearts the world over when he was crowned winner of the Great British Bake Off in 2021. In his first cookbook, Giuseppe shares his skill, knowledge and love of baking through over 60 new sweet and savoury recipes. Growing up in Italy and learning to cook at the side of his beloved chef-father, Giuseppe has mastered everything from focaccia to amaretti , each with his own signature twist on the classics of Italian baking. Through his step-by-step recipes, Giuseppe guides you through many other delectable treats including Seven pot cake with apples; Hot milk and coffee sponge cake; and many other unique and flavorful offerings. With gorgeous colour photos throughout and tips and tricks from the master of the technical challenge, bring a taste of the Italian bakery to your home with this gorgeous book. Giuseppe has a number of events at Topping and Co and Waterstones.
---
Other baking titles to be excited about (will update when reviewed):