Food news antipasto
June 5, 2022 by Darcie
If you are over 50 and lived in the United States from the 1960s to 1980s, chances are good that you ate at a Howard Johnson's restaurant or stayed in a Howard Johnson's motel. The orange-roofed buildings are part of Americana – or at least they were, since the sole remaining Howard Johnson's restaurants has closed its doors for good. It's the end of an era.
As summer fast approaches here in the Northern Hemisphere, lots of us are gearing up for sultry temperatures that make the prospect of standing over a hot stove less than appealing. To help us make a delicious meal without breaking a sweat, The Guardian's Anna Berrill offers suggestions on how to deliver tasty foods without turning on the stove.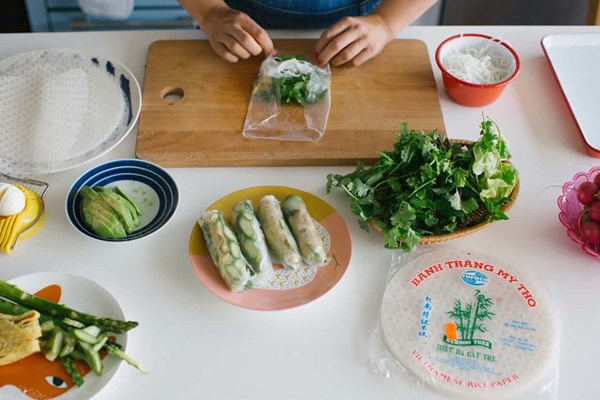 Speaking of foods that don't require cooking, Vietnamese summer rolls are a fantastic option that not only taste great but are beautiful to boot. If you are intimidated by the prospect of working with spring roll wrappers or aren't sure of how to pull together a coherent filling, head over to Midwest Living. They have tapped the wisdom of chef Thai Dang, who owns HaiSous Vietnamese Kitchen in Chicago. Dang provides a recipe that offers tips as well as suggestions for variations in the filling.
This piece of news makes me a little sad, but it is good news for anyone who lives near a Krispy Kreme doughnut store. Beginning with National Donut Day on June 3 (how did I miss that?!), Krispy Kreme is running a promotion all summer long where patrons who come in when the Hot Light sign is lit can walk away with a free Original Glazed doughnut with no purchase necessary. I'm bummed because there is no Krispy Kreme within 200 miles of where I live.
Tiny food seems to be the next big thing. I'm talking miniscule bits of food, but this isn't a restaurant trend of putting small portions on a plate. Instead, it's a TikTok/YouTube phenomenon that involves videos of people preparing teensy-weensy hamburgers, strawberry shortcakes that use only one strawberry, and other "honey I shrunk the kids"-sized items. Says The Sydney Morning Herald's Barry Divola, "There's something hypnotic – and addictive – about watching human hands manipulate scaled-down knives (they're smaller than a pinky finger) to chop slivers of baby carrot, or seeing minuscule chicken chunks braise on Borrower-size skewers (they're smaller than toothpicks)."
This week I will leave you with a dose of poetry that relates to food and eating. I don't want to influence your perception of the poem, so I am just providing the link so you can read it without any preconceptions.