When you lose a favorite recipe
May 7, 2022 by Darcie
Have you ever had a terrific recipe that you absolutely adored but that you somehow managed to lose? That is the scenario I found myself in this evening. I was tasked with making a salad for a potluck and my thoughts immediately turned to a raspberry walnut salad dressing I discovered over twenty years ago and which I have made on and off over the years. However, when I went to look in the personal recipe database that I have kept since I first started using Microsoft Access in the 1990s, it was not there.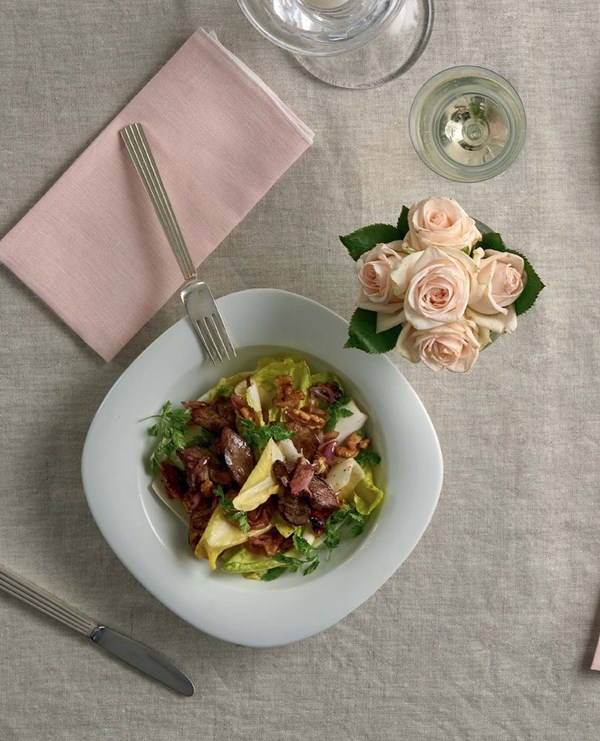 I thought I might have it saved somewhere else and was just forgetting that it was not housed in this collection. But now I believe I tossed out the recipe when I did a database purge a few years ago. I probably became overconfident in my ability to make the dressing without relying on the recipe and decided that I did not need it any more. However, because I had not made it in some time I wanted to refer to the original for a reminder on proportions. Alas it seems to have disappeared.
I cannot remember exactly where I first found the recipe but it was likely in a cooking magazine that no longer exists (because everything I subscribed to in the 90s is now gone). A search of the EYB Library found a handful of recipes that were close, but no cigar. I fared no better with Google – many results had similar ingredients but none had the technique that I recall.
This recipe is unusual in that you simmer shallots and chopped walnuts in walnut oil before adding the remaining ingredients (fresh raspberries, raspberry vinegar, honey, salt and pepper) to finish. When I followed the recipe to a "T", the results were always amazing. When I decided to "wing it," I had varying amounts of success, so I wanted to return to the recipe's roots.
Of course making a vinaigrette is not rocket science. I can (and this evening, did) produce a perfectly serviceable dressing, but something seemed a tad off from the fantastic version I remembered. Was I missing a small but vital ingredient? Was the proportion slightly out of whack? Or is the answer that the present can never live up to a wonderful memory?
It looks as though I will have to tinker with the recipe I made today until it more closely resembles the one from my memory, and then WRITE IT DOWN, preferably in multiple places. It would have been so much easier if I had just kept better track of it in the first place. Let this be a lesson: even if you believe you do not need the recipe any longer because you have it down pat, you should still save the original for reference. You never know when you might need a refresher and you will lament losing the recipe when that situation occurs.