CrateChef – Ali Slagle Box Giveaway
May 4, 2022 by Jenny
Enter our US giveaway to win a CrateChef box curated by Ali Slagle. We shared a few promotions over the years about CrateChef, see Sunny-Side Up and A Common Table.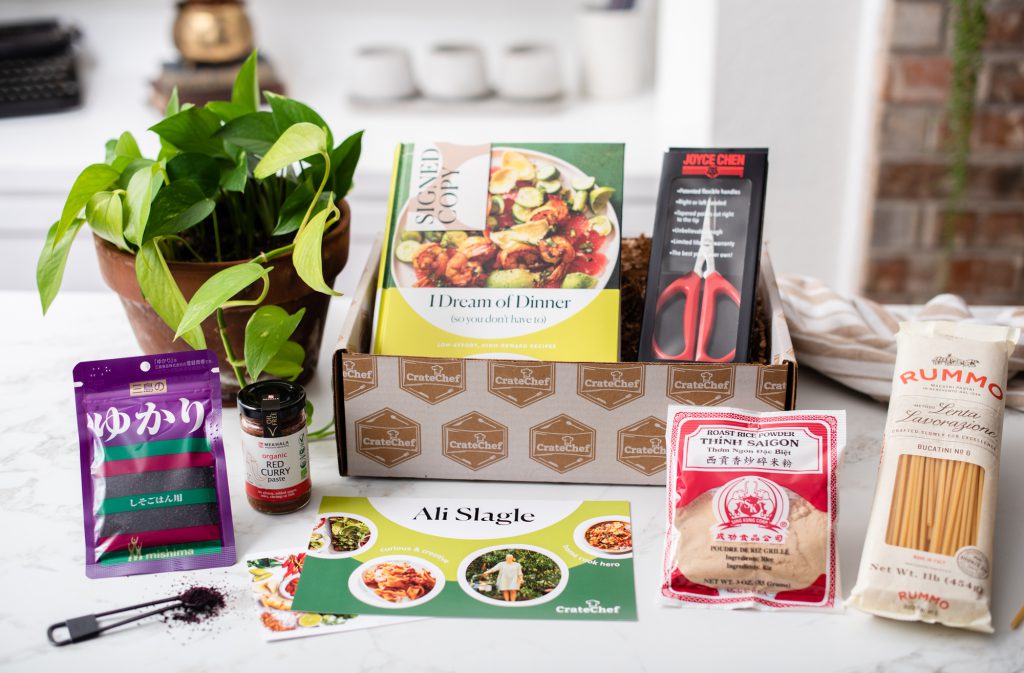 I have a subscription to CrateChef which ships six chef-inspired boxes a year – one every other month. I was really excited for April/June's selection which featured Ali Slagle's new book I Dream of Dinner (So You Don't Have To): Low-Effort, High-Reward Recipes. My box was delivered by my local post office to someone else which was not the company's fault. I reached out to CrateChef to make sure they put one box aside for me if the post office couldn't find my shipment. Luckily, the following day the box showed up and CrateChef suggested doing a promotion for our members again because it had been a while!
The Ali Slagle box includes: a signed copy of the book (I love this book); Joyce Chen Original "Unlimited" Scissors; Mishima Red Shiso Furikake Seasoning; Mekhala red curry paste; Rummo Bucatini Pasta; and Sing Kung Corp Roast Rice Powder.
Ali's cookbook shares over 200 ingenious recipes that make suppertime a snap every night, from the New York Times recipe columnist. These are quick but flavor-filled dishes that will satisfy everyone around the table. Recipes in the book include Noodles with juicy fruits & peanuts; Fresh corn polenta with lime butter; BLT stir-fry (the T stands for tofu); Pasta with rosemary-fried walnuts; and Sticky chicken with pickled vegetables. Our

gives you a look inside and features six recipes you can try now.
I have yet to be disappointed by a Crate Chef shipment and I'm particularly thrilled when a copy of the book is included (which has been the case for the last several crates).
This particular box would be a perfect gift for Mother's Day (it might not get there in time) but you can print a photo of the content and tell mom it is on the way!). Learn more about CrateChef and sign up their emails at the bottom of their website page so you'll never miss an announcement of a new chef inspired box.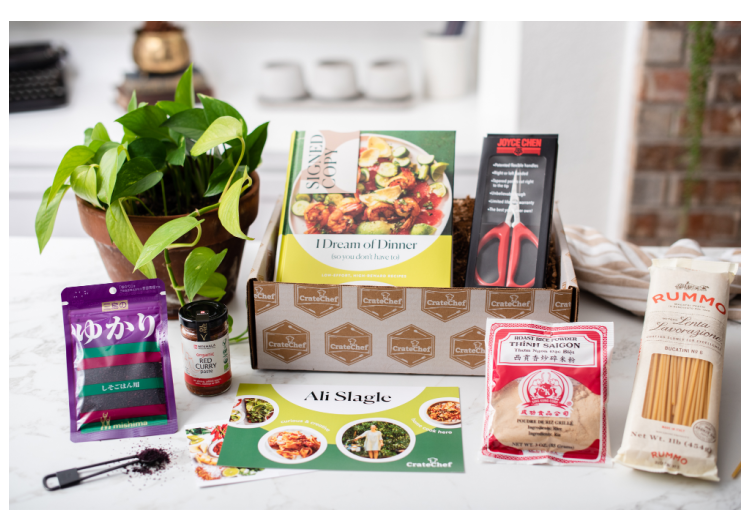 Special thanks to CrateChef for providing one of Ali Slagle's boxes as described above to one US member. Entry options include answering the following question in the comments section of this blog post.
Visit CrateChef and leave a comment about which chef's box interests you the most besides Ali's.
Please note that you must be logged into the Rafflecopter contest before posting or your entry won't be counted. For more information on this process, please see our step-by-step help post. Once you log in and enter your member name you will be directed to the next entry option – the blog comment. After that, there are additional options that you can complete for more entries. Be sure to check your spam filters to receive our email notifications. Prizes can take up to 6 weeks to arrive from the publishers. If you are not already a Member, you can join at no cost. The contest ends at midnight on June 13th, 2022.
a Rafflecopter giveaway