This week: The Bake Fest; giveaways update; tips for organizing your cookbook collection, and more
April 22, 2022 by Jenny
A member sent us information regarding The Bake Fest (Sat, May 21, 2022 8:30 AM – Sun, May 22, 2022 8:00 PM CDT) an event where you will be able to network with over 2,000 bakers from around the world as well as favorite brands through virtual networking lounges and live interactive sessions.

Highlights of the event:
25+ Hours of Hands-On Baking Sessions
5+ Hours of Baking Science Sessions and Demonstrations
5+ Hours of Business and Social Media Sessions
4+ Hours of Photography and Videography Sessions
Recordings for 1 Year
Live Networking Opportunities with Attendees and Brands
Live Q&A Sessions with Speakers
Printable Recipes
Giveaways and Discounts
According to the website speakers include: Erin Jeanne McDowell (her new book Savory Baking set for Oct 11th); Sally McKenney of Sally's Baking Addiction; Courtney Rich; Julia M. Usher; Jessica Leigh Clark-Bojin (the Pieous); Tessa Huff; Aran Goyoaga (Cannelle et Vanille) and many more.
If you register by April 23rd, 2022, the event is offering a USD $40 discount, making it USD $110 plus an $8.33 fee. After the 23rd, the registration goes back up to $150 and fees. Update: The Bake Fest team is offering a 10 percent discount code to our readers and members: eatyourbooks10.
---
An additional quick update on past giveaways. I have followed up on several dozen giveaways shared over the past year. Several publishers are working on getting those books out and several publishers are dealing with their books being out of stock and waiting for new shipments. Please email me directly jenny@eatyourbooks.com with any concerns. We appreciate your patience.
The last week on Eat Your Books
Since our last roundup, Darcie has written these articles:
Darcie's weekly food news antipasto is shared every Sunday and the tag #foodnews brings up these information-packed posts from the most current to the first one. Darcie can be followed on Instagram at darcie_bakes.
Since our last roundup, I have posted the following:
Please be sure to check our Calendar which has been recently updated this week. Note the addition of Bookends store in Ridgewood, New Jersey and Alton Brown's book tour for Good Eats: The Final Years.
My Instagram is thecookbookjunkies.
Jenny and the EYB Team
Recently Indexed Titles
Our team of member and pro indexers are working hard indexing titles, both new and old. Below are just a few highlighted titles. A reminder: newly indexed titles will always show up at the top of the EYB Library and your Bookshelf so you will always know which titles have just been indexed. Recent indexed magazines can be found here. For information on member indexing, please see this roundup with more details.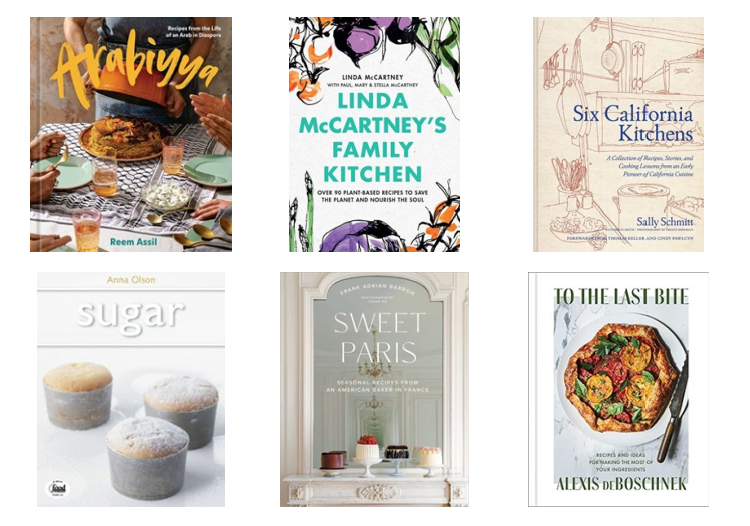 Member Photo of the Week
Lemon cream-cheese pie from Rosie's Bakery All-Butter, Fresh Cream, Sugar-Packed, No-Holds-Barred Baking Book by Judy Rosenberg submitted by member anya_sf
Have you uploaded any of your own photos yet? Learn more! Please remember to update your profile with your Instagram name if you would like to be tagged in any photos that we share!
Featured Online Recipe
Blackened shrimp and grits from Skinnytaste by Gina Homolka
EYBDigital Previews
Recently, we uploaded our 1,319th EYBDigital Preview where a selection of full sample pages are available including the titles below.
Learn more about EYBDigital Previews.
Note: To learn why you cannot add all EYBDigital Preview recipes to your Bookshelf, please read this Help page.

---
The cookbook giveaway roundup shares all current giveaways.