This week: Espécies de São Jorge cookies, EYBD Previews, giveaways and more
March 18, 2022 by Jenny
Espécies de São Jorge is a regional sweet from the island of São Jorge, an island in the central group of the Azores archipelago and part of Portugal. This "spiced cookie" is ring-shaped and the dough is cut across the top, leaving a beautiful design of the brownish filling. When I first came across this recipe on The Five Marias' website, I was intrigued by the uniqueness of the cookie. (I have bookmarked their site to explore when time permits.)
The Azores government website states: "Previously, the "espécies" were named "bichos doces" (sweet animals), in which the filling was made with homemade bread, roasted and ground in "atafonas" (a mill moved by hand or animal). The roasted bread was crunched inside a bag with a "mexilhão", then it was sifted and mixed with other spices. After cooling they would roll them up by hand in small portions, the "bichanas" that served to line the dough entirely."
I have added the recipe from The Five Marias' website to our online recipes as it was one of the few that was in English. The Marias recommend watching a video of how this cookie is prepared before attempting it.
Let me know in the comments if you have made this treat before.
The last week on Eat Your Books
Since our last roundup, Darcie has written these articles:
Darcie's weekly food news antipasto is shared every Sunday and the tag #foodnews brings up these information-packed posts from the most current to the first one. Darcie can be followed on Instagram at darcie_bakes.
Since our last roundup, I have posted the following:
Please be sure to check our Calendar for updated events. My Instagram is thecookbookjunkies.
Jenny and the EYB Team
Recently Indexed Titles
Our team of member and pro indexers are working hard indexing titles, both new and old. Below are just a few highlights. A reminder: newly indexed titles will always show up at the top of the EYB Library and your Bookshelf so you will always know which titles have just been indexed. Recent indexed magazines can be found here. For information on member indexing, please see this roundup with more details.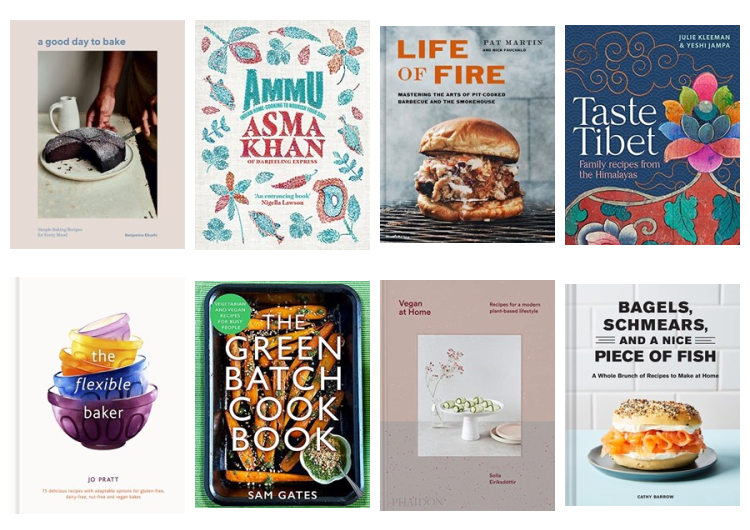 Member Photo of the Week
Raisin-frangipane spiral buns (Rosinenschnecken) from Classic German Baking: The Very Best Recipes for Traditional Favorites, from Pfeffernüsse to Streuselkuchen (page 202) by Luisa Weiss submitted by member anya_sf
Have you uploaded any of your own photos yet? Learn more! Please remember to update your profile with your Instagram name if you would like to be tagged in any photos that we share!
Featured Online Recipe
Baked veggie balls in sweet tomato sauce from JamieOliver.com by Jamie Oliver
EYBDigital Previews
Recently, we uploaded our 1,287th EYBDigital Preview where a selection of full sample pages are available including the titles below.
Learn more about EYBDigital Previews.
Note: To learn why you cannot add all EYBDigital Preview recipes to your Bookshelf, please read this Help page.

Cookbook Giveaways
Click on the Blue Link Below to Enter

Enter our US giveaway to win one of three copies of Save-It-Forward Suppers: A Simple Strategy to Save Time, Money, and Sanity by Cyndi Kane. Contest expires Mar 31st, 2022.
Enter our US giveaway to win a prize package consisting of a signed copy of The Fresh Eggs Daily Cookbook: Over 100 Fabulous Recipes to Use Eggs in Unexpected Ways by Lisa Steele as well as a selection of products and ingredients. Contest expires Apr 2nd, 2022.
The cookbook giveaway roundup shares all current giveaways including those open worldwide and to other regions.