Food news antipasto
March 6, 2022 by Darcie
Jerry Seinfeld is busy creating a new movie that revolves around food. The film from the famed comedian is tackling a subject that you might not think merits full cinematic treatment: titled Unfrosted, the comedy explores the origin story of Pop Tarts, the sugary breakfast toaster pastry.
Delia Smith has had a long and storied food writing and television hosting career. At age 80 she doesn't seem to be slowing down and is even branching out. During lockdown she wrote a book, but the veteran cookbook author did not write about food. Instead, You Matter: The Human Solution is not a cookbook. As The Guardian's Rachel Cooke explains, it is "an extended recipe for living: a nourishing broth of ideas garnered from her wide reading…seasoned lightly with her own thoughts and experiences."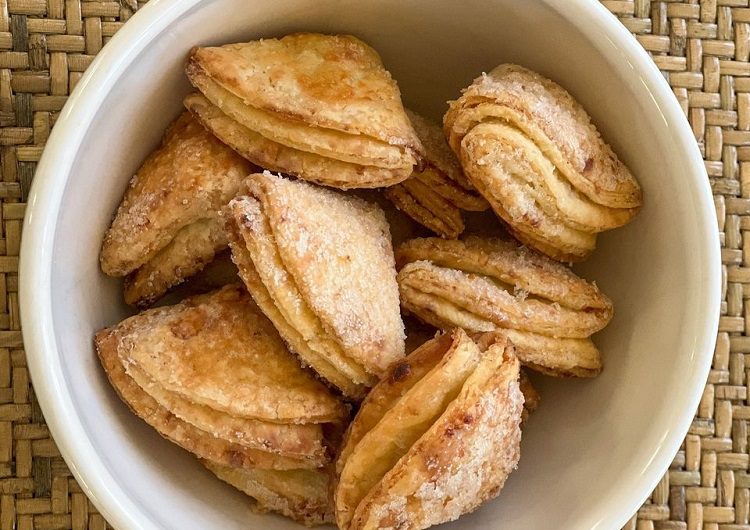 Need to do some stress baking? Try this recipe for Goose feet cookies (Guisinie lapki) from the inimitable Dorie Greenspan. It's an adaptation by pastry chef and instructor Janine Sciarappa of an Olia Hercules recipe for traditional Ukrainian cookies that are "buttery, flaky, folded and sugared." If you want to turn your baking into a fundraiser for #CookforUkraine, here's more information.
It is currently cold and dreary here with freezing drizzle and gray skies. On days like these, nothing beats curling up in a cozy chair with a cup of hot tea and a cookbook. Did you know that tea leaves were once eaten and not consumed as a beverage? Gastro Obscura's Miranda Brown does, and she explains how a medieval influencer changed the course of how we consume tea leaves.
If you've had sticker shock at the supermarket lately, you aren't the only one. Worldwide, inflation has hit consumer pocketbooks hard in the past several months, especially for food products. With prices set to rise even further, you might be looking for ways to save on your grocery shop. If so, you can turn to the technique that anti-poverty campaigner Jack Monroe has shared with The Telegraph on how she keeps her weekly food shop costs low. (Free registration required to view article)
It was only a matter of time before the culinary world became enamored with NFTs (non fungible tokens). Recently Tom Colicchio announced CHFTY Pizzas, a new venture he has created with Top Chef alum Spike Mendelsohn. Owners of these pizza NFTs will get "one-of-a-kind physical and virtual experiences" and "future integration into the expanding metaverse." I will stick with the real deal, thanks.
This week's cooking tip comes from Mark Bittman – in fact there are several tips. Bittman recently did a segment on the TODAY show where he discussed common kitchen mistakes and how to avoid them. These mistakes include a somewhat controversial take on mise en place – Bittman says you don't have to prep all of the ingredients before you start cooking.