The last two weeks: Cookbooks that celebrate the cuisine and people of Ukraine #CookForUkraine; EYBD cookbook previews; giveaways and more
March 4, 2022 by Jenny
Our hearts are with the people of Ukraine during this unfathomable time. Besides donating to great causes (see a few below), in an effort to do something I am pulling out my cookbooks to cook and show my support for this country. In that vein, today I've covered cookbooks devoted to Ukrainian cuisine that bring beauty and inspiration into my kitchen. Many books in our Library cover Eastern European cuisine and may contain Ukrainian recipes. For purposes of this summary, I'll include those which are mainly Ukrainian in scope (including Alissa Timoshkina who is working on fundraising for Ukraine).
Darcie mentioned a few of these books briefly in her Food News Antipasto on Sunday, today I'll include EYBD previews and reviews if available. The first section of books are those that I own, have reviewed and love.
Other titles (a few of which I just ordered from Omnivore Books):
Cookbook authors Alissa Timoshkina and Olia Hercules along with Layla Yarjani of Next Gen London and Clerkenwell Boy (Cook for Syria and Bake for Beirut), have set up the #CookforUkraine movement to increase awareness of the crisis in Ukraine and raise funds to aid children and families displaced by the current situation. You can get involved by hosting supper clubs at home, or cooking for Ukraine and donating here: Just Giving fundraiser. This fundraiser shares links to recipes that you may make to show your support. There are also 100 online Ukrainian recipes to try in our Library.
Again as Darcie mentioned on Sunday, Chef José Andrés' World Central Kitchen is busy feeding thousands of people who are leaving Ukraine and those families who are remaining in their country.
---
The last two weeks at Eat Your Books
Since our last roundup, Darcie has written these articles:
Darcie's weekly food news antipasto is shared every Sunday and the tag #foodnews brings up these information-packed posts from the most current to the first one. Darcie can be followed on Instagram at darcie_bakes.
Since our last roundup, I have posted the following:
Please be sure to check our Calendar for updated events including newly added Spring baking classes with Rick Rodgers; Joe Wicks' Waterstones' tour for his new book; and be sure to check out the bookstore and cooking school sections for new events. My Instagram is thecookbookjunkies.
Jenny and the EYB Team
---
Recently Indexed Titles
Our team of member and pro indexers are working hard indexing titles, both new and old. Below are just a few highlights. A reminder: newly indexed titles will always show up at the top of the EYB Library and your Bookshelf so you will always know which titles have just been indexed. Recent indexed magazines can be found here. For information on member indexing, please see this roundup with more details.
---
Member Photo of the Week
Bubbie's flourless chocolate cake with raspberry whipped cream from The Cake Book: Beautiful Sweet Treats for Every Craving (page 28) by Rebecca Firth submitted by member cookingbychapter
Have you uploaded any of your own photos yet? Learn more! Please remember to update your profile with your Instagram name if you would like to be tagged in any photos that we share!
---
Featured Online Recipe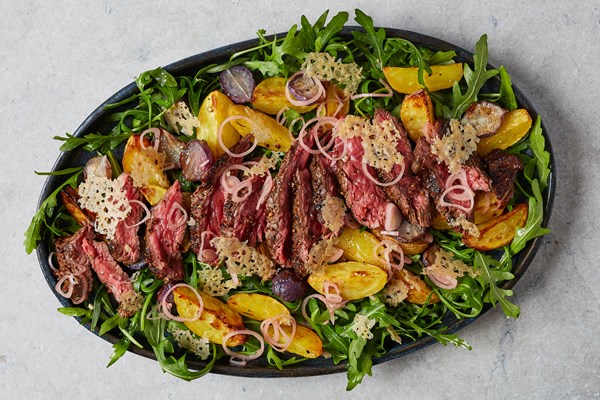 Peppered bavette steak salad with roast new potatoes, roast radishes, tarragon and Parmesan from Great British Chefs – Chef Recipes
Add Great British Chefs – Chef Recipes to your bookshelf for 5,211 additional recipes
---
EYBDigital Previews
Recently, we uploaded our 1,275th EYBDigital Preview where a selection of full sample pages are available including the titles below.
Learn more about EYBDigital Previews.
Note: To learn why you cannot add all EYBDigital Preview recipes to your Bookshelf, please read this Help page.

---
Cookbook Giveaways
Click on the Blue Link Below to Enter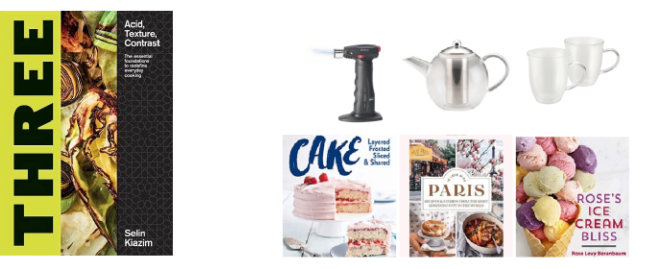 Enter our US/UK/AU/NZ giveaway to win one of three copies of Three: Acid, Texture, Contrast: The Essential Foundations to Redefine Everyday Cooking by Selin Kiazim. Contest ends Mar 12th, 2022.
Enter our worldwide giveaway to win a prize package that includes: a BonJour Voyager Glass Teapot, a set of BonJour Cappuccino Cups Set, and a BonJour Pro Torch along with three cookbooks Cake; In Love with Paris; and Rose's Ice Cream Bliss. Contest ends Mar 19th, 2022.
The cookbook giveaway roundup shares all current giveaways including those open worldwide and to other regions.