The Steger Homestead Kitchen – Cookbook Giveaway and Quick Bites
February 21, 2022 by Jenny
Enter our worldwide giveaway to win one of two copies of The Steger Homestead Kitchen: Simple Recipes for an Abundant Life by Will and Rita Mae Steger with Beth Dooley.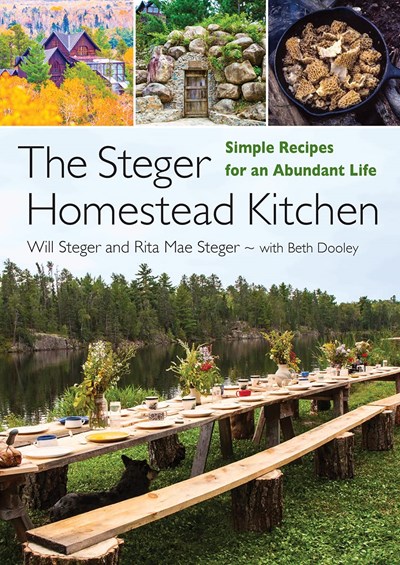 The Steger Homestead Kitchen: Simple Recipes for an Abundant Life by Will and Rita Mae Steger with Beth Dooley is a collection of meals and memories gathered at the Homestead, the home of the Arctic explorer and environmental activist Will Steger, located in the north woods near Ely, Minnesota.
The mission at the the Steger Center is to provide a unique wilderness setting that connects leaders and inspires innovation and bold discovery. The events and programs are here to help build a better world, inspire bigger and better ideas and to help keep the world a healthy place for all living things. I now have added another place to visit on my bucket list. The grounds look like heaven.
Rita, Will's niece, is the chef at the center and this title shares Steger family recipes as well as those shared at the center. This book is not only a fantastic read but is filled with recipes that run the range of Cashew stir fry and Vietnamese steak salad (Rita's mother is Vietnamese so you will find dishes with Asian flavors) to Rita Mae's seed crackers and Many berry pie.
The Stegers took some time to answer a few questions for our members.
Will Steger has been a formidable voice in calling for the understanding and preservation of the Arctic and our Earth for decades. Best known for his legendary polar explorations, Steger traveled tens of thousands of miles by kayak and dogsled over the past fifty years, leading teams on some of the most significant polar expeditions of our time. In doing so, he has witnessed climate change firsthand. As a visionary and educator, Steger established Climate Generation: A Will Steger Legacy in 2006, a Minneapolis-based nonprofit that educates and empowers people to engage in climate change solutions. Drawing on his knowledge as an expedition leader and educator, Steger designed the Steger Center for Innovation and Leadership in Ely, MN to create a transformative wilderness experience, inspiring and motivating new discoveries and bold action to improve the world. The Center is built as a living example of ecological stewardship, a demonstration center for devising new solutions to the seemingly intractable issues we collectively face. Also critical to this mission is the creation of a climate-friendly kitchen, one that relies on food from its garden and regenerative farms.

Steger is the author of four books: Over the Top of the World, Crossing Antarctica, North to the Pole, and Saving the Earth. He joined Amelia Earhart, Robert Peary, and Roland Amundsen in receiving the National Geographic Society's prestigious John Oliver La Gorce Medal for "Accomplishments in Geographic Exploration, in the Sciences, and Public Service to Advance International Understanding," in 1995. In 1996, Steger became the National Geographic Society's first Explorer-in-Residence and received the Explorers Club's Finn Ronne Memorial Award. Steger received the Lindbergh Award in 2006, and in 2007 National Geographic Adventure presented him with their Lifetime Achievement Award for his work on climate change. Steger holds a Bachelor of Science in Geology and a Master of Arts in Education from the University of St. Thomas, St. Paul.
Rita Mae Steger, the Steger Center for Innovation and Leadership's chef for the past six years, has been returning to The Homestead every summer since she was a toddler. She learned to cook from her Vietnamese mother and developed her understanding of Asian cuisine while living with relatives in Hue, Vietnam. Fluent in Vietnamese, Rita Mae has translated many of her family's recipes for American kitchens. When she's not at the Steger Center, Rita Mae is a private chef for families near her winter home in Monterey, California.
Q: What first triggered your interest in homesteading? Tell us how it all began.
Will: It began when I was very young when I was told about the pioneers traveling over the Rocky Mountains who cleared land on the other side and made a homestead. I also saw some pictures of homesteading and I knew then this is how I wanted to live. It was my first real interest.
Rita Mae: Homesteading has been present in my life since I was a kid. I grew up visiting my Uncle Will's homestead, which is now a wilderness school where I live and work as the chef in the summertime. What drew me to homesteading was being surrounded by wilderness and working with my hands. The joys of harvesting a seasonal variety of produce growing on the land you cleared, wild blueberries picked right off the shrub and placed directly in your mouth, long stems of freshly picked rhubarb to turn into a pie made of hand-rolled dough, it doesn't get more fulfilling than that.
Q: If you had to describe your cooking style how would you do so?
Rita Mae: Inviting and nostalgic. I love cooking anything that erases any concept of time, that brings back memories and transports me to my family's kitchen in Vietnam or my grandmother's kitchen in Minnesota. When I'm cooking something inspired by my ancestors, I'm bringing out not only their recipes but everything they went through, everybody they've met, and everything they did. I share my Vietnamese culture through food and follow the rule my Grandma Steger left behind to always keep the cookie jar full. Bringing people together through food is a huge part of my cooking style. I truly love cooking for groups of people, and that in turn brings people together.
Q: Are you cookbook collectors? If so, tell us about your collection?
Rita Mae: I would be a cookbook collector if I could travel with them! I live a transient life between the Steger Homestead in Minnesota, my homes in California and Michigan, and visiting my family in Vietnam. When I'm not in those places, I'm backpacking in mountains. I frequent libraries and bring back stacks of cookbooks at a time, only to return them. Nourishing Traditions by Sally Fallon and The Complete Tassajara Cookbook by Edward Espe Brown are books I've revisited for years. Any book by Yotam Ottolenghi gives me inspiration. My Grandma Steger's handwritten in cursive, spiral bound cookbook from the 60s is one I cherish deeply.
Q: Do you sometimes feel like working with food all day keeps you from wanting to get creative in the kitchen?
Rita Mae: No. After a day of cooking on the homestead, which means three meals a day for 20 people, I still want to get creative in the kitchen. Cooking is very personal for me—it's how I express myself and process my thoughts and emotions. I have total freedom in the homestead kitchen, and I'm surrounded by nature—it's hard to tire of that. The one thing that might keep me from wanting to get creative in the kitchen are dishes.
Will: I am not sure what working with food all day means. I work in the garden, of course, and it is the biggest luxury in life to eat the food that you raised. It puts me in touch with the birds and stars and the nature around me. It creates the proper relationships to the world that is missing in the modern world. Many of our problems, including climate change, are happening because people are out of touch. They want to be told what to do.
Q: What is your go to for a quick dinner – quick dessert?
Will: All my dinners are go-to. I enjoy eating the same meals regularly. That's an indication of a good meal—when you want to eat it again the next day.
Rita Mae: Lately, I've really been into making fish cakes out of canned sardines. Grab yourself 2 cans of sardines or any fish, ½ cup of plain yogurt, 2 eggs, ½ cup of breadcrumbs, a handful of chopped scallions, and 2 teaspoons of fish sauce. Mix every ingredient together in a bowl and create patties directly into a frying pan of your oil of choice, wait for one side to brown, then flip 'em like pancakes! I'll make a quick dipping sauce for them made of equal parts sweet chili sauce and mayo. Serve the fish cakes over a bed of greens and you are good to go! My go-to quick dessert is dark chocolate most nights, or Greek yogurt drizzled with honey if I feel like something extra that takes little effort. If I'm making a quick dessert for guests, then it's always a fruit crisp with extra crumble.
Q: Tell us about your cookbooks or any future projects you are working on?
Will: I hope people can see a simpler approach to life from The Steger Homestead Kitchen. We must live more simply, which means a higher quality life with good health not only for yourself but for the planet. We need to wake fast to our wasteful habits. Our survival depends on it. My future projects revolve around figuring out how the world can live sustainably and how do we adapt to what is coming. These are changing times and we must all be leaders and innovators. There is no time for putting our heads in the sand and giving up. It's time to connect with positive people and get off our butts.
Rita Mae: The Steger Homestead Kitchen is a collection of recipes and memories from Arctic explorer and environmental activist Will Steger's homestead in Minnesota's north woods, not far from the Canadian border. The Homestead is a place where leaders and innovators can visit to discuss solutions to climate change and where students can learn ecological stewardship and skills like stone masonry, wood working, and carpentry. Gathering around the table to eat together is an intrinsic experience here at the Homestead. My role is to nourish visitors who come from all over the world. The recipes in this book are down-to-earth, comforting, and woven with Will's stories of epic exploration. It's a reminder of how to live with intention. I'm so excited to continue my role as the Homestead chef this summer.
Special thanks to the publisher for providing two copies of this title in our promotion. Entry options include answering the following question in the comments section of this blog post.
Visit the Steger Center programs and leave a comment about which program interests you.
Please note that you must be logged into the Rafflecopter contest before posting or your entry won't be counted. For more information on this process, please see our step-by-step help post. Once you log in and enter your member name you will be directed to the next entry option – the blog comment. After that, there are additional options that you can complete for more entries. Be sure to check your spam filters to receive our email notifications. Prizes can take up to 6 weeks to arrive from the publishers. If you are not already a Member, you can join at no cost. The contest ends at midnight on April 25th, 2022.
a Rafflecopter giveaway