December 2021 New Cookbook Review
December 20, 2021 by Jenny
Well, we made it through 2021 (and 2020) and I'm proud of us! Now let us hope next year will finally give us a break from all the madness. At least we know we'll be blessed with great cookbook titles as evidenced by my 2022 preview post.
If you would like to order any of these titles titles (or preorder/order any other books or items) using our affiliate links below or BUY BOOK button on the book details page, earns Eat Your Books revenue as an Amazon Associate from qualifying purchases when using our links:
USA * Canada * UK * Book Depository
Please remember your local bookstores during this time – for preorders as well and your local restaurants for gift giving. We need to do what we can to make sure these businesses stay afloat.
If there is an

available for a cookbook, look for the orange icon in the blurb. Clicking on that icon will take you directly to the preview. Lastly, if events are planned for particular books/authors, I have included a link. Be sure to check our Calendar frequently for new entries.
I've tried to provide as much detail for those titles I have reviewed – many of the December titles I haven't seen as of yet. You can find out more about those titles in the Library record under book details.
To jump to a particular country's listing, please click on the links below.
United States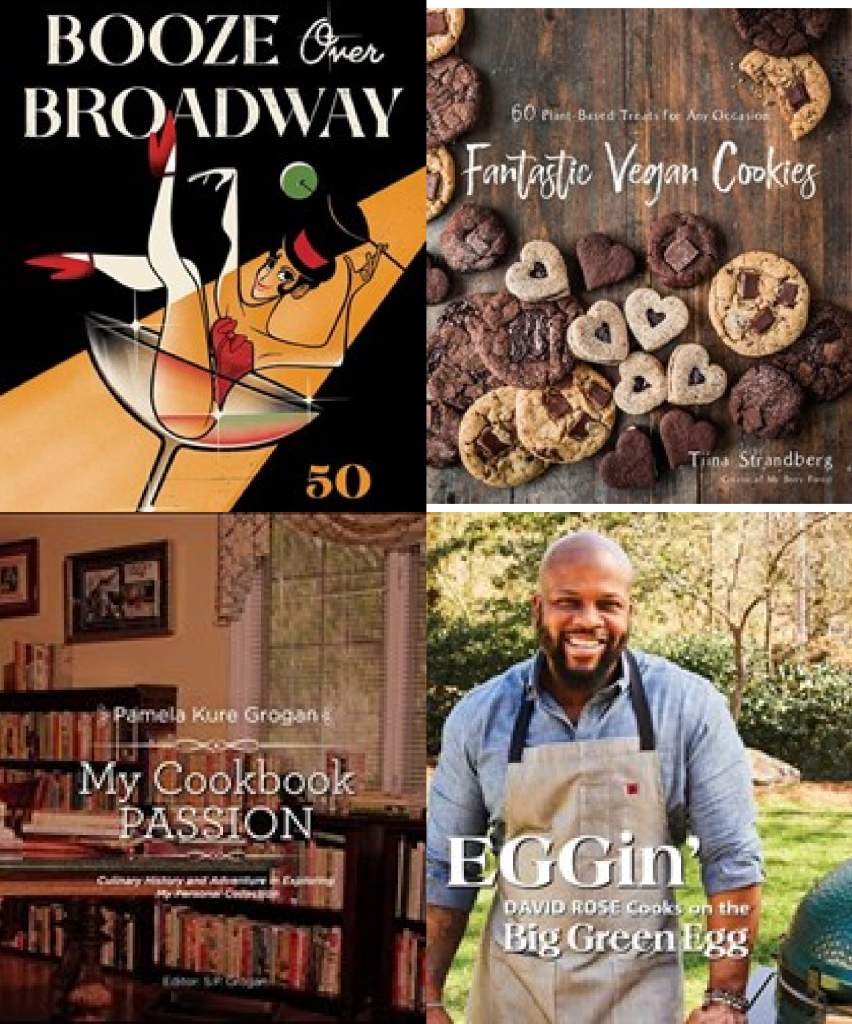 EGGin': David Rose Cooks on the Big Green Egg by David Rose: Chef Rose applies his signature cooking style to grilling, smoking, roasting, and baking on the Big Green Egg. From apps, to veggies, entrees, and sweet treats; the entire meal will be prepared on the EGG.
My Cookbook Passion: Culinary History and Adventure in Exploring My Collection by Pamela Kure Grogan: Find out more about this title in our worldwide giveaway here.

Booze Over Broadway: 50 Cocktails for Theater Lovers by Tiller Press: Features 50 delectable drinks from a rising star in the New York City bar scene, this clever and creative manual allows you to make delicious cocktails right from the comfort of your home. This book also includes commentary, step-by-step instructions, and whimsical illustrations throughout.
Fantastic Vegan Cookies: 60 Plant-Based Treats for Any Occasion by Tiina Strandberg: Tiina is the voice behind the plant-based blog My Berry Forest. In this cookie collection, the author shows readers how to make a variety of delectable vegan cookies. You'll love her familiar favorites and will find new inventive flavor combinations and fun twists on classics, like Cinnamon roll sugar cookies, Piña Colada cookies, Blueberry pie cookies and Caramel popcorn cookie bars.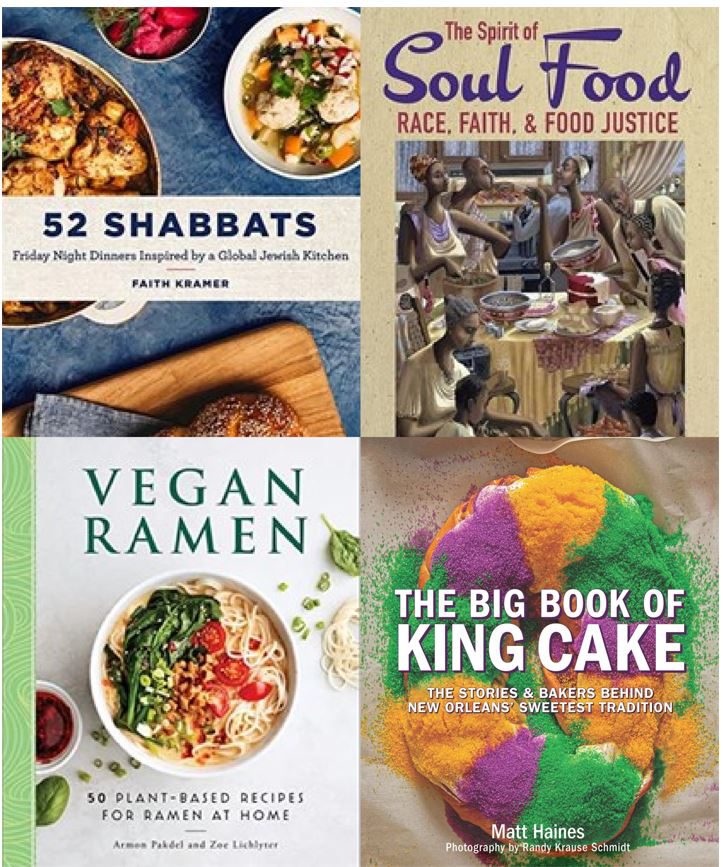 Vegan Ramen: 50 Plant-Based Recipes for Ramen at Home by Armon Pakdel and Zoe Lichlyter: Japanese ramen is beloved around the world because it's savory, satisfying, and endlessly customizable. But how do you make tonkotsu ramen rich and delicious without pork? Or shio ramen without bonito flakes? Vegan Ramen will help you to discover the keys to creating a balanced and filling homemade ramen bowl with only plant-based ingredients. Get ready to explore the 5 components of ramen, the tastiest cooking techniques, and step-by-step guidance for assembling your perfect bowl.
The Spirit of Soul Food: Race, Faith, and Food Justice by Christopher Carter is also being released in paperback. Soul food has played a critical role in preserving Black history, community, and culinary genius. Christopher Carter addresses the harm that our food production system inflicts upon Black people and reveals how racism and colonialism have long steered the development of US food policy. The very food we grow, distribute, and eat disproportionately harms Black people specifically and people of color among the global poor in general. Carter reflects on how people of color can eat in a way that reflects their cultural identities while remaining true to the principles of compassion, love, justice, and solidarity with the marginalized.
52 Shabbats: Friday Night Dinners Inspired by a Global Jewish Kitchen by Faith Kramer: This book offers a holistic scope of the Shabbat tradition for every reader, Jewish or otherwise. In it you'll find: over fifty primary recipes to anchor your menu; more than twenty recipes for side dishes, accompaniments, and desserts; Short essays that detail global foodways and histories; and an explanation of the Shabbat ritual. The author outlines recipe pairings in a mix-and-match friendly format, incorporating easy substitutes throughout the cookbook to make Shabbat accessible for all lifestyles.
The Big Book of King Cake by Matt Haines is a beautiful book devoted to the history of the king cake and features bakers in New Orleans. Filled with vivid imagery and profiles of bakers such as Joy the Baker, Jack Rose, and Brennans, this book is pure inspiration. It includes photographs of profiled bakers' versions of the treasured cake – there are no recipes save a cocktail recipe or two and one king cake recipe at the back of the book provided by the New Orleans Culinary & Hospitality Institute. There are over 366 pages in this beauty including a section on the international "cousins" of the king cake. I'll have more on this title in February. I've reviewed the electronic version and am waiting for the print copy.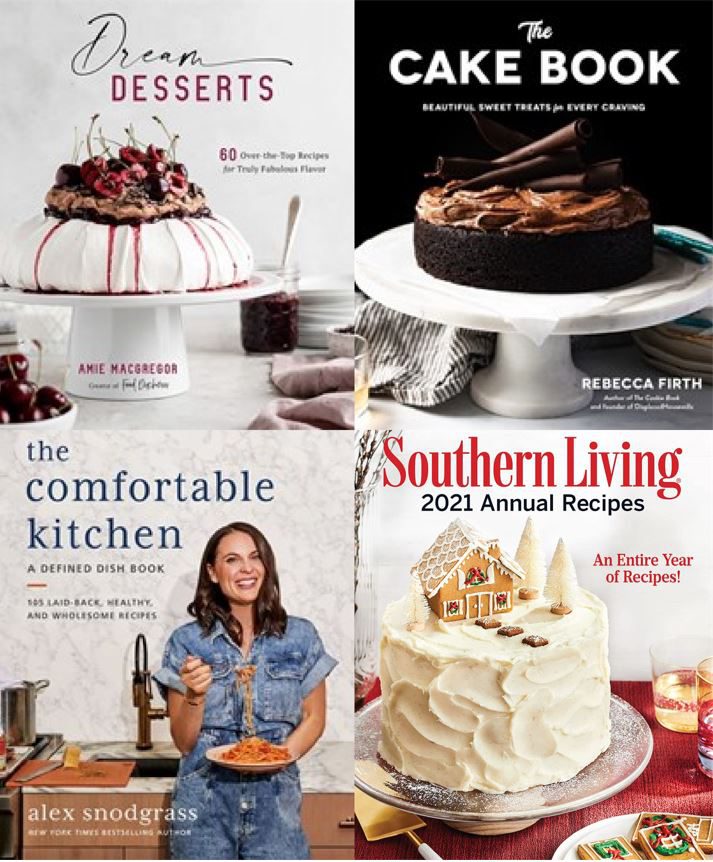 Dream Desserts: 60 Over-the-Top Recipes for Truly Fabulous Flavor by Amie MacGregor: Known throughout the blogging sphere for her exquisite focus on technique and her ability to imbue familiar-yet-elevated flavors into a variety of surprising treats, Amie MacGregor has carefully crafted each recipe in this book to deliver the most tempting of tastes. Whether you're baking for friends, family, or your own indulgent cravings, with Amie's helpful voice to guide you and her foolproof tricks for unlocking perfect flavor every time you bake, you'll be whipping up delicious works of art with ease.

The Cake Book: 60 Delightful Baked Goods For Any Kind of Celebration by Rebecca Firth: Since the publication of The Cookie Book, I've been waiting for Rebecca's next book and the wait is over. Angel food cake with blood orange curd whipped cream, Lemon olive oil chiffon cake and Fresh strawberry cinnamon roll cake with lemony glaze are just a few of the cakes in this gorgeous book! Look for a promotion soon.

The Comfortable Kitchen: 105 Laid-Back, Healthy, and Wholesome Recipes by Alex Snodgrass: Bringing her family around the table to share a home cooked meal is one of the New York Times-bestselling recipe developer's favorite ways to show love. Her recipes are designed to bring joy into that display of affection, from your own comfort cooking to your loved ones' delight at the delicious flavors, to knowing that you're caring for your family's nutrition with each bite. Though many of her meals are fully Whole30 compliant, or at the very least Paleo-ish, there are plenty of other recipes with simple, flexible ingredient swaps for a cleaner meal when desired – perfect for people who are enjoying their "food freedom" stage of their Whole30 health journey. And for those who have dietary restrictions, Alex clearly marks each recipe as gluten-free, dairy-free, grain-free, and Paleo, as appropriate.
Southern Living 2021 Annual Recipes: An Entire Year of Recipes by Southern Living Editors: The editors at Southern Living magazine share beautifully photographed, step-by-step recipes for regionally inspired dishes, from quick and easy meals to family favorites to special-occasion treats. For decades, Southern Living Annual Recipes has collected every recipe from an entire year's worth of Southern Living magazine in a single, complete volume, creating an indispensable companion for devoted readers and an inspiring discovery for all who know and trust the authority that Southern Living magazine brings to great Southern cooking.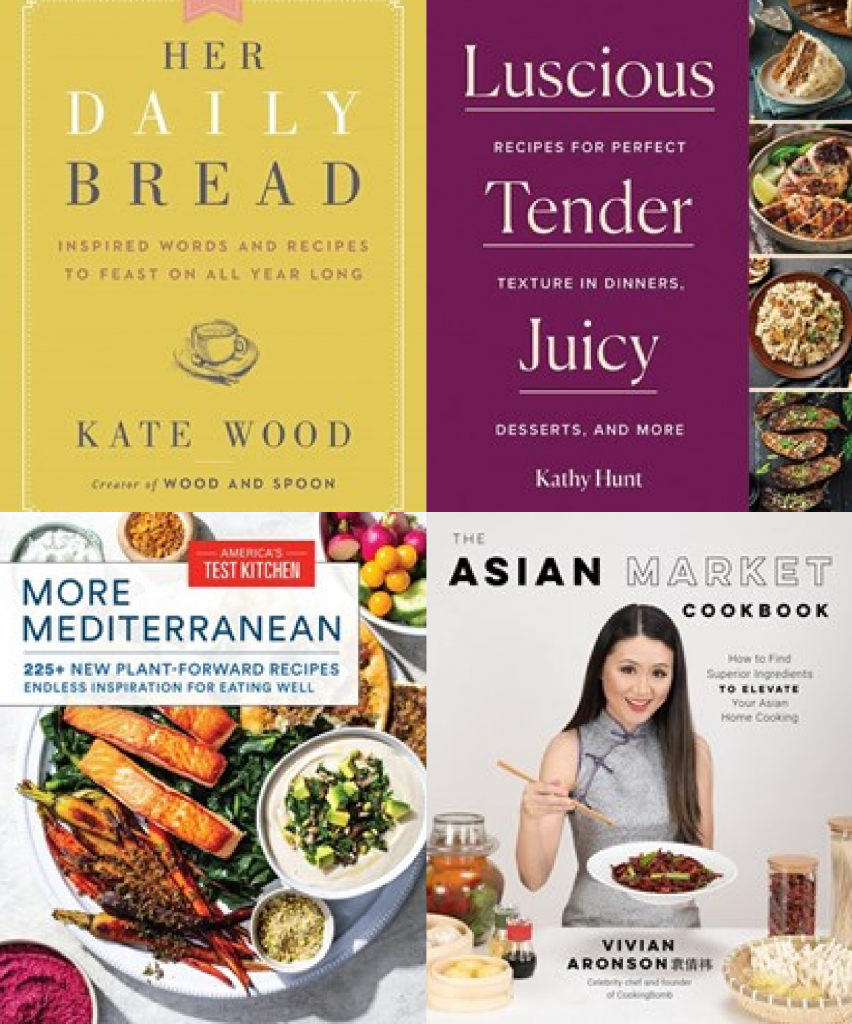 More Mediterranean: 225+ New Plant-forward Recipes Inspired by the #1 Diet by America's Test Kitchen: In this follow-up to the bestselling The Complete Mediterranean Cookbook, America's Test Kitchen opens the Mediterranean pantry wide open. Anyone will love the broad range of ingredients from around the world (think: avocado, sweet potatoes, and tempeh) used in vibrant dishes with inspiring combinations.

Her Daily Bread: Inspired Words and Recipes to Feast on All Year Long by Kate Wood: From the writer and photographer behind the award-winning Wood and Spoon blog comes a 365-day devotional, featuring daily reflections and 52 delicious recipes that will nourish the body and soul throughout the year. This title makes the perfect gift for the cook or baker in your life.
Luscious, Tender, Juicy: Recipes for Perfect Texture in Dinners, Desserts, and More by Kathy Hunt delivers recipes for global appetizers, mains, sides, desserts, and sweet baked goods. Written for novice and accomplished cooks alike, this masterclass in texture inspires an appreciation for the skills needed to craft exquisite mouthfeel, an often overlooked facet of cooking.
The Asian Market Cookbook: How to Find Superior Ingredients to Elevate Your Asian Home Cooking by Vivian Aronson: Asian markets are ideal for finding ingredients for a variety of Asian dishes – in addition to often having a bigger selection, ingredients are often cheaper at these local markets, and more authentic to boot. But navigating these markets can have a steep learning curve, especially for novices who may not know where to begin. Luckily, Aronson has you covered. She's an expert at traversing the ins and outs of Asian markets, and in this book, she'll break down staple ingredients in Asian cuisine while also providing recipes that are ideal for home cooks.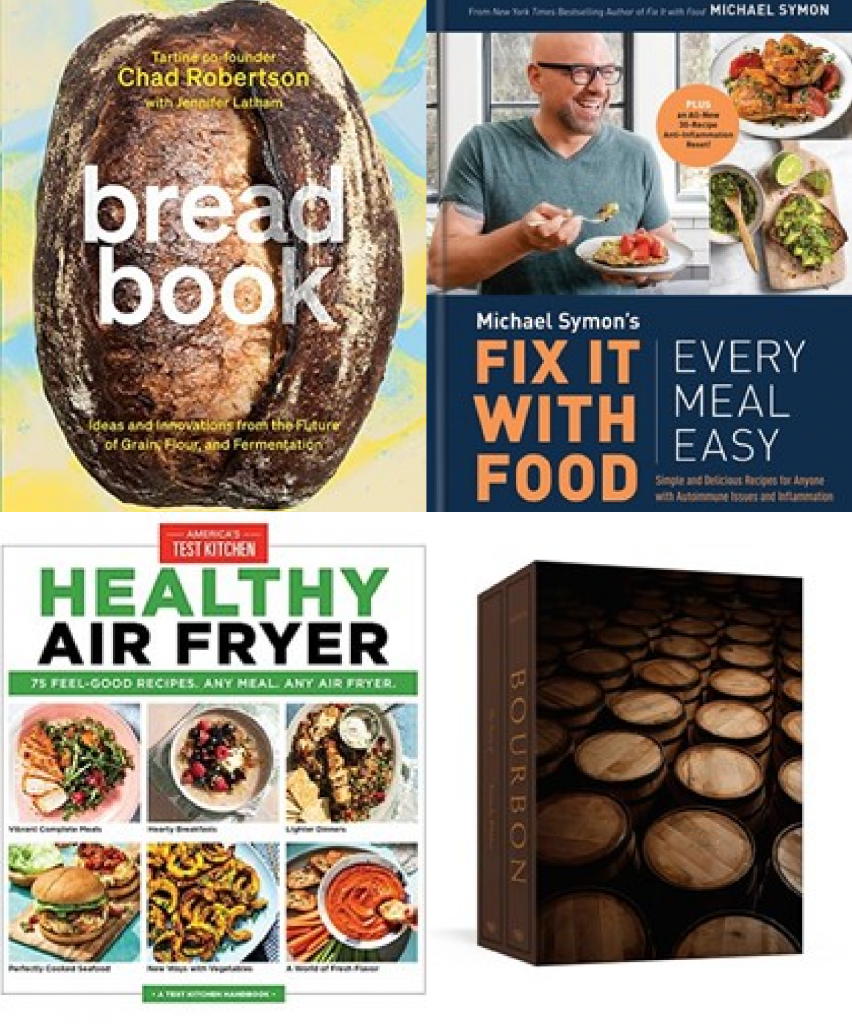 Fix It with Food: Every Meal Easy by Michael Symon combines simple dishes for busy weekdays and meals that address autoimmune triggers for a collection of 125 health-supportive recipes. The chapters are divided by what trigger you're avoiding, including No Meat, No Dairy, and No Flour. If you're not sure what your food triggers are, the ten-day reset will help you figure out which foods to avoid. After the reset, Michael offers guidance about how to reintegrate foods into your routine. Readers will also find a list of his favorite 30 anti-inflammatory friendly ingredients to keep on hand all the time and a master ingredient substitution list, so if you don't have kale or black beans on hand, you can swap in whatever you have in your fridge or pantry.

Bourbon: The Story of Kentucky Whiskey by Clay Risen explores the origins, history, and evolution of America's distilling craft and culture in this luxurious boxed set. From boom to bust and back again, Risen tells the engrossing story of Kentucky whiskey, using interviews, photographs, and archival material to illuminate the singular region where bourbon was born. This meticulously researched book details how bourbon is made, how best to enjoy it, and how to build your own collection, along with profiles of the distilleries and makers that form the landscape of bourbon country.
Healthy Air Fryer: 75 Feel-Good Recipes. Any Meal. Any Air Fryer. by America's Test Kitchen: Air frying is no longer just a substitute for deep-fat frying. Go beyond french fries and fried chicken to experience a world of fresh flavor. The recipes here were tested repeatedly to make sure they work in any model of air fryer: basket style, oven style, toaster oven style, and the Instant Pot lid.

Bread Book: Ideas and Explorations from the Future of Grain, Flour, and Fermentation by Chad Robertson and Jennifer Latham showcases the unparalleled knowledge and latest contribution to the craft and science of bread making from the Tartine bakers. Experienced bakers and novices will find their primers on grain, flour, sourdough starter, leaven, and dough formulas refreshingly easy to understand and use. Thirteen singular master formulas for naturally leavened doughs – from the re-engineered country bread to rustic baguettes, flatbread, rolls, buns, tortillas, pizza, rye, gluten-free loaves, and more, plus fermented pasta doughs that use discarded sourdough starter – make Bread Book the most innovative and complete manual for baking with wild yeast cultures. More than 150 stylish step-by-step and recipe photographs illustrate the master recipes and the forty-five spin-offs.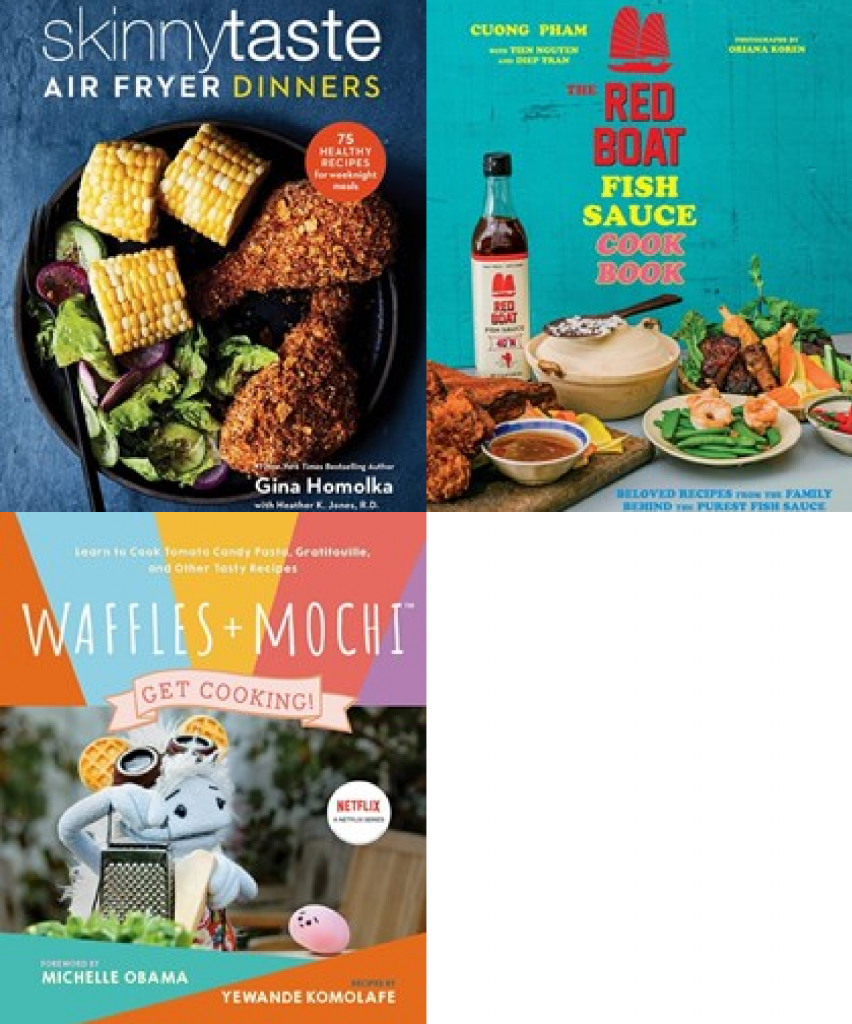 The Red Boat Fish Sauce Cookbook by Cuong Pham, Tien Nguyen and Diep Tran: Founder of Red Boat Fish Sauce, Pham missed the tastes of his childhood when he came to the US. What the grocery store had just wasn't it; and he set out to find what he and his family remembered so acutely. With this collection of 100 recipes, learn how to punch up flavor in Vietnamese classics but also in favorites like Chicken wings and Pork roast. With behind-the-scenes stories in every chapter spanning from breakfast, dinner, snacks, desserts, and holiday celebrations, this book encompasses a true American story and is the perfect guide to using this incredible pantry staple. Note: I have ordered directly from the Red Boat Fish Sauce site and am pleased with the prices, shipping and selection.
Waffles + Mochi: The Cookbook by Yewande Komolafe: Waffles + Mochi is a new children's show on Netflix from Higher Ground Productions, President Barack Obama and Michelle Obama's production company in partnership with Netflix. Join best friends Waffles and Mochi for global adventures that reveal the stories behind our food. Through an entertaining combination of puppetry, animation, celebrity chefs, and famous guest stars, Netflix's new show introduces young children and their families to a world of food, cooking, and fearless eating. In this cookbook for kids ages 3 to 7, Waffles and Mochi embark on their ultimate mission: dinner! Author and recipe developer Yewande Komolafe translates dishes featured on the show and other inspired meals into accessible recipes that families will love cooking together.
Skinnytaste Air Fryer Dinners: 75 Healthy Recipes for Easy Weeknight Meals by Gina Homolka and Heather K. Jones R.D. is a must-have collection of deceptively healthy dinners for the beloved air fryer appliance. Air fryers allow you to cook meals with less oil and little clean-up by using hot, well-circulated air to evenly cook and crisp up foods in record time. In this new book, Gina delivers 75 air fryer meals that are the perfect quick solution to weeknight meals, hearty dinners that are satisfying served as is or with just a simple salad or side.
Other books of interest:
---
Canada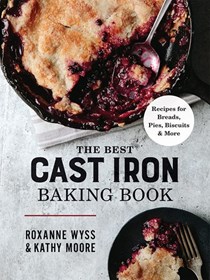 The Best Cast-Iron Baking Book: Recipes for Breads, Pies, Biscuits and More by Roxanne Wyss and Kathy Moore shares over 80 sweet and savory recipes. Everything in this book is cooked in a 10-inch skillet or Dutch oven. You'll find breads, biscuits, cobblers, pies, cakes, pizzas, brownies and much more. Cast-iron baking is easy – and this cookbook empowers home cooks to bake and use their cast iron confidently. Roxanne and Kathy also include tips for cooking with cast iron and information for how to care for, season and store these versatile products. It's time to make use of that trusty pan and get baking!
---
United Kingdom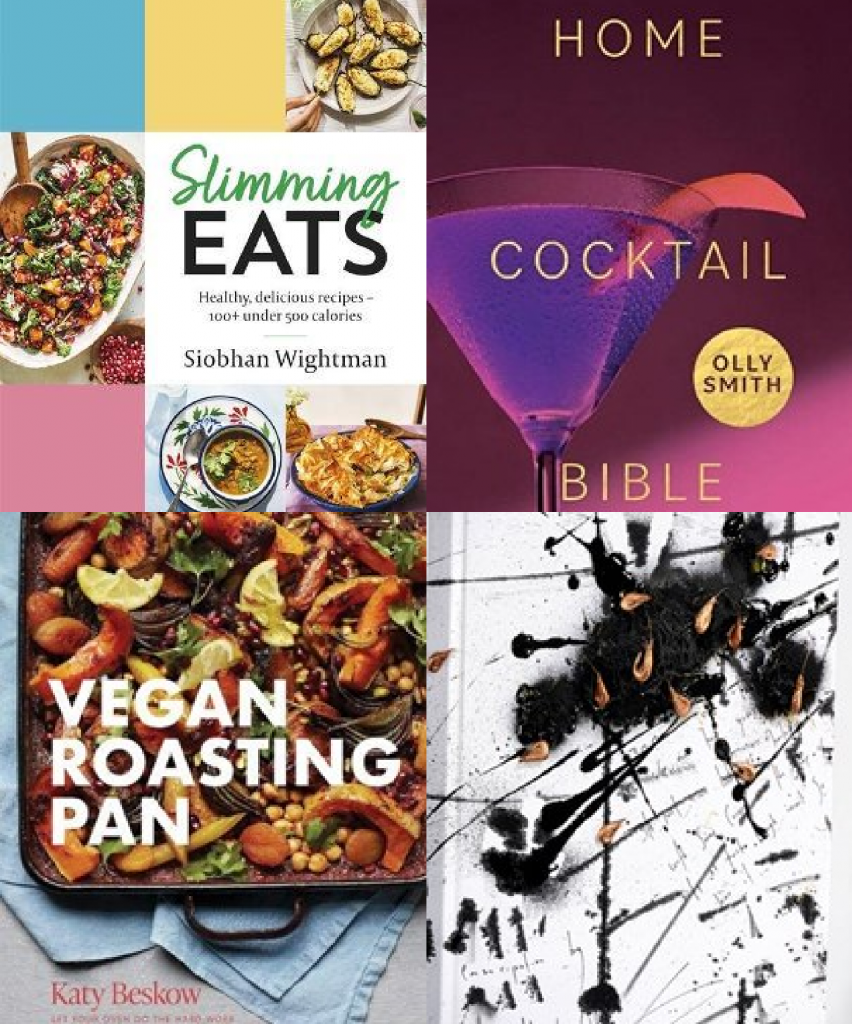 Slimming Eats by Siobhan Wightman: A simple and accessible cookbook featuring 100 brand new recipes from the beloved food blogger. A cookbook that shows that home cooking can be colorful, easy, and healthy. Siobhan shares the ethos with her readers that getting healthy is a lifetime change, not a short-term fix, and aims to show how with easy to follow, low calorie recipes inspired by her blog!
Home Cocktail Bible: Every Cocktail Recipe You'll Ever Need – Over 200 Classics and New Inventions by Olly Smith: With over 200 recipes this bible tells you everything you need to know – from the essential spirits, mixers, syrups and kit that will open up the world of cocktails, to every recipe you could possibly ever want. Illustrated with colour photography and useful flavour wheels throughout, and with clear instructions for the flawless cocktail, Home Cocktail Bible is an indispensable addition to your home bar. Time to take your taste buds into orbit!

Violations On Good Judgement by Michael O'Hare: This unique artbook from one of the UK's most exciting chefs is a true one-off. Standing at a colossal 47.5cm by 33cm and in a bespoke mailer box, it is the acme of luxury. Charting life at Michael's multi-award-winning restaurant, The Man Behind The Curtain, it details the creative process involved in creating his iconic venue. Michael's signature dishes feature in a beautifully produced, high-fashion book that celebrates the remarkable story of this unique chef.
Vegan Roasting Pan: Let Your Oven Do the Hard Work for You, With 70 Simple One-Pan Recipes by Katy Beskow offers 70 oven-to-table recipes that are cooked in just one pan – a roasting pan, baking sheet or muffin pan, plus a few select pieces of preparation equipment. From Sticky maple aubergine with crushed peanuts, Watermelon niçoise and Oven-fried nuggets, to Apple and ginger dahl, Low and slow rice pudding or a Blackberry and peach tart, whether you're a kitchen pro or a vegan beginner, it's time to let your oven do all of the hard work for you.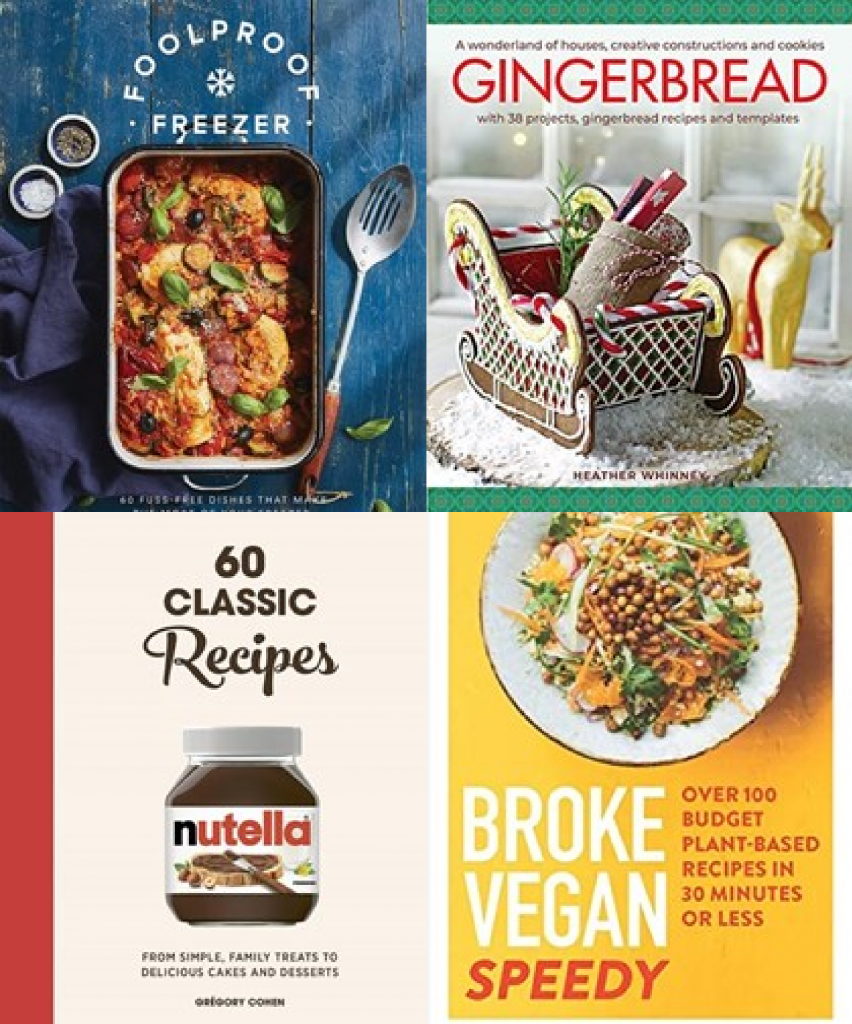 Foolproof Freezer: 60 Fuss-Free Meals that Make the Most of Your Freezer by Rebecca Woods: Discover 60 simple and affordable recipes, all with freezer staples at their heart. Organised by the most familiar frozen ingredients and with a few fresh additions, you'll find a useful collection of reliable recipes. Foolproof Freezer will be the go-to favourite for anyone looking for a reliable and tasty meal that is no fuss and easy on the pocket.

Gingerbread: A Wonderland of Houses, Creative Constructions and Cookies; with 38 Projects, Gingerbread Recipes and Templates by Heather Whinney: Everything gingerbread, from basic recipes to gorgeous constructions. Cut-out garlands, tree decorations and woodland tabletop scenes to log cabins, sweet-festooned cottages and elaborate winter chalets. There are ginger biscuits, bundts and seasonal cakes. All shown in clear photographic detail and with templates, this festive book is not just for Christmas.
Broke Vegan: Speedy: Over 100 Budget Plant-based Recipes in 30 Minutes or Less by Saskia Sidey: With over 100 quick and easy plant-based recipes using supermarket staples along with hints and tips for making vegan meals in no time at all, this title will have you cooking delicious dishes time after time that save money and save the planet.
Nutella: 60 Classic Recipes: From Simple, Family Treats to Delicious Cakes and Desserts by Gregory Cohen: Discover 60 recipes that encompass a delicious array of cakes, pastries and desserts made with the classic store cupboard ingredient. With techniques and recipes to suit every level of expertise, this book will appeal to everyone with a shared love of the World-famous spread.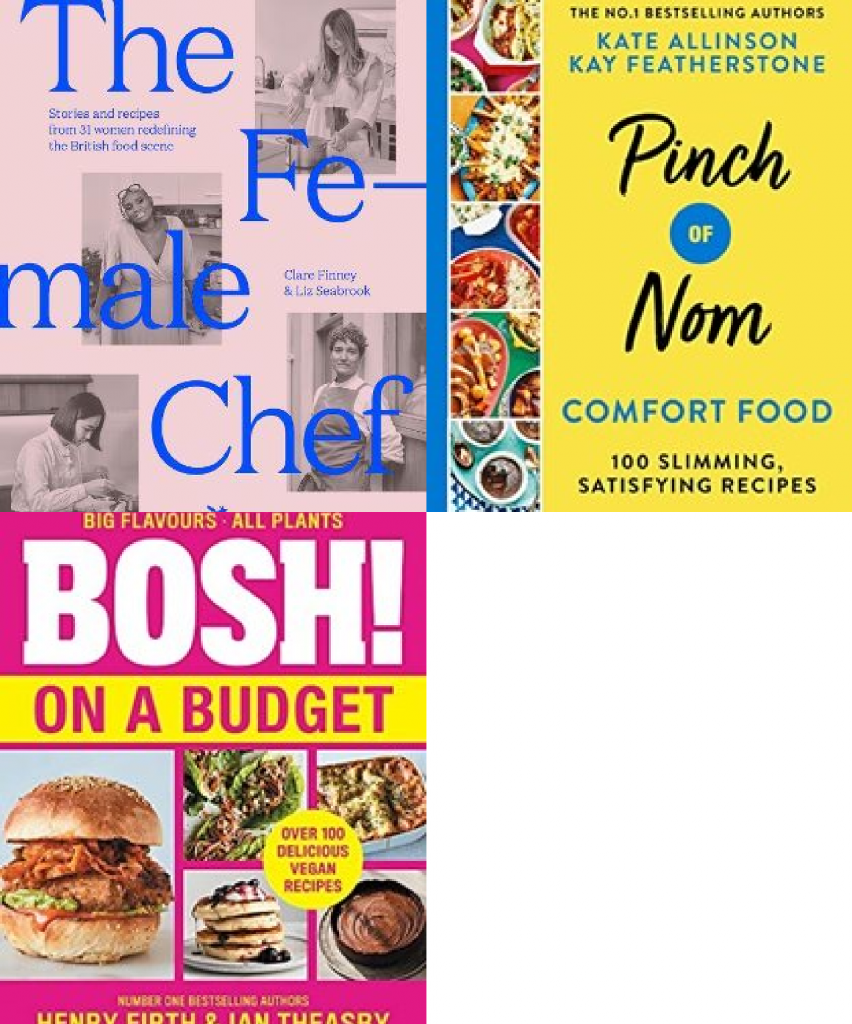 Pinch of Nom Comfort Food: 100 Slimming, Satisfying Recipes by Kay Featherstone and Kate Allinson: More than 100 hearty, easy and slimming recipes from the authors of the bestselling Pinch of Nom series. From satisfying savoury dishes to indulgent desserts, this new book is packed with slimming-friendly, delicious dishes that will keep you and your loved ones happy and healthy. From lazy weekend breakfasts to filling mains and warming puddings, this book is brimming with tasty meals that are easy to make. Many of the dishes have alternative cooking methods, so you can choose whether to cook in the oven, slow cooker or pressure cooker, depending on your schedule.
BOSH! on a Budget: Over 100 Delicious Vegan Recipes by Henry Firth and Ian Theasby: Number one Sunday Times bestselling authors Henry and Ian know how to make outrageously tasty, super satisfying food without breaking the bank. In BOSH! on a Budget, they share over 100 delicious recipes and prove that great tasting food doesn't have to cost the earth.
The Female Chef: Stories and Recipes from 31 Women Redefining the British Food Scene by Liz Seabrook: A glance at the current list of British Michelin-starred chefs will tell you the food scene's historic gender imbalance is far from solved. Women, though traditionally encouraged to cook at home, have long been much less championed in professional kitchens. And yet, within this challenging environment, many women are pioneering change – from nurturing all-female teams to shaking up the narrative of what it means to be a woman and a chef. This book celebrates those at the forefront of modern food, and the experiences that got them there, bringing together insightful interviews, original portraits and each chef's most memorable recipe. Includes over 30 recipes.
---
Australia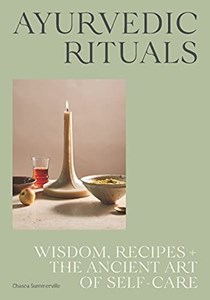 Ayurvedic Rituals: Wisdom, Recipes and the Ancient Art of Self-Care by Chasca Summerville introduces this ancient practice to us in a modern setting. Chasca teaches us how we can achieve optimal health and happiness by tuning into nature and living an Ayurvedic lifestyle: rising daily with the sun, eating a seasonal plant-based diet, using natural/toxin-free personal care products, nurturing our mind and body through meditation & movement, and accessing the apothecary that the plant kingdom offers in abundance.