This week: Linzer cookie recipes; Bookmarklet tips, giveaways and cookbook previews
December 17, 2021 by Jenny
Do you know about the Bookmarklet feature here at EYB? Whenever you see a recipe on a food website that you like the look of, you can add it to your Bookshelf using the EYB Bookmarklet.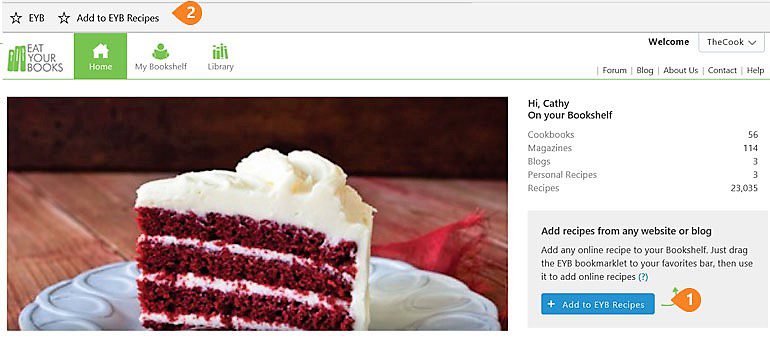 Go to your Home Page. Drag the Bookmarklet and drop it on to your favorites bar. To drag it you need to left click on the widget, hold the click down then move it to the bookmarks bar.
Depending on your browser type, it may look slightly different. If you cannot see the Bookmarklet on the Home page it may be that your screen size setting has excluded it. Try resetting the zoom to 100%. Whenever you see a recipe on a food website that you want to add to your Bookshelf, just click on the Bookmarklet and the EYB recipe index form will pop up. Make sure you are signed in to EYB before you do this.
For more instructions (how to install on an iPad, etc) and tips, see our Help section.
Make sure you add the appropriate ingredients to the form – some members are adding a single ingredient and/or a whole recipe collection. In order to avoid delays in Bookmarklet submissions, please refer to the indexing guidelines, so they'll be speedily approved for your holiday cooking.
One other note, please be aware that the EYB Library is for cookbooks and food/drink related titles only. Any other titles are filtered and not imported.
---
There are several accounts of where the Linzertorte originated including that a Viennese confectioner named Linzer or a Franconian pastry chef Johann Konrad Vogel (who started mass production of the cake in Linz around 1823) are responsible. However, in 2005 Waltraud Faißner, the library director of the Upper Austrian Landesmuseum, found a recipe in a 1653 manuscript of an Austrian countess, Anna Margarita Sagramosa, in the archive of Admont Abbey. This recipe was for a buttery almond crust (nuts were more readily available than wheat) filled with black currant preserves and topped with a latticework crust.
How did the Linzertorte transform into a cookie? In Linz, Austrian bakers would mix up a batch of Linzertorte dough, but instead of making a pie/tart, the bakers would cut out shapes such as stars, circles or hearts. Half of the shapes would get second cutouts in the center – Linzer eyes.
There are 165 recipes for Linzer tarts (online recipes) and 324 recipes for Linzer cookies (online recipes) in our EYB Library.
Just as with the spritz cookie*, there are many ways to switch up these beautiful cookies both in shapes and flavors. Try using different jams, fillings and experimenting with different flavored cookie dough. The basic cookie cutter set is reasonably priced and there are other options: Christmas shapes, snowflakes, stars, hearts and flowers or purchase a mini set of cutters and experiment with your own cookie cutter collection.
*Sur la Table has a fun cookie press on sale right now for $23.96 that I just purchased. With this press you can create two-toned cookies and the discs included creates stars, flowers, clovers, wreaths, checkerboards and S-shaped cookies.
The last week on the blog
Since our last roundup, Darcie has written these articles:
Darcie's weekly food news antipasto is shared every Sunday and the tag #foodnews brings up these information-packed posts from the most current to the first one. Darcie can be followed on Instagram at darcie_bakes.
Since our last roundup, I have posted the following:
Please be sure to check our Calendar for updated events. Our cookbook deals post is frequently updated and will include any special holiday deals as well so check that post often for new sales (the ICYMI post explains the post in detail). My Instagram is thecookbookjunkies.
Jenny and the EYB Team
---
Recently Indexed Titles
Our team of member and pro indexers are working hard indexing titles, both new and old. Below are just a few highlights including additional holiday titles! Recently indexed titles will always show up at the top of the EYB Library and your Bookshelf so you will always know which titles have just been indexed. Recent indexed magazines can be found here.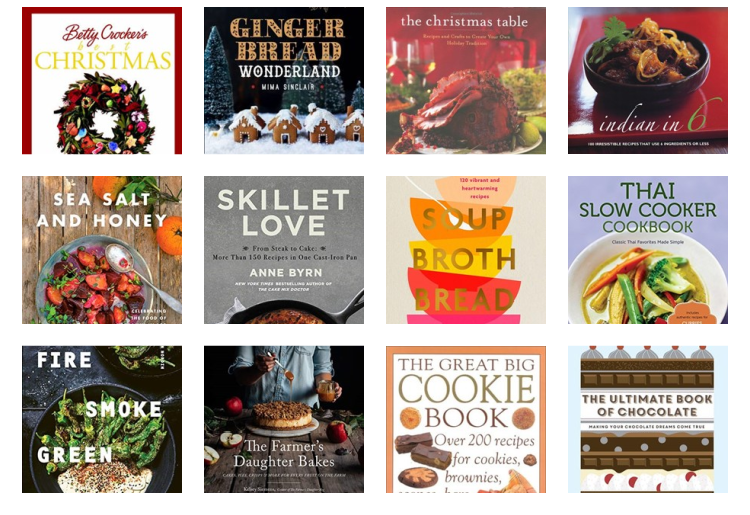 ---
Member Photo of the Week
Mexican roasted veggie bowl with beer beans from Love Real Food: More Than 100 Feel-Good Vegetarian Favorites to Delight the Senses and Nourish the Body (page 180) by Kathryne Taylor submitted by member hbakke
Have you uploaded any of your own photos yet? Learn more! Please remember to update your profile with your Instagram name if you would like to be tagged in any photos that we share!
---
Featured Online Recipe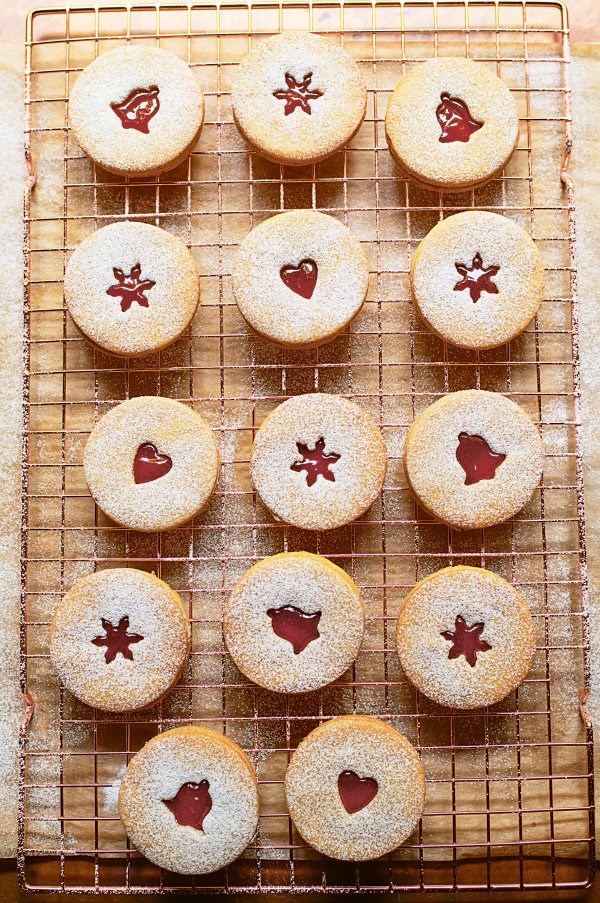 Linzer cookies from Nigella.com by Nigella Lawson
This recipe is also in Nigella's most recent cookbook Cook, Eat, Repeat: Ingredients, Recipes and Stories.
Be sure to add Nigella.com to your Bookshelf for over 800 of her blog recipes.
---
EYBDigital Previews
Recently we uploaded our 1,208th EYBDigital Preview where a selection of full sample pages is available for the following cookbooks.
Learn more about EYBDigital Previews.
Note: To learn why you cannot add all EYBDigital Preview recipes to your Bookshelf, please read this Help page.

---
Cookbook Giveaways
Click on the Blue Link Below to Enter
Enter our US giveaway to win one of three copies of Life Is What You Bake It: Recipes, Stories, and Inspiration to Bake Your Way to the Top by Vallery Lomas with one US winner also receiving an Ayesha Curry Kitchenware Pantryware Rolling Pin and Pie Board Set. Contest expires Dec 30th, 2021.
Enter our US giveaway to win a copy of Cooking at Home: Or, How I Learned to Stop Worrying About Recipes (And Love My Microwave) by David Chang and Priya Krishna and a Smithey wok. Contest expires Jan 10th, 2022.
The cookbook giveaway roundup shares all current giveaways including those open worldwide and to other regions.