One Tin Bakes Easy – Edd Kimber
December 14, 2021 by Jenny
Enter our giveaway to win a copy of One Tin Bakes Easy: Foolproof Cakes, Traybakes, Bars and Bites from Gluten-free to Vegan and Beyond by Edd Kimber. Three copies available in the US and one copy provided by Eat Your Books worldwide.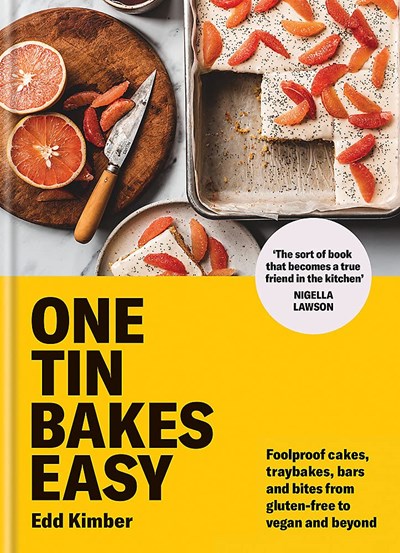 One Tin Bakes Easy: Foolproof Cakes, Traybakes, Bars and Bites from Gluten-free to Vegan and Beyond by Edd Kimber takes one tin and delivers 70 bakes. Whether you want cookies or cakes, pastries or desserts, something fruity, chocolatey or nutty, baking just got even easier.
Every bake can be made in the 23 x 33cm (9 x 13in) tin used in Edd's previous book, One Tin Bakes, but Edd will also offer guidance on baking in a 20 x 20cm (8 x 8in) square tin as well as a loaf tin, making these perfectly simple bakes for everyone to try, whatever equipment you have on hand and whoever you're baking for.
Baking books are my weakness, loving the complex titles as much as I love this type of book which delivers delicious offerings without exhaustive effort. There are times when I want a great dessert but just don't have the bandwidth to be a pastry chef. Recipes such as 60-second clementine cake, Gingerbread cake with fennel-roasted peaches or Chocolate mousse tart are ideal for holiday entertaining when we are all a bit stretched.
Edd's books are keepers and I'm pleased as punch that he has another title coming out next year: Small Batch Bakes.
---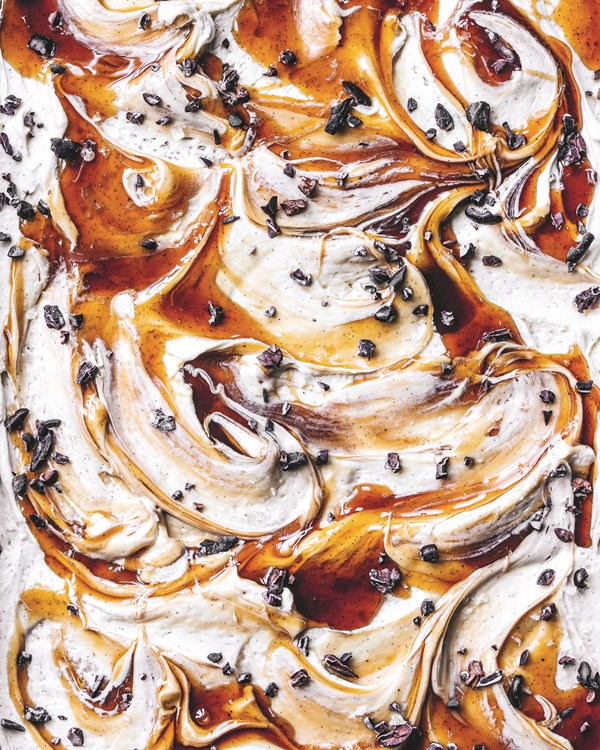 Brown sugar butterscotch cake
Add this recipe to your Bookshelf (click the blue +Bookshelf button)
Serves 12-15
Here is proof that brown food is best. This moist brown sugar sheet cake topped with a vanilla-rich buttercream and a super-simple butterscotch sauce is the sort of cake I want someone to make me for my birthday. The sauce is very easy to make, and provides more than you'll need for this cake, so store it in the refrigerator for another occasion. It keeps well but becomes thick and opaque, so rewarm it gently to make it usable again.
210ml (7½fl oz/¾ cup + 2 tablespoons) vegetable oil, plus extra for greasing
420g (15oz/3⅓ cups) cups plain (all-purpose) flour
345g (11¾oz/1½ cups + 1 tablespoon) light brown sugar
4 teaspoons baking powder
1 teaspoon salt
3 vegan eggs
350ml (12fl oz/1⅓ cups + 2 tablespoons) soya milk
Cacao nibs, for sprinkling
For the Butterscotch Sauce
120g (4¼oz/½ cup + 2 teaspoons) light brown sugar
80g (2¾oz/⅓ cup) vegan butter
1 teaspoon vanilla bean paste
½ teaspoon fine sea salt
120ml (4fl oz/½ cup) coconut cream
For the Vanilla Buttercream
170g (6oz/1½ sticks) vegan butter
350g (12oz/scant 3 cups) icing (powdered) sugar
2 teaspoons vanilla bean paste
¼ teaspoon fine sea salt
2 tablespoons non-dairy milk
For the butterscotch sauce, place the sugar, vegan butter, vanilla and salt in a medium saucepan and heat until the butter has melted and everything is bubbling. Heat for another 2–3 minutes, then pour in the coconut cream and heat for a further 2 minutes, until reduced to a slightly syrupy consistency. Pour into a jug and set aside to cool; it should have a pourable caramel consistency. The sauce can be refrigerated until needed, but might need to be warmed gently to make it pourable again.
Preheat the oven to 180ºC (160ºC Fan) 350ºF, Gas Mark 4. Lightly grease your 23 x 33cm (9 x 13in) baking tin and line with a strip of parchment paper that overhangs the long sides, securing it in place with metal clips.
For the cake, put the flour, sugar, baking powder and salt in a large bowl and whisk to combine. Add the vegan eggs, oil and soya milk and whisk to form a smooth batter. Pour the batter into the prepared tin and spread evenly.
Bake for 35–40 minutes, or until a skewer inserted in the middle of the cake comes out clean. Leave to cool in the tin for 20 minutes before using the parchment paper to lift the cake onto a wire rack to cool completely.
For the buttercream, put the vegan butter into a large bowl and beat with an electric mixer until light and creamy. Add the icing sugar a few spoonfuls at a time, beating well between each addition. Once all the sugar has been incorporated, add the vanilla and salt and beat on a high speed for about 5 minutes, or until light and fluffy. Add the non-dairy milk and beat to combine.
To assemble the cake, spread it with the buttercream, then drizzle over some butterscotch sauce, gently swirling it into the buttercream. Sprinkle over the cacao nibs.
If stored in a sealed container, this will keep for 2–3 days.
Recipe excerpted from One Tin Bakes Easy by Edd Kimber. Kyle Books, 2021.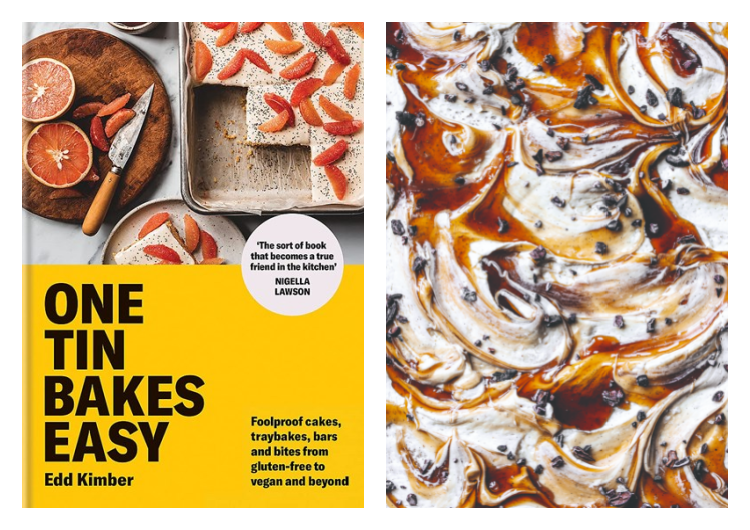 Special thanks to the publisher for providing three copies of this title in our promotion open to US members and one additional copy provided by EYB worldwide. Entry options include answering the following question in the comments section of this blog post.
Which recipe in the index would you like to try first?
Please note that you must be logged into the Rafflecopter contest before posting or your entry won't be counted. For more information on this process, please see our step-by-step help post. Once you log in and enter your member name you will be directed to the next entry option – the blog comment. After that, there are additional options that you can complete for more entries. Be sure to check your spam filters to receive our email notifications. Prizes can take up to 6 weeks to arrive from the publishers. If you are not already a Member, you can join at no cost. The contest ends at midnight on February 19, 2022.
a Rafflecopter giveaway