Whip it good
December 7, 2021 by Darcie
When a problem comes along / You must whip it
Before the cream sits out too long / You must whip it
When something's going wrong / You must whip it

Devo – Whip It (1980)
The lyrics from the post-punk band Devo always make me think of the cook's conundrum about the best way to whip cream to keep it from weeping. Freshly whipped cream (aka Chantilly cream when sweetened) is ephemeral, lasting only a few hours before turning into a sad, watery puddle. Making it à la minute is a pain, especially if you are entertaining and want to spend time with your guests. However, there are several ways you can extend the life of whipped cream, stabilizing it so you can make it ahead of time.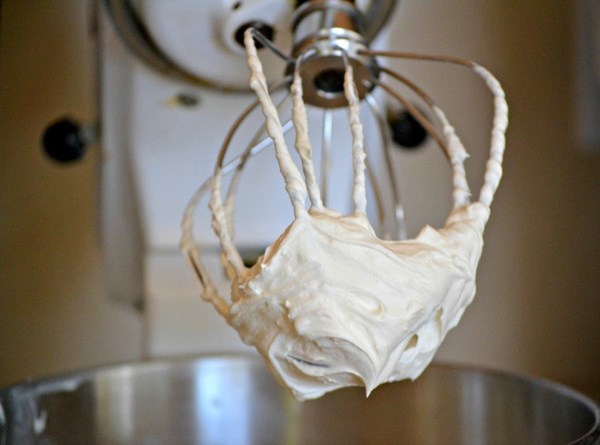 One way is to add a powder such as cornstarch or cocoa powder. Rose Levy Beranbaum adds a teaspoon of cornstarch to 1/4 cup of cream and 2 tablespoons of confectioner's sugar (powdered sugar). She brings this mixture to a boil and then lets it cool before adding it to fresh cream and whipping it all together.
Another trick is to use gelatin to set the cream. Beranbaum follows a similar procedure to the cornstarch method when adding powdered gelatin, but Shirley Corriher has a sneakier way to add gelatin. She uses an almost-melted marshmallow that she whisks into already-whipped cream.
An additional method is to use a more full-bodied dairy product to help keep the cream from weeping. Mascarpone, cream cheese, sour cream, or Greek yogurt are all candidates, and you can add as much as you want to achieve the flavor and texture you desire. Mascarpone is my favorite for the subtle tang it provides.