Quick Bites: Kat Lieu: Modern Asian Baking at Home
December 5, 2021 by Jenny
Kat Lieu's Modern Asian Baking at Home: Essential Sweet and Savory Recipes for Milk Bread, Mooncakes, Mochi, and More; Inspired by the Subtle Asian Baking Community is available for pre-order! The book is slated for a Jun 21, 2022 release day. If you preorder, save a screenshot or photo of your receipt – all preorders will be receiving 5 bonus recipes in an ebook, plus two additional recipes with bonus video. Kat is collecting preorder information here. And to support Kat I will have an Asian baking box of ingredients and tools that will go out to one US address that preorders – remember to register at the link above.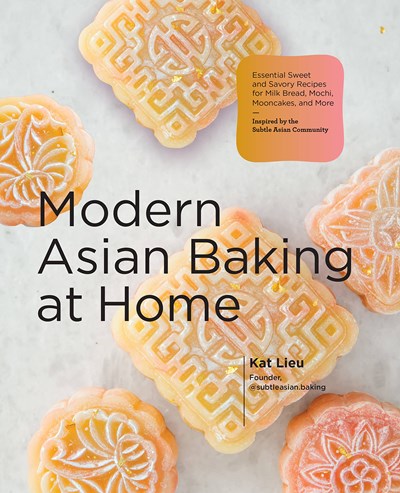 When I saw that this book was scheduled for release, I wrote Kat right away and I also notified my friend Monique at Hardcover Cook. Monique and I have the same level of love for Asian baking. I had the pleasure of reviewing an electronic galley of this book. It is vibrant, inspiring and filled with delicious approachable sweet and savory bakes. Just a few recipes that stood out include Mochi Pon de Ring Donuts, Dreamy Matcha Basque Cheesecake, Crème Brûlée Mille-Crêpes Cake and Korean Garlicky Cream Cheese Milk Bread Buns. Detailed instructions, tips, step-by-step photos and more are shared as well. We will be doing an EYBD Preview on this book as we do with all Quarto titles and I will be back to update this post with that peek inside.
Kat took time out of her busy schedule to tell our members about herself. Do yourself a favor preorder this book right now. I will be getting a review copy but I preordered it too! What is better than one copy of Modern Asian Baking – two copies!
---
Kat is the owner of the Facebook group, Subtle Asian Baking (140K) and back in December when it was at 67K, the group was featured in Eater.
Kat Lieu is a Doctor of Physical Therapy by day and an avid home baker by night. Originally from New York City, she now calls Washington state her home. Lieu is the founder of a popular online baking group called Subtle Asian Baking (SAB). She is known for the Japanese and Basque cheesecake recipes published on her blogs, Phil and Mama and Modern Asian Baking, and Instagram. 
Modern Asian Baking at Home is Kat's first cookbook. Prior to writing cookbooks, Kat self-published young adult rom-coms featuring Asian American heroines.
Q: What first triggered your interest in baking? Do you remember your first baking memory?
I baked my first cake when I was four years old, my birthday cake. That's entirely true if you consider cracking and dropping a few eggs as baking. Ok, I'll be frank; it was Ah Ma, my paternal grandmother, who baked the cake. To this day, I still remember the taste and texture of that cake, a strawberry cake with light fresh-snow-like cream; it was a cake just like the ones you can find in an Asian bakery in almost any Chinatown across the world. Her cake first triggered my interest in baking and, well, eating all the delicious freshly baked cakes in the world! I had big ambitions as a child.
My mother rarely baked. She used her oven as storage for all her pots and pans. Thus I treasured the childhood summers I spent with Ah Ma in Montreal. A little backstory. Throughout the 1930s, Ah Ma would visit the French-influenced restaurants and bakeshops of her family's tenants. There she learned how to bake the best choux pastry, mooncakes, soft bread, and cakes. I remember making so many things with Ah Ma. Sadly for me, Ah Ma has only passed down one of her written recipes, her delicious chiffon cake, and these days her memory is failing her.
Another defining memory was when I made scallion pancakes for the first time on my own while watching Chef Martin Yan make his scallion pancakes on national television. I believe this was in the early nineties. That was the first time I made a savory dough on my own, and I remembered how much my little sister loved the scallion pancakes I made.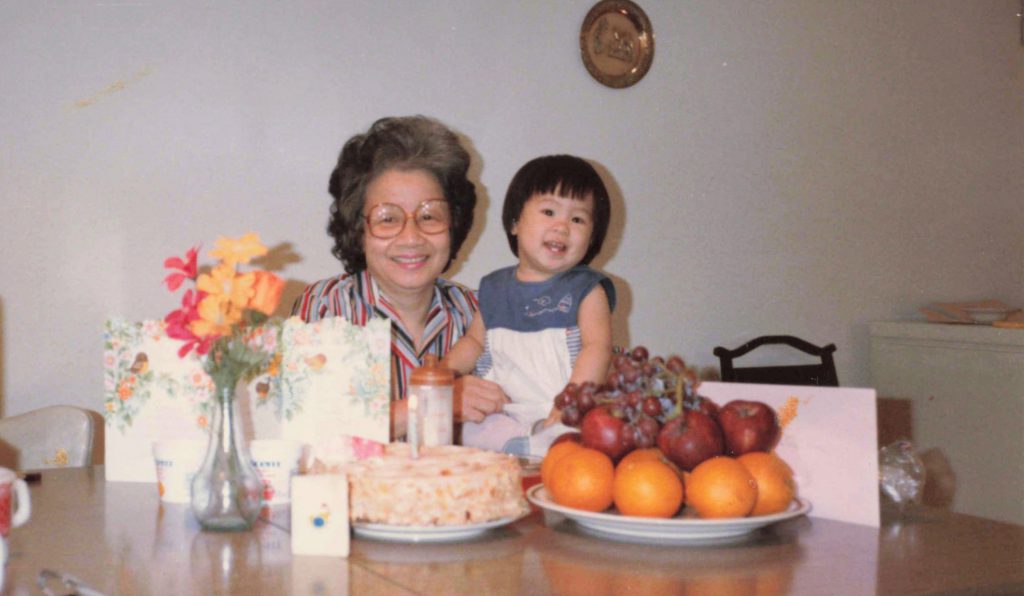 Q: If you had to describe your baking style, what would it be?
You could call me an experimental baker and synthesizer. I always like to add to or change up recipes. If a cookie recipe calls for a pinch of salt, I'll put in at least a teaspoon of miso instead to add a subtle pop of umami. I love spicing chocolatey desserts with gochujang (or even sriracha!).
I'm obsessed with sweets that are not too sweet. If a recipe calls for a cup of sugar, I always use a third of a cup or less. Like many East Asians, I would argue sweetness should not be the dominant flavor of a dessert. Growing up I enjoyed desserts starring transformative ingredients from East and Southeast Asia, like matcha, durian, lychee, and ube. As an adult, I see the beauty and power of these ingredients, so I always try to use Asian ingredients whenever I can.
Q: Are you a cookbook collector? If so, tell us about your collection – number of books, favorite genre, favorite author? What you look for in a cookbook. (If possible, can you share a photo of your collection?)
Yes! I've built quite a collection ever since I moved from my 500 square-foot condominium in Brooklyn to my first house in the Seattle suburbs. So far, I've collected over 20 cookbooks. If I weren't practicing the KonMari method so religiously, I'd probably have hundreds of cookbooks by now. While I love my Kindle, holding a physical cookbook in your hands while cooking or baking hits differently.
Although my favorite genre is Asian cooking and baking, my favorite cookbook author is Michael Ruhlman (Ratio). Any home chef or baker can benefit from Michael's wisdom and tested ingredient ratios, like secret formulas to successful bakes every time.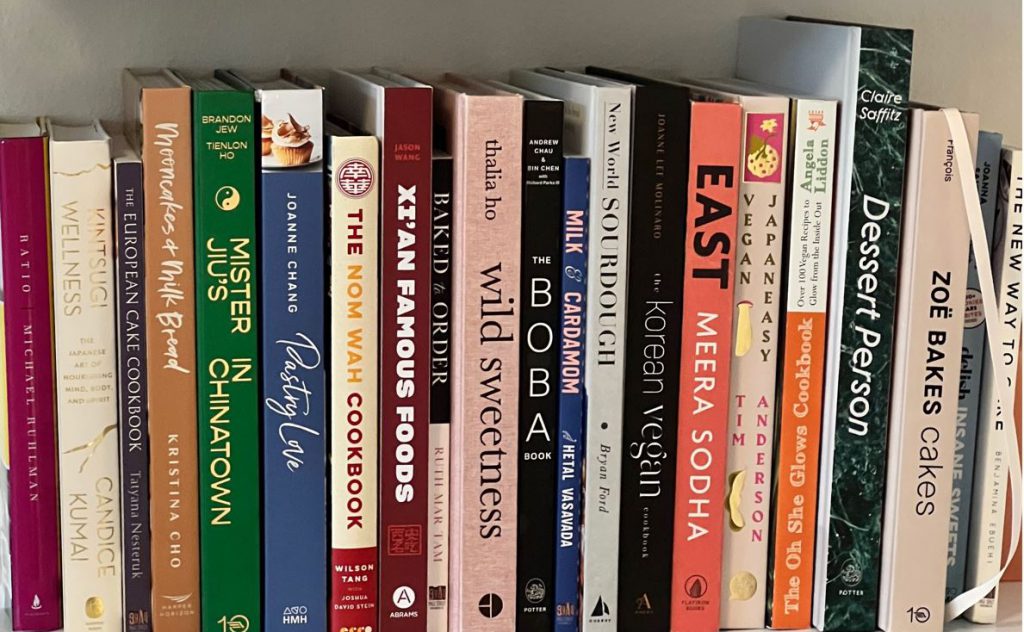 Q: What is the best part of your job? Do you sometimes feel like working with food all day keeps you from wanting to get creative in the kitchen?
Presently, I have a great boss (myself!), so I think that's one of the best parts of my job. I get to work in my pajamas and never have to wear a bra at work again! My coworker is my adorable Shih-poo, named Panda, who stalks me from morning to night. Being a recipe developer and food developer keeps my tastebuds super happy (my hips and waistline, not so much!). I feel I've grown to appreciate food more, and I'm eating with much more joy and intention as I've grown older. I love food. Whenever my family and I go on trips, we prioritize eating. We'd rather visit a local food court or hop from underground station to station to sample different food than go sightseeing in Tokyo. (And that's what we did during our past Japan trips!)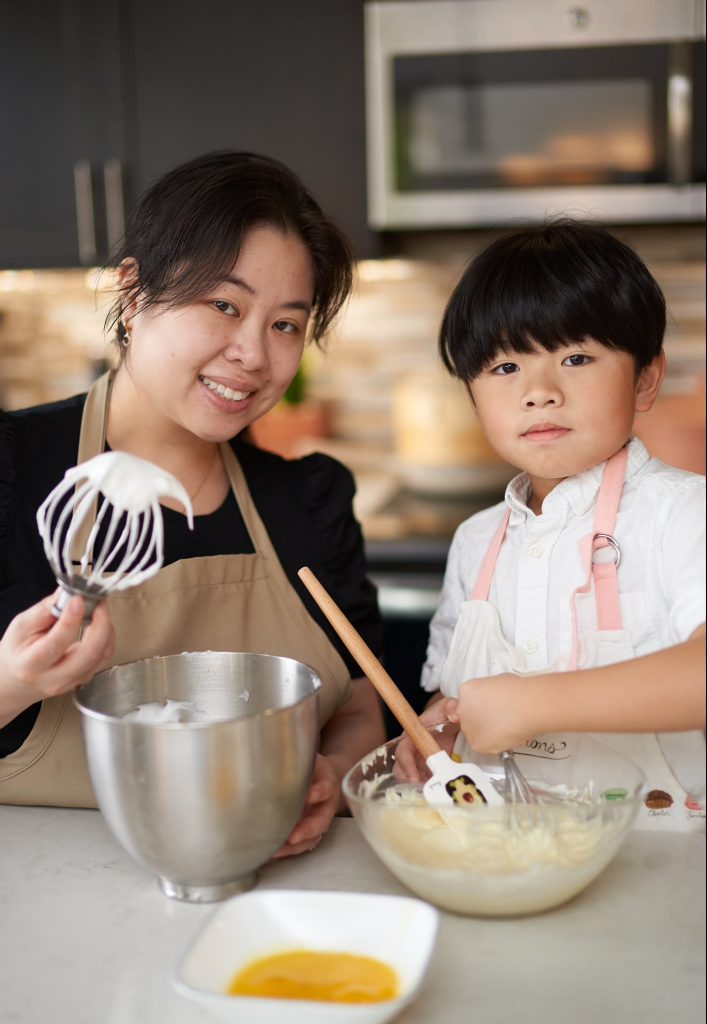 Maybe I'm a little competitive and often experience FOMO – Fear of Missing Out – I'm always thinking of new things to create and bake. For example, in early November when Taylor Swift released her latest album, Red (Taylor's Version), I quickly whipped up a batch of loaded red velvet miso cookies in celebration. When I saw my friend Lisa Kitahara make chigiri pan (Japanese no-knead "chopped bread") bubble bread on Instagram, I immediately developed a pumpkin spice version just in time for people to make for Thanksgiving.
Q: What is your go to for a quick dinner – quick dessert?
For dinner, very easy and my eight-year-old loves this—I mix either soy sauce or miso with honey and mirin and use the mixture to marinate salmon for a few minutes before baking for about 16 minutes. Toss on sesame seeds and freshly minced scallions, and you'll have a great dish to go with rice. You can also wrap the salmon with seaweed and eat it that way. We love our veggies, so I'd dice up some garlic, throw them into boiling broth, add some sesame or olive oil, and a cup or two of pea shoots. Pea shoots cook very quickly, so give it a good stir, remove from the broth when it's a rich deeper green, and serve with some XO sauce.
As for a quick dessert, I love the Affogato my husband makes. It takes him time to make it, but very little time for me to gulp it down. Also, it depends on the season and my mood. When it's colder, I crave warm desserts like a bowl of black sesame soup, some freshly boiled tang yuan with ginger soup, or a mooncake warmed in the microwave. A nice hot cup of chocolate mixed with miso and red wine would do too. When it's warmer, I love my homemade durian ice cream. Durian, often called the king of fruits, is ambrosial and addictively fragrant to me. To others, like my husband, it can be pungent and repulsive. He runs away whenever I eat durian.
And for any mood or occasion, I can always have a slice (or two) of Japanese cheesecake! I prefer aged and chilled Japanese cheesecakes, but if you've never tried a Japanese cheesecake, you must have it when it's fresh out of the oven. That's when it's the fluffiest, softest, and jiggliest!
Q: Tell us about your cookbooks or any future projects you are working on?
I've recently authored my first cookbook, Modern Asian Baking at Home. It's the perfect cookbook for anyone nostalgic for modern and traditional Asian desserts as well as for hobbyist and avid home bakers interested in using vibrant ingredients like pandan, ube, and black sesame to expand their repertories. It features 68 must-have recipes and heartwarming stories, many of them inspired by Subtle Asian Baking members.
On the side, there's a secret project I'm working on that I'm super excited about. And whenever I'm not marketing or promoting Modern Asian Baking at Home, I'm working on a new cookbook proposal and outline to show my publisher. I also carve time out of my day to update my website with new Asian baking recipes, to build my group's Instagram page, and to moderate my large baking group on Facebook.
Q: Tell us a few tips for Asian baking that a normal baker might not know.
Most of the time, not a lot frosting or fondant is used in Asian baking. With some cakes, you may use a lot more eggs than flour, as the eggs will act as the leavening agent to make airy and soft chiffon cakes. To make the beloved and soft milk bread of Asia, we'll use milk instead of water and more fats in the dough, like butter.
And people may be surprised with how many things you can make in the microwave. You can make mochi, boba, and mango sticky rice. You can also use a rice cooker to "bake" all kinds of cakes. And steam can be baker's best friend! During Lunar New Year, my family and I "bake" many cakes like nian gao and fa gao using steam.
Q: What is the first recipe a baker should try if they are new to Asian baking?
This is a hard one. Maybe start with making anything mochi, using glutinous rice flour and/or tapioca starch. Mochi has an addictive and chewy mouthfeel. Just imagine how al dente boba feels in your mouth. This texture is called QQ, a darling texture and mouthfeel of Taiwan. So, I guess something that's quick and easy to prepare (but be warned, it takes a long time to bake in the oven) is butter mochi, a popular Hawaiian cake that melds the cultures of Hawaii and Japan. Butter mochi is perfect as a big-batch dessert or potluck dish. Because I can't stop eating butter mochi once I start, I don't make it very often even though I crave it all the time!
Be sure to follow Kat on her social media platforms and the SAB group will be a great source of reference once her book is out as well as for any Asian baking!
Seen anything interesting?
Let us know
& we'll share it!