Best recipes of 2021
December 2, 2021 by Darcie
In a second year of lots of folks doing more home cooking than ever before, finding new recipes to break out of the cooking doldrums was essential. Judging by the end of year "best recipe" lists on my social media feed, people the world over have been busy experimenting with new flavors and ingredients, and I'd like to share these lists with you because who doesn't love lists?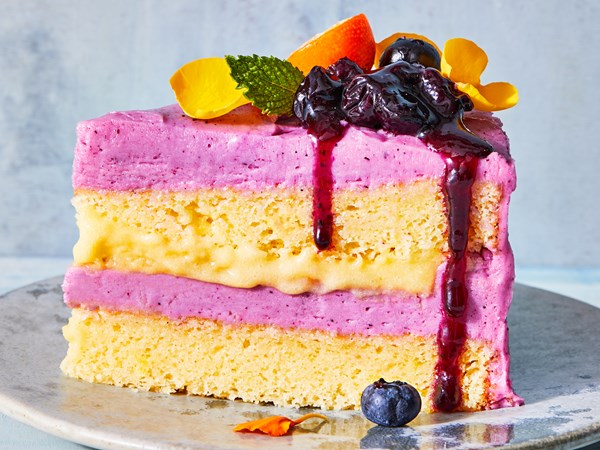 Food and Wine leads us off with its 31 most popular recipes of 2021. These recipes range from a gorgeous cocktail to Auntie Georgia's Korean fried chicken with soy sauce (Dakgangjeong) to a stunning Lemon chiffon cake with blueberry-coriander buttercream (pictured above) that will haunt me until my kitchen is back together and I can finally make it. BuzzFeed's Hannah Loewentheil shares the 16 best recipes she has tried this year. Her recipes are sourced from many different websites and include sheet pan bibimbap, pasta all'Amatriciana, and air fryer apple fritters.
Taste of Home Magazine, not to be outdone, offers two different lists: their best air fryer recipes of 2021 and their best Instant Pot recipes of the year. They have 50 recipes for each category, and when you combine that with Epicurious' 103 (!) best soup recipes of 2021, that should be enough to keep you busy for another year of cooking.
If you are looking ahead to Christmas dinner instead of another entire year, The Guardian has you covered with its 20 best Christmas recipes, featuring everything from canapés to the ultimate turkey and roast potatoes to a celebratory vegetarian pie to steam ginger pudding and custard. Finally, the Minneapolis Star Tribune has announced the winners of its annual cookie contest, making these the best cookies of 2021. I am intrigued by the tiramisu twists.
In our house, the top new recipes for 2021 are:
What recipes wowed you this year?