IACP Cookbook Awards 2021 winners
October 24, 2021 by Darcie
We are foregoing our usual antipasto post to bring you cookbook awards! In a ceremony last evening, the IACP announced the winners of its 2021 Cookbook Awards. America's Test Kitchen had a very good evening, with three of their books claiming top honors: Meat Illustrated: A Foolproof Guide to Understanding and Cooking with Cuts of All Kinds in the General category, The Complete Plant-Based Cookbook: 500 Inspired, Flexible Recipes for Eating Well Without Meat in Health and Special Diet, and Foolproof Fish: Modern Recipes for Everyone, Everywhere in the Single Subject category. Congrats to the hardworking team at ATK.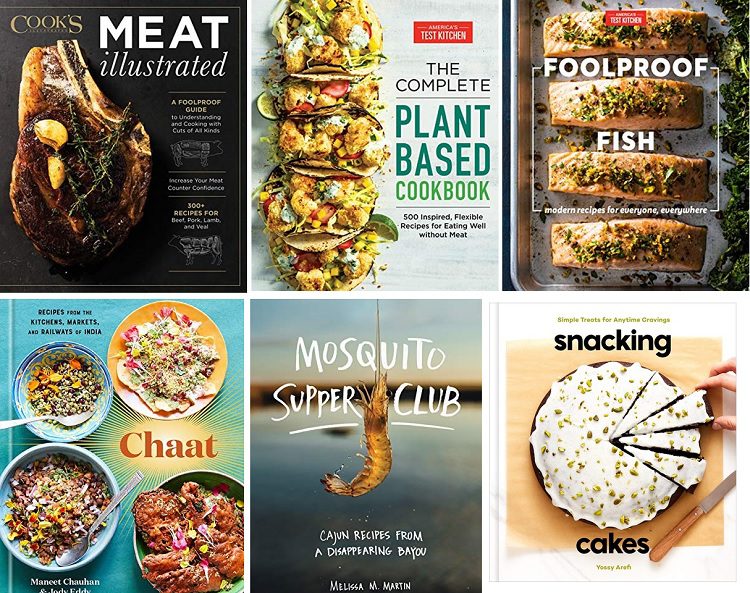 Mosquito Supper Club: Cajun Recipes from a Disappearing Bayou by Melissa M. Martin was another big winner, taking home the prizes of best American cookbook and Cookbook of the Year. Kiin: Recipes and Stories from Northern Thailand by Nuit Regular won the International category amongst stiff competition.
I felt a bit sad about two excellent tomes that were nominated in multiple categories but walked away empty handed: Beyond the North Wind by Darra Goldstein and In Bibi's Kitchen by Hawa Hassan and Julia Turshen. These are both great books, although I agree that Chaat: Recipes from the Kitchens, Markets, and Railways of India by Maneet Chauhan and Jody Eddy deserved the top spot in the Culinary Travel category. Chaat definitely makes my best books of 2021 list.
Additional highlights include Jikoni: Proudly Inauthentic Recipes from an Immigrant Kitchen by Ravinder Bhogal winning in Chefs and Restaurants and Snacking Cakes: Simple Treats for Anytime Cravings by Yossy Arefi (another of my favorites this year) taking top honors in the Baking category. Claire Saffitz received the Julia Child First Book Award for Dessert Person: Recipes and Guidance for Baking with Confidence.
Grace Young was awarded the Lifetime Achievement Award.
You can see all of the winners and nominees for 2021, as well as the winners of the Culinary Classics awards, on our IACP Nominees and Winners 2021 page.