The Great British Bake Off / Baking Show Recap – Episode 1 – Cake Week
September 26, 2021 by Jenny
"Don't bake my tart, my flaky pastry tart."
This year Darcie and I are going to give our personal recaps on each episode of GBBO. Below each challenge – I have linked to online recipes on the GBBO site. I have printed out the mini roll cake recipe to make for guests on Tuesday and will come back and post a picture of my "Nailed It" creation. See the Meet the Bakers' post (links to GBBO related cookbooks and more) and What's your favorite GBBO recipe?.
Let's begin.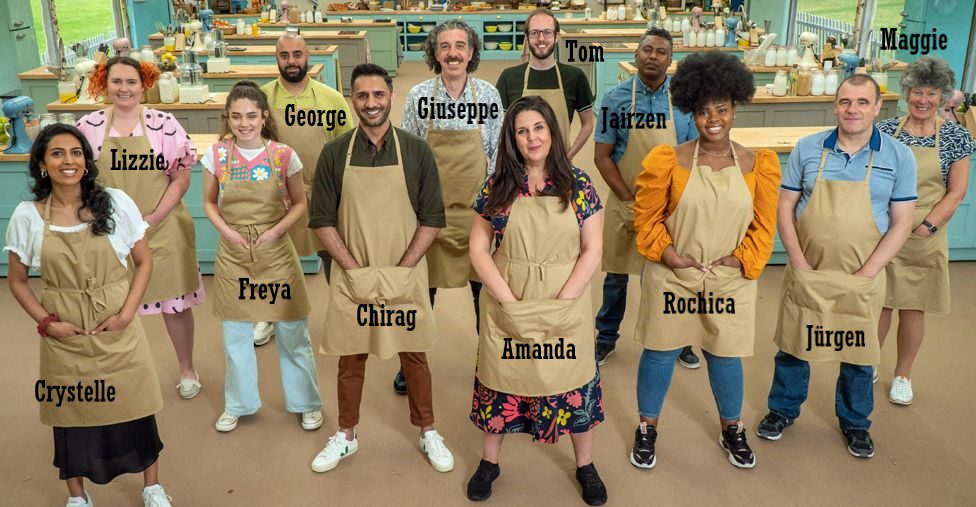 Darcie: The season introduction bit involved fake instrument playing, mullets, and a take on a Billy Ray Cyrus song. I hope to never, ever, have to see that again. But I am oh so glad that the GBBO is back. While I still miss Mel and Sue, I have warmed up to Noel and Matt.
Jenny: I have my notes written after watching "Cake Week" twice. I am a glutton for punishment for I watched the season intro twice. Perhaps I just had to make sure it wasn't all just a bad dream. If Billy Ray Cyrus was dead – he'd be rolling over in his grave. I thought Noel and Prue looked cute with the mullets but Paul – looked too much like Billy Ray. My eyes, my eyes. The judges wore an explosion of colorful outfits all but Paul who wore his standard black shirt, tight jeans and stoic expression. Update: The tragedy in all of this is that all Sunday morning I've been singing "don't bake my tart, my flaky pastry tart". Someone stop me.
About last night… #GBBO pic.twitter.com/GulcsAdnJM

— British Bake Off (@BritishBakeOff) September 22, 2021
Signature bake: Two hours to create a dozen decorative mini rolls.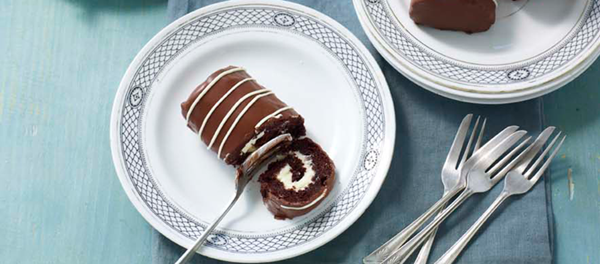 Recipes:
Darcie: Right off the bat, we can see that overall the contestants have better baking chops than in the early years of the program. But along with the rise in contestants, the challenges have become more difficult, and as we see in the showstopper, they are downright diabolical. Giuseppe quickly emerged as a frontrunner with his technical abilities. I think my hands would have been shaking along with other contestants who couldn't "roll" with the stress, like Lizzie, Amanda, and George. I was impressed with Freya's vegan cakes and Crystelle's chai mini rolls. We heard Prue utter the phrase "I like the booze" – a classic Prueism.
Jenny: After watching the intro twice, I, too, like the booze. George won my heart with his first words "I feel sick. Why did I apply? What's wrong with me?" I thought most of the mini rolls looked great and those that didn't appeal to the eyes, sounded delicious. I laughed when Jane texted me Friday night stating how much she loved this group and that Freya was funny. I have to agree. On the first watch, Freya has such a quiet demeanor I hadn't noticed her humor. Freya's made me laugh when she said: "I eat cake off the floor. So maybe I'm not the best judge." It is a great group this year – so far love them all.
Jane: I really like this crew. As Jenny mentioned I found Freya very funny though I may need to do some translating for US members. E.g. when she was talking to Prue about how long it takes to whip aquafaba and said it was a lot of "faffing". That means fussing.
---
Technical: 2 hours to complete a classic malt loaf. Yes, malt loaf.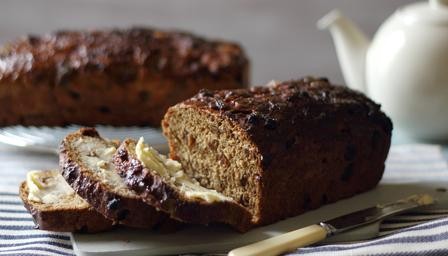 Recipes:
Darcie: Prue said that no one under 35 would probably even know what a malt loaf was, and that seemed to be the case. So it was no surprise that Maggie emerged in first place, but the second place contender was the youngest, Freya. The joke that Maggie is the same as Prue because she is older and has a somewhat similar hairstyle fell flat to me, nonetheless it persisted throughout the show. After the technical, it looked like Amanda, was in the top running for being eliminated.
Jenny: What Darcie said, but I will add: Prue is 81. Maggie is 70. Prue seemed to be angry that Paul kept on with the look-alike joke. Prue, you have also grown on me, but get a grip. Paul, please continue your career in baking and forget the lip sync battles (just say no!) and you don't have the makeup for comedy. The worst of the malt loaves were created by Amanda and Chigs. Amanda has declared she is never going to bake with flour again. Top three went to George, Freya and Maggie (first). Yes, it appears that Amanda may be voted "off the tent" (throwing in a little Survivor humor there).
---
Jürgen's 'Night Time Reading' Anti-Gravity Showstopper Cake. #GBBO pic.twitter.com/42rFL35omD— British Bake Off (@BritishBakeOff) September 21, 2021
Showstopper: An anti-gravity defying cake. I think they had 4 hours but if I go back and watch it a third time – I will need someone to fast forward through the intro.
Darcie: This is where the diabolical aspect I mentioned above was introduced. Week one and already they have to produce a gravity-defying cake? I noticed that by this time, a few of the contestants (including Crystelle) were wearing the blue glove of pain from various cuts or burns. As someone who generously contributes to the profits of Band-Aid and Neosporin, I can relate. My heart went out to Jairzen who struggled from the start. Halfway into the challenge, it looked like Rohica was also facing disaster but she pulled herself back from the edge.
Engineer Giuseppe nailed the technical portion of the brief but his sponge was a tad dry according to Paul and Prue. It looked like Tom didn't even read the brief because his cake didn't even get angry with gravity, much less defy it. Chigs, who only began baking during lockdown, had an epic fail when his mug-shaped cake split and fell off its support. This challenge made me warm up to Jürgen, not only because his accent sounds a lot like my grandfather's, but also due to his unflappable character and genial attitude. I felt sorry that no one answered the phone when he called his family to tell them he was named star baker.
Jenny: Heavens to Murgatroyd, can we just make a gorgeous cake – just once. I love how the bakers all rally for each other. Star baker went to Jürgen and Tom left the tent because as Darcie said it best "his cake didn't even get angry with gravity".
Recipes:
We will see you next week. Share your thoughts on this week's episode in the comments.