September 2021 EYB Cookbook Club Summary
September 23, 2021 by Jenny
Each month we offer at least four cooking options in our Eat Your Books Cookbook Club. This month we have been cooking from:
For past EYB Cookbook Club summaries, #EYBCookbookClub will pull up an archive of our club's activities. Please note our announcement document shared in the club shares all our options (including those in the past). You will find our 2021 year-long options and October through December titles can be found at the bottom of this post. Please note the delay on publication of Milk Street Vegetables in November – so we'll cover that one as well in December. As this is a very busy time, we have picked popular books to finish off the year. We will poll again in early December for 2022 cookbook choices.
An EYB member recently asked what options were available for those not on Facebook. Please post your photos here on EYB as I always check the book's member images and try to include those as well. We want everyone to participate.
We have also started a Great Big Cookbook Club Roundup to share what is going on in other clubs. The link above will bring up those posts.
---
From Cook This Book:
Hot 'n' crispy chicken cutlets with kimchi ranch submitted by member Nkrieda78
---
Poached chicken over brothy rice with cilantro scallion sauce (a.k.a. I love you, Nong's) submitted by member RachaelHeath09
---
Coconut shrimp with crushed chickpeas & basil submitted by member ehadi
---
From Jew-ish:
Sour cherry rice pudding submitted by member Kristjudy
---
Spinach-artichoke kugel submitted by member Samallyn6
---
From Donna Hay: Modern Baking
Maple and cinnamon roasted pears submitted by member raybun
---
Blackberry and elderflower pie submitted by darcie_b
---
From In Praise of Veg:
One-pan roasted garlic hummus plate submitted by member Ganga108
---
From A Good Bake:
Johnny Cash's mother's pineapple rum chess pie submitted by member Astrid5555
---
Please see the group for more photos!
---
October 2021

---
November 2021

---
December 2021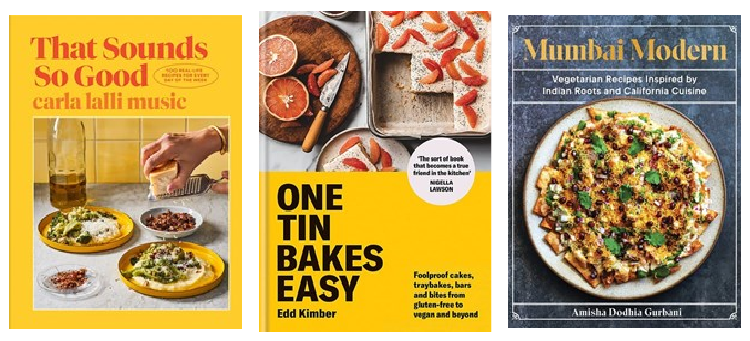 Our year long options for 2021 are: