Harumio – Korean Egg Pan and My Korea Cookbook Giveaway
September 15, 2021 by Jenny
Enter our worldwide giveaway to win a copy of My Korea: Traditional Flavors, Modern Recipes by Hooni Kim and a Neoflam – FIKA 15cm Induction Egg Pan from my friends at Harumio. EYB members can use EATYOURBOOKS at Harumio at checkout for 10 percent off.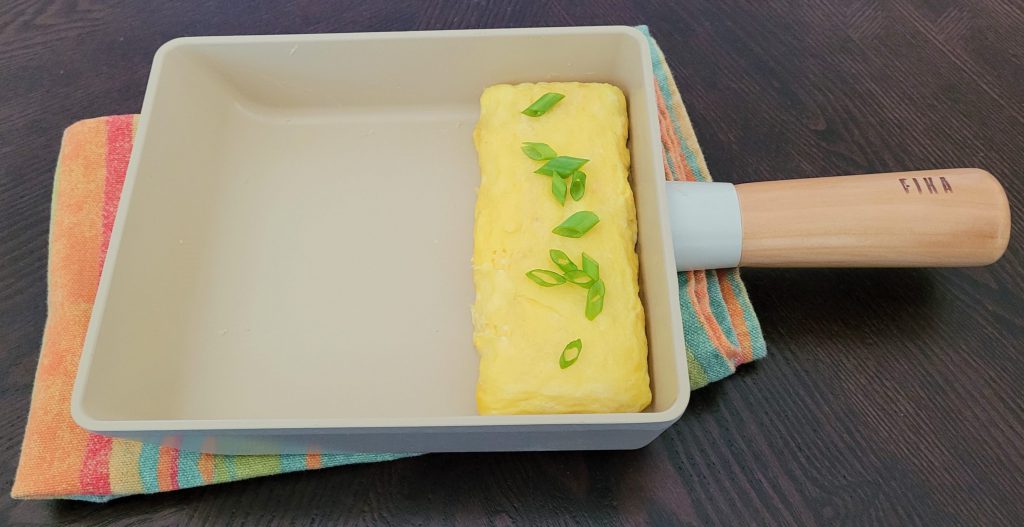 Some of you will recall from previous posts and roundups, that I watch cooking videos to wind down. Not just any cooking videos, but specifically Japanese and Korean vloggers. As I began to write this paragraph, I just realized why I enjoy these videos so much: they are relaxing. There often is soft music in the background (and subtitles) as the vloggers go about their day providing a glimpse into their lives as well as a peek inside their kitchens while they prepare their meals.
Those vloggers who do narrate their actions speak in a low calming voice and even though it is Japanese or Korean – I find myself totally engrossed. Life is chaotic lately, more so, than ever. Watching these videos is therapeutic, resulting in the tensions of the day being swept away. I will share a few of my favorite vloggers here: planD (South Korea) and Nami (Japan) and Kimono Mom (Japan). Moe of Kimono Mom cooks with her toddler, Sutan and they make me smile. There are others I watch but these are my top three. Why am I telling you about these vloggers? To explain how I found myself at the Harumio website.
I am a kitchen addict and when I see a pan or product that catches my eye or when I embrace a cuisine, I want to investigate where I can buy those products and order hard to find ingredients (at least hard to find here in the suburbs of Denver). Looking for Korean cookware and ingredients on the internet, landed me at Harumio. After spending an hour or five on their site, I wrote to the company and asked about doing a promotion on the Fika egg pan shown above and Harumio said yes! Note: The rolled omelette (egg roll or tamagoyaki) pictured is only my second attempt at making one and it turned out nice. The first one was unreasonable to look at, but tasted fine.
Harumio sent me the Fika egg pan which helps make wonderful tamagoyaki, a type of Japanese omelette, made by rolling together several layers of fried egg. Tamagoyaki literally means "grilled egg". This video demonstrates the technique. We have 43 recipes in our EYB Library for tamagoyaki both sweet and savory versions.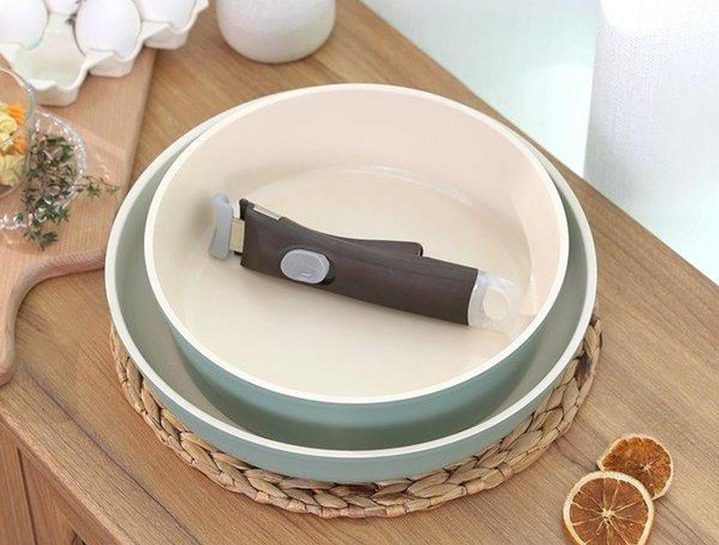 Harumio also sent me the Neoflam – Midas Detachable Handle Cookware Set. I have been wanting to try cookware with the detachable handle option for a while now. Not only do I love the pale blueish green color of this set, it makes a huge difference in terms of storage space and stovetop room.
Last Sunday, I made an entire meal on the stove top using this set. Changing the handle between pots was a breeze and cleaning these pieces were so easy. I was always a skeptic about the non-stick factor of these types of pans – but no more. I made Korean beef bulgogi and seared the beef in the pan in lieu of grilling and it was tender and nicely caramelized. The pan was a sticky mess after cooking but five minutes in warm water and it cleaned up like new. I also supplemented our meal (bulgogi, rice, rolled egg omelette) with the orange chicken from Trader Joe's because I have two men to feed here. If any of you have ever pan fried the TJ's orange chicken – you know what a mess that can be. Again, five minutes in warm water and the pan was spotless.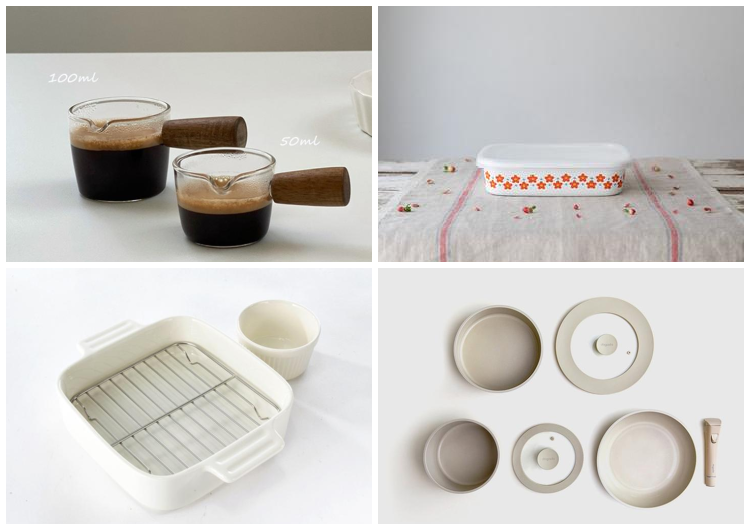 I have a long list of items from Harumio that are on my wish list including: the Wood Handle Shot Glass, the Korean Cutlet and Sauce Bowl Set (I need a few of those); the Modern House flat enamel storage set; almost anything from the August8th brand; and this organic cookware set. I have not had time to look at all the categories of products Harumio has to offer: Korean and Japanese books and magazines, K-Pop, K-Beauty and K-Fashion sections, and then there is the food section! Shipping is free worldwide and everything is so well packed and of incredible quality. Remember EYB members can use EATYOURBOOKS at checkout for 10 percent off their total.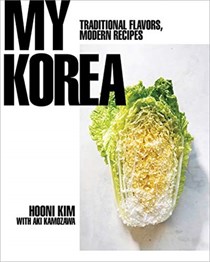 Harumio provided me with an additional Fika egg pan for this giveaway which I am pairing with a copy of My Korea: Traditional Flavors, Modern Recipes by Hooni Kim which I purchased for the giveaway. When I bought a copy for myself back in April of 2020, I fell in love with this title. Hooni is a Michelin-star chef known for defining Korean food in America. There are four recipes on line via the Epicurious site for you to try now.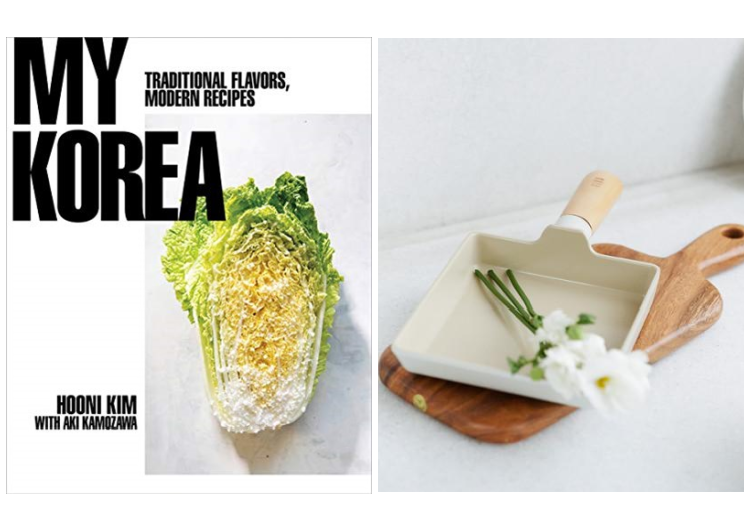 Special thanks to Harumio for providing me with the cookware mentioned above for my review and for sending an extra pan for this giveaway. Entry options include answering the following question in the comments section of this blog post.
Visit the Harumio website homeware section and leave a comment here letting me know which product you have your eye on?
Please note that you must be logged into the Rafflecopter contest before posting or your entry won't be counted. For more information on this process, please see our step-by-step help post. Once you log in and enter your member name you will be directed to the next entry option – the blog comment. After that, there are additional options that you can complete for more entries. Be sure to check your spam filters to receive our email notifications. Prizes can take up to 6 weeks to arrive from the publishers. If you are not already a Member, you can join at no cost. The contest ends at midnight on October 31st, 2021.
a Rafflecopter giveaway