Alton Brown will be back on tour
September 15, 2021 by Darcie
Alton Brown's legion of dedicated fans received good news this week: Alton is launching another live North American tour titled Alton Brown Live: Beyond the Eats which runs from October 13th through April 10th of 2022. What's more, he is looking for help on his tour, and you can take a quiz to be entered into the running to "help" him on stage.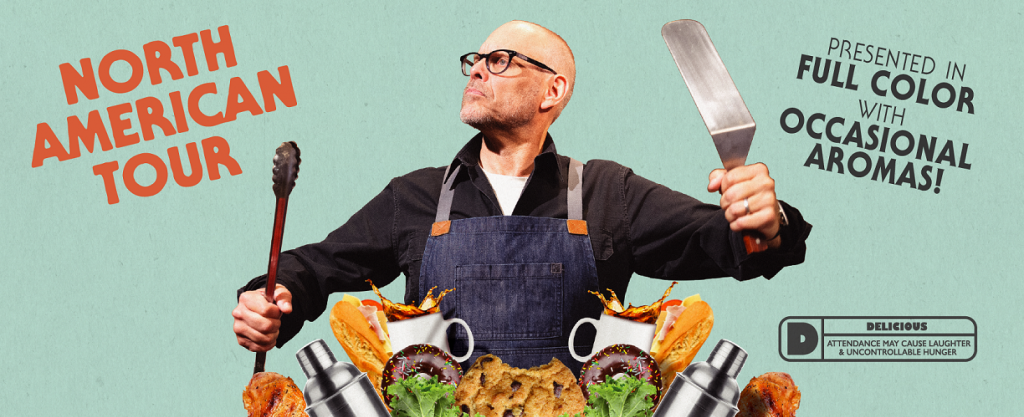 In the intro to the quiz, Alton says that "Music, comedy, and culinary shenanigans will ensue and, I'm going to need volunteers. Usually, I just pick whoever waves the hardest and screams the loudest, but this time I need a few folks in each town who are really knowledgeable … as in they've spent a considerable fraction of their life absorbing Good Eats episodes." You are duly forewarned: this is not strictly a culinary knowledge quiz, as more than half the questions are from Alton's long running show.
So if you know the name of the stuffed chicken that appears in some episodes or understand the literary or pop culture references Alton frequently makes in his shows, go for it! It's been a long time since I have seen any of the episodes, so I do not expect a call from Alton's team about appearing on stage. It looks like tickets are going quickly – I clicked to see what was available for the opening day in Minneapolis, and there were not many seats left. If you want to go, you might want to get your tickets early!
Note: Good Eats: The Final Years is slated for publication in April of 2022.