My Cookbook Passion and Quick Bites with Pamela Grogan, the author
September 2, 2021 by Jenny
My Cookbook Passion: Culinary History and Adventure in Exploring My Collection by Pamela Kure Grogan is slated for publication in November and our members will definitely want to own this title.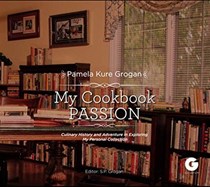 A cookbook with a historic recipe anthology does not easily define the wonder of tracking the evolution of the cookbook and the modernization of the kitchen. Pamela Kure Grogan's My Cookbook Passion draws upon a vintage selection from her 3,000 volume cookbook collection showcasing the changing palates of those at-home and at-travel epicureans. In it, she visualizes the impact of various world wars, financial depressions, expanding transcontinental auto usage, and the technological advancement of utensils and ingredients used in the kitchen on the public's taste.
My Cookbook Passion is a color panorama of historic cookbooks and recipes with the stories of how such books came into being. Chapters include: "Entertaining is Fun"; "Reach for the Stars" on celebrities; "Inns & Farms"; books on food publishers like Barrows & Co; and a list of famous chefs and their restaurants, most now gone from the scene. There are even hints about becoming a discerning cookbook collector.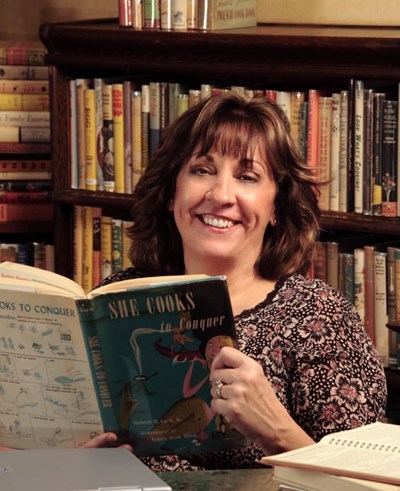 Pamela took a few minutes to answer some questions for our members and included a few excerpts from her book.
Pamela Kure Grogan worked for twenty years as Store Manager at Williams Sonoma and at Sur La Table kitchen stores. She also served as Food Editor for an online food company. Today, Pamela is an active 'passionate baker' with her fan-followed Facebook page kitchen a'stir where she sells items such as potica and fudge.
Q. Please tell us about your first cooking memory:
Excerpt: "My Cookbook Passion" by Pamela Kure Grogan
In 1986 I began working as a sales associate for Williams-Sonoma, store in Oakbrook, Illinois. When I first started working there my apartment held two book shelves with the entire Time-Life Cooking Series (28 volumes) and several other assorted cookbooks. With Williams-Sonoma, I was a kid in the candy [kitchen equipment] store, my eyes opened wide and eager. I found the job enthusiastic because I wanted to know everything about food, amazed at all the kitchen goodies, enjoying the small talk with customers, learning their tool preferences. Here I could converse in the same culinary language, getting to meet the restaurant people and those in the food industry who arrived at the store for book signings and cooking demonstrations
I first met Chuck Williams at a Managers Conference in Scottsdale, Arizona. At the luncheon breaks I would sit at his table and listen to his personal reminiscences in the company of James Beard or Julia Child. He knew of my novice interest in cookbooks. Shortly thereafter, Chuck Williams started me on collecting older cookbooks. The book he suggested I acquire was Clementine in the Kitchen by Phineas Beck (Pen name used by the Chamberlains – Hastings House, 1943). With that book my interest piqued. I started searching, preferring older to new, but not passing up any chance to acquire interesting titles and recipes.
Q. Describe your cooking style:
A.    Anything & Everything.  I have 28 binders jammed with plastic sleeve recipes culled from reading 35 years of cooking magazines.  Selecting from the ordinary to the involved I choose a recipe that interests me. I research on how the recipe might have been created. If still intrigued I will prepare, then taste, and if good it stays in the binder prioritized; if not, the recipe gets pulled and another recipe will soon fill the slot.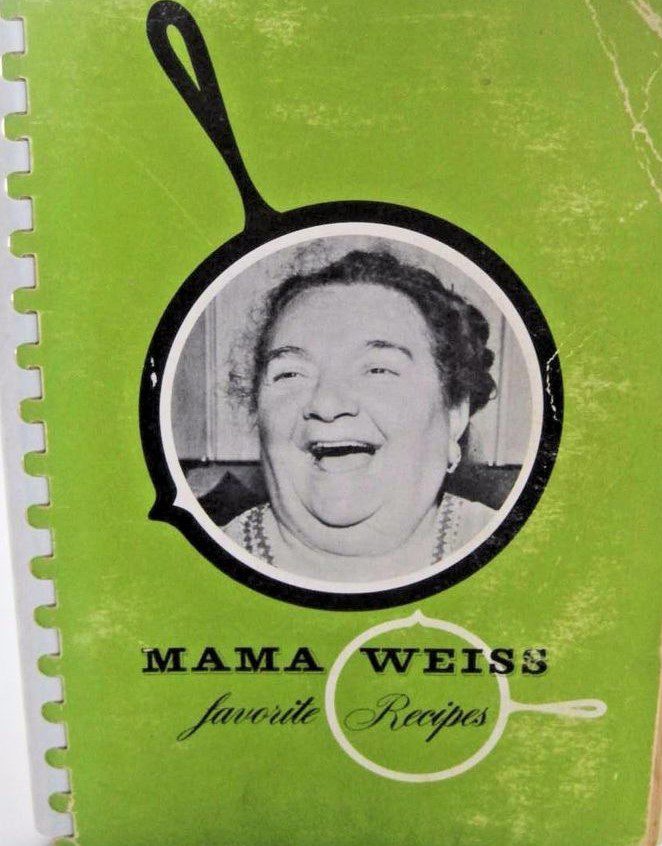 My cooking style? Adventuresome.  One thing leads to another.  Although my ancestry is Eastern European, part Hungarian and Slovenian, I can't speak the language. Recently, I ran across a YouTube video of two elderly Hungarian ladies creating a mouth-drooling pork chop dish called Szatmári tepsis hús.  I noted how they were cooking and figured out the ingredients, one such was Hungarian white peppers. Looking for that ingredient led me to a Hungarian online cooking group where one of the members sold me white pepper seeds brought back from Hungary. And in all my research on how this particular dish was prepared I ran across the name of Hungarian chef,  Mama Weiss,  who had a popular L.A. restaurant years ago circa 1938; and again one thing leads to another, I bought her cookbook.
Jenny Note: This book is rare and out of print – yes, I looked and could not locate a copy.
Q. Tell us a bit about your cookbook collection.
A. Excerpt from My Cookbook Passion:
This passion came to me over time, evolving, educating. Passion, it is. Our great culinary prophet, Julia Child, once said: "Find something you're passionate about and keep tremendously interested in it."
Two personality traits give edge to my passion: I am industrious and as a baby a gypsy, so my grandmother swore, put a curse on me, a reverse curse, that whatever happened, I would always smile, and with those ingredients my life followed.
My first memories of cooking: 4 or 5 years old and I told the babysitter I would be making Jell-O for a snack. Surprise, years later I would have a binder full of colorful collectible Jell-O advertising pamphlets.
I can recall that in the 1st Grade for my birthday my Mother offered me one of two choices, a birthday party or an Ez-Bake Oven. I chose the oven, my starting point of exploring baking. Somewhere in the storage closet is that same oven.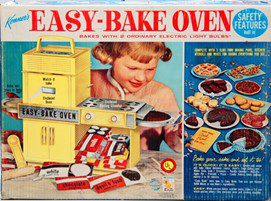 Memories. My first serious, interactive toy. Yes, you could bake with the help of the electric light bulb inside the stove. Like a meticulous collector I held on to original box and contents, replacing what went missing over time.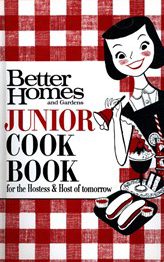 My first cookbook, a birthday gift, the Better Homes and Gardens Junior Cookbook. Out of that book my favorite recipe, fudge. Yes, that book, a little soiled from use, sits proud in my collection. And to 'die for' fudge I still make today and sell to friends and fans.
More details from Pamela not from the excerpt: My focus is on the eras 1930's – 1980's, though I do buy modern baking books. I have about 3,000 cookbooks and 25 small binders with a collection of advertising recipes going back to the 1880's. I enjoy their artwork. I am constantly tweaking my collection, buying, culling. At a recent pre-Covid party at the house, a guest said her aunt published a cookbook. I led her right to the spot in my collection where I had that same book! As to collecting, I have been more selective, seeking better copies, and of late my Wish List is still uncompleted. I am saddened to see cookbook related book stores closing, the last one of our friend, Myrna of Amber Unicorn.
Q. What is your go to dinner?
A. Pasta. I always keep tomatoes around to whip up a quick marinara sauce.
Q. Tell us about your upcoming book.
A. "My Cookbook Passion" is unique in the marketplace as we have not seen anything similar. My slogan: "Everyone comfortable in the kitchen—and who likes to read about food—needs this book in their library." Although the focus is personal, about my own cookbook collection, it actually focuses on the evolution of the world's changing palates and tastes as the kitchen and restaurants progress over time. "My Cookbook Passion" is part cookbook with recipes, part history, part adventure as you see how our culture dealt with new kitchen utensils, changing social mores, and survived world wars and economic depressions. To me, there is a personal satisfaction when you finished reading that you gain satisfaction that the foods you eat today arose from historical traditions that we should be proud to remember. The goal, if any, is to encourage readers to try one of these heritage recipes, and even perhaps go in search of their own antique cookbooks.
You can follow Pamela on Facebook at Kitchenastir and visit her website CookbookPassion.com.