August 2021 New Cookbook Review
August 24, 2021 by Jenny
As I mentioned in a recent weekly roundup, publishers are experiencing shipping delays and labor shortages resulting in books being moved further down the pipeline. Typically our August monthly review is far more expansive. However, this does not mean that there aren't some spectacular books to consider this month.
If you would like to order any of these titles, using our affiliate links below or BUY BOOK button on the book details page, earns Eat Your Books revenue as an Amazon Associate from qualifying purchases when using our links: USA * Canada * UK * Book Depository. Please remember your local bookstores during this time as well.
If there is an

available for a cookbook, look for the orange icon in the blurb. Clicking on that icon will take you directly to the preview. Lastly, if events are planned for particular books/authors, I have included a link. Be sure to check our Calendar frequently.
To jump to a particular country's listing, please click on the links below.
United States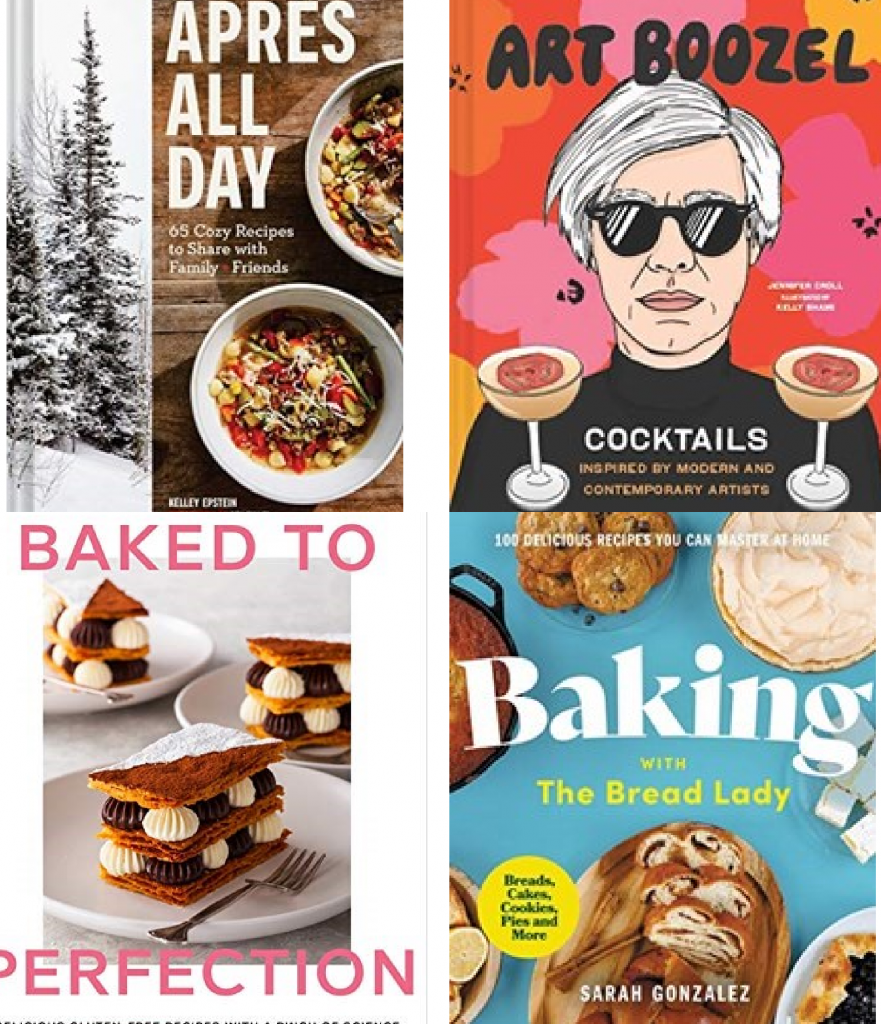 Apres All Day: 65+ Cozy Recipes to Share with Family and Friends by Kelley Epstein invites home cooks of all levels to embrace the après culture all season long, whether you are a skier or the one curled up by the fireplace. There are recipes for every meal including Apple pie oatmeal as pre-ski fuel, Tater tot nachos, a.k.a. "Tatchos" for an indulgent snack on the couch, Classic beef stew with Cheesy garlic bread for a family potluck, and a well-deserved Kitchen sink skillet cookie to end the day. There is a section with helpful tips on cooking at altitude, plus fun sidebars featuring must-know ski lingo, ideas for game night, and more. The imagery of snowy mountains, lodges and the tempting dishes is a bonus.
Art Boozel: Cocktails Inspired by Modern and Contemporary Artists by Jennifer Croll is where art meets libations. You'll find drinks such as The Yoko Ono, The Georgia O'Keefe and The Henri Matisse. Each artist has a few paragraphs about their work and details on why the cocktail created for that particular artist was chosen. This title would make an idea gift for the cocktail lover or someone who appreciates the art world.
Baked to Perfection: Delicious Gluten-free Recipes, with a Pinch of Science by Katarina Cermelj was released in the UK in March. This month brings this gorgeous book to the US. Katarina begins with a thorough look at the gluten-free baking basics: how different gluten-free flours behave, which store-bought blends work best, and how to mix your own to suit your needs. Covering cakes, brownies, cookies, pastry and bread in turn, Katarina shares the best techniques for the recipes in that chapter, and each recipe is accompanied by expert tips, useful scientific explanations and occasional step-by-step photography to help you achieve gluten-free perfection.

Baking with the Bread Lady: 100 Delicious Recipes You Can Master at Home by Sarah Gonzalez: "The Bread Lady" shares her love for the art of baking that grew from family tradition and the popularity of her Spring Hill, Tennessee, bakery. Included are 100 original recipes (including gluten-free options) with beautiful photos; practical tips to learn to love baking from scratch; and inspiring and fun stories such as "The Care and Feeding of Neighbors," "Happy Eggs," and how her 170-year-old gingerbread recipe came to be.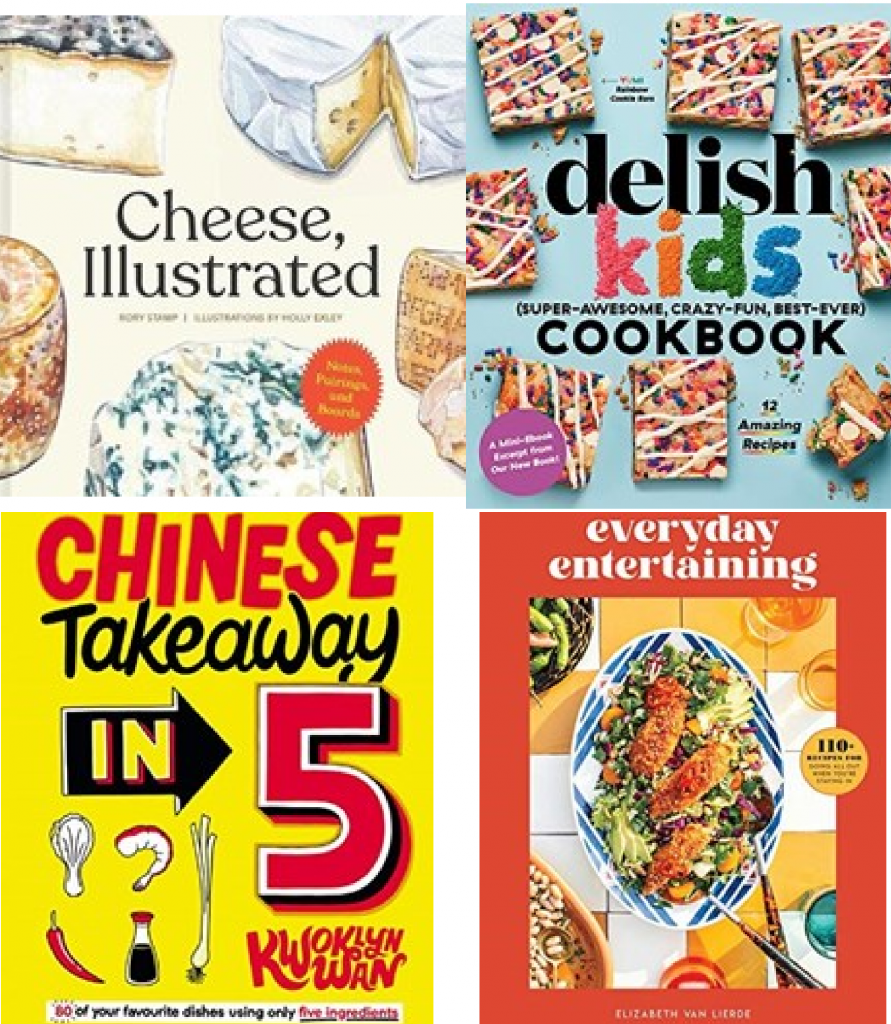 Cheese, Illustrated: Notes, Pairings, and Boards by Rory Stamp is a delicious companion for any cheese lover and covers everything from favorite standbys (Brie, cheddar, Gouda) to European delicacies (manchego, Tallegio, and tomme de Savoie). Each of the 50 cheeses is accompanied by a sophisticated illustration along with history, tasting notes, and pairing suggestions.
Chinese Takeout in 5: 80 of Your Favorite Dishes Using Only Five Ingredients by Kwoklyn Wan was previously released in the UK in January of this year. The author of the Chinese Takeaway Cookbook and The Veggie Chinese Takeaway Cookbook is back with 70 classic Chinese dishes that use only five ingredients. Alongside a basic store cupboard of five essentials – salt, pepper, soy sauce, sugar and oil – you can make a feast of easy dishes using the bare minimum.

Delish Kids by Joanna Saltz is filled with recipes that make cooking so much fun. Throughout, young chefs will learn basic skills, like how to make the gooey grilled cheese (the secret: use a waffle iron) and upgrade your favorite store-bought foods. The book covers all meals as well as party eats. Plus, two whole chapters include restaurant copycat recipes and desserts and snacks inspired by beloved pop culture characters.
Everyday Entertaining: 110 Recipes for Going All Out When You're Staying In by Elizabeth Van Lierde: Make your next party the talk of Instagram with Elizabeth's expert tips for party planning and try her must-have recipes. Chapters are organized by occasion – Alfresco Golden Hour; Boards and Platters; Do You Want Me to Bring a Side? (recipes to wow the host of the party and her guests); and 'Tis the Season are examples. Some recipes that stood out for me include: Cacio e pepe risotto with shrimp, Oven-baked hot honey chicken tenders, and a Melon slab salad with honey lime drizzle. We will have a full promotion on this title soon.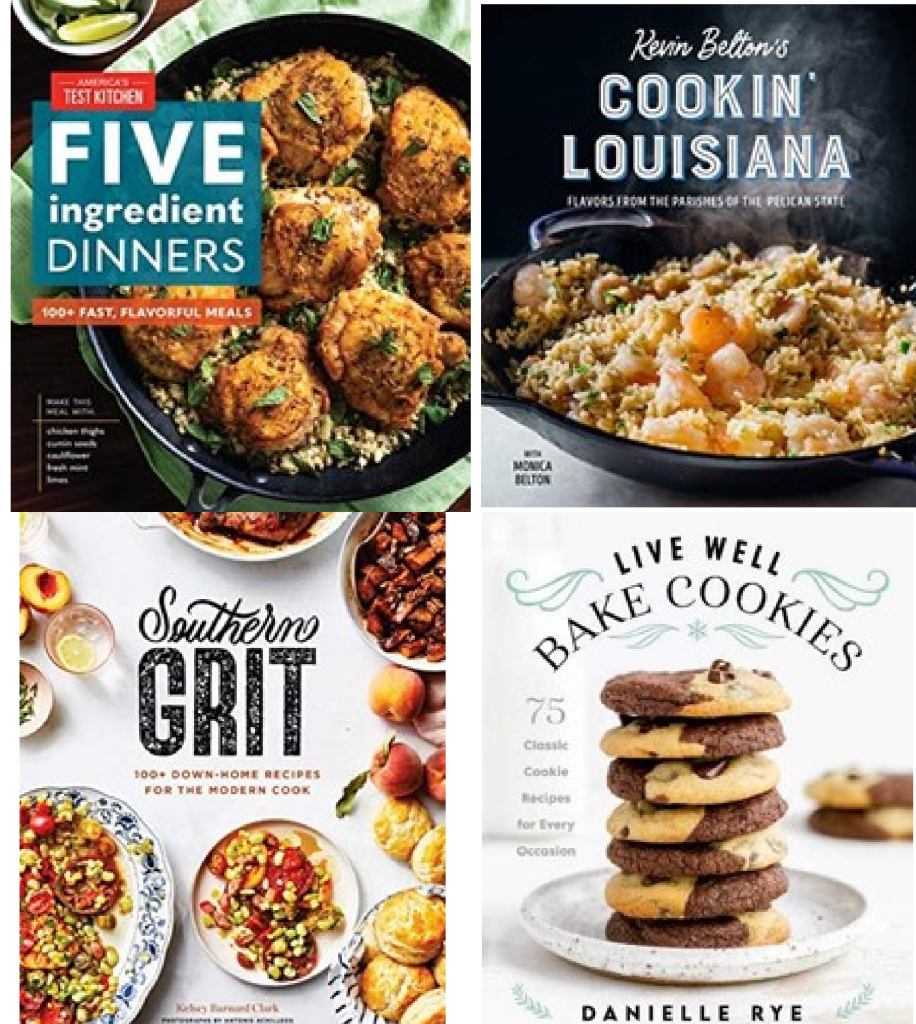 Five-Ingredient Dinners: 100+ Fast, Flavorful Meals by America's Test Kitchen: Test cooks share their favorite low-effort, high-reward complete weeknight dinners, most ready in an hour or less. With each recipe, a test cook's commentary gives an inside peek into the recipe creation process, whether offering a tip for using a high-impact ingredient like red curry paste or oil-packed sun-dried tomatoes (they help you compile a treasure trove of useful flavor bombs) or an imaginative technique (such as mincing carrot tops for a garnish). These recipes and tips will have you looking at your pantry with fresh eyes.

Kevin Belton's Cookin' Louisiana: Flavors from the Parishes of the Pelican State by Kevin Belton is the author's fourth cookbook and focuses on the amazing food found throughout Louisiana. Belton heads to multiple parishes across Louisiana to explore dishes and unique flavor profiles associated with each area of the state. Here you will find 78 recipes (3 from each episode of the coordinating TV series) along with a generous helping of Kevin's captivating stories and humor.

Southern Grit: 100+ Down-Home Recipes for the Modern Cook by Kelsey Barnard Clark delivers a modern take on Southern cooking with 100+ accessible recipes and hospitality tips, from the 2016 Top Chef winner and Fan Favorite. Pepper jelly Brussels sprouts; Butter bean hoppin' John with cilantro-lime vinaigrette and Girl boss steak with confit onions and mushrooms are just a few examples of the recipes here. This book is the fall essentials box at Hardcover Cook – Monique will match up ingredients to create recipes from this title.
Live Well Bake Cookies: 75 Classic Cookie Recipes for Every Occasion by Danielle Rye includes 75 cookie and bar recipes, including both classic favorites and soon-to-be classic favorites that are guaranteed to be the best you have ever had, along with delivering soft and chewy goodness in every bite.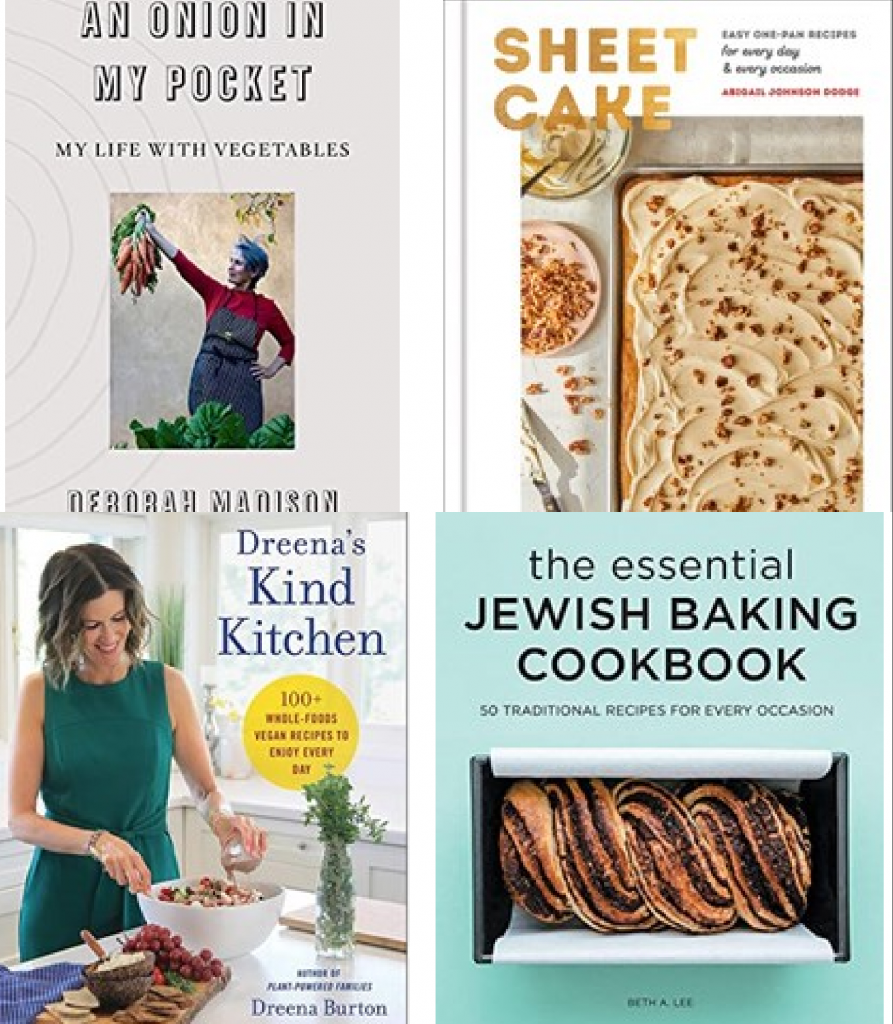 An Onion in My Pocket: My Life with Vegetables by Deborah Madison: The paperback edition of Deborah's food memoir has been released this month. Check out our author interview and giveaway for more information on this book.
Sheet Cake: Easy One-Pan Recipes for Every Day and Every Occasion by Abigail Johnson Dodge is a must-have for the baker! Check out our author interview and special giveaway including baking tools for more information.

Dreena's Kind Kitchen: 100 Whole-Foods Vegan Recipes to Enjoy Every Day by Dreena Burton: The author has been creating plant-based, whole-food recipes for more than 20 years. Home cooks know they can trust her recipes to turn out great and to be delicious! Now, she has created this one-stop resource for making kinder, more compassionate food choices, for other beings, for the planet, and for yourself. Whether you need weekly staple meals for your family or want a dish to wow your friends for a special occasion, Dreena has you covered with these reliable, flavorful, and healthy recipes.
The Essential Jewish Baking Cookbook: 50 Traditional Recipes for Every Occasion by Beth A. Lee: Baking is an integral part of Jewish culture and traditions. Whether you're making challah for Shabbat, macaroons for Passover, or babka for family brunch, The Essential Jewish Baking Cookbook helps you capture the essence of traditional Jewish baking in your own kitchen. It's filled with 50 classic recipes that you might remember your bubbe or mom whipping up with clear instructions to help you make them successfully every time.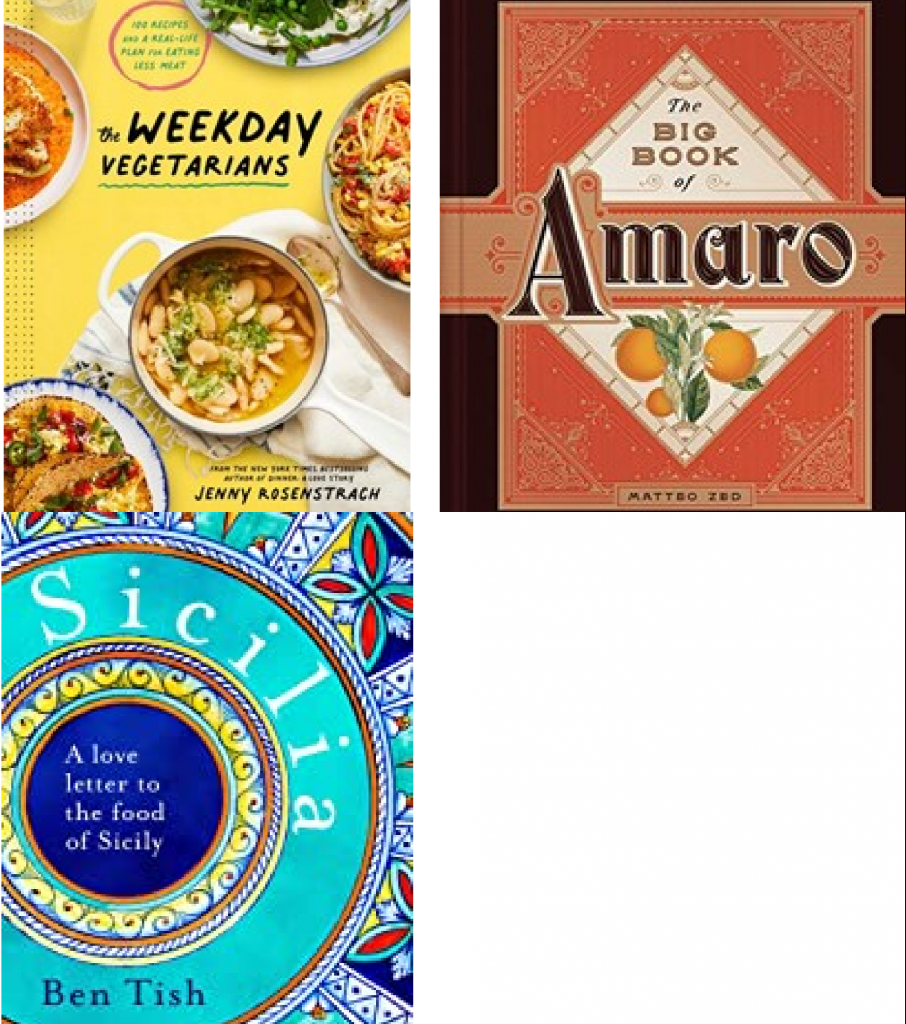 The Weekday Vegetarians: 100 Recipes and a Real-Life Plan for Eating Less Meat by Jenny Rosenstrach proves you don't need to be a vegetarian to eat like one! With over 100 recipes, the New York Times bestselling author of Dinner: A Love Story and her family adopt a "weekday vegetarian" mentality: eating a vegetable-based diet during the week and saving meaty splurges for the weekend. Filled with great hearty meals there is something for everyone here. This book is the fall vegetarian selection at Hardcover Cook – Monique will match up ingredients to create recipes from this title.

The Big Book of Amaro by Zed Matteo is an illustrated history, exploration, and celebration of the Italian liqueur everyone loves. This guide teaches you everything you need to know about amaro, the delightfully complex and bittersweet Italian liqueur. Traditionally a digestif, it's also a popular ingredient in modern cocktails.
Sicilia: A Love Letter to the Food of Sicily by Ben Tish unlocks the secrets of Sicily's culture and food diving into its diverse tapestry of cultural influences. Sitting at the heart of the Mediterranean, the food of Sicily is full of citrus, almonds and a plethora of spices, mixing harmoniously with the simple indigenous olives, vines and wheat. You'll find the most delicious, fresh seafood on the coast and mouth-watering meat in land; but the two rarely mix. Packed full of vibrant flavours, this beautiful collection brings the food of Sicily to your table, with recipes ranging from delicious morsels and fritters to big couscous, rice and pasta dishes and an abundance of granitas, ice creams and desserts, with gorgeous photography. This title was released in the UK in June.

Other titles of interest include:
United Kingdom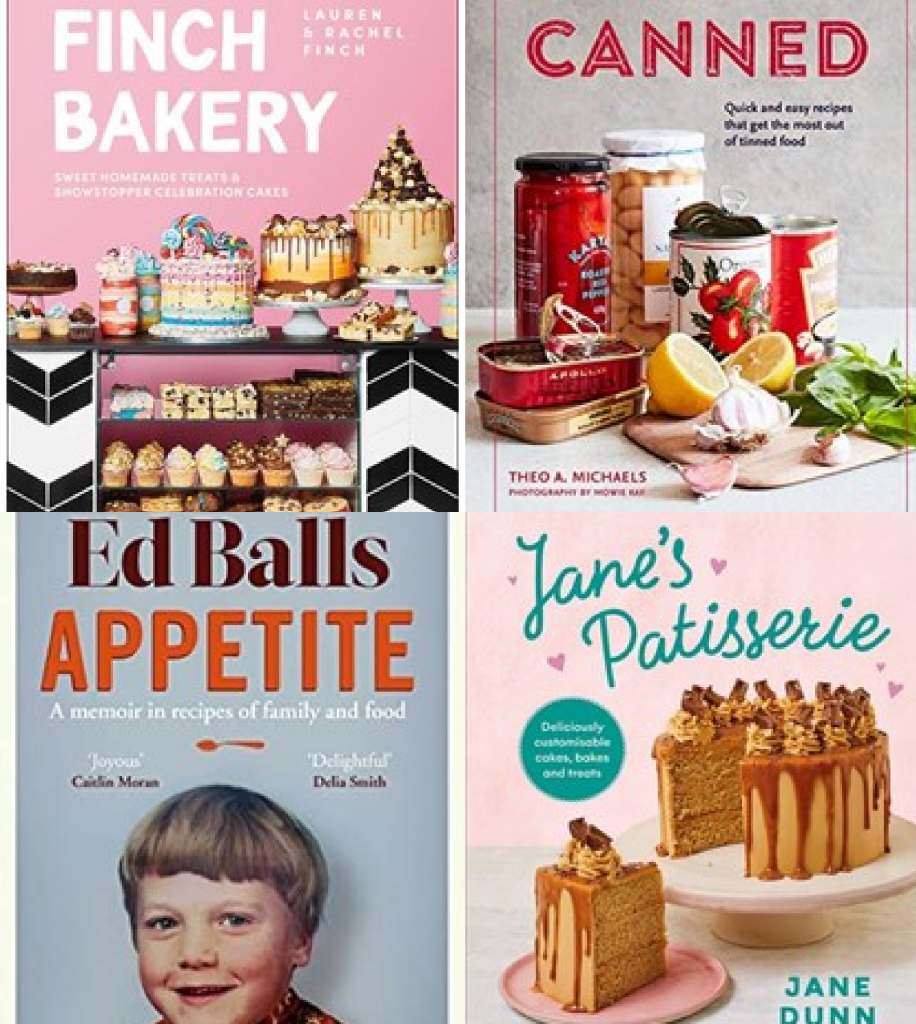 The Finch Bakery Book: Sweet and Simple Homemade Treats and Showstopper Celebration Cakes by Lauren and Rachel Finch: The founders of Finch Bakery share their best-kept secrets to decorating all-out celebration cakes and let you in on their top baking techniques to create indulgent brownies and cupcakes, decadent macarons, stuffed cookies of every kind and your very own versions of their phenomenal signature cake jars. Packed with crowd-pleasing classics and desserts to impress, Finch Bakery has a treat to satisfy every sweet tooth, every time.
Canned: Quick and Easy Recipes That Get the Most Out of Tinned Food by Theo A. Michaels presents 65 simple and flavorsome recipes for meals made using canned food plus just a few basic fresh and/or frozen ingredients. Most of the recipes can be pulled together in less than 30 minutes, ingredients lists are short and also allow for last-minute substitutions.

Appetite: A Memoir in Recipes of Family and Food by Ed Balls is a memoir with a twist: each chapter is a recipe that tells a story. Balls was just three weeks old when he tried his first meal in 1967: pureed roast beef and Yorkshire pudding. From that moment on he was hooked on food. Taught to cook by his mother, Ed's now passing her wisdom on to his own kids as they start to fly the nest. Reflecting on his life in recipes, Ed takes us from his grandma's shepherd's pie to his first trip to a restaurant in the 1970s (and ordering an orange juice as a starter); from the inner workings of Westminster to the pressures of parenting. This is a collection of the meals he loves most, and the memories they bring back.
Jane's Patisserie: Deliciously Easy Customisable Cakes Bakes and Treats by Jane Dunn finally made its way from Waterstones to me last week. Jane's blog Jane's Patisserie was voted #1 blog by Vueilo in 2020. If the cover cake – a Salted caramel drip cake – doesn't have you hitting that Buy Book button, there are 200 pages of reasons to do so. No-bake millionaire's cheesecake, Salted caramel pretzel slice, and Glazed ring doughnuts are a few more tempting treats. Fudge, marshmallows, ice cream, pies, scones and more await you!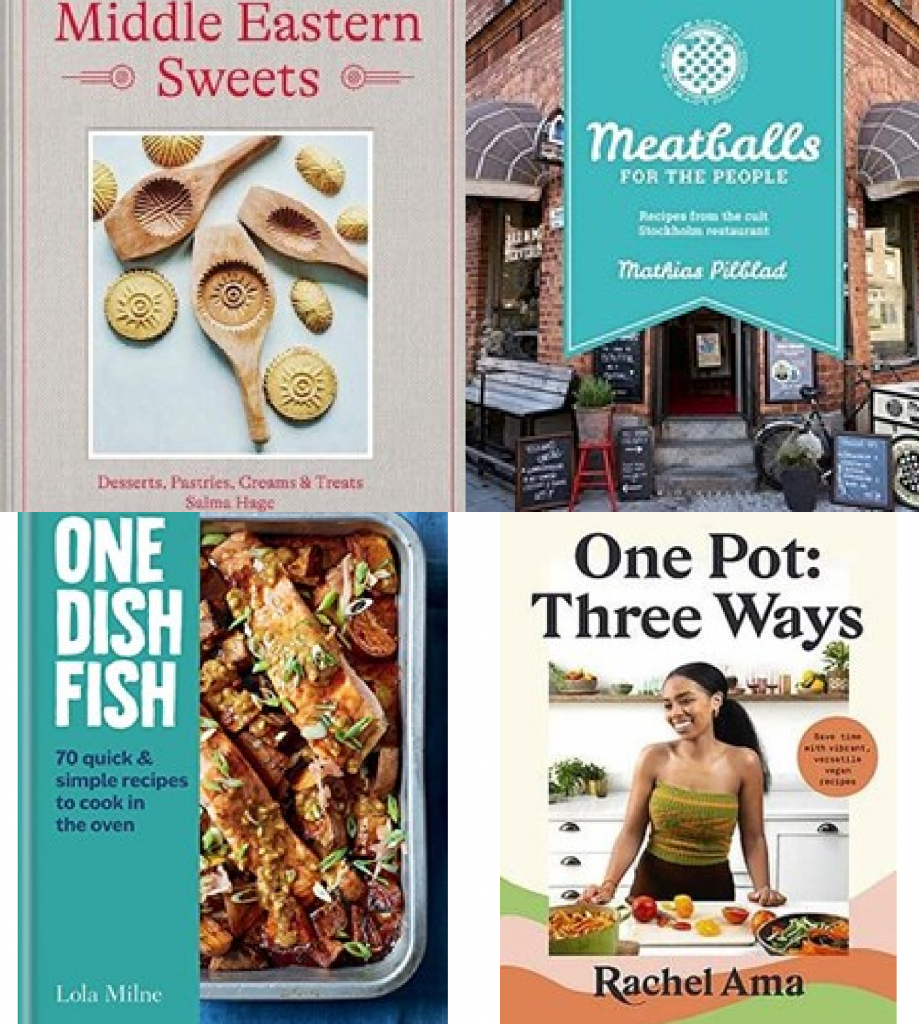 Meatballs for the People: Recipes from the Cult Stockholm Restaurant by Mathias Pilblad shares the restaurant's favourite recipes for you to make at home. From how to make the perfect Swedish meatball to recipes for sweet potato and corn balls or all the sides you need for the authentic Swedish meatball supper (lingonberries, pickles, perfect mashed potato and a creamy sauce just to start with), there's something for everyone here. This title will be released in the US in November.
Middle Eastern Sweets by Salma Hage is an authentic, indulgent collection of dessert recipes for all tastes and occasions. Whether you start your day with something sweet, finish it with something sweet, or make sure sweets are within reach all day long, you'll find serious inspiration in the pages of this book.

One Pot: Three Ways: Save Time with Vibrant, Versatile Vegan Recipes by Rachel Ama takes batch cooking one step further and reframing vegan cooking by creating one main centrepiece dish that make flavour-packed vegetables the worthy hero of every meal. With over 80 brand new recipes inspired by her Caribbean and African roots, Rachel offers three creative and flavoursome ways to serve and use each one-pot recipe. She puts flavour and flexibility at the heart of your kitchen.
One Dish Fish: 70 Quick and Simple Recipes to Cook in the Oven by Lola Milne: Cooked in the oven in just one dish or roasting tin, all the recipes here are ready within 20, 30 or 45 minutes, allowing you to enjoy a wide variety of fish and seafood. Even those who are otherwise confident in the kitchen can sometimes feel intimidated by fish, but Lola proves there's no need to be fearful, with 70 delicious, foolproof dishes that are perfect for seafood lovers of all cooking abilitie
First-time Bread Maker: A Beginner's Guide to Baking Bread at Home by Emmanuel Hadjiandreou: This entry level guide to baking bread at home starts by setting out the tools and equipment needed and explains the science behind the alchemy of turning flour, yeast, and water into the bread we love so much. Delicious step-by-step recipes for every day include a 60-minute Soda bread, a Half-and-half sourdough loaf and a Sandwich loaf along with more elaborate recipes and enriched dough offerings.

Australia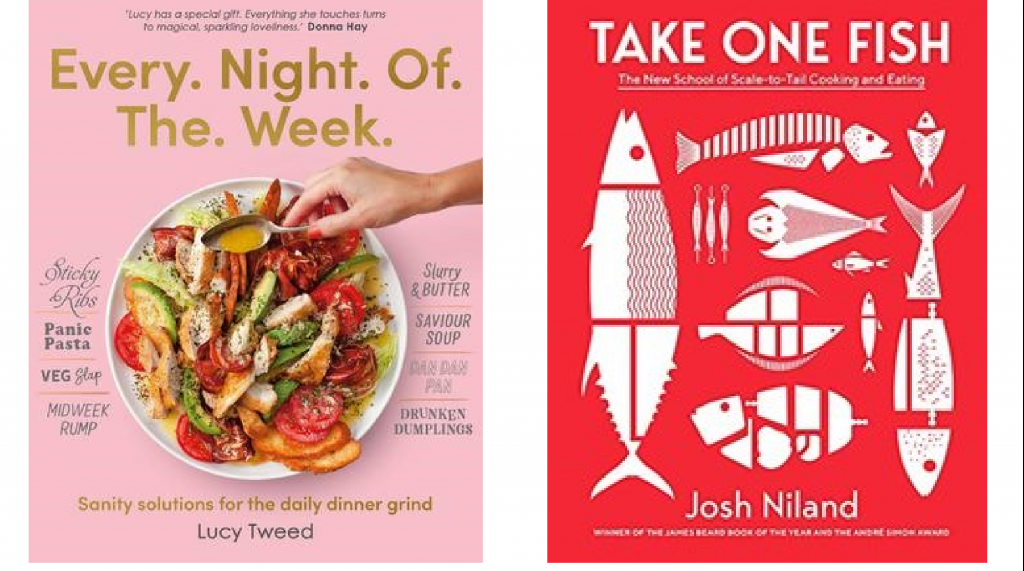 Every Night of the Week: Sanity Solutions for the Daily Dinner Grind by Lucy Tweed: Some days you want to cook; other days the goal is simply 'food in mouths'. We can all relate to feeling like that occasionally. This is a cookbook for people who don't like hard-and-fast recipes, by food and recipe writer, stylist and Instagram genie Lucy Tweed.
Take One Fish: The New School of Scale-to-Tail Cooking and Eating by Josh Niland: Josh's first book The Whole Fish Cookbook was a James Beard winner in two categories in 2019 and an ABIA and an André Simon winner and I can predict this second title will receive similar accolades. Stunning imagery, in-depth coverage of all things seafood and tempting recipes await you in this magnificent collection of recipes and knowledge.

Netherlands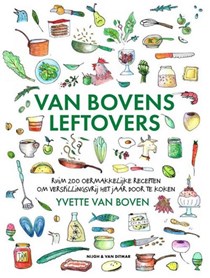 Van Boven's Leftovers: Ruim 200 Oermakkelijke Recepten om Verspillingsvrij het jaar Door te Koken by Yvette van Boven: For several years now, Yvette has been coming up with a weekly seasonal recipe for Volkskrant Magazine plus a tip for using up the leftovers. She cooks at home every day, but Van Boven never throws anything away. Throwing away good food is an eternal sin. Every leftover can be turned into something delicious the next day, so she also gives a tasty second destination for every recipe. Her columns and around 200 recipes from her weekly column are now bundled in Van Boven's Leftovers. Always with a clear, foolproof recipe as we are used to from Yvette, with several illustrated tips and information and the dish she photographed herself. Van Boven cooks all year round: mainly vegetables, but also some meat and fish. In short: a wonderful book with a lot of inspiration for daily waste-free food. Note: this book is in Dutch.