The Crafted Cookie Giveaway and Author Quick Bites
August 10, 2021 by Jenny
Enter our US/worldwide giveaway to win one of four copies (3 copies provided by the publisher US and 1 copy provided by EYB worldwide) of The Crafted Cookie: A Beginner's Guide to Baking & Decorating Amazing Cookies for Every Occasion by Anne Yorks.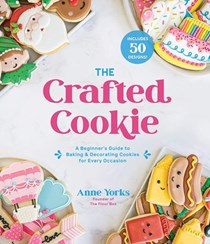 Illustrious cookie artist Anne Yorks of the celebrated The Flour Box is here to teach you to decorate professional quality cookies at home. Cookie decorating has reemerged as a trendy, accessible hobby for home bakers, and this book helps home bakers to master frosting with royal icing right in their own kitchens! Anne has been selling bakers the tools and tutorials to make their cookie decorating dreams come true for a decade and this cookbook let's readers take all of her expertise home.
This book is the ultimate royal icing resource full of foolproof techniques and customized designs to help home bakers learn to outline, flood and embellish their adorable cookie creations. Anne cuts out all the unnecessarily fussy steps and so you can get to the exciting part of cookie decorating.
With 50 fun designs, you'll have all the inspiration and instruction you need to make a platter full of amazing cookies for any holiday or party! From classic Christmas cookies like Santa and elves to ghosts and candy for Halloween, and even presents and cakes for birthdays, you can make every celebration a little sweeter.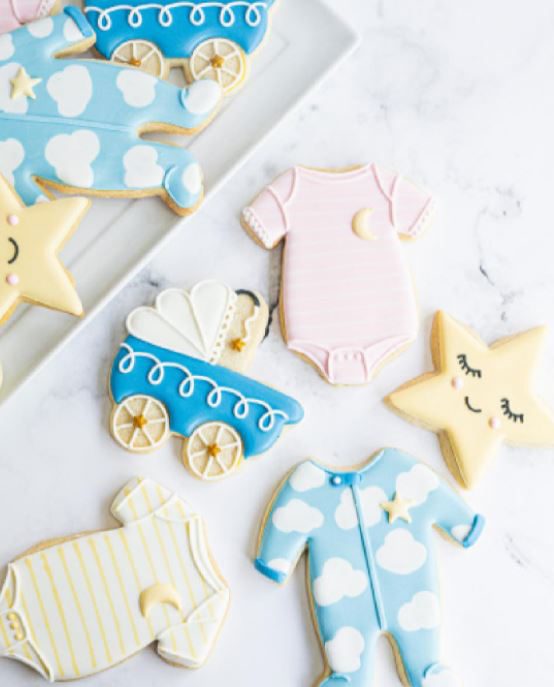 Our

takes you inside this title to give you an idea of the projects you will find here along with step-by-step photos to guide you along.
---
The author was kind enough to answer a few questions for our members.

Anne Yorks is the founder of The Flour Box, one of the top online resources for cookie decorating supplies and tutorials. Anne is the instructor of three in-depth Craftsy classes, teaches monthly online classes and hosts in-person classes. As a self-taught baker and cookie artist, Anne is passionate about helping home bakers find joy and purpose through cookies. Anne lives in Centre Hall, Pennsylvania, with her husband and two daughters.
Q: What first triggered your interest in baking? Your first baking memory?

A: I grew up baking with my mom. She was a single mom who worked two jobs, and so our time in the kitchen was really special. We baked lots of different types of cookies, but we loved to make cut-outs at Christmas. We would nibble on the dough and take some licks of icing. It was just so much fun! We decorated our cookies with buttercream and lots and lots of sprinkles! My mom would always let us have cookies for breakfast on Christmas morning. It's a tradition that I continue with my daughters today!
Q: If you had to describe your baking style, what would it be?
A: My cookie decorating style is whimsical and approachable. I love decorating cookies with royal icing because you can create interesting designs with tons of dimension and interesting textures. I strive to keep the color palettes of my platters cohesive and simple. I create each of my platters with one feature cookie and several accent cookies to have a well-balanced decorating experience.
Q: Are you a cookbook collector? If so, tell us about your collection?
A: I love cookbooks, cake and cupcake decorating books, and of course cookie books! I use them to get inspired by the photos and recipes! I use my cookbooks regularly to try new flavors and dishes. My family became much more adventurous in cooking during the quarantine and we have toured the world trying international dishes. We discovered a love for Indian food!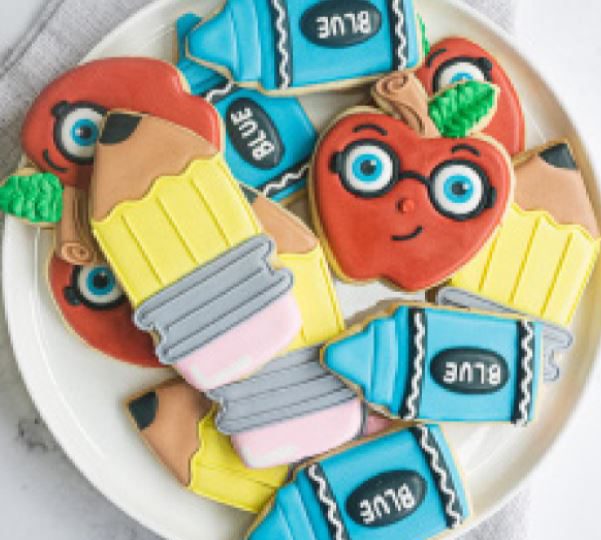 Q: What is the best part of your job? Do you sometimes feel like working with food all day keeps you from wanting to get creative in the kitchen?
A: My favorite part of the cookie decorating process is designing the cookies! I start by tracing the cookie cutter and use colored pencils to think through each design on the platter. This serves as a roadmap when I'm ready to jump into the decorating. Sketches help me figure out how much of each icing color to make and help me to determine the order of the decorating steps.
Q: What is your go to for a quick dinner? Or quick dessert?
A: As a busy mom and business owner, quick dinners are essential on school nights. Our favorite go-to dinner is probably rice bowls. We mix in lots of veggies and we love to use up leftovers and make new creations. This dish never gets old!
When I'm looking to whip up a quick cookie project, I like to make mini cookies! They are a quick and tasty option. I keep the colors to a minimum and use simplified designs. They should come with a warning, though, because you can't eat just one mini cookie!
Q: Tell us about The Crafted Cookie cookbook.
A: I'm so excited for the release of my new book, The Crafted Cookie! The photos in the book are gorgeous! The step-by-step tutorials feature 50 creative designs arranged into themed platters. Cookie artists of all skill levels will have plenty of inspiration for celebrating all year long. I hope the book inspire bakers to find joy in cookie decorating!
I had the beginner in mind when I wrote The Crafted Cookie. The first section is dedicated to all the things you need to know to decorate cookies with royal icing. I dive into icing basics, setting up your decorating space, cookie and icing storage, navigating the cookie process, and so much more! Get my tips on making icing consistencies and coloring your icing!
---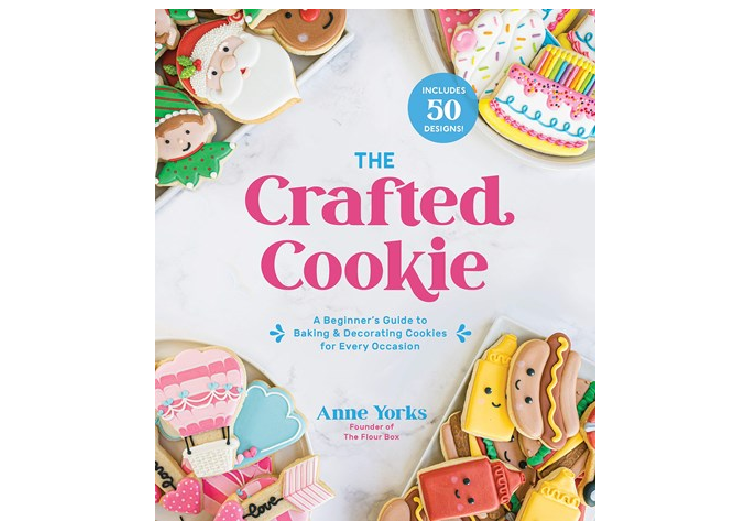 Special thanks to the publisher for providing three copies of this title in our promotion to US members and EYB is providing one additional copy worldwide. Entry options include answering the following question in the comments section of this blog post.
Do you enjoy decorating cookies?
Please note that you must be logged into the Rafflecopter contest before posting or your entry won't be counted. For more information on this process, please see our step-by-step help post. Once you log in and enter your member name you will be directed to the next entry option – the blog comment. After that, there are additional options that you can complete for more entries. Be sure to check your spam filters to receive our email notifications. Prizes can take up to 6 weeks to arrive from the publishers. If you are not already a Member, you can join at no cost. The contest ends at midnight on October 30th, 2021.
a Rafflecopter giveaway