The Secret Ingredient Cookbook Giveaway and Author Quick Bites
July 21, 2021 by Jenny
Enter our worldwide giveaway to win one of two copies of The Secret Ingredient Cookbook: 125 Family-Friendly Recipes with Surprisingly Tasty Twists by Kelly Senyei.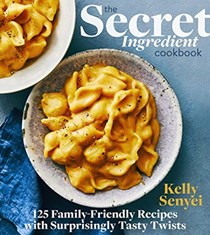 The Secret Ingredient Cookbook: 125 Family-Friendly Recipes with Surprisingly Tasty Twists by Kelly Senyei, founder of the food site Just a Taste, has garnered millions of fans with a delicious hook – every one of her recipes has a secret ingredient, something totally unexpected that takes a dish from common to extraordinary.
Homemade potato chips with warm gorgonzola dip (secret ingredient mint), Sweet and tangy baked chicken wings (secret ingredient blackberry jam) and Crispy crab rangoon (secret ingredient curry powder) are just a few examples of the delectable comfort food that you will find in this book. I have been thinking about what to make for dinner tomorrow and I think I have my answer – those wings!
This is an approachable collection of recipes that will add jump start your menu planning. Here are a few online recipes to try now:
Kelly took time out of her crazy schedule to answer a few questions for us. After you check out the interview, please be sure to enter our giveaway below!
Kelly Senyei is the founder of Just a Taste, a food site with millions of fans. She is a professional chef, television and podcast host, cookbook author, and mom who appears regularly as a host on Food Network Kitchen and Amazon Live. She lives in San Diego, CA, with her husband and three young sons.
Q: What first triggered your interest in cooking? Do you remember your first cooking memory?
My mom, Noni, is the entire reason I pursued not only my passion for cooking but an entire career in the food media realm. She is the most incredible self-taught home cook and she had me in the kitchen alongside her from the day I could hold a spatula. One of the first recipes I remember making alongside her is her famous chicken cutlets, which are a spin on Hungarian wiener schnitzel. (My dad was born in Budapest, Hungary, so we love a good homemade schnitzel!)
Q: If you had to describe your cooking style, what would it be?
Easy but impressive. Every recipe I create is designed to look like it took you 2 hours to make, when in reality it took 30 minutes or less. I believe in food that's approachable, unfussy, and above all else, can be enjoyed by the entire family. As a mom of three boys under age 5, I love creating meals that my kids and my husband and I can enjoy together.
Q: Are you a cookbook collector? If so, tell us about your collection – number of books, favorite genre, favorite author? What you look for in a cookbook. (If possible, can you share a photo of your collection?)
Absolutely! When I was in elementary school and first learning to read, I would thumb through cookbooks instead of traditional children's books. I loved looking at the photos and seeing all of the numbers and organized steps. (I'm a bit of a "Type A" person hah!)
Some of my favorite cookbooks were handed down to me from my great-grandmother Momoo, who spent 103 amazing years cooking and baking everything imaginable from scratch. Her cookbooks are my most treasured possessions and date as far back as 1889!
Q: What is the best part of your job? Do you sometimes feel like working with food all day keeps you from wanting to get creative in the kitchen?
The best part of working in food media is the ability to exercise my creative, artistic abilities while also focusing on the business aspect of building a thriving brand that has sustained so many tech changes over the past 13 years. I constantly feel the need to evolve and adapt, whether it's in my recipe development or video creation or what big projects I choose to tackle.
If I'm ever feeling burnt out from creating new recipes, I start reading restaurant menus online from all over the world to stay up-to-date on what chefs are doing with ingredients on a global level.
Q: What is your go to for a quick dinner?
I can make dried pasta into 101 different dishes, and with three little ones, noodles in some way, shape or form make an appearance on the daily in our house. I love making quick sauces that I can freeze and reheat quickly (an ice cube tray works wonders for this). I've also recently gotten into the air fryer trend and make an incredible marinated tri-tip that cooks entirely in the air fryer in 25 minutes or less (perfect crust, juicy interior and all!).
Q: Tell us about your cookbook or any projects you are working on?
The Secret Ingredient Cookbook serves up approachable, achievable, and practical recipes that each feature an unexpected ingredient. Every secret ingredient takes an ordinary dish from ordinary to extraordinary by transforming texture, taste, or presentation, adding health benefits, cutting down on prep or cook times, and more. Each of the 125 tried and true recipes in my book have been rigorously researched, insightfully written, and strategically developed and I couldn't be more proud of the collection.
In addition to running my website, Just a Taste, full-time, I am also a host on the Food Network Kitchen app, where I've taught more than 75 live classes and counting! I also host weekly cooking classes on Amazon Live and am heading into season 3 of The Just a Taste Podcast.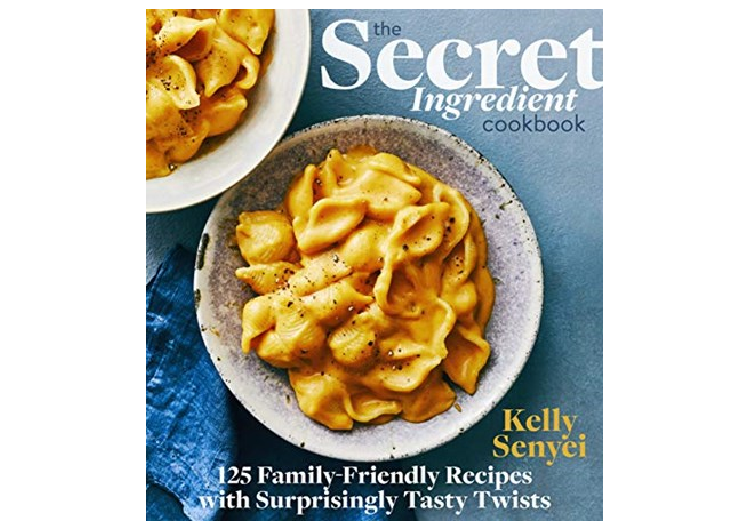 Enter to win one of two copies of this title. The contest is open worldwide as the publisher has sent me two copies for mailing. Entry options include answering the following question in the comments section of this blog post.
Which recipe in the index would you like to try first?
Please note that you must be logged into the Rafflecopter contest before posting or your entry won't be counted. For more information on this process, please see our step-by-step help post. Once you log in and enter your member name you will be directed to the next entry option – the blog comment. After that, there are additional options that you can complete for more entries. Be sure to check your spam filters to receive our email notifications. Prizes can take up to 6 weeks to arrive from the publishers. If you are not already a Member, you can join at no cost. The contest ends at midnight on October 21st, 2021.
a Rafflecopter giveaway